Which teams could bust brackets in the women's division?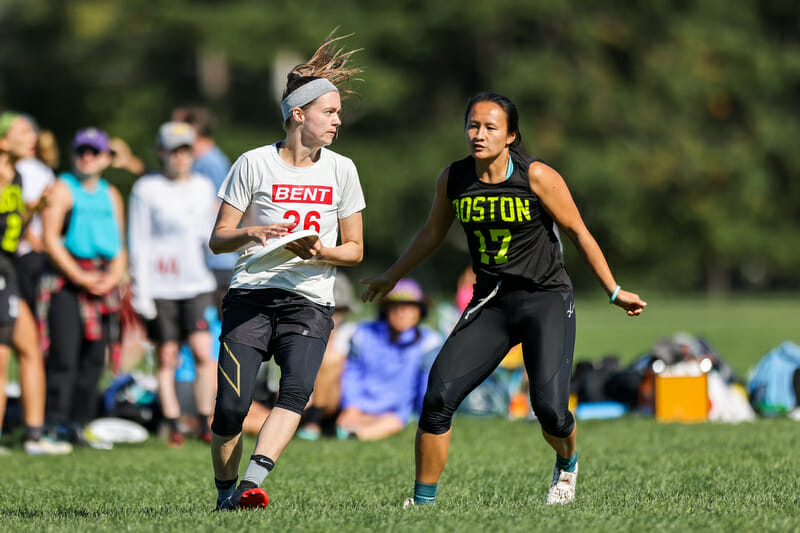 Ultiworld's 2021 coverage of the club women's postseason is presented by Spin Ultimate; all opinions are those of the author(s). Find out how Spin can get you, and your team, looking your best this season.
In 2019, the biggest story of Nationals was the two surprise semifinalists in the women's division, with Toronto 6ixers and Portland Schwa shocking the ultimate universe with stunning upsets over Seattle Riot and Denver Molly Brown, respectively. Not only were these titanic upsets in their own rights, but they also marked only the second and third times since 2014 that one of the Big Four teams — referring, of course, to Riot and Molly Brown, alongside San Francisco Fury and Boston Brute Squad — had not made it to the national semifinals.
From 2015 through 2019, those four teams essentially owned the semifinal slots, with only last season's exceptional exceptions and the comparably colossal upset that Atlanta Ozone pulled on Riot in 2017. Even in these awesome upset occurrences, though, Seattle and Denver haven't fallen far, finishing fifth and sixth respectively in the few instances that they've failed to advance to the semifinals. The top four have largely remained the top four, and this year doesn't appear to drastically change the situation in the division. Fury, Molly Brown, and Brute Squad claimed the top three seeds, with Denver and Boston only suffering losses to each other while Fury went undefeated and relatively unchallenged. The status quo remains and the women's division seems to have reverted to predictability after the momentary madness of 2019.
Or will it? What fun would that be — what drama would there be to write about — if the favorites do as favorites do and cruise to the top? Sure, Riot have a young and rebuilding roster, but where else might there be spiciness to be found in the women's division? Who could be the next 6ixers and Schwa, and ensure that people should continue to pay rapt attention to the growth and development of the women's division?
Next Teams Up: The Cases For and Against Possible Surprise Semifinalists in the Women's Division is only available to Ultiworld Subscribers
Already have a subscription? Log in
Whether you visit Ultiworld for our reporting, our podcasts, or our video coverage, you can help us continue to provide high quality content with a subscription. By becoming a subscriber, not only do you receive benefits like exclusive articles and full article RSS feeds, you also help fund all of Ultiworld's coverage in general. We appreciate your support!