Action from the first round of the Nationals bracket.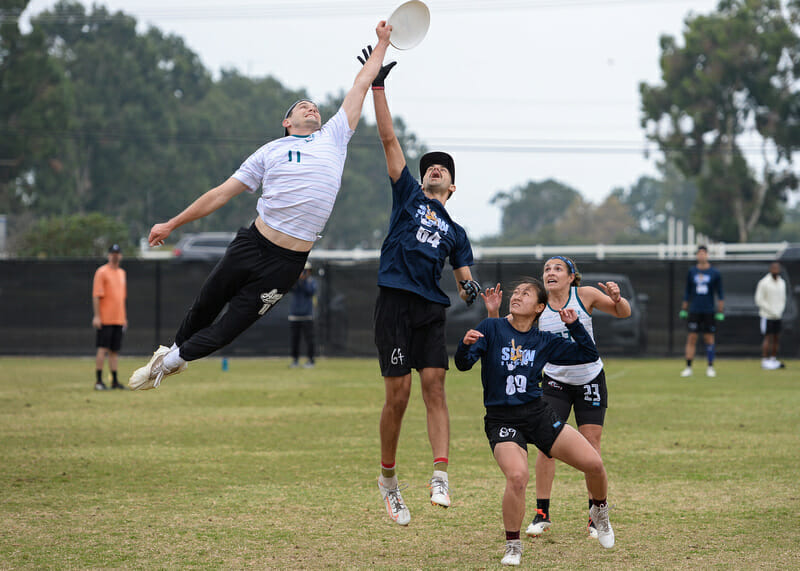 Ultiworld's 2021 coverage of the club mixed postseason is presented by Universe Point cleats; all opinions are those of the author(s). Check out Universe Point if you are looking for a comfortable, ultimate-specific cleat with a patented stud pattern that can give you an edge every time you're on the field.
After the wild results on Day One of Nationals, Friday morning was set up with matchups between supposed title contenders as early as the first round of the bracket. Mixed saw the top five seeds end up on the same side of the draw, while exciting new contenders emerged to populate the other, portending more surprises to come.
We've rounded up coverage of each prequarter from our Day 2 live blog. Stay tuned into ultiworld.com/live for updates from the bracket, as well as streaming links for all live games!
Arizona Lawless 15-10 Washington DC Space Heater
In the upset of the day so far, #10 Arizona Lawless used intense, physical defense to pull away in the second half and unplug #5 Washington DC Space Heater. Each team held its opening points to start, but Lawless broke first when Mark Medelevitz stalled Chance Cochran. After a discussion as to the volume of Medelevitz's counting — Cochran said he couldn't hear it — the observer upheld the stall and Kody Lippincott scored to give Lawless a lead they would not relinquish. Playing from behind seemed to get in Space Heater's head. On the next point, they turfed the first throw and Arizona stretched the early lead to 4-2. Space Heater was able to break back when AJ Merriman soared over Sean Ham to block a huck, but DC D-line scores were hard to come by as Arizona's handlers did a great job keeping control of the disc. Lawless broke for half when Space overshot a huck and Carl Morgenstern found himself wide open deep going the other way.
Continuing the run, Lawless held out of half and broke immediately when Amber Sinicrope misplaced an inside flick. With the score 10-7 Lawless, Space Heater started to feel the pressure and the game turned more physical. With their backs against the wall, Space Heater started stacking its lines to score, but the Arizona defense was stifling. Lawless pushed the Space resets to move backward, limiting the Washington hucking opportunities and disconnecting their cutters from the handler set. Arizona never relented, sometimes to the point of dangerous play — Caden Sigerud was ejected for a second PMF after a particularly bad bid. While that was over the line, it highlights the defensive intensity that Lawless brought to the game. Space wasn't ready to play against that kind of pressure from the get-go and Arizona pulled off the upset with their second-half run.
Philadelphia AMP 12-10 Boston Slow
Two-time defending champion #4 Philadelphia AMP showed that recent bracket experience matters as they turned on the jets late in the game to speed past #8 Boston Slow in a gritty, back-and-forth affair. Slow actually jumped out to an early lead with a break on the first point. Boston's Jon Cox laid out to block an upline that Max Charles had to slow down for and, with Peter Prial crossing over to the D-line, Slow walked the disc up the field and punched in the break. AMP settled in and the teams traded holds until Linda Morse grabbed a floaty break side throw for a block and caught the upline goal that put AMP up 4-3. Slow flipped the score from there using a Davis Whitehead block in the reset space and two timeouts to break and take a 5-4 lead. As halftime crept nearer, AMP tied the game at 7-7 when a swing to Amy Stoddard flew too far and Nicky Spiva bent a curvy backhand to Simon Covington into the end zone. Slow slowly marched up the field to take half.
The second half was a battle of attrition, with each team grinding out long points and nothing coming easy either way. Slow made a few more mistakes — a drop here, a turfed throw there — that AMP took advantage of. Showing their championship pedigree, AMP played good, possession-based ultimate late in the game. They broke to go up for good at 10-9, held onto their one-goal lead thanks to heroics from Jordan Rhyne, then stacked a D-line to break for the win when the soft cap horn sounded. Morse once again grabbed the goal-line strike to clinch it 12-10, as AMP advanced to face BFG in a must-watch quarterfinal.
Boston Sprocket 14 – 10 Denver Love Tractor
It was a faceoff between two talented teams who headed into Day Two in very different ways. #22 Denver Love Tractor defied expectations to break seed and take the second spot in their pool with a consistently strong performance over the course of Thursday. #9 Boston Sprocket had a rollercoaster of a day and brought the heat when it mattered to hold off #15 San Francisco Polar Bears to hold seed.
The outcomes of this game could have looked wildly different between the various versions of both hot-and-cool teams we've seen across the season. On this overcast morning, we got the best of Sprocket and the not-so-great face of Love Tractor.
Each of these teams gave each other opportunities to pull ahead, with skies and blocks from amped-up defenders and easy turns from inconsistent offenses alike. Sprocket, however, was the only team that took advantage of their opportunities and got a leg up early on. Boston's Bretton Tan was a key piece of their defensive puzzle, generating and converting turns left and right.
"We left some points on the table," commented Love Tractor's coach Wes Williams. "We had a little bit of the yips on our handler resets on our D-line, just not quite clicking the way we had." Denver fell flat in comparison to what their Day One performance showed they were capable of, but they were able to hold their heads up high knowing they still have a good shot at breaking seed and setting themselves up for success as a team going into next season and beyond.
Trust, explained coach Colby Clarkson, will be key to Sprocket's strategy in their quarterfinals matchup against #19 Madison NOISE in the next round.
Minneapolis Drag'n Thrust 14-13 Fort Collins shame.
If you didn't watch this game on the livestream, I would strongly encourage you to drop whatever it is you're doing and go watch the replay. This game was defined by the prowess of each team's defense — and each half looked wildly different based on who started on defense.
#3 Fort Collins shame. dominated the first half, taking half 8-3 with the crisp execution they were missing yesterday, capitalizing on #6 Minneapolis Drag'n Thrust's downswing and converting key breaks. The shame. offense looked sharp in the first point after the break but was unable to withstand Minneapolis's insatiable hunger to come back and quickly started to devolve.
Caleb Denecour showed exactly why he is regarded as one of the best players in the division, leading the team's defensive energy and scoring a Callahan that was one of the pivotal moments of this exciting game. It was not Minneapolis's first rodeo when it comes to comebacks and this trust in themselves and their teammates played a critical role in their win.
"We've come back from 3-8 before," commented Michelle McGhee, who played a lead role in their comeback, with incredible blocks throughout the game. "Even though it's a little improbable and crazy, we all know that we have it in us and we just brought the defensive intensity and that just spiraled." And they did just that to bring the game to universe and win 14-13.
This game looked more like a quarterfinal or even semifinal game than a prequarter and even though shame.'s journey through the bracket was cut short, Fort Collins and Minneapolis alike should be proud of what their defenses were able to accomplish in this nailbiter of a game.