Action fro the first round of the Nationals bracket.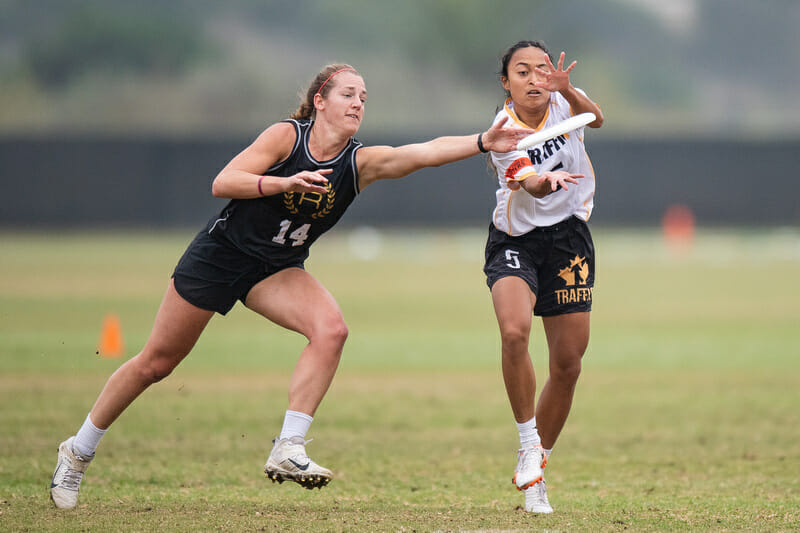 Ultiworld's 2021 coverage of the club women's postseason is presented by Spin Ultimate; all opinions are those of the author(s). Find out how Spin can get you, and your team, looking your best this season.
After the wild results on Day One of Nationals, Friday morning was set up with matchups between surprise bracket qualifiers. We've rounded up coverage of the prequarter round from our Day 2 live blog. Stay tuned into ultiworld.com/live for updates from the bracket, as well as streaming links for all live games!
Women's Prequarter: Florida Tabby Rosa 15 – 10 Boston Siege
#21 Florida Tabby Rosa continued their weekend of upsets as they beat #13 Boston Siege for a spot in the quarterfinals. In the first half, the Tabby Rosa offense was clinical and gave up zero breaks, and then withstood a run from Siege and their zone defense to pull away for a 15-10 win in a battle of pool fourth seeds.
Tabby Rosa set the tone early, scoring the first three points as Jackie Fane and Shayna Brock each picked up blocks on the way to two quick Florida breaks. The blocks came in part as Siege appeared to be forcing throws to Kennedy McCarthy, and while the Boston star did pick up a pair of scores, it didn't keep Florida from building on their lead and taking an 8-4 lead into half.
At halftime, the Siege coaches made a strategic change and Boston moved into a zone-and-one defensive look. They intended to shut down the Tabby Rosa cutters and have a person matchup on one Florida handler, and that shift did pay off initially. The Tabby Rosa offense largely slowed to a crawl and gave up a break as Valerie Willocq scored a couple of goals for Siege and McCarthy came down with the 50-50 shots that didn't connect in the first half. Siege drew the game within one at 10-9, but got no closer.
Tabby Rosa, having seen the Siege zone for several points in a row, started simply throwing over it with Kate Travaglini and Sunny Harris the most frequent ones to do so. They found joy in getting the disc to Danielle Cordes to break the zone, and Gabby Krajniak deep, and pulled away with a 4-0 run, helped by some zone defense of their own. While McCarthy did help Siege get one more, Travaglini and company sealed it with another hold and Tabby Rosa, the no.15 seed, was on to quarters.