Somehow only the famously unpredictable Pool D went to seed, and not without a few nailbiters.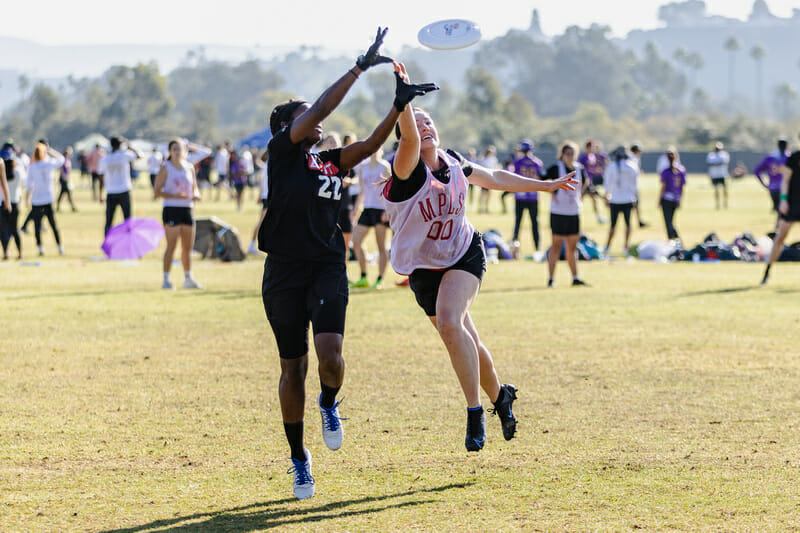 Ultiworld's 2021 coverage of the club women's postseason is presented by Spin Ultimate; all opinions are those of the author(s). Find out how Spin can get you, and your team, looking your best this season.
A year with no pre-Series rankings, limited connectivity between regions, and short seasons for many teams led up to an opening day of Nationals where few knew just what to predict. We're fairly sure almost no one would have predicted all of how Thursday played out, though, with early major upsets in all three divisions and more than one top eight seed eliminated before bracket play.
We've rounded up coverage of each pool and other notes from the day from our live blog. Watch ultiworld.com/live today for updates from our reporters on prequarters and quarters play, as well as streaming links for all live games!
---
Pool A
Overall Results
Round Three: Minneapolis Pop 13 – 11 Columbus Rival
With the stakes at their highest, both teams in this contest put in a herculean effort to grind out a game that was as impressive as the score indicates, if not more. While the first half featured its share of unforced errors, the second was a clinic in hard-nosed defense and unflinching offense. Pop may have come away with the victory, but it was a win for both teams to bring such a high level of competition to this round.
It didn't always seem that the game was going to be one of the better contests of the weekend. At the start, the wind threatened to hamper all activity, and neither team had a particularly smooth launching point with their offense. The game plan from both sides seemed to be 'green lights on hucks!' without taking the weather into consideration. While there were some lucky holds that came of it, there were plenty of turns that were a part of it, too.
In all of this, the good news was that the players were giving it their all no matter the situation. Rival's Tracey Lo, Theresa Zettner, and Corinn Pruitt all had standout plays that kept the Columbus team in contention when the game threatened to pull away. On the other side of the field, it was Biz Cook, Mei Hecht, Makella Daley, and Stephanie Perleberg making big moments happen.
It's no coincidence that most of Rival's best players in the game were part of the defensive unit, while most of Pop's were on their offense. After Pop took a sizable 8-5 lead at half, the rest of the game turned into Rival slowly inching their way back into the game with hard-nosed defensive effort. Every Pop O point seemed to carry all the weight of the game in its hands.
To Rival's credit, they did exactly what they needed to do to tie the game up, with some laser passes from Lo and some cleanup plays from Zettner and Emma Schroder that put them on the doorstep. At 10-10, it really seemed like momentum was in favor of Rival.
All that changed when Biz Cook decided to take charge. Remember the name, because it will come up a lot this weekend. She ran the final few points, shutting down Lo and taking on the brunt of the offensive effort, eventually leading her team to a 13-11 victory.
There's more to be said about the game, but it really did come down to the deciding factor of Cook kicking into high gear, and that's just what great players can do sometimes. Both teams have made it to prequarters, so now it's just a matter of seeing what they can do during elimination games.
Elsewhere in this pool:
New York BENT made valiant comebacks against Pop and Rival, rebounding from 4-8 and 5-10 deficits in consecutive rounds, but ultimately lost 13-14 and 11-14 respectively and were eliminated from the bracket.
San Francisco Fury gave up less than ten points on all three poolmates combined, going 45-8 on day one.
---
Pool B
Overall Results
Round Two: Boston Siege 15 – Portland Schwa 10
A potent zone defense and the superstar talent of Kennedy McCarthy carried Boston Siege to a 15-10 upset victory over 2019 semifinalists Portland Schwa. Siege doubled up Schwa going into halftime, and while the Northwest squad did play much closer to their Northeast counterparts in the second half, the dominance of McCarthy led the way for Boston to close out the win.
As the second round of the day moved into the afternoon, the wind began to whip through the outer fields in San Diego where Boston and Portland were playing, and so Siege brought out their zone defense to great effect. Boston's cup defense was particularly effective, with the long mark of Claire Babbot-Bryan and quick reactions of captain Tracey Lum earning them each three blocks. Schwa did on occasion simply throw over the Siege zone with deep hucks, but the Boston defense largely did it's job on the way to an early 8-4 lead.
Missing several key pieces from their 2019 team, including the present but injured Mariel "Murl" Hammond, Schwa had to rally hard to have a chance in this game, and in the second half, they did. They were led by the blocks and big plays of Elizabeth Longmire, a pair of goals from Morgan Caldwell, and three assists from Georgina Tetlow. However, Siege did have their superstar available, and Kennedy McCarthy was absolutely everywhere. She racked up six goals and an assist as she and Siege responded to every push that Schwa made. Portland did pick up a late break, but it wasn't enough, and a cross-field throw to Valerie Willocq confirmed the upset for Siege.
Round Three: San Francisco Nightlock 13 – Portland Schwa 10
After establishing a halftime lead, San Francisco Nightlock held off Portland Schwa in a second half that saw the teams exchange runs before Nightlock finally put Schwa away. Twice in the second half, Schwa closed multiple-goal leads down to just one or two, but they could never quite draw level with Nightlock, and the San Francisco team took the much-needed win.
In the first half, Nightlock established an 8-5 lead with several breaks, helped by a zone defense that included two different iterations of a cup that kept the Schwa handlers on their toes. Receiving the disc out of half, it seemed like Nightlock would pull away from Schwa, but instead the Portland squad made their first push. When a San Francisco huck trailed away from its intended receiver and down at the other end, Noelle Takahashi went deep and scored for the Schwa break, and it was 8-6. A long point later and Schwa broke again, this time to Kelsey Salvo. Suddenly the game was within one, and it was getting good.
Nightlock rotated their offensive players, and speedster and former San Francisco Blackbird player Malina Wiebe scored the hold, and that seemed to spur some of Nightlock's other new players into action. The next two points were scored by Montana Roberts, with one assisted by Ella Hansen, who also forced a block in the deep space against her old team. With one more break score kept alive by Nightlock captain Jackelyne Nguyen, San Francisco had gone up 12-7 and blown the game open.
Schwa did have one more run in them, taking three straight points that made the Nightlock sideline nervous and brought the game within two, but it was too late. The horn had sounded, and the next point Nightlock held with Hansen saving possession for the San Francisco goal, win, and upset, 13-10 over Schwa.
Other notes:
Despite losing to all three teams, Portland Schwa played overall no.2 seed Denver Molly Brown much more closely than Siege or Nightlock, ultimately falling to the Coloradans 11-13 at cap.
---
Pool C
Overall Results
Round One: Florida Tabby Rosa 14 – Seattle Riot 10
Next-to-last seed Florida Tabby Rosa pulled off a huge upset against Seattle Riot in the first round of women's pool play, winning 14-10. The Floridians started hot and then held off the traditional Northwest power in the second half to start their return to Nationals with a bang.
Tabby Rosa, the second team out of the Southeast, came in with only 17 players listed on their roster, but had plenty of energy. They started strong in the first half, taking a 7-3 lead before Riot was able to bring the score back to 7-5 with a hold and a break. As might be expected, Kate Travaglini made big plays all over the field for Tabby Rosa, notching 6 goals and 4 assists as she led the way for Gainesville. The early first-half lead for Tabby Rosa mostly came off of Riot mistakes, as the rebuilding Seattle team were unable to efficiently connect on their deep looks and Tabby Rosa took advantage.
After taking half 8-5 with a hold, Gainesville did just enough to keep Riot at arm's length in the second half. Time and again it was Travaglini coming up with skying grabs, powering the Tabby Rosa offense along with Gabby Krajniak and Jackie Fane. For Riot, Sam Rodenberg was the player keeping them in it as she snagged a layout grab and dished an assist for back-to-back Riot holds. But in the end, it wasn't enough. The Tabby Rosa offense held once more for the 14-10 and a stunning upset to start the weekend in the women's division.
Round Four: Boston Brute Squad 15 – 9 Seattle Riot
If there was ever a game that symbolized the changing of the seasons with ultimate, it was this one. Seattle Riot and Boston Brute Squad are rival dynasties, and in any other year, it would have been unthinkable for the two to meet this early. But at this tournament, we're seeing two programs in very different stages of development. Unsurprisingly, it was Brute Squad, currently still in the golden years of their program history, who took the win over Riot, but the game wasn't without intrigue.
Early defensive pressure is something that has always set Brute Squad apart. Whereas some teams need the first few points to figure out how to stop a good offense, that is never a problem for Boston. This game was no different. Riot's offense was good — let's be clear about that. The team didn't make rushed or careless throws, and more often than not, it was errors under strong pressure that led to their turnovers. Brute Squad simply were able to get those turns early and often. If Boston were a lesser team, Riot would have had a chance to get the disc back, but instead found themselves outplayed by a defensive unit that would be a starting O line anywhere else in the nation. In a blink, the score was 4-2 to Brute before Riot even had a chance to collect themselves.
A second blink led to a 7-3 lead.
The story of Brute's success cannot be summarized by naming a few key players. Sure, Kami Groom, Tulsa Douglas, and Sophie Knowles played well, but so did everyone else on the roster. Sarah Judd stood out, mainly due to her excellence despite not being a familiar face. As has been the case with Boston in previous years, it's the totality of their roster that brought them success.
At 7-3, Brute Squad sent down a line of younger players on offense to get them a hold into half. Riot had a roster of their veterans in place to stop them, but they just couldn't. Without much difficulty, Claire Trop found her way into the end zone and punched in the goal to take half.
There wasn't a remarkable difference in gameplay or outcome in the second half, either. Riot wasn't playing poorly, they were just playing like a young team making younger-team mistakes against a far more assured team in Brute Squad.
The bright side for Riot is that they still looked good, despite the level difference between the two teams. They might not have been able to play their way back into the game, but they did get a break on Brute Squad in the second half, a feat no other team accomplished on Thursday.
The game ended at 14-9 without too much fanfare. Nothing overly dramatic happened to swing the game in any way. It was just a game between a very good team, and a young team that is working their way back to the level of the competitor they just saw.
Other notes:
Pool C saw some of the most consistently dramatic margins of victory on Thursday, with no final scores coming closer than Tabby Rosa's four-point win over Riot, and ten or more points separating winners and losers in four out of six games — only two of which involved Brute Squad.
---
Pool D
Overall Results
Raleigh Phoenix (4), 3-0
Vancouver Traffic (5), 2-1
Chicago Nemesis (9), 1-2
Pittsburgh Parcha (16), 0-3
Round One: Raleigh Phoenix 15 – 8 Chicago Nemesis
It was a game of two halves in this early match between Nemesis and Phoenix. In the first, Nemesis hung tight with the Raleigh offense, able to trade blows and keep the game close. In the second, Raleigh's defensive adjustments proved too much, and the Phoenix offense rarely had to touch the field.
From the outset, it appeared that Phoenix had things in hand. An early turn gave them the first break of the game, as Carmen Tormey struck deep for a goal without giving her defender much of a chance. Chicago settled after that first point, though, and the teams traded the next few before Chicago scored a break of their own after Sara Gnolek left her spot in the handler set to surprise her defender with a goal. This was all Nemesis needed to get a little more belief in their offense, and the game settled into a slogging match of good offensive holds for a bit.
Raleigh finally managed to crack the Nemesis code with an adjustment to their handler defense, smothering Jennifer Corcoran and denying her an easy reset option. "We asked a lot of Mary Rippe and Lyla Stanland," said head coach David Allison. "They were the two tasked with marking Corcoran, and it gave us a lot more opportunities to take them out the game. We didn't do this at Pro Champs, but watching game footage and seeing how they played early in this game, it was very apparent."
Once additional pressure was applied to the handlers, Nemesis wasn't able to get the free reset valve that they needed, and soon let up a handful of breaks to give Phoenix an 8-6 lead at half. Dawn Culton was instrumental in this lead, as she was all over the place, scoring goals, getting blocks and generally thwarting the plans of Chicago.
Despite being up a break, Phoenix did not relent in the second half, and caught Nemesis a little flat-footed out the gate to reel in two quick breaks and a 10-6 lead. Once again, Culton was instrumental in these points, setting herself up with huge plays at every position on the field.
To recover, Nemesis sent out their defensive unit for an offense point, and it worked well enough, but it was too little, too late. Chicago never really had a chance to play their way back into the game despite heroic efforts from Gnolek and Jacqueline Jarik. In a blur of a few short points, Phoenix had a strong 14-8 lead, and broke on the next point to close out the game 15-8.
Live stats populated by volunteers have Dawn Culton with three goals, two assists, and two blocks in this game, while Sara Gnolek is recorded with two goals (although this reporter noted an additional block for Culton and an assist for Gnolek).
Round Two: Raleigh Phoenix 14 – 7 Pittsburgh Parcha
After this game, it's fair to say that Phoenix is ready to put their stamp on Pool D. While Parcha had a solid second half, they weren't able to match the depth or technical prowess of their opponents, and a comfortable win never seemed out of Phoenix's grasp.
The story of the first half is that Raleigh didn't give Parcha a chance to get going. From the moment Pittsburgh started the game, Raleigh was swarming them on defense, completely shutting down the under cuts Parcha relied on to gain yards. With the wind playing as the eighth defender, Parcha was outmatched, and their strategy of falling back on hucks was foiled by gusting winds.
By the time Parcha had a chance to get their feet underneath them, it was already 6-2, and Phoenix was setting the tempo at every point. Mary Rippe and Rebecca Fagan stood out in the early points for their defensive effort, while on Parcha, it was Sharon Yee who kept the wheels on while Annelise Peters and Carolyn Normile started to heat up.
At half, Phoenix led 8-3, but a mental reset from Parcha was what they needed to whip into shape. With the wind slightly dying and Parcha's handlers getting comfortable, more options started to present themselves, leading to a number of solid holds from the team. Parcha was particularly effective against Raleigh's zone, which did little to stunt the forward march of Pittsburgh's offense.
With their confidence growing, Kayla Emrick, Normile, and Peters started carving up the Phoenix defense. It was enough to keep them in contention, but not take the lead, as Raleigh's own offense was unconquerable, too. The teams traded to 12-7, with neither defense able to find an opening to change the narrative in any way.
It was only once cap was on and the game was well out of hand for Parcha that Phoenix managed to find a final break, closing things out 14-7 on their way to a 2-0 record in the pool.
If Phoenix's last game was the Dawn Culton show, this one was all about Karen Ehrhardt. Raleigh's offense set up Ehrhardt so often that Parcha shifted tactics to neutralize the threat with targeted box-and-one junk looks. Her ability to get open at will and her calm presence with the disc were saving graces for Phoenix more than once, and her amazing catches were by far the highlight of the game.
Round Four: Raleigh Phoenix 12 – 11 Vancouver Traffic
We all knew Pool D was going to be fun, didn't we? The top two seeds made sure of that in the final round of the day as Vancouver Traffic took a half-time lead over Raleigh Phoenix, only to have Phoenix mount a comeback in the second half and close with a 5-1 run to win 12-11 on universe point.
It was actually Phoenix who led to start, as they took a break on the third point of the game to lead 2-1. Danie Proby and Lindsay Soo came up big early as they keyed the offenses for Traffic and Phoenix, but it remained advantage Raleigh for the next several points. That was until Tyler Smith and Karen Ehrhardt couldn't connect on a huck, and back the other way, veteran Terri Whitehead went up over 2 Phoenix defenders. A few throws later, it was a Traffic score and break. Traffic used that break as fuel for two more scores by their defensive line to take half 8-5 and they were rolling. Phoenix were rocked, and Catherine Menzies (nee Hui) came up big time and again, as has been her prerogative with Traffic.
Out of the half, it appeared as if the gap would remain the same as the teams exchanged holds on the way to a 10-7 Traffic lead. Phoenix were able to close the deficit to 10-9 as they held and then broke, which set the game up for a fun finish. Traffic did hold to extend their lead to 11-9, while Phoenix's offense, needing to match them, just barely did as Karen Erhardt came up with a giant layout bid for the score. With the horn going off during that Raleigh offensive point, it was a game to 12 and all Traffic needed to do was hold. Spoilers, they could not.
Traffic's offense worked the disc down the field patiently, but couldn't convert the hold and Phoenix boosted it the other way to Amanda Murphy, who then popped the disc up to Mary Rippe. A quick break and took the game to universe point at 11-11. The final point deserves 200 more words, but in short, Traffic's offense dominated the time of possession and worked it down to within mere yards of winning only to have a Phoenix player come up with a big box-out or layout bid. After the final turn, Phoenix sent it deep to star player Lindsay Soo, who then found Lyla Stanland, who had to layout for the score. But score she did, and Phoenix had completed their comeback.