Denver resurges after an uncertain start, but Seattle's dominant run continues to semis.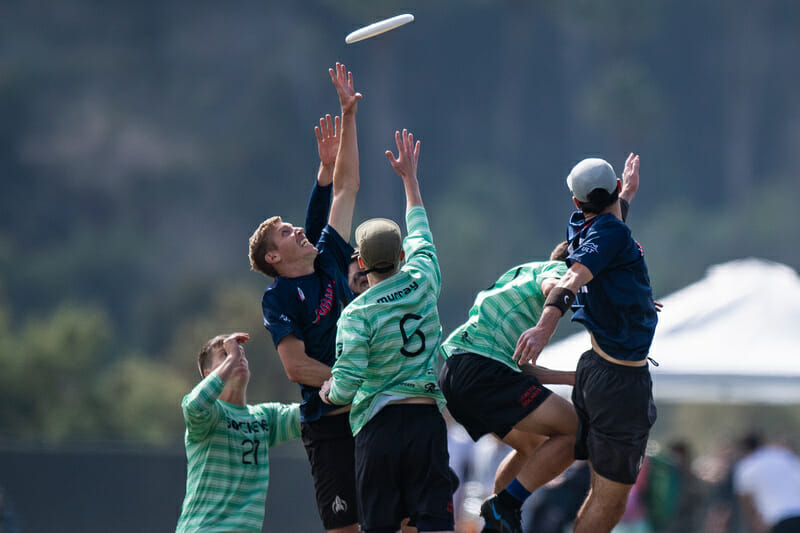 Ultiworld's 2021 coverage of the club men's division is presented by Spin Ultimate; all opinions are those of the author(s). Find out how Spin can get you, and your team, looking your best this season.
#10 Denver Johnny Bravo did not have a particularly strong Thursday of pool play. At times listless, at times sloppy, never quite energetic — it wasn't assured they would even make it to the bracket. The first handful of points against 2021 worldbeaters-to-date, #1 Seattle Sockeye, looked like more of the same.
The looks they were given by the Sockeye D-lines — they run at least two lines deep — were tight, and smart rotations quickly closed off whatever Bravo's cuts managed to open. The turnovers were almost foreordained given the pressure, and Sockeye took a 4-1 lead. With the various weapons on Sockeye's offense — Matt Rehder, Dylan Freechild, and Simon Montague chief among them — all clicking for the game's first two points, everything was coming up Seattle. "We have a lot of trust in our guys to receive the disc and put the ball in the end zone no matter how it looks or how it happens," said Freechild of the O-line.
And then they weren't, because a funny thing happened. Johnny Bravo found the spark they had been lacking in pool play. "The spark came from the D-line and our trust in each other and their ability to generate pressure over the course of the game," said Cody Johnston after the loss.
Bravo held — barely — to right the ship, and then the D-line got to work. Rehder was looking for a dump. Montague cleared, leaving Mac Hecht alone behind the disc. Cody Spicer locked him down completely, and Rehder threw the disc to the empty space behind the play. Bravo capitalized to bring the game to 4-3, a much more manageable deficit.
From that point forward, the defenses controlled the game, almost without exception. Sockeye continued to press Bravo into small spaces. Tony Venneri and Julian Hausman stood out as being hyper keyed-in, but Seattle's D-line talent runs deep. Even without typical leaders Ben Snell, Trent Dillon, and Christian Foster on the field, there were plenty of athletes to make life difficult for Bravo.
Bravo, however, kept cooking in the galley kitchen allotted to them. "Hats off to Sockeye, they played really great D. I think that we're very comfortable as an offensive unit working in tight spaces. And to their credit, they put us into some of those spaces. But we play a lot of goalty," said Johnston. He, Matt Jackson, Ben Lohre, Erik Hotaling, and Jay Froude all cycled out of the handler set, keeping possession if not often making much progress. But if you can keep possession, you can keep giving yourself a chance to score. After ten, fifteen, twenty passes, an outlet often opened up: Denny Bechis or Quinn Finer or, again, Froude, who was simply everywhere.
In the second half, Bravo started to give as good as they got, and the Sockeye lead shrank. Two opposite truths can be true: Sockeye's offense is phenomenally balanced, and they weren't ready for the midday breeze that swept across the Surf Cup Sports park. The normally reliable Montague, Freechild, and Hecht all lost throws to the wind in the second half, allowing Bravo to close the gap.
But despite the efforts of Lohre, Johnston, and Froude, Sockeye's depth won the day. Venneri took over after a turnover to put the game out of reach, showing his teammates on the O-line a thing or two about weighting a throw against the wind. He toed in an upline to save possession. A few throws later, pinned against the front cone of the attacking end zone with a pair of Bravo players blocking anything but a dump pass, he managed to step around and airbounce a backhand between both of them to hit a full-speed Freechild in stride.
"Tony's great. He cares a lot and he puts everything he has into it. He reminds me a lot of myself and some of the other guys I came up playing with," said Freechild of his younger teammate. "He has earned this moment."
The Venneri point brought the score to 13-10. It almost wasn't enough. Finer and Cody Spicer converted a Sockeye mistake into an easy break to change the scoreboard to 13-12. That was all Bravo could muster, and Sockeye held cleanly on the next point for a 14-12 victory.
Johnston, emotional after the Bravo loss, reflected on the team's season. "It's an absolute joy to be out here at the fields. I think that for Bravo, specifically, it's a really great year to build off of and a lot to be proud of, and I'm looking forward to what's to come."
For Sockeye, what is to come is much more defined. They have their eye on the prize. Next test: New York PoNY in semis.