In a game that would be won or lost by the tightest of margins, discipline with the disc kept PoNY and Ring of Fire within inches of each other.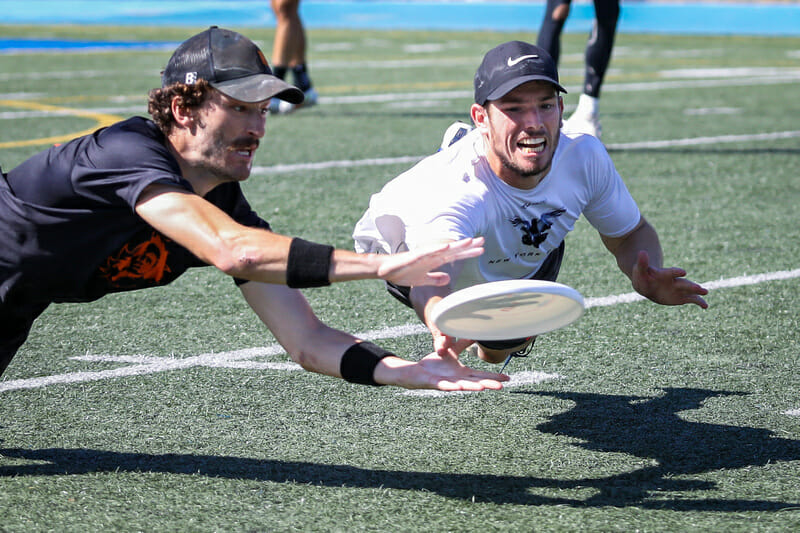 Ultiworld's 2021 coverage of the club men's division is presented by Spin Ultimate; all opinions are those of the author(s). Find out how Spin can get you, and your team, looking your best this season.
The story of the 2021 Club Championships men's final between New York PoNY and Raleigh Ring of Fire was disciplined offense. Both teams employed the possession-driven, conservative approach that has become familiar in elite ultimate. Three-person weaves, small-ball, short break passes, dominator sets, whatever you want to call it — it worked.
During the first half, both offenses were confident playing catch. Both teams utilized strong lines of handler-driven players with exceptional break throw accuracy. Small-ball god John Randolph led the charge for PoNY while Anders Juengst, Sol Yanuck, and Gouchoe-Hanas led for Ring.
With the exceptional chemistry of Yanuck and Gouchoe-Hanas, Ring had no problem moving the disc laterally, giving and going and dumping it until their cutters tore open for unders downfield. PoNY applied intense matchup pressure, but eventually Osgar, Williams, or Juengst would break free and punch it in.
Club Championships 2021: Clinical Offense Defined the Men's Final is only available to Ultiworld Subscribers
Already have a subscription? Log in
Whether you visit Ultiworld for our reporting, our podcasts, or our video coverage, you can help us continue to provide high quality content with a subscription. By becoming a subscriber, not only do you receive benefits like exclusive articles and full article RSS feeds, you also help fund all of Ultiworld's coverage in general. We appreciate your support!