Rounding out the 14 best performers of the year.
Ultiworld's 2021 Mixed Club Awards are presented by Five Ultimate; all opinions are those of the authors. Please support the brands that make Ultiworld possible and shop at Five Ultimate!
Ultiworld is pleased to announce our annual Mixed Club Awards. While we consider both regular season and postseason performance, because of the nature of the Club Division, we weight success in the Series and at Nationals above all else — this year even more so than most. The All-Club Awards are selected based on input from Ultiworld reporters, contributors, and editors.
Player of the Year Award
Offensive Player of the Year Award
Defensive Player of the Year Award
Breakout Player of the Year Award
Coach of the Year Award
All-Club First Team
All-Club Second Team
Club Awards Voting Breakdown
2021 Mixed All-Club Second Team
Connor Lukas (Ann Arbor Hybrid)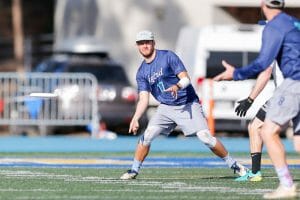 We've already sung the praises of Connor's offensive skills, which could have been subtitled "Speak Softly and Carry a Big Flick," but Lukas is a complete player. He guided the Ann Arbor Hybrid offense all the way to a second-place finish in his first year and the team's first year qualifying for Nationals. As one of only seven players named on every All-Club ballot, he's clearly a lock for the honor.
As the center handler for the Hybrid offense, Lukas tallied an impressive 19 assists, 5 goals, and 6 blocks, and he finished the weekend with the highest fantasy point total by a significant margin. It's not often that a center handler is also (tied for being) the team leader in blocks — with Nathan Champoux, who himself is no slouch on D. By crossing over to join the D-line or by getting the disc back for the offense, Lukas demonstrated that his defense is nearly as strong as his division-leading offensive prowess. It's clear that given the chance, he would excel on any team in almost any role.
–Ben Murphy
Abby Hecko (Seattle Mixtape)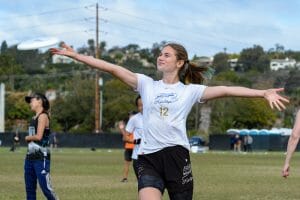 On a team filled with big personalities, Abby Hecko's calm demeanor and quiet confidence fueled the Seattle Mixtape offense. Receiving the centering pass on many offensive possessions, Hecko was comfortable moving the disc as the offense needed. An around backhand to space to open up the downfield set — no problem for Hecko. Time to launch a standstill huck off of a set play — Hecko's got the arm for it. When the offense needed a bailout reset, Hecko could reliably get open in the backfield and quickly move the disc into a threatening position.
Though she has extensive experience on youth national teams and two half seasons of college ultimate under her belt, it's possible that Hecko is just scratching the surface of her talents. Just 20 years old, Hecko has plenty of room to grow and develop, which should be a scary thought for her club division opponents who will likely see her on lists like this one for years to come.
–Alex Rubin
Manny Eckert (Seattle Mixtape)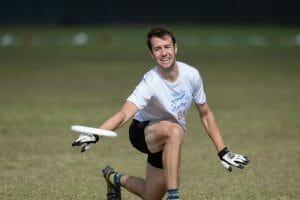 If you were to listen to Mixtape tell it, no other player was as furiously recruited for the team over the past few years as Manny Eckert. The UW star is a product of the youth pipeline in Washington and had reps with Mixtape players in leagues, goaltimate, and 2-on-2. Chemistry was never going to be a problem, but what he showed this year can't just be distilled down to good chemistry. Yes, we already knew Eckert had all the tools and experience that go into the makings of an elite player, but he was joining a storied program that was built to win a championship. On top of all that, he was given the reins in their center O-line handler role, formerly occupied by POTY-winner Mark Burton, which are intimidatingly large shoes to fill. Despite all that, Eckert stepped onto the field this season as a rookie and promptly dunked on the entire division.
What made the difference for Eckert this season wasn't just his throwing prowess, for which he's already well known, but rather his blend of guile and athleticism. Eckert always prioritized making the throw the defense wasn't looking for, changing the landscape of the field and causing his opponents to adjust. In the rare occasions this didn't pay off, Eckert was as comically cerebral with his defense as his Mixtape colleagues, which paired well with his intimidating size and speed. In just one season, Eckert showed enough to justify all the thirst tweets Mixtape sent his way in years past. Now, we're all waiting to see what the next few years hold.
–Graham Gerhart
Sean Ham (Arizona Lawless)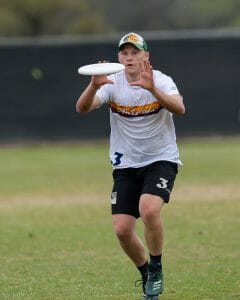 We might not be able to classify Sean Ham as the new sheriff in town, since he's been recognized across the years as a standout player in club (mixed and men's divisions) and the AUDL. But he certainly reached new heights as a star player on Arizona Lawless. As the leading men-matching goal scorer in the mixed division, it's only fitting that he has a spot on an All-Club line in 2021.
Stats are only the beginning of the story of his impact on the division this season, however impressive his 34 points, 7 assists, and 4 blocks — against only 3 recorded turnovers — throughout the season may be. Ham completely dominated the field in many of Arizona's key games, running circles around the division's most talented defenders. You could blink and find Ham in a completely different section of the field with his defender trailing behind in the next moment. His hands almost seemed like magnets at times with some of the wonky throws he managed to reel in, particularly in the end zone. As one of the division's top deep threats and receivers, Ham played a lead role in his team's breakout success and continued to demonstrate that, no matter the division or the setting, he is a powerful asset to whatever team he's part of.
–Isabel Cruz
Linda Morse (Philadelphia AMP)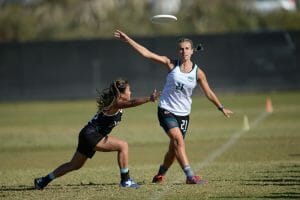 As a team, Philadelphia AMP knew it needed its veterans to step up to replace some of the production that left the team in the offseason. None rose up to the task more clearly than Linda Morse.
Equally adept at shutting down the opposing team's toughest matchup as she is churning out useful cuts on offense, Morse was a chess piece for coach Patrick Sherlock to move around wherever there was a hole to fill. With fellow cutters Lindsay McKenna and Raha Mozafarri sidelined with injuries at Nationals, it was Morse who took on more playing time and stepped into the spotlight for a team with championship aspirations. Though AMP wasn't able to reach its third consecutive final, Morse's play still stood out as award-worthy, earning her second appearance on an All-Club team.
In another year where the injury bug (or the "young-stars-move-to-the-Bay-Area" bug) doesn't bite as hard and AMP plays a few more bracket games, Morse likely played well enough to earn her way onto an award podium. Playing for a stalwart, successful team in a division known for chaos, she'll have plenty more chances to get there in the coming years.
–Alex Rubin
Jenny Fey (Washington DC Space Heater)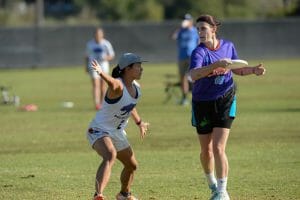 Way back in June, at the preseason Richmond Cup, Jenny Fey laid down a marker for what was to come throughout the season. While teammate Ashleigh Buch grabbed the plaudits operating downfield, it was Fey pulling the strings in the backfield, expertly keeping possessions alive with her movement in the reset space and smooth distribution of the disc. That impact never waned through the summer and fall, leading Washington DC Space Heater to a dominant season that only sputtered late in the Series.
To the surprise of most prognosticators, Space Heater's campaign came to an ignominious end in San Diego, but it wasn't Jenny Fey's fault. She led her team with a dozen assists at Nationals, including a pair in the game that eliminated them from the bracket, not recording a single turn against Lawless as her team's title aspirations faded away. Multiple opponents on the weekend claimed she was the best player they faced at the tournament, a frustratingly difficult cover — despite everyone knowing the disc would flow through her — who could also attack down the field with an eye-popping throwing arsenal.
Space Heater leadership may have to go back to the drawing board this offseason as they hunt for a strategy to bring a title home to DC, but based on her performance this year, Jenny Fey's role is one that shouldn't need any adjustment.
–Steve Sullivan
Cheryl Hsu (Seattle BFG)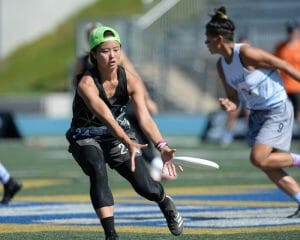 Is there a list of players that tore their ACL and somehow got better? Put Cheryl Hsu at the top of that list. While we're at it, there are plenty of other lists she should top after becoming one of the most impactful players of 2021, BPOTY being the least of them. Hsu's blend of absolute confidence and quick decision-making was exactly what Seattle BFG needed in an O-line handler, and she commanded the backfield on her team in such a way that the legends of ultimate she played with often deferred to her. The trust BFG placed in Hsu was well-warranted, as she threw only two turnovers in total at Nationals, which was indicative of her postseason as a whole.
Hsu was the seawall for her team. No matter how stormy the opposition's defense, Hsu was unflappable, and had a knack for being available when her team needed a short upline or an easy reset. Her ability to work in the smallest spaces allowed the rest of her team to stretch the field to impossible lengths, which in turn set her up for some of the most amazing throws. The symbiotic relationship of Hsu and her team definitely elevated both sides, but when a team wins a title and the backwards cap is all anyone can remember, there's no question who it is that's making it onto the All-Club list.
–Graham Gerhart