Celebrating the best offensive performances of the season.
Ultiworld's 2021 Mixed Club Awards are presented by Five Ultimate; all opinions are those of the authors. Please support the brands that make Ultiworld possible and shop at Five Ultimate!
Ultiworld is pleased to announce our annual Mixed Club Awards. While we consider both regular season and postseason performance, because of the nature of the Club Division, we weight success in the Series and at Nationals above all else — this year even more so than most. The Club Awards are selected based on input from Ultiworld reporters, contributors, and editors.
Player of the Year Award
Offensive Player of the Year Award
Defensive Player of the Year Award
Breakout Player of the Year Award
Coach of the Year Award
All-Club First Team
All-Club Second Team
Club Awards Voting Breakdown
2021 Mixed Club Offensive Player Of The Year
Connor Lukas (Ann Arbor Hybrid)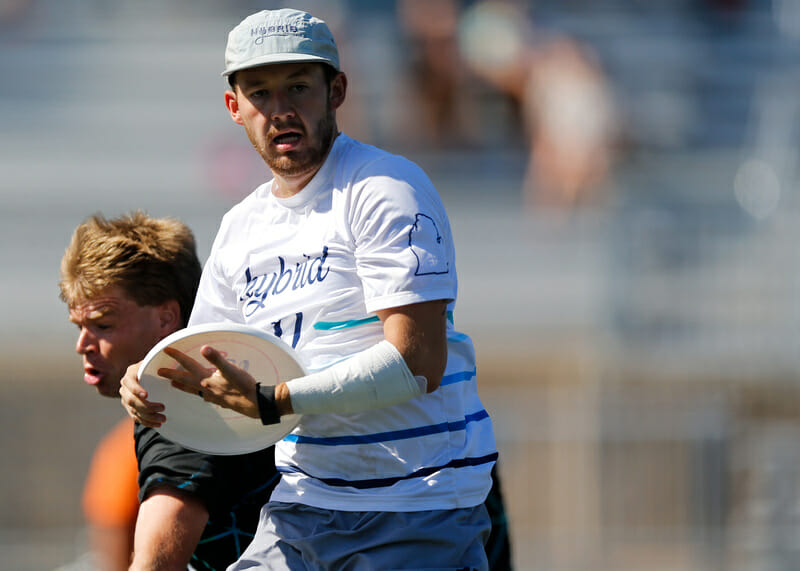 As the offensive focal point of one of the most surprising contenders in recent memory, Connor Lukas stood out for his all-around play and for bringing his best during games that mattered most. The mixed division always seems to have a surprise contender emerge; though Ann Arbor Hybrid was not surprised by its own success, few others pegged the team from Michigan as national finalists. Drawing internal confidence and taking on all comers with pride, Hybrid's run to the final was a true team effort, but it could not have happened without Lukas as their offensive centerpiece.
As Hybrid romped undefeated through Sectionals and Regionals, not to mention their tournament victory at the Elite-Select Challenge before the Series, Lukas was of course dominant. At Nationals he leveled up, finishing third in the mixed division with 19 assists. More impressive than the raw number though was the way he played with Ann Arbor's season on the line. In the win-or-go-home pool play finale against New York XIST, Lukas tossed five assists as the team came from behind to not just survive to the bracket, but take the pool. In Hybrid's semifinal against Madison NOISE, Lukas tallied three assists and two goals to send Ann Arbor to its first final. He set the tone for the tournament with four assists and a goal in the pool play opener, an upset over pool top seed Minneapolis Drag'n Thrust.
Hybrid had the confidence in Lukas to strategize for him to shoulder a heavy load. Most points started with a centering pass to him or a set play designed to get him the disc on an initiation cut. Whether he was launching a field-opening huck or laying out to save an errant throw, Lukas was the magnetic force around which Hybrid's offense developed. When team leader James Highsmith went out with an injury during the first game of Nationals, Lukas elevated his game to take on even more responsibility and pilot the ship all the way to the national final.
For a player who regularly commutes eight hours round-trip to practices,1 Lukas's commitment stands out as much as his play. After eight years of playing club ultimate with various Michigan teams, this was his first nationals appearance. He wasted no time making an impact, and after showcasing the most impressive offensive performance in the division, adds an Offensive Player of the Year award to his on-field silver medal.
–Alex Rubin
1st Runner-Up
Cheryl Hsu (Seattle BFG)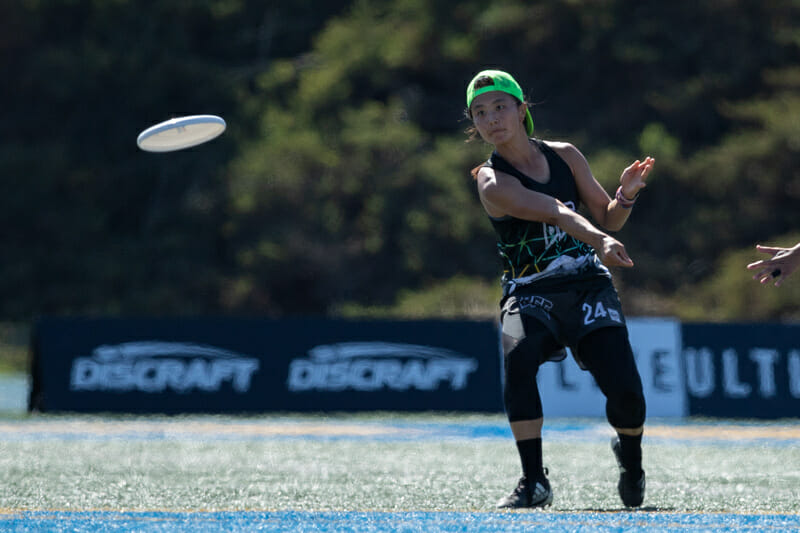 Cheryl Hsu may be a bit shy off the field, but was a bold presence on the field as one of the most dominant offensive players in the mixed division in the 2021 season. It was not Hsu's first time at Nationals, as a former player on San Francisco Polar Bears, but she reached new heights in a star role in her first season with Seattle BFG. Shining in the handler set next to the likes of veteran stars like 2017 OPOTY runner-up Jeff Pape and this season's Player of the Year in Mario O'Brien was no easy feat, but Hsu made a splash as a well-rounded contributor to the O-line who was largely too much to handle for even the elite defenders who matched up on her.
Hsu was a triple threat for BFG's offense, with impeccable throws, sticky hands and crisp cuts, and fierce defense to get the disc back in the event of a turn. She displayed an impressive range as a handler, finding windows with inside throws to punch in scores, opening up the field with sweeping breaks, and taking some cheeky shots to switch things up when their offense started to get stagnant. Hsu also was an unwaveringly reliable receiver, slicing up the field with her cuts and coming down with almost everything that came her way. Opposing teams who did their homework frequently employed their toughest woman-matching defenders in an attempt to shut Hsu down. But even when the defense was successful in clogging up the handler set or setting hard marks to challenge break throws, Hsu did an excellent job of finding opportunities to take advantage of space and grinding through long points to make and take space in order to get her team across the endzone line.
Hsu rose to the level of extraordinary trust and responsibility her team granted her as a rookie stepping into a lead role on a polished offense. She was a key ingredient in the secret sauce of BFG's rock-solid O-line and she certainly was one of the top contributors to their undefeated postseason and Nationals title win.
–Isabel Cruz
2nd Runner-Up
Jack McShane (Denver Love Tractor)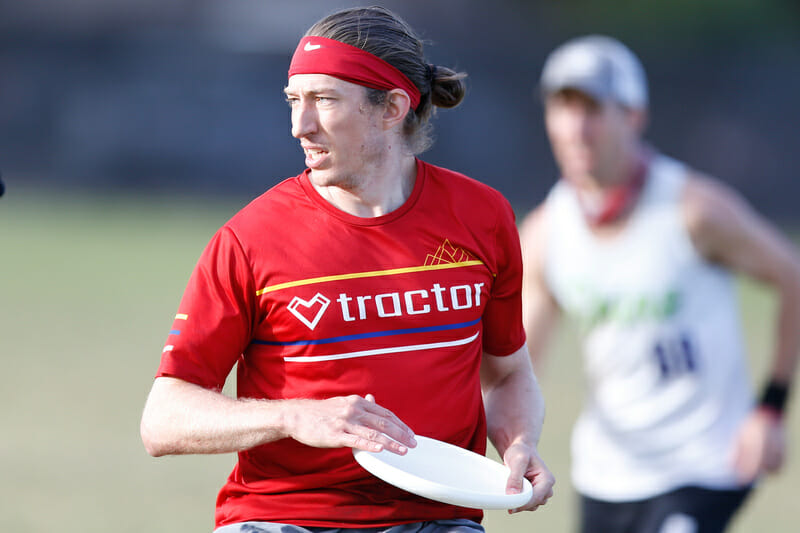 As in past years, Jack McShane was the centerpiece of the Denver Love Tractor offense in 2021. However, this year was different beyond just the pandemic-limited season, as he was celebrating the birth of his child while his team was playing CoCup, and it took most of Pro Champs to get fully integrated with his team. However, it all came together in the postseason as he led Love Tractor to an upset of Dallas Public Enemy in the South Central Regionals game-to-go and from the no.14 seed to the Pro Flight2 at Nationals.
There is a good chance that McShane led all players at Nationals in touches,3 as he routinely went every-other for a Love Tractor O-line that took what the opponents were giving, even if that meant dozens of throws vs. a junk set or endless swings near the endzone. McShane approaches the disc with a preternatural calm that breeds trust among his teammates — and likely frustrates more than a few of his opponents. With the disc in his hand, he's comfortable with every throw, huck or push-pass, scoober or blade. Breaks both inside and around seem effortless and every area of the field is available. His throwing prowess was particularly notable as the wind came up in Del Mar. While other handlers' throws started going awry, McShane's just seemed sharper, whether driving the disc into the wind or putting touch on a huck the other way.
McShane was equally effective without the disc, as despite consistently matching up with the opponent's best handler cover, McShane remained magician-like in always finding a way to get open as a reset (a big reason why the disc kept ending up back in his hands). When in doubt, teammates would just loft something in his direction, and he would consistently rip or run it down.
–Scott Dunham
---
Lukas is a Hybrid returner, but he's now living in Indianapolis. ↩

Well, top 8 anyway, depending on how Flights shake out next year. ↩

We can confirm that he finished tied for third in the mixed division in assists in San Diego. ↩