Celebrating the best defensive performances of the season.
Ultiworld's 2021 Men's Club Awards are presented by Five Ultimate; all opinions are those of the authors. Please support the brands that make Ultiworld possible and shop at Five Ultimate!
Ultiworld is pleased to announce our annual Men's Club Awards. While we consider both regular season and postseason performance, because of the nature of the Club Division, we weight success in the Series and at Nationals above all else — this year even more so than most. The Club Awards are selected based on input from Ultiworld reporters, contributors, and editors.
Player of the Year Award
Offensive Player of the Year Award
Defensive Player of the Year Award
Breakout Player of the Year Award
Coach of the Year Award
All-Club First Team
All-Club Second Team
Club Awards Voting Breakdown
2021 Men's Club Defensive Player Of The Year
Jibran Mieser (New York PoNY)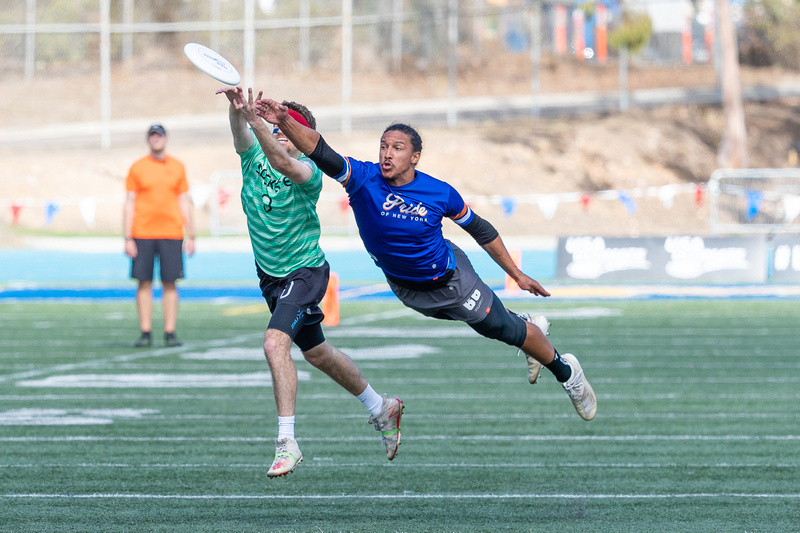 Picture a perfect in-cut. Clear lane. Star receiver. Early throwing window. Full speed. Healthy separation. Exclusive angle. It's a look you'll take 100 times out of 100, guaranteed yardage. You make the throw.
Now picture Jibran Mieser, the trailing defender, a fraction of a second after you release. He accelerates, narrows the gap in two steps, pulls almost even with the cutter, opens his hips to take a slight inside line, loads up, launches… and completely blows up the whole play.
Turning a sure thing into a turnover is a hard enough trick for a defender to pull off once. How on earth, then, could Mieser find the disc in those improbable circumstances time and again over the course of the season? The answer is that over the years he has assembled one hell of a defensive toolkit. Every skill in the box is plus-plus-plus.
It isn't just keen field sense that finds Mieser ready for action at the merest hint of a pass, but the constant and total coordination of eyes, hips, and feet as he repositions himself again and again over the course of a point. It isn't just raw in-game speed — although Mieser tops out among the division's speediest — that puts him in range of so many well-placed throws, but the most reliable inner turbo button on the planet once the disc is in sight. It isn't just that he takes the shortest route to the throwing lane, but that he has the instantaneous muscle control to react and adjust to how the throw and the cutter actually move in space. It isn't just that he bids frequently, but that his form is so perfectly calibrated to create those invaluable (and, let's be honest, spectacular) extra inches of altitude and stretch with every flight.
There are other defenders who can challenge or even equal that proficiency in one of those departments — including at least a small handful on New York PoNY. No one else, however, put together the total package in 2021 — the grind as well as the stunning highlights — like Mieser.
–Edward Stephens
1st Runner-Up
Jack Hatchett (New York PoNY)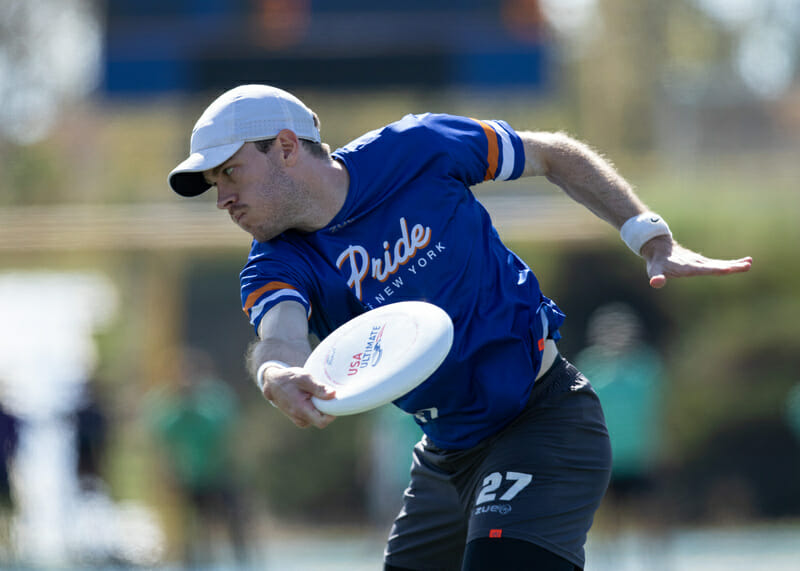 Jack Hatchett has been one of the best defenders in the sport for how long now, a decade? There are worse ways to measure who the best offensive cutters over the past 10 years have been than looking at who Hatchett matches up against. From Beau to Nick Stuart to Joe White, Hatchett has been marking up on some of the best players in the world for years and pushing them out of their comfort zone. 2021 was no different, as Hatchett made his presence felt in a big way for PoNY's D-line.
Jack's impact on virtually every point he played this season was immediate, as his disc golf honed pulls rocket out of his hand and set the offense back on their heels immediately. From there Hatchett rides the line between shutting down his assignment and keeping his eyes up for poach opportunities. It's a tricky balance, but his size and speed give him the cushion to give up a step or two in order to get into valuable space without losing his mark.
Finding this balance was the key to success for New York's defense at Nationals, as they took some of the switching principles they famously employed during their 2018 title run and married it with intense person defense to great effect. Perhaps no one better exemplified that balance than Hatchett, once again acting as an invaluable piece of a title-contending defense.
–Patrick Stegemoeller
2nd Runner-Up
Troy Holland (Washington DC Truck Stop)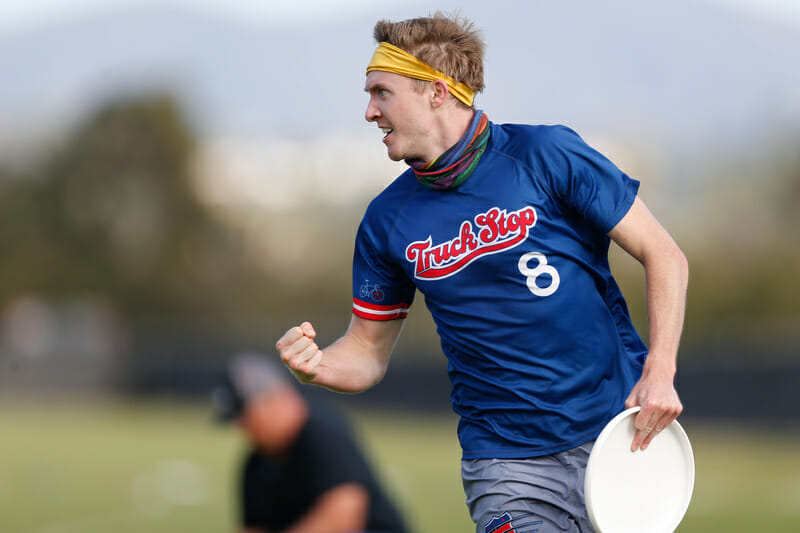 Since he got the call up to Washington DC Truck Stop from Med Men in 2018, Troy Holland has been making a name for himself on the national stage. He developed a reputation as a thorny cutter defender, with PoNY coach Bryan Jones remarking that he did the best job of anyone all season defending Chris Kocher during PoNY's 2018 title run. Three years later, Holland is now an even more complete defender and has inserted himself into the conversation of being the best in the sport.
Guarding handlers and cutters, shutting down initiations and blowing up small-ball sets, Holland brings a rare package to the table: the length to guard any cutter and the technical footwork to guard handlers. Reminiscent of Mac Taylor, Holland is able to lock up shiftier handlers with his positioning and length, and then dominate them in the cutting space if they push downfield or after a turn.
This made him one of the first names on the team sheet for Truck Stop's coaching staff, as Holland drew big matchups in the biggest moments of the season. At Nationals, he was integral in both Truck's detonation of Machine during pool play, as well as their inspiring four-goal comeback against Rhino in quarters that fell one point short.
He made the key block on the point to force universe in that quarterfinal, snatching a give-go pass out of the lane, using both his length and a smart read of the play. If his ability to read offenses and make intuitive-looking blocks like that one continues to improve, Holland may end up more than just a second runner-up for this award next season.
–Patrick Stegemoeller