Celebrating the young players who took a major leap into the national spotlight with their performance this season.
Ultiworld's 2021 Men's Club Awards are presented by Five Ultimate; all opinions are those of the authors. Please support the brands that make Ultiworld possible and shop at Five Ultimate!
Ultiworld is pleased to announce our annual Men's Club Awards. While we consider both regular season and postseason performance, because of the nature of the Club Division, we weight success in the Series and at Nationals above all else — this year even more so than most. The Club Awards are selected based on input from Ultiworld reporters, contributors, and editors.
Our Breakout Player of the Year may be the hardest-to-define award that we dole out each year. We aim to recognize players typically1 25 years old or younger who weren't widely expected to have a major impact on the club season at the start of the year. While their teammates or local community may have known about their talent level, their performance in the 2021 season thrust them into the national consciousness in a way that raises expectations for their contributions for years to come. Without strict parameters around what constitutes "too well known" at the start of the year to qualify for this award, our voters are given the opportunity to decide for themselves who best represented their definition of a true breakout season in the club division.
Player of the Year Award
Offensive Player of the Year Award
Defensive Player of the Year Award
Breakout Player of the Year Award
Coach of the Year Award
All-Club First Team
All-Club Second Team
Club Awards Voting Breakdown
2021 Men's Club Breakout Player Of The Year
Dillon Whited (San Francisco Revolver)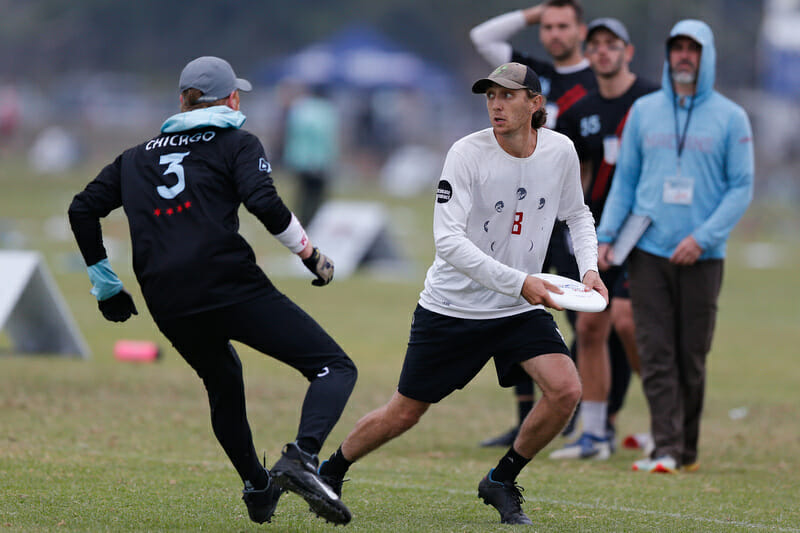 San Francisco Revolver always seems to do this, don't they? Take a solid, if not spectacular, player from a California college program and within a year he's putting up double-digit goals at Nationals and leaving the best defenders in the world scratching their heads. In his first season on Revolver, Dillon Whited has gone from being known as one of the pieces in Cal Poly SLO's cutting corps to a stunningly effective yard gainer and goal scorer for one of the best club teams in the world. Put in a position to succeed by a Revolver team highlighting a new generation of talent, Whited rewarded the trust and delivered all season long.
Despite being new to the elite club game, Whited produced like an experienced veteran. With a nack for timing in-cuts that lead to long gainers, and the tools in the deep space to create easy hucking lanes, Whited operated in some of the most dangerous areas of the field for Revolver. This gave him the opportunity to show out on the stat sheet, recording 23 goals and 15 assists on the season. While not an aggressive thrower, he managed that assist total by being decisive with the disc, distributing quickly after hauling in hucks or long in-cuts, and rarely getting stuck in possession past a few stall counts. That instinct helped him keep his turnover number down to just three, giving him a very efficient overall stat line.
Revolver's program is entering a new era, and in their biggest games of the season new faces were appearing in crucial roles. Seeing Whited as a focal point for the offense as Revolver ground out tough holds to push Machine and Ring of Fire to double game point at Nationals was to see that new era get some its first taste of what it means to compete at the highest possible level. The early returns are good for Whited and Revolver, and it may not be long before the somewhat-sleeping giant from the Bay is back winning gold medals, with players like Whited in the lead.
–Patrick Stegemoeller
1st Runner-Up
Tony Venneri (Seattle Sockeye)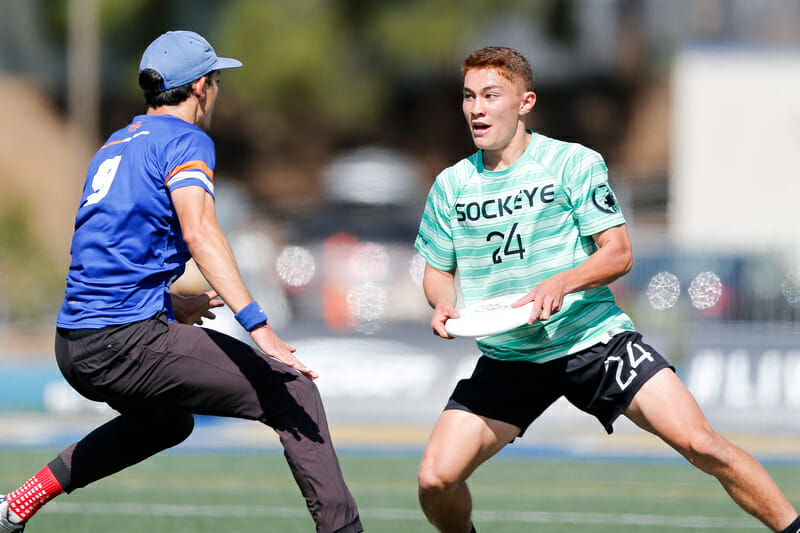 Unless you coached him in high school or were playing for Seattle Sockeye, there wasn't much of a reason to know who Tony Venneri was in 2019. Sure, he made the roster for a championship team as a high schooler, which is an accomplishment in its own right. That's more of an Evan Lepler fact during a timeout between points than a feather in the cap, though. Venneri's play didn't make much of an impression, as his forgettable stat line at the National Championships suggests: one goal, two turnovers.
His freshman year at Washington didn't go unnoticed, but he wasn't setting the college division on fire either. The shortened season had an extraordinarily deep freshman class, and if you started rattling off names — Kirkman-Davis, Brown, McKnight, Dameron, Nissen, Landesman, Downey, Gordon, Miller, Yorgason — you could get to double digits before mentioning Venneri.
What an explosion 2021 has been, then, for the young Seattleite. Venneri sprang off the page like an interrobang with a mind-bending hammer catch at the US Open. Since then, he has remained front and center as Sockeye's most consistently excellent defender and the D-line's do-it-all whizkid after turnovers. When the team started to run out of steam in the second half of quarters against Johnny Bravo, when they fell behind several breaks to Rhino Slam! in the third-place game, Venneri represented the fail-proof spark who could re-ignite them.
Venneri isn't likely to recede back into the crowd any time soon. His line from 2021 Nationals looks great: 2G, 10A, 2D, 1T. The eye-test looks even better. And the view of the future? Simply exquisite.
–Edward Stephens
2nd Runner-Up
Porter Oyler (Utah Killjoys)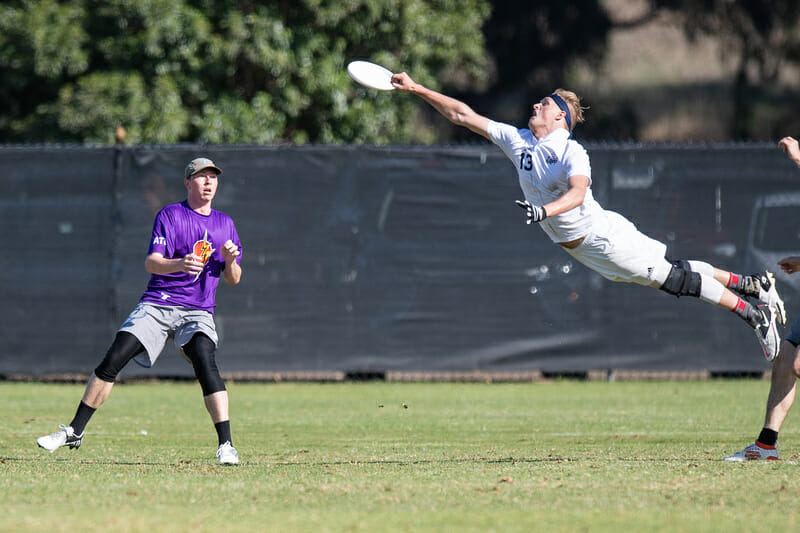 Who was ready for the Porter Oyler show at Nationals? Not you, I'm guessing. Certainly not Sub Zero — he torched them for three goals and three assists from the D-line (to go along with a pair of blocks) in leading the Utah Killjoys to a lopsided pool play upset.
We were all in the dark about Oyler, and for good reason. Most players who make the breakout podium are part of the general national landscape first — college players storming the club circuit or down-roster contributors stepping into starring roles (see, for instance, the two guys above). Oyler, on the other hand, has yet to play his first point of college ultimate,2 and the Killjoys were a mid-tier Regionals team before this year.
The Utah big man burst onto the scene in San Diego with a debut for the ages. He set the tone for an aggressive defense, bidding for anything remotely near him, especially in the deep space. The result of his furious effort was a tournament-leading nine(!) blocks. It wasn't just the rash of them against Sub, either: he recorded at least one in every game except a consolation match against Revolver. No less assertive on offense, Oyler bombed backhands and marauded downfield with reckless abandon before the opposition could get off the back foot. Fourteen combined goals and assists from a D-line player? I'm no psychiatrist, but that's insane.
–Edward Stephens
---
Though not strictly. ↩

He'll play with BYU in the spring. ↩