Celebrating the best offensive performances of the season.
Ultiworld's 2021 Men's Club Awards are presented by Five Ultimate; all opinions are those of the authors. Please support the brands that make Ultiworld possible and shop at Five Ultimate!
Ultiworld is pleased to announce our annual Men's Club Awards. While we consider both regular season and postseason performance, because of the nature of the Club Division, we weight success in the Series and at Nationals above all else — this year even more so than most. The Club Awards are selected based on input from Ultiworld reporters, contributors, and editors.
Player of the Year Award
Offensive Player of the Year Award
Defensive Player of the Year Award
Breakout Player of the Year Award
Coach of the Year Award
All-Club First Team
All-Club Second Team
Club Awards Voting Breakdown
2021 Men's Club Offensive Player Of The Year
Matt Rehder (Seattle Sockeye)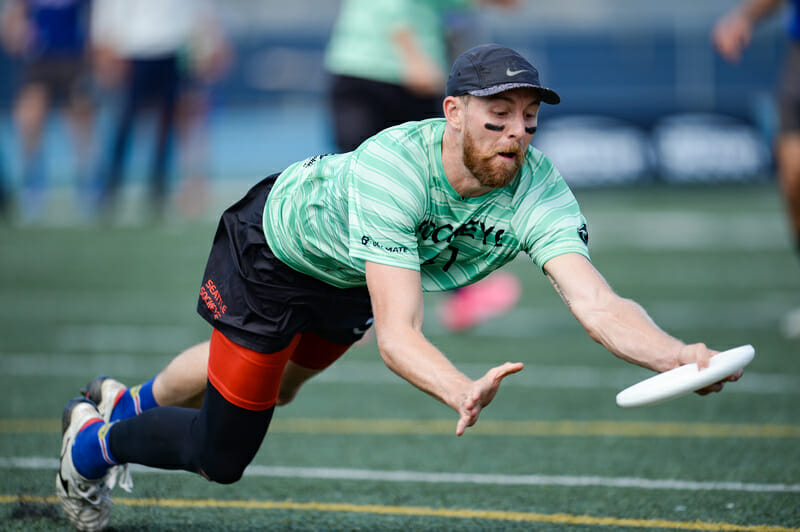 Matt Rehder has been an offensive force for Seattle Sockeye longer than several of his teammates have even been playing the sport, but Rehder is showing no signs of slowing down, as he adds 2021 Offensive Player Of The Year to his long list of accolades.
Always the dominant athlete and powerful thrower, in recent years Rehder's game has gotten more refined, his timing and field sense even more effective. He was the key piece of the regular season's most dominant offense, making Sockeye's offense sing by creating wide swaths of space upfield and giving the handlers an always reliable target to aim at.
No single player may have gained more total yardage over the course of the season than Rehder, as the threat he offers in the deep space and the quality of his timing always seems to garner him an extra five yards of cushion on every in cut. Once he has the disc, he's looking to distribute, leading Sockeye in assists at Nationals. A true offensive fulcrum, Rehder's contributions are evident in just about every phase of a possession.
"He's one of the best in the business," said PoNY's Ben Jagt after locking horns with Rehder in the National semifinals. "I have the utmost respect for him."
In an offensive era increasingly defined by small-ball handler dominators, Rehder's value stands out even more, as a player who can solve a defense from outside the handler space. That isn't to say Rehder can't hang in tight corners — having goalty skills has basically been a requirement of playing for Seattle over the past decade. But in a world where offenses are geared more and more towards chiseling out hard-won marginal gains, Rehder's ability to make disc progression seem easy jumps off the screen. And this utility isn't just about the optics, being able to consistently move the disc and reshape defenses makes the game genuinely easier for the rest of his offense, and anything that makes offense against the best teams easier pays off big time down the stretch of tight games.
On offense, efficacy is prized above all else, and the efficiency Rehder provides at getting the disc where the offense wants it to go made him the most valuable offensive weapon of the season.
–Patrick Stegemoeller
1st Runner-Up
Raphy Hayes (Portland Rhino Slam!)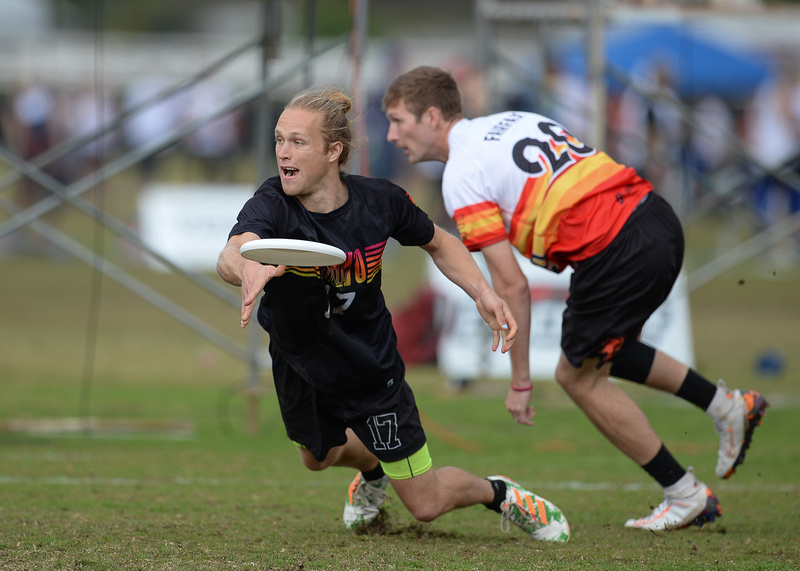 For a second season in a row, Portland Rhino Slam!'s offense was appointment viewing at Nationals, and Raphy Hayes was the primary reason for that. After an extended break away from the game, Hayes picked up right where he left off at the end of 2019, creating orchestrated chaos with his throws, cuts, and gravitational pull. Hayes would draw the attention of the defense like moths to a flame, only to burn them the moment they let their guard down.
When one player can cause an entire defense to adjust for them, that's when you know you're looking at an OPOTY candidate. For Raphy Hayes, though, that's just another day of ultimate for him. He led the Nationals field in goals scored, a feat that would have been more impressive if it wasn't obvious he was going to do it on Day One.
Part of the allure of Hayes is that he makes ultimate look fun. Getting an 18G/9A/5D stat line isn't work for him, it's a byproduct of his love for the game. He doesn't glide effortlessly across the field, but he's fueled by a passion that tests the limits of everyone he goes up against. Few things are more discouraging than playing the best defense of your life against an opponent that doesn't really seem to notice, and that's Hayes. He can and will drag race you the full length of the field for a 2-yard reset pass, all while smiling like a madman.
Throughout this season, Hayes gave everything in his power to help his team win, and more often than not, that was more than enough.
–Graham Gerhart
2nd Runner-Up
Ryan Osgar (Raleigh Ring of Fire)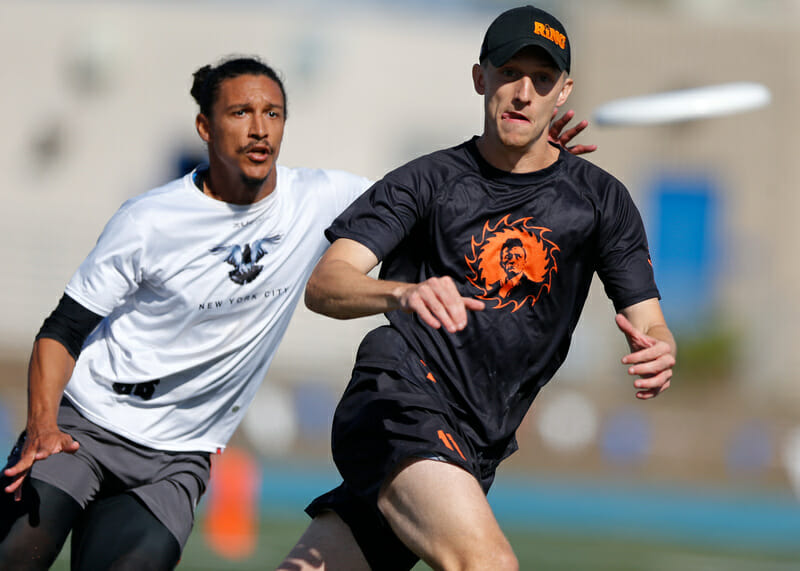 Playing for a team as deep as Raleigh Ring of Fire this season ensured that Ryan Osgar would not match his stratospheric numbers from 2019 with Sub Zero. But let's not mistake the inevitable downtick for a sign of decline. In spite of a reduction in touches and an entirely new offensive system, Osgar still ranked among the seven players at Nationals to record a double-double: 11 goals and 11 assists, against just two turns. Those kinds of numbers on a championship-winning team are the markers of excellence.
It isn't only Osgar's well-documented nose for the end zone that lands him here, however, but also the way in which he found his niche so quickly on an unfamiliar O-line. The considerable talents that he distributed wholesale during much of the 2019 season — effortlessly powerful cutting, careful red-zone work, and the division's best outside-in flick — performed equally well in the boutique that was 2021 Ring's offense. Shorter season, smaller bursts, same results.
He saved his finest wares for the final. Five assists and a goal? Heroic numbers arrived at by workmanlike efficiency. Confronted with an all-world effort from the toughest defense in the country, Osgar rose to the occasion by simply being himself. The championship-cinching score — a forehand from midfield that settled behind two defenders with just a trace of float — was so quintessentially Osgar as to be almost unremarkable. Just don't let the apparent ease of his performance fool you: 2021 was another masterclass from one of this era's pre-eminent offensive geniuses.
–Edward Stephens