Rounding out the 14 best performers of the year.
Ultiworld's 2021 Men's Club Awards are presented by Five Ultimate; all opinions are those of the authors. Please support the brands that make Ultiworld possible and shop at Five Ultimate!
Ultiworld is pleased to announce our annual Men's Club Awards. While we consider both regular season and postseason performance, because of the nature of the Club Division, we weight success in the Series and at Nationals above all else — this year even more so than most. The All-Club Awards are selected based on input from Ultiworld reporters, contributors, and editors.
Player of the Year Award
Offensive Player of the Year Award
Defensive Player of the Year Award
Breakout Player of the Year Award
Coach of the Year Award
All-Club First Team
All-Club Second Team
Club Awards Voting Breakdown

2021 Men's All-Club Second Team
Ryan Osgar (Raleigh Ring of Fire)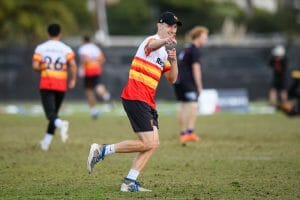 As was made clear through our reporting at Nationals — and was readily apparent to anyone that watched them — Raleigh Ring of Fire was an exceptionally deep, well-drilled team at Nationals, stocked to the brim with talented young players who had been raised in the same system since they were middle-schoolers. Their roster has felt three-deep at every position for several years, just waiting for their stars to age into their physical peak. So what do you get a team that has (nearly) everything? How about one of the best, most versatile plug-and-play offensive talents in the game today.
Importing Ryan Osgar from Sub Zero was a match made in heaven, by way of New York. The supremely smooth initiator was disciplined enough to work within the Raleigh system but just contrasting enough to unlock another level of potential for the Ring offense. Whether creating separation from his defender in open space downfield to take some pressure off Raleigh's handlers or delivering perfectly timed and weighted mid-range shots to the end zone for Ring's deep cutting corps, Osgar accentuated the contributions of everyone else on his line. His chemistry with Jack Williams in particular, honed during their shared sabbatical with the New York Empire, was chef's-kiss beautiful and delivered the title-winning moment for a program who couldn't — or at least hadn't yet — done it without him.
–Steve Sullivan
David Cranston (Washington DC Truck Stop)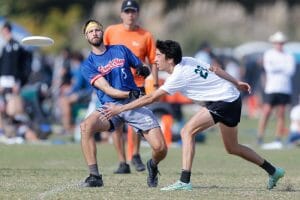 It's become something of a running theme at Ultiworld that David Cranston is perhaps the most underrated player in club ultimate. Everyone agrees on his consistent excellence on both sides of the disc, on the leadership he provides to an always competitive Washington DC Truck Stop program. But just as Truck almost never got over the quarterfinal hump, their D-line dynamo has finished just off the podium in DPOTY and All-Club voting for several years and has remained more a staple of internal conversations around snubs than an externally celebrated star. Finally, his day in the sun has arrived.
It's not as though this was an outlier of a statistical season for Cranston — he remains maddeningly consistent. Check out his cumulative G/A/D tallies for the past six Nationals: 9, 11, 3,1 10, 10, 8. Were the stats from the first half of last decade not lost to the sands of time, I'm sure they'd show an even longer history of statistical metronomy.
So what was different this season? Mostly, he took on an even more involved role around the disc for Washington's D-line offense with Nicky Spiva, David Shields, David Bloodgood, and Chance Cochran gone from the roster and Christian Johnson moved to the O-line. But even without this added responsibility, Cranston's All-Club recognition was well-overdue.
–Steve Sullivan
Tyler Monroe (Washington DC Truck Stop)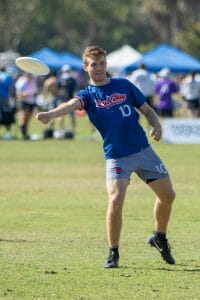 If you're making a list of the toughest downfield covers in the game right now and Tyler Monroe isn't one of the first two or three names on the list, you did not watch much ultimate this year. Open-side defenders were so much flimsy brush when, with elephantine power, Monroe would career into the lane.
A vigorous first strike through the coverage was, in most cases, only the beginning of a sequence for Monroe. Intrepid all around, he paired that tremendous cutting with an ever-ready suite of mid-range hucks: a pass to Monroe was the surest (and usually the quickest) path to scoring for Truck Stop in 2021. Nor was he any less in his element in the red zone, where his long steps, long reach, and playful short throws similarly overwhelmed the opposition.
After his tear through Pro Championships in September, every team Truck played at Nationals knew the disc was going to Monroe. Did it bother him? If it did, you wouldn't know it from the line he put up: eight goals, 20 assists — and just a single turnover.
–Edward Stephens
Jack Hatchett (New York PoNY)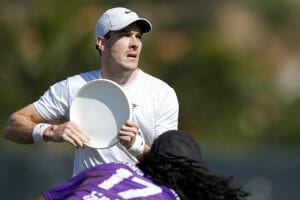 As the reality of the pandemic lockdowns began to set in last year and everyone was suddenly stuck with seemingly endless time at home or to themselves, it became clear that some people would devote that time to a singular passion, delving into a new hobby or working out nonstop, while others might instead see it as an invitation for extended rest and relaxation. It is clear which camp Jack Hatchett falls into. Beyond building translatable skills by diving headlong into disc golf, Hatchett also entered the 2021 club season in perhaps the best shape of his life.
Those offseason gains most certainly paid off. From his monster pulls to his dogged defending, Hatchett made sure New York PoNY's D-line was scary all season, even while the New York O-line sputtered through the summer before gelling in the postseason. Despite most of his playing history focused in Boston, Hatchett has become a key piece of this PoNY core and 2021 was another step forward for one of the best defenders of his generation.
–Steve Sullivan
Jimmy Mickle (New York PoNY)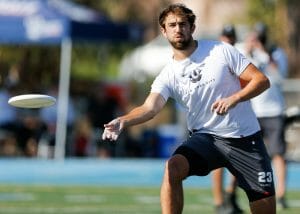 After a regular season marred by injury, Jimmy Mickle reasserted himself as one of, if not the best, players in the sport during the postseason.
At Nationals he was the central force in the backfield for PoNY, bludgeoning his way into position for open resets and carving up marks with an assortment of brute force and high-concept break throws. In his pomp, Mickle may be the hardest problem to solve in the sport. His throwing range opens up the field beyond a point that any defense is equipped to cover, pushing their coverage gaps into gaping holes. The booming, full-field hucks catch the eye and stretch the defense, but the array of field-tilting break throws that leave defenders scrambling and over pursuing to regain positioning are just as lethal to a team's defensive schemes.
All of this is contingent on Mickle being able to consistently get open in the reset space and on under cuts throughout a game. Hampered by injuries throughout most of the regular season, Mickle did not possess quite enough burst to be the field-tilting machine we've seen him be at his best. But healthy for the postseason, he reminded everyone why he may be the greatest player of his generation.
–Patrick Stegemoeller
John Randolph (New York PoNY)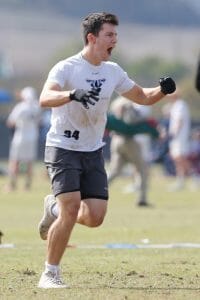 Welcome to the John Randolph era. Could he be on his way to being the face of men's ultimate? He's entering the elite tiers of the club game before finishing his college career. He bridges the coasts, with Seattle roots and a developmental run with Sockeye, a college title (and a chance to get another one) with Brown, and a club breakout with PoNY. He works hard, gets rave reviews as a teammate, and if that Johnny Ultimate moniker sticks, has a digestible nickname. Where's that Nike deal?
He's also a player of the moment in the men's division. Before everyone was making goo-goo eyes and Schlachet comparisons for Anders Juengst, they were tapping their toes to the goal-scoring rhythm of Randolph's blitzing footwork. That plays well in the small-space, jam-it-in red zone offenses du juor. But those offenses are expanding further and further from the goal line, and Randolph's game has grown with them, and their resulting product of that multiplier has blasted his impact higher. Now, despite lacking game-changing throws, Randolph can help author holds from the backfield with his quick-trigger decision-making and blinking footspeed.
Randolph has been the high-impact defender, the point-finishing scorer, the downfield weapon, and now has taken on the hybrid role. It's how he was second on PoNY's O-line in yards per touch behind deep threat Ben Jagt in their neck-and-neck final against Ring of Fire. He was tied for second on the team in assists at Nationals, along with fourth in goals. He might just be the right player for the right time.
–Keith Raynor
Owen Murphy (Portland Rhino Slam!)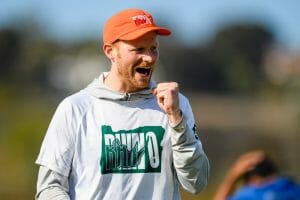 Here's a hot take for you: the single biggest factor behind Portland Rhino Slam!'s success in 2021 was Owen Murphy. Far-fetched? Maybe, considering what teammate Raphy Hayes did to the division this year. It only depends on how much emphasis you place on the spectacular versus the dogged — and doggedness was Murphy's specialty.
Murphy anchored Rhino's defense, sticking to each opponent's best on-disc player like a pesky burr in a way that consistently pushed more throws out toward the open field where Rhino's younger athletes could ply their advantage. Or, more directly, he would just bid for the block himself. What he lacks in full-flight athleticism he more than makes up for with the quick reaction and smart timing of his layouts: he is a master of the unostentatious, practical bid.
As well as Murphy played on defense, though, he was better on offense. Whether picking up after a turnover or — as he did with increasing frequency during Rhino's bracket run — crossing over to bolster the offense for a big point, he unfailingly took the reins. He was not shy about making the big throws himself — see the game-winner against Truck in quarters — but even when he wasn't the guy, it seemed like Rhino played possession or took shots as if responding to Murphy's firm direction.
Yes, Raphy Hayes was wonderful. But let's save some of the glory for the earnest, the dogged, the ceaselessly beating heart.
–Edward Stephens
---
A glitch in the Matrix, surely. ↩