Celebrating the best defensive performances of the season.
Ultiworld's 2021 Women's Club Awards are presented by Five Ultimate; all opinions are those of the authors. Please support the brands that make Ultiworld possible and shop at Five Ultimate!
Ultiworld is pleased to announce our annual Women's Club Awards. While we consider both regular season and postseason performance, because of the nature of the Club Division, we weight success in the Series and at Nationals above all else — this year even more so than most. The Club Awards are selected based on input from Ultiworld reporters, contributors, and editors.
Player of the Year Award
Offensive Player of the Year Award
Defensive Player of the Year Award
Breakout Player of the Year Award
Coach of the Year Award
All-Club First Team
All-Club Second Team
Club Awards Voting Breakdown
2021 Women's Club Defensive Player Of The Year
Claire Trop (Boston Brute Squad)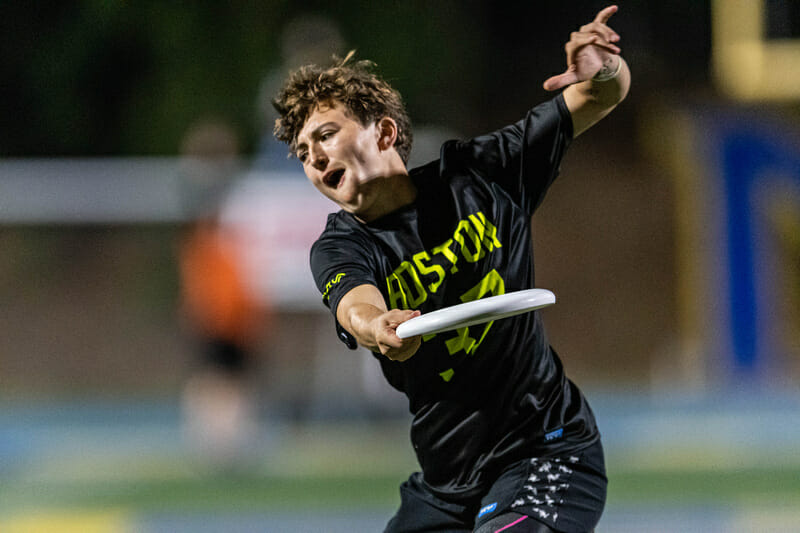 Tracking Claire Trop's rise in the women's division is like watching a shooting star cross the night sky. She was already astronomical when she started playing club, and has shown no signs of slowing. Trop is not even close to what many would consider the 'prime' of her ultimate career, and yet has shown enough in 2021 to claim one of the most prestigious awards the sport has to offer. What we saw from Trop this year was the complete package: a defender who was able to mark any position on the field, poach off for blocks, win jump balls, and snag run-through blocks on her opponents without fouling. What more would you want from a DPOTY?
Even if you thought Trop met the requirements of this award with the aforementioned defensive versatility, she still one-upped it all by doing it against the opposition's best cutters. Trop never shied away from a matchup, and it's telling that the Boston Brute Squad leadership, renowned for their defensive-minded coaching, trusted Trop to take on the toughest players across the field. Trop may not have the most intimidating physical appearance, but she's a nuclear engine-propelled war machine on the field, and her unimposing stature quickly becomes imposing when it's beating you to every disc and shutting down your throwing lanes.
Quantifiably measuring defensive impact goes far beyond just earned blocks, but Trop is still among Boston's leading block-getters for this season on paper, and passes the eye test so fully that you'd question whether you have to change the requirements for it. Her acumen on the field ensures that she's never just marking a single player, but surveying the field to ensure that how she's playing defense is helping the team as a whole. Boston already is one of the more communicative teams on defense, and Trop thrives in an environment where she can compartmentalize her defense on the mark and also the help defense that sets Brute Squad up for success.
All of Trop's merits can and should be discussed without reference to her relative youth, but it also is to her credit that she has quickly become the blueprint for Boston's defensive principles despite having spent a relatively short time with the team. Let's not forget, she was a practice player for Space Heater as recently as this year.
Joking aside, Trop's playing the best defense of her life, and there's plenty of reason to believe she's nowhere near her ceiling. The shortened season only proved how good she became over a short space of time even without the additional adjustments that come from a full season of play.
All this is to say, Trop likely has more to give. Let Boston have a full year of ultimate to refine their defensive sets and there's no question that Trop will continue to headline one of the most dangerous defensive lines on the planet.
–Graham Gerhart
1st Runner-Up
Marika Austin (San Francisco Fury)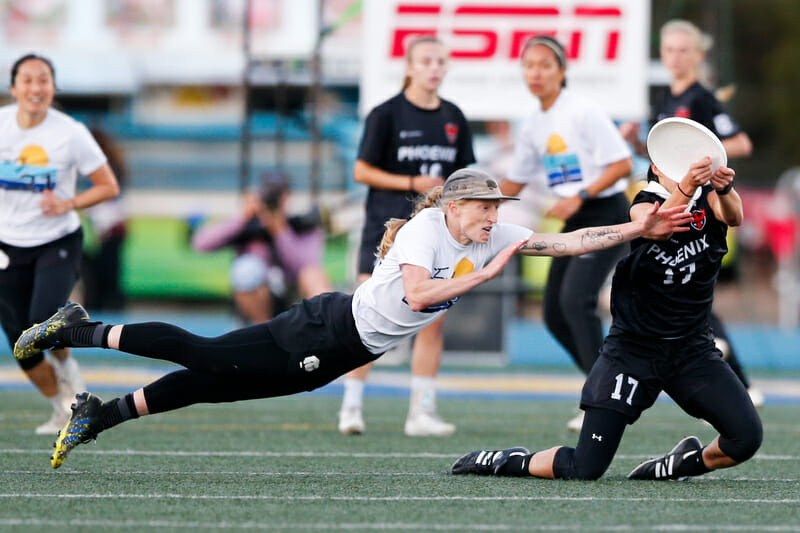 Over the years, one of the most common refrains when it comes to individual player evaluation is that defense is underrated. And among great defenders, within that, shutdown defense is underrated. Great defense can be hard to see, happening away from the disc and uninvolved in the play. Add to that that we have little to no data to measure offense-halting efforts, save the scant blocks, which vary in value in reality from play to play.
I say all of that to say this: Marika Austin is a shutdown defender. She is a defender's defender. Austin's tireless D-line work often happens outside of the spotlight, beyond the stat sheet, away from the highlight reel, or whatever other thankless trope you can drum up. While it's true Austin's three recorded blocks at Nationals wouldn't even put her near the top of her own club's table, you'd be hard-pressed to find a more trusted defender on the San Francisco Fury roster. On a team where players are often not aligned in the popular offensive and defensive units, Austin is expertly applied as a blunt force instrument, the rare specialist in the corps. She led Fury in defensive points played in their final against Brute Squad and nearly did so in the semifinal against Phoenix as well. No other Fury player was on the field for more breaks in those pivotal high-level matchups, the capstones to a short season of blowouts.
Being guarded by Austin must be anxiety-inducing. There's rarely a window of separation, and the tape shows an extremely high percentage of harried incoming passes pushed into short gains. Her footwork is exquisite, a rapid dance of activity that keeps her constantly wrapped around her target's every move. And there's a kinetic charge to her play, like a tesla coil humming with electricity, flaring with bright discharges of explosive athleticism. Her praying mantis mark saves her talons for disruptive strikes and swipes at throwers that are apt to surprise.
Her spot on this list will come as no surprise to the players familiar with her work, even if it might not be obvious to fans.
–Keith Raynor
2nd Runner-Up
Ronnie Eder (Denver Molly Brown)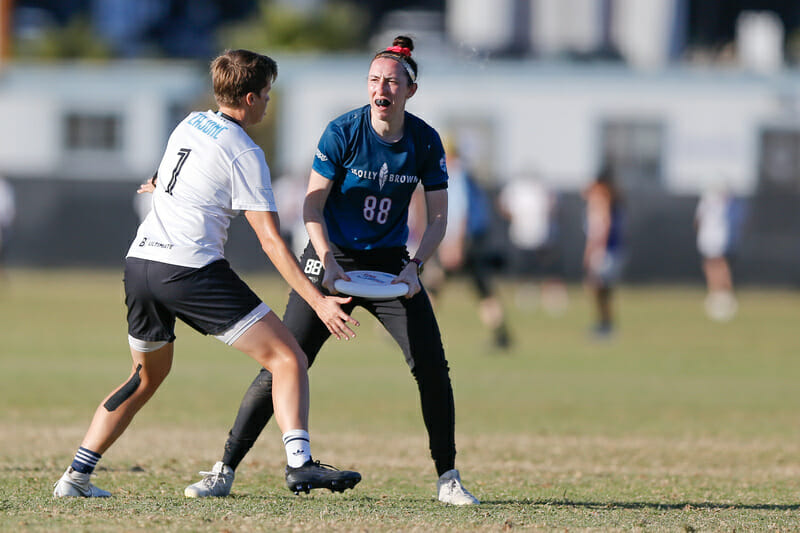 Denver Molly Brown more than lived up to the hype around their defensive ability this season, and Ronnie Eder's presence on the field was central to that. While she spent previous seasons on the offensive unit, Eder's shift to the D-line helped Molly Brown upsize their defense and provide a threat to cutters everywhere.
The impact of this move was immediately noticeable. Eder has the size to match up with any deep cutter, and a surprising lateral quickness that throws off the smaller players who would try to beat her with nimble cuts. Eder has a predictive understanding of her opponents that keeps her from being outplayed while also allowing her to maximize her size to affect the entirety of the field when she's on it.
Eder's defense isn't flashy, but it doesn't have to be. She treats every defensive assignment like it's another day in the office, and never appears riled or anxious despite the opponent. It's pretty hard to make a play on a defender who's entirely unimpressed with your attempted cuts. Eder's business-like approach provides a calming influence for her team, and keeps them level-headed in close games. It's not her role to make a play that'll get the crowd roaring from a risky layout — although she can — but instead, her concentration on the game leads to rushed throws, high stall counts, and erroneous cuts, which is precisely when she strikes.
There are plenty of players that have cut their teeth on having sound defensive principles, Eder just makes it look so much better than most.
–Graham Gerhart