Celebrating the young players who took a major leap into the national spotlight with their performance this season.
Ultiworld's 2021 Women's Club Awards are presented by Five Ultimate; all opinions are those of the authors. Please support the brands that make Ultiworld possible and shop at Five Ultimate!
Ultiworld is pleased to announce our annual Women's Club Awards. While we consider both regular season and postseason performance, because of the nature of the Club Division, we weight success in the Series and at Nationals above all else — this year even more so than most. The Club Awards are selected based on input from Ultiworld reporters, contributors, and editors.
Our Breakout Player of the Year may be the hardest-to-define award that we dole out each year. We aim to recognize players typically 25 years old or younger who weren't widely expected to have a major impact on the club season at the start of the year. While their teammates or local community may have known about their talent level, their performance in the 2021 season thrust them into the national consciousness in a way that raises expectations for their contributions for years to come. Without strict parameters around what constitutes "too well known" at the start of the year, our voters are given the opportunity to decide for themselves who best represented their definition of a true breakout season in the club division.
Player of the Year Award
Offensive Player of the Year Award
Defensive Player of the Year Award
Breakout Player of the Year Award
Coach of the Year Award
All-Club First Team
All-Club Second Team
Club Awards Voting Breakdown
2021 Women's Club Breakout Player Of The Year
Karen Ehrhardt (Raleigh Phoenix)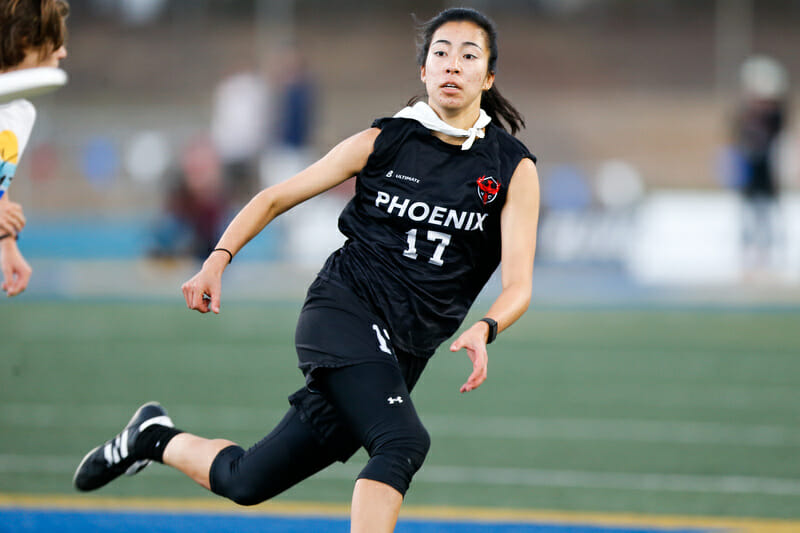 It hardly seems fair that Karen Ehrhardt can qualify for this list with all the fanfare around her performance in the college division, but believe it or not, this is only her first year in the club scene, and we hadn't had a chance to see if she could maintain her hot streak at the club level yet. After Nationals, it's safe to say she's blazing a trail few can follow.
At only 22, Ehrhardt is one of just four players to notch a double double at the tournament, and those recorded 11 goals and 10 assists at Nationals do little to express just how impressive she was on the field. Raleigh Phoenix's handlers may have kept the offense chugging all season long, but it was Ehrhardt's hard work that got them major gains downfield, along with being an easy deep target when necessary. Perhaps most importantly, Ehrhardt had an innate sense of how to get open with a high stall count, providing a safe option for her teammates when nothing was materializing. This field IQ is hardly ever found in rookies, and even those that have the understanding don't often get the timing right. Ehrhardt, though, has both. Whatever anonymity she had left is certainly gone after her performance this season.
"I'd say that Karen's not going to be a surprise for anyone anymore after this tournament," noted Phoenix coach David Allison at Nationals. "I think she's definitely a stud and has easily stepped into her role."
It's not as if Ehrhardt's lack of club experience was the secret to her success, though. She wasn't underestimated by opponents or in a situation to draw the "easy matchup". Thanks to her size and priority in the offense, Ehrhardt was always setting up her cuts past some of the nation's best defensive players, many of whom had a half-decade or more of experience over her. It was a trial by fire — so to speak — for the Phoenix rookie, but the way she navigated it was closer to walking on water. Even with only two blocks, Ehrhardt had the best plus/minus of her team in the stats documented by USAU.
The scariest part of Ehrhardt's performance this season is that there doesn't appear to be a weak link for her. There are no flaws in her game that need working on — only weapons to refine. Her offensive ability was only really matched by her defensive effort, and she looked as comfortable dictating play with the disc in hand as she did striking deep for game winning hucks. If this is what Ehrhardt looks like in her first year at club Nationals, it's set a very unrealistic bar for the incoming rookie class of 2022.
Describing Ehrhardt's talents still does little to illustrate the breadth of her ability. She's one of those players you have to see to believe. Even if you've heard she's the real deal, have even seen pictures or highlights of her play, nothing compares to her performance in person. To complete the analogy, she's the Aurora Borealis of the 2021 season, and a major reason for Raleigh's success this year.
–Graham Gerhart
1st Runner-Up
Bridget Mizener (Raleigh Phoenix)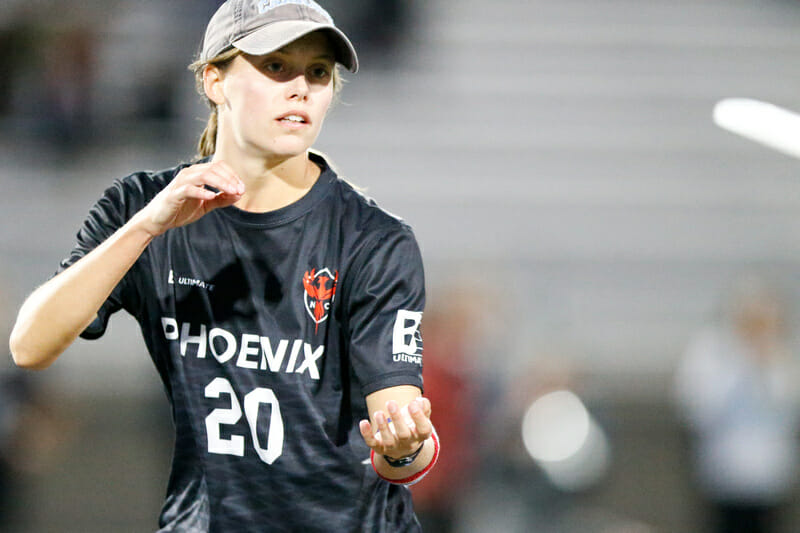 Can a former BPOTY podium finisher (albeit for D-1 college women's) really be considered as a club BPOTY candidate? In Bridget Mizener's case, the answer is emphatically yes, as she leveled her play up in a huge way and took on a central role in Phoenix's rise this season. Mizener featured in nearly every critical point Phoenix played at Nationals — including four of them straight in Phoenix's first-half resurgence against Fury in the semifinal — and came up big when Phoenix needed her most time and time again. While Mizener has been an emerging threat in the college scene with North Carolina, this season with Phoenix marked a new high in her career, and the 23 year-old doesn't seem to be on the verge of stopping.
The amount of playing time a player gets never tells the full story of their contributions to the team, but with Mizener, it certainly doesn't hurt her case. She led Phoenix in points played against Fury with 15, including four defensive points that nearly all led to breaks for Raleigh as they took an early lead and then rallied in the first half. Mizener wasn't a passive actor in those minutes either, frequently coming up with critical blocks or taking tough matchups, all while offering up key assists on her way to recording at least 8 in San Diego.
–Jenna Weiner
2nd Runner-Up
Yuge Xiao (Boston Brute Squad)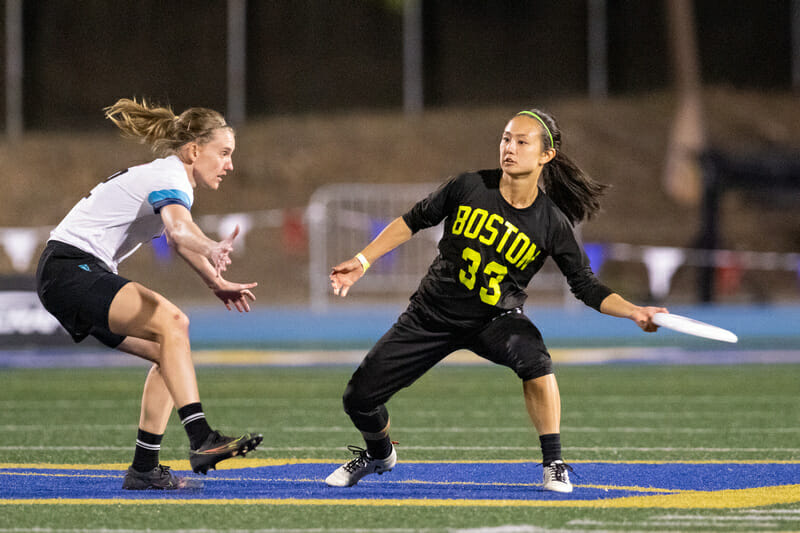 Xiao's inclusion on this list might raise an eyebrow or two — can a Worlds winner actually be a breakout player? — but what we saw from Xiao this year was unlike anything the young star had shown in the past, even in past seasons on other great teams. In only her second full year on Boston Brute Squad, Xiao took a commanding role on the offensive line, filling in wherever necessary and generally just being a blur of talent on the field.
After recording only 3 assists at Nationals in 2019, Xiao was handed a significantly increased role in Brute Squad's offense this year, and rewarded the team with 5 goals, 5 assists, and 2 blocks, all while being a fulcrum in the short field for her team. Few players at the tournament could match her short-burst sprints, and Brute Squad's endzone set always looked better with her in the action. Whatever training regimen or devil fruit that Xiao took in the interim between 2019 and 2021 paid off: Boston was a better team with Xiao playing. In any plans Brute Squad might have to avenge that loss in the final in seasons to come, she will undoubtedly be a major piece.
–Graham Gerhart