Celebrating the best offensive performances of the season.
Ultiworld's 2021 Women's Club Awards are presented by Five Ultimate; all opinions are those of the authors. Please support the brands that make Ultiworld possible and shop at Five Ultimate!
Ultiworld is pleased to announce our annual Women's Club Awards. While we consider both regular season and postseason performance, because of the nature of the Club Division, we weight success in the Series and at Nationals above all else — this year even more so than most. The Club Awards are selected based on input from Ultiworld reporters, contributors, and editors.
Player of the Year Award
Offensive Player of the Year Award
Defensive Player of the Year Award
Breakout Player of the Year Award
Coach of the Year Award
All-Club First Team
All-Club Second Team
Club Awards Voting Breakdown
2021 Women's Club Offensive Player Of The Year
Catherine Menzies (Vancouver Traffic)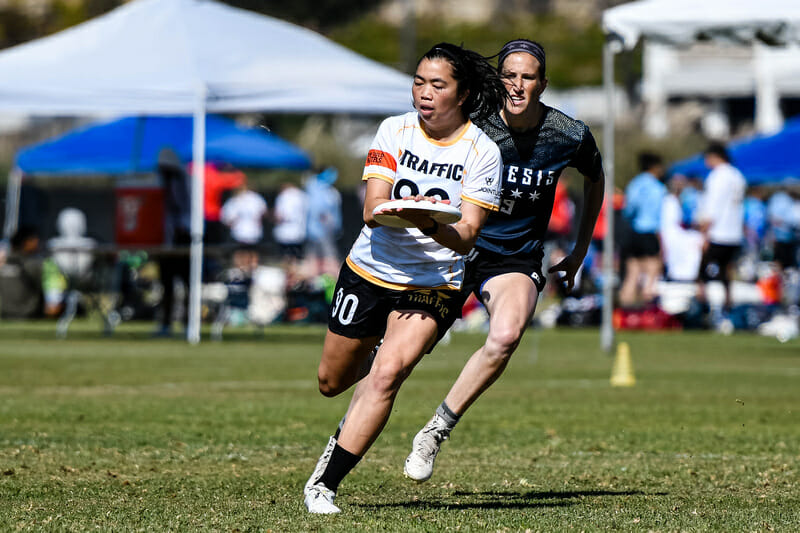 New name, same outstanding game. That's what Catherine Menzies brought to the 2021 season as she led Vancouver Traffic to the Northwest regional title, within a point of a bye to quarterfinals, and an impressive fifth-place finish in San Diego. Menzies' play was instrumental to Traffic's success, and she dictated the Vancouver offense with a signature tempo and rhythm. As the focal point of Traffic's offense, Menzies was constantly in the mix, racking up 13 goals and 10 assists and providing a fair few hockey assists as well. It was an all-around display of offensive excellence, honed by the connection Menzies has with this Traffic program after a full decade with the team.
Without any other context, you probably wouldn't pick out one of Vancouver's continuation cutters to be the Offensive Player of the Year, and yet that is exactly where Menzies most frequently began offensive points. From the outside cutting position, Menzies was able to use her phenomenal field awareness to find gaps in opposing defenses and she often ended up wide-open in the middle of the field and made for an easy outlet for the Traffic handlers. Menzies didn't only work in the downfield space, though, and was one of Vancouver's first reset options. Once in the handler space, she could unleash her dynamic hucks down the field.
It also speaks to Menzies' offensive prowess that she drew matchups against some of the best defenders in the game, including Claire Trop in Traffic's quarterfinal against Brute Squad. Opposing teams knew to key in on Menzies' involvement in the Vancouver offense, and yet she still managed to be one of only four players in the division to put up a double-double in goals and assists in San Diego. Getting to watch Menzies play is a chance to see a player who never appears flustered and is nearly always in a great position to help her teammates flourish, all while racking up a very impressive stat line.
Traffic came so close to taking Phoenix's spot as the darlings of the women's division in 2021, even as they only played at Regionals and Nationals and had to navigate numerous obstacles along the way. That they were as successful as they were in their limited opportunities to compete this year is a testament to the cohesion that Traffic had this season, and on the offensive end they were largely bound together by the incredible play of Menzies. She was the do-everything superstar for Vancouver's offense, and her rise to the top of the OPOTY podium is simply a recognition of her offensive potency and the impact that it had for Traffic in their short but fantastic season.
–Jenna Weiner
1st Runner-Up
Lisa Pitcaithley (Denver Molly Brown)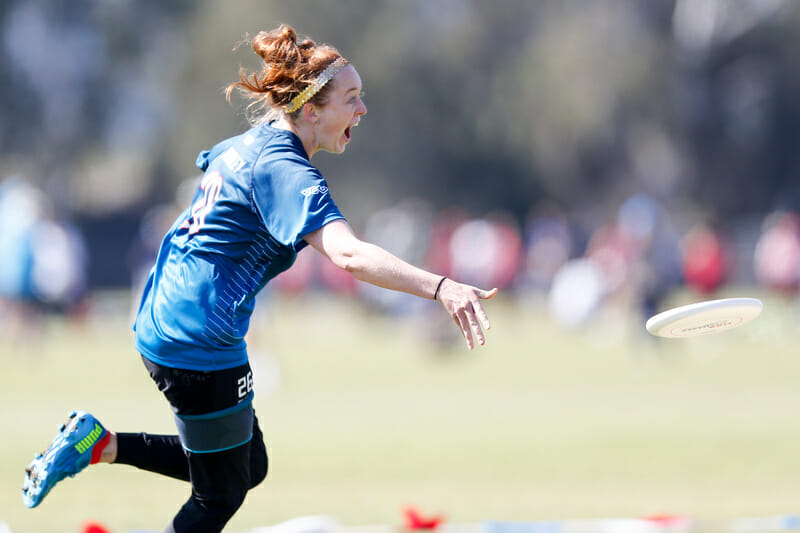 Lisa Pitcaithley's offense is the stuff of highlight reels. She has been one of ultimate's most well-known and biggest impact players for many years running, but her bold playmaking was particularly noticeable in this short season where teams, particularly in the women's division, had fewer opportunities to make their mark. With players and spectators alike champing at the bit for excitement on the field returning to play after the pandemic pause, Pitcaithley's commanding field presence and fearless handling exemplified the unbridled athleticism and joy of play at the heart of this sport we all love so dearly.
Whenever Picaithley was out on the line for Denver Molly Brown — which was a lot, particularly in tight games — you knew you were going to see big plays. Whether she was streaking deep from the handler set to score on a layout or sky, or putting up sweeping hucks or throws to space with the perfect amount of touch, Lisa P left it all on the field every point and somehow managed to keep that same superhuman level of intensity and energy the entire time.
Flashy play does not always translate into impact and results, but it certainly did for Pitcaithley, who led her team in combined assists and goals. She put up 25 assists and 23 goals throughout the season, with a total of 11 assists and 12 goals at Nationals alone. It doesn't take watching Denver Molly Brown for very long to see how much her team trusts her vision and capabilities, as evidenced by her dominant role in steering the flow of the offense and the sheer number of trust throws that come her way (and that she usually comes down with). Pitcaithley delivered on that trust, punching in scores and assists to clinch wins and at very least tiring out defenses and keeping Molly Brown in the game even when games didn't go their way.
Lisa P has been at the top of the game for a while and this season has shown she'll continue to set the bar for athleticism and playmaking on offense for many years to come.
–Isabel Cruz
2nd Runner-Up
Kate Travaglini (Florida Tabby Rosa)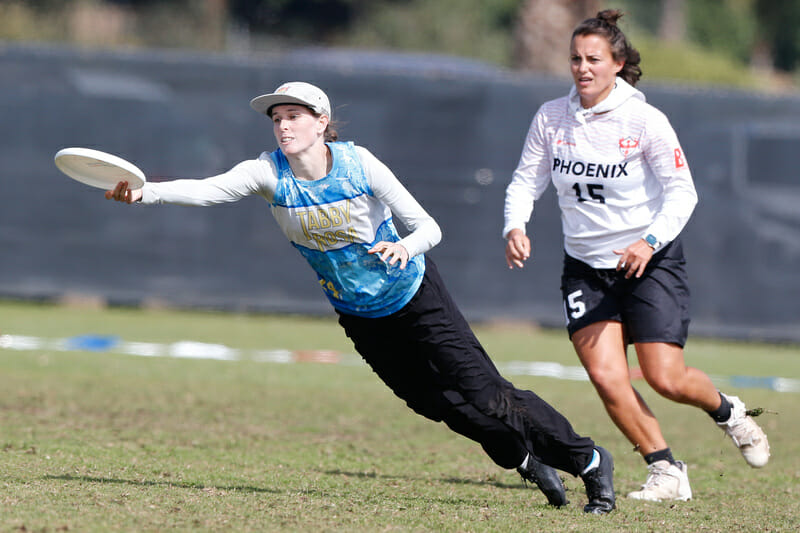 The case for Kate Travaglini's place in the OPOTY conversation is all the dust her opponents ate while marking her at Nationals. Turn on any Florida Tabby Rosa game from that weekend and you'll see the best defenders on the best teams in the world getting torched by Travaglini.
The Florida product has long held a reputation as your favorite player's favorite player, and only needed to return to the big stage to prove why. Travaglini made the game shift every time she was on offense. There was no length she wasn't willing to go to get the disc. The fearlessness she maintained while attracting all of the defensive attention transcends 'nerves of steel' to a point where it was more likely her bones, sinew, and muscle that were steel, too. Step aside, Superman.
While it's easy to wax poetic about Travaglini, the hard facts back her up, too. She led Tabby Rosa in touches and goals scored, helping lead a no.15 seed to quarters — the only team outside of the top nine to make quarters. She was one of only four players to have a double-double in assists and goals,1 and did it all on a team with the smallest roster at the tournament.
So many players gain acclaim on offense because they make it look easy. For Travaglini, it looked like the deck was stacked against her on every point, and she prevailed by outworking everyone else.
–Graham Gerhart
---
Alongside the other two finishers on this podium and Phoenix's Karen Ehrhardt. ↩