Rounding out the 14 best performers of the year.
Ultiworld's 2021 Women's Club Awards are presented by Five Ultimate; all opinions are those of the authors. Please support the brands that make Ultiworld possible and shop at Five Ultimate!
Ultiworld is pleased to announce our annual Women's Club Awards. While we consider both regular season and postseason performance, because of the nature of the Club Division, we weight success in the Series and at Nationals above all else — this year even more so than most. The All-Club Awards are selected based on input from Ultiworld reporters, contributors, and editors.
Player of the Year Award
Offensive Player of the Year Award
Defensive Player of the Year Award
Breakout Player of the Year Award
Coach of the Year Award
All-Club First Team
All-Club Second Team
Club Awards Voting Breakdown
2021 Women's All-Club Second Team
Jessie O'Connor (San Francisco Fury)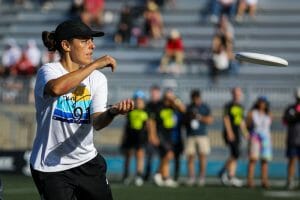 At some point earlier this season, San Francisco Fury coach Matty Tsang decided to ask O'Connor what her favorite throw is. Without missing a beat and in all seriousness, the former Scandal transfer responded, "Completions." If that's not the most perfect answer a coach could receive from their center handler, I don't know what is.
And it doesn't take long in watching O'Connor play to realize she absolutely meant it — it was like she was determined to spend all season proving the point. San Francisco's center handler was a Gibraltar-scale rock for her team's offense, always making the smart decision and executing with unparalleled consistency; she was the only player in the division to throw double-digit assists while recording just a single turnover at Nationals.1 O'Connor's throwing mechanics appear so naturally easy as to be maddening to anyone who has to continuously practice to even approach the same level of consistency with their throws, but with no prayer of ever looking quite so casual and comfortable in doing so.
As has been discussed ad nauseum — and is evident again in these All-Club teams — Fury were absolutely loaded with world-class talent playing at the peak of their ability this season. Yet few would argue that O'Connor wasn't the most vital piece to their offense, taking over a role previously patrolled by all-timer Alex Snyder. You know, no pressure. But O'Connor delivered. It is nigh impossible to play so thoroughly boring ultimate and also be so tremendously unforgettable.
–Steve Sullivan
Kate Travaglini (Florida Tabby Rosa)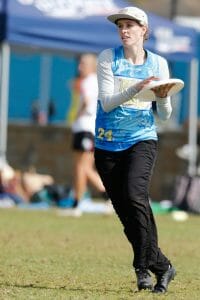 A big-time player taking on a big-time role, that's nothing special, right? Well in the case of Kate Travaglini with Florida Tabby Rosa, she was asked to take on a pivotal role as a do-everything player on the smallest roster in San Diego and flourished in the face of immense defensive pressure as opponents did their best to slow her down. The re-emergent Tabby Rosa were arguably the surprise team at Nationals as no.15 seed quarterfinalists, and much of their success went through Travaglini with her incredible offensive talents. Travaglini's performance at Nationals was immense, one of only four women's division players to a double-double with goals and assists.
The University of Florida product wasn't a slouch on the defensive end either, often coming up with key blocks to earn the disc back for the Tabby Rosa offense allowing Travaglini to take charge once more. Travaglini's all-around excellence led the way for the Floridians, and made for a massive headache for opposition players as they struggled to prevent Travaglini from making big-time plays time and again.
That excellence was rewarded by many Ultiworld voters, as the Tabby star appeared on more First Team ballots than all but five other players, despite ultimately landing near the top of the Second Team.
–Jenna Weiner
Carolyn Finney (San Francisco Fury)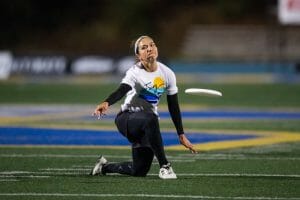 The seemingly ageless Carolyn Finney was once again a stand-out superstar on a stacked San Francisco Fury roster, bringing together a scary combination of high usage and incredible efficiency. Not only did Finney play the most points on Fury in their pivotal game against Phoenix, but she also totaled the most recorded assists on the team, and did all of that while looking completely unfazed regardless of what opposition defenses threw at her. It's the kind of stellar play we've come to expect from the ten-year Fury vet, and yet still it remains impressive each successive season.
Outside of her on-field play, Finney's impact on the division was made even clearer this year as she won the 2021 Pufahl Award in recognition of her outstanding achievement in and support of the women's division. After all these years, Finney remains in the far upper echelon of the women's division with her on and off-field excellence and shows no signs of slowing down.
–Jenna Weiner
Manuela Cardenas (Denver Molly Brown)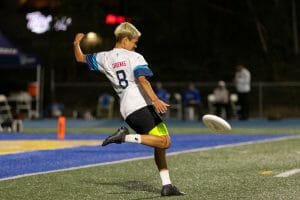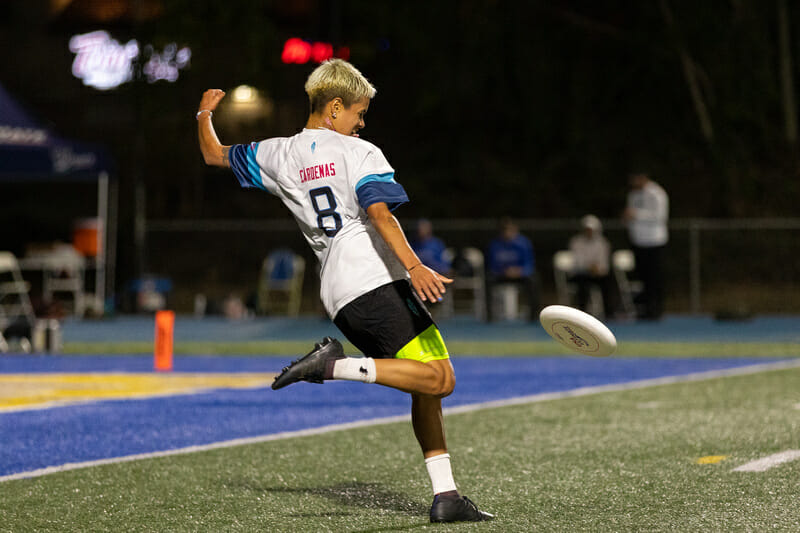 A big personality on and off the field, Manu Cardenas continues to push the sport of ultimate to new heights as she hones her craft and somehow gets better each year. Returning to play as part of Denver Molly Brown in the 2021 season, Cárdenas stepped into an even bigger role as an anchor of their offense, over doubling her total combined goals as compared to the 2019 season. Her short season (since Molly Brown only played one tournament before the postseason) was replete with cheeky shots (especially if Claire Chastain was even a slightly viable receiver downfield), big grabs all over the field, and giving her mark a run for their money with her quick cuts and disc movement.
Even with her high risk, high reward style of play, Cárdenas is undeniably one of the most impactful players in the division. Her combination of top-notch throwing, cutting, and defensive capabilities set her apart and can make the difference for her team in key games against talented opponents. Yet there were moments in the season that showed the best is yet to come for Cárdenas. A player known for flashy play, she showed improved discipline with the disc throughout the season, maintaining possession and working it up the field through small ball rather than taking a tempting 50/50 deep shot to a receiver with less-than-ideal separation. Cardenas is clearly dedicated to becoming the best version of herself…and thereby becoming the best in the world. Don't be surprised if you see her name continue to appear and further ascend on the All-Club and Player of the Year award lists going forward!
–Isabel Cruz
Claire Desmond (San Francisco Fury)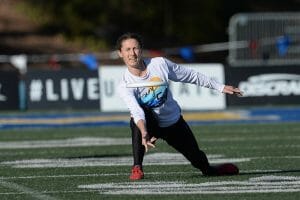 Claire Desmond showing up on an All-Club ballot is hardly a surprise. Despite her lengthy tenure and short departure from the team, Desmond remains the archetype for a Fury player. She personifies San Francisco Fury in a way that few others can, utilizing smart, decisive passes, field-stretching cuts, and impossibly safe hands to keep the offense running. Even in the rare moments where Fury looks fallible, Desmond doesn't. She's the galvanizing force for the team in their toughest games, a sure-fire target no matter her position on the field.
It's easy to sing the praises of Desmond, and we have, multiple times. Desmond made an All-Club team the first year they were awarded, and she's returned to the list multiple times since. The reason for her sustained success is simply that her underlying talents are ageless. Body awareness & field IQ are hard to quantify, but if we could, Desmond would be off the chart. While she may have relied on anomalous athleticism early in her career, in recent years it's been smart defense, intuitive cuts, and on-field leadership that have stood out. That's the foundation of a great Fury player and is so clearly what has helped her maintain a decade of ultimate excellence.
–Graham Gerhart
Bridget Mizener (Raleigh Phoenix)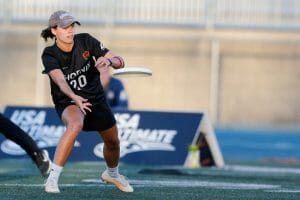 With an up-and-coming team like Raleigh Phoenix, there are always young, talented players who make stellar, awe-inducing plays. Phoenix asked a lot from their cutters this year, and they delivered in a massive way. What can't be missed, though, is the player that orchestrated the offense to set up these cutters. Bridget Mizener was likely the silent conductor of all your favorite moments from Phoenix's offense this season. While not the flashiest player on her team, Mizener put the team on her back when it came to getting resets and open upline cuts, which helped Phoenix reassemble their offense whenever play broke down. It was Mizener constantly getting open that unlocked everything for her team, and is largely the reason why, for their season as a whole, she was also Raleigh's assist-leader. When the team got close to the endzone, they wanted the disc in her hands: it's that simple.
Raleigh often praises their players for working well in their system, but Mizener made it appear as if the system was built for her. She was constantly the one on the field making the right play and setting her teammates up for easy gains. There's being cool under pressure, and then there's dropping the temperature of the whole field with how cool you are. After being the linchpin for her team all season long, Mizener more than deserves her spot on this list.
–Graham Gerhart
Octavia 'Opi' Payne (San Francisco Fury)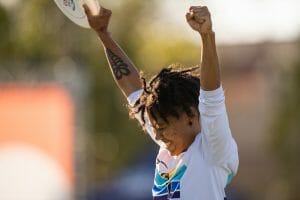 Octavia "Opi" Payne was one of the top U.S. club players of the 2010s…and this season shows that Payne is not letting go of her foothold in the upper echelon of players anytime soon. This year's San Francisco Fury roster was more stacked than ever, making her relative footprint on play smaller than usual. But this didn't stop her from significantly contributing to Fury's dominance this season and continuing her reign as one of the most skilled players on offense and defense in the division.
Her stat line (6 goals, 4 assists, and 1 block) doesn't even begin to capture her impact on the field. She exemplified the core tenets of high-quality ultimate fundamentals by creating space and options on offense even when she wasn't actively making plays, as well as neutralizing her matchup on defense to limit or even eliminate their ability to contribute. Her coverage of Boston Brute Squad's stars like Claire Trop and Liên Hoffmann on defense was pivotal to minimizing their impact and helping Fury maintain and build a healthy lead in the finals.
Payne didn't play hero ball but was also at the center of the action during critical moments of key games. She was on Fury's universe line and threw the winning score that clinched them the national title. Payne continued to grace the sport with her unparalleled, steadfast excellence in this unconventional season and is more than deserving of a spot on the All-Club roster.
–Isabel Cruz
---
Only one other such assist producer kept their turnover total under five, Nightlock's Kira Lou. ↩