Our selections for the seven best performers of the year.
Ultiworld's 2021 Women's Club Awards are presented by Five Ultimate; all opinions are those of the authors. Please support the brands that make Ultiworld possible and shop at Five Ultimate!
Ultiworld is pleased to announce our annual Women's Club Awards. While we consider both regular season and postseason performance, because of the nature of the Club Division, we weight success in the Series and at Nationals above all else — this year even more so than most. The All-Club Awards are selected based on input from Ultiworld reporters, contributors, and editors.
Player of the Year Award
Offensive Player of the Year Award
Defensive Player of the Year Award
Breakout Player of the Year Award
Coach of the Year Award
All-Club First Team
All-Club Second Team
Club Awards Voting Breakdown
2021 Women's All-Club First Team
Lindsay Soo (Raleigh Phoenix)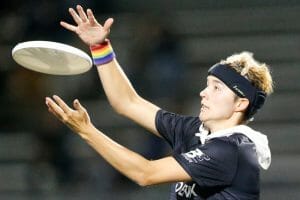 The best players take their games up another gear when their teams need them most, and Lindsay Soo did that time and again for Raleigh Phoenix this season. When Phoenix's handlers needed a deep outlet, Soo was there, cutting deep and skying multiple defenders time and again. When Raleigh was desperate for a block, it was often Soo who applied the defensive pressure to force the turn. Whenever it was that Phoenix needed a big play, it seemed to be Soo in the limelight, making their impact felt on the game.
On and off the field, Soo provided leadership for Phoenix as one of the longest-tenured players on the young upstart team. Soo was also an exceptional on-field facilitator for Phoenix, making their well-honed system flow as the ultimate system player. Even still, she stood out as not only the best player on the darling team of the women's division in 2021, but the best player in the division, and at just 26, Soo is more than likely to remain an outstanding player for years to come.
–Jenna Weiner
Anna Thompson (San Francisco Fury)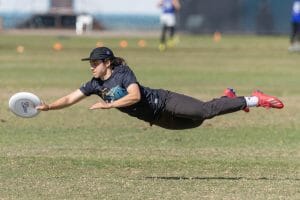 There are perhaps still some unenlightened fans out there who would argue that the top players from mixed can't hang in the gender-split divisions, but thankfully none of them reside within the San Francisco Fury coaching staff or team leadership. The Bay Area squad had no qualms with immediately plugging AMP alumna Anna Thompson into a key role helping drive their offense, and the young star more than repaid their faith. In her first year in the women's division after earning POTY honors in mixed in 2019, Thompson brought her boundless confidence to one of the proudest and deepest programs on the planet and still stood out for her play.
A supremely gifted athlete with a quiver full of pinpoint accurate throws to spray around the field, all season long Thompson proved equally adept at springing into a quick reflex layout to steal possession from her opponents and delivering a dart into the end zone to cap a goal-scoring possession for her team. She did both with high enough frequency to help Fury back to their title-winning ways, becoming one of just four unanimous first-team selections for the division in the process. Not a bad return for a mixed player.
–Steve Sullivan
Lisa Pitcaithley (Denver Molly Brown)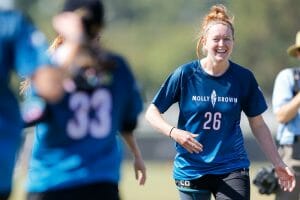 Approaching 30, who would have expected Denver Molly Brown's Lisa Pitcaithley to turn in her finest season? She's long brought to baear a sizable offensive payload, liable to level an unsuspecting defense in short order with a barrage of quick-release hucks and deep runs. You could argue she's lost a step, but her mind is a few moves ahead.
That matured game has allowed her to not only maintain her devastating ways, but to enhance them. Her decision-making is still aggressive, but tactically-driven by the right types of risk. Her edges are more finely controlled, frequently manipulated by a thrower as likely to release an angled throw as a flat one, no matter how shocking it might be to defenders and onlookers. Her break throws are even more dangerous than before, giving her more options. The same characteristics have crept into her cutting, which was once mostly a muscly brand of hard sprinting, but now is more patient art of controlling space and nailing timing.
All of it has combined to make her one of the most well-armed offensive threats. But guess who was one of her team's best defenders? Looks like being a wily vet suits Lisa P. well, as she seemed to come up with key break-saving blocks. Her offensive numbers from the Pro Championships and Nationals are attention-grabbing — double-doubles at both — but don't lose sight of the seven blocks that came with all the goals and assists.
–Keith Raynor
Kami Groom (Boston Brute Squad)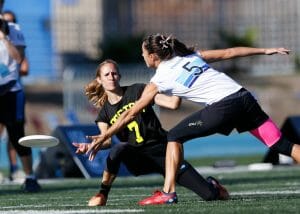 If you're ever looking to swoon over first-rate cutting technique, unreal ability to generate blocks, and impeccable sportswomanship, watch literally any point of ultimate Kami Groom played in 2021. When Boston Brute Squad's terrifyingly effective D-line was dunking on even their incredibly talented opponents,1 odds are that Groom's defensive and offensive contributions had something to do with it. Whether she was racking up run-through blocks or generating separation from her defender with her quick feet and top-notch acceleration2 to score,  she was an unstoppable force on the field.
With her infectious leadership and incredible play, Groom was a major driving force behind the team's resounding success in their 24-2 season. Even in the few games that Brute Squad lost or fell flat even though they won, Groom was often a light in the neon-lettered darkness trying to keep her team in the game and spirits high with energizing plays and seemingly limitless endurance.3 It's no wonder she's a stalwart member of Brute Squad's kill line and an equally omnipresent presence in the All-Club First Team. While she came up just short of the POTY podium for the first time since 2015(!), she's the only other player this season to be voted among the seven best in the division on every ballot we collected.
–Isabel Cruz
Liên Hoffmann (Boston Brute Squad)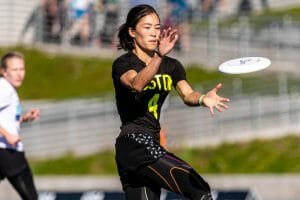 There simply are no words to describe how ridiculously talented Liên Hoffmann is at ultimate frisbee. While there are big-name players across all club divisions who don't always live up to the hype when you see them in real life — humans are allowed to have off days, after all — I truly don't think it's possible to overstate how awe-inspiring it was to watch Hoffmann play throughout the 2021 season.
Every time she steps onto the field, whether in her typical position as an anchor of Boston Brute Squad's offense or standing in on D when they are looking to pull ahead or come back in key games, Hoffmann is guaranteed to impress. Whether it's streaking to the end zone to catch a disc that shouldn't be humanly possible to close on, finding her teammates in the end zone with hucks or perfect inside throws, or reeling in any disc that comes even vaguely near her with some of the stickiest hands in the sport, her excellence shines through every game in which she graces the field. With an unreal stat line (18 scores, 16 assists, 5 blocks, and only four turns all season), Hoffmann is one of the most reliable playmakers around and more than deserving of a spot on the 1st Team All-Club of the Women's Division.
–Isabel Cruz
Claire Trop (Boston Brute Squad)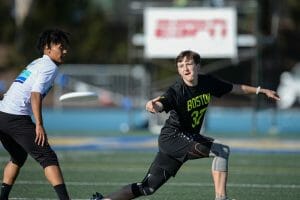 At a mere 22 years old, Claire Trop is already a household name. She is speedy, smart, and seemingly everywhere on the field all at once. Boston Brute Squad relied heavily on this young star this year — she took on the toughest defensive matchups and had success time and time again, to the tune of a DPOTY-worthy season.
Put simply, Trop has an uncanny ability to get shit done. Need someone to poach a lane to disrupt the offense? No problem. Need someone to strike deep in transition? You betcha. Need someone to catch the game-winning goal in a high-pressure situation? Money in the bank.
With a trophy case already boasting a fistfull of national and international gold medals, Trop's got more elite experience than most of us could ever dream of and the most exciting part is that the best is probably yet to come. She's been on an upward trajectory for years — the pandemic definitely didn't slow her down — and all signs point to the fact that she hasn't yet reached her peak. What role will she take on down the road? With her skills, it could be anything, but rest assured it will be whatever her team needs.
–Kelsey Hayden
Catherine Menzies (Vancouver Traffic)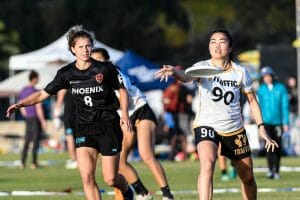 It feels like we've been talking about Catherine Menzies (nee Hui) forever, and yet she keeps getting better and better. While she has been named to the All-Club 2nd Team four times previously, this is her first time cracking the top 7, and rightfully so after the season she and the Vancouver squad put together.
As the only Canadian team attending both the Ultimate Canada Invitational (UCI) and the USAU Club Series, Vancouver Traffic had a busy fall that was full of success. They finished first at Northwest Regionals for the first time in 10 years and quickly followed that with a second-place finish at UCI. A few short weeks later they were in San Diego capping off their season with a fifth-place finish — the highest finish the program has achieved since 2008. All of this was done with Menzies at the helm, anchoring their O-line and crossing over to D-line when they needed the extra push.
Menzies' stat line from Nationals is impressive — 13 goals, 10 assists, and 4 blocks — and yet that still doesn't paint a full picture of what she brings to her team. If the opposition pushes her under, they're punished by her signature hucks, and if they push her deep, her fast footwork and closing speed will burn them even quicker. She is a true two-way player that cannot be ignored, and one that we will continue to talk about for years to come.
–Kelsey Hayden
---
Note that Brute Squad averaged just 3.5 goals against across 15(!) Series games before the national final; they didn't let any of their opponents score double digits on them at Nationals until Fury. ↩

Zoom zoom. ↩

Groom was Brute Squad's leading goal scorer in their final loss to San Francisco Fury. ↩