Celebrating the best coaching performances of the year.
Ultiworld's 2021 Women's Club Awards are presented by Five Ultimate; all opinions are those of the authors. Please support the brands that make Ultiworld possible and shop at Five Ultimate!
Ultiworld is pleased to announce our annual Women's Club Awards. While we consider both regular season and postseason performance, because of the nature of the Club Division, we weight success in the Series and at Nationals above all else — this year even more so than most. The Club Awards are selected based on input from Ultiworld reporters, contributors, and editors.
Player of the Year Award
Offensive Player of the Year Award
Defensive Player of the Year Award
Breakout Player of the Year Award
Coach of the Year Award
All-Club First Team
All-Club Second Team
Club Awards Voting Breakdown
2021 Women's Club Coach Of The Year
David Allison (Raleigh Phoenix)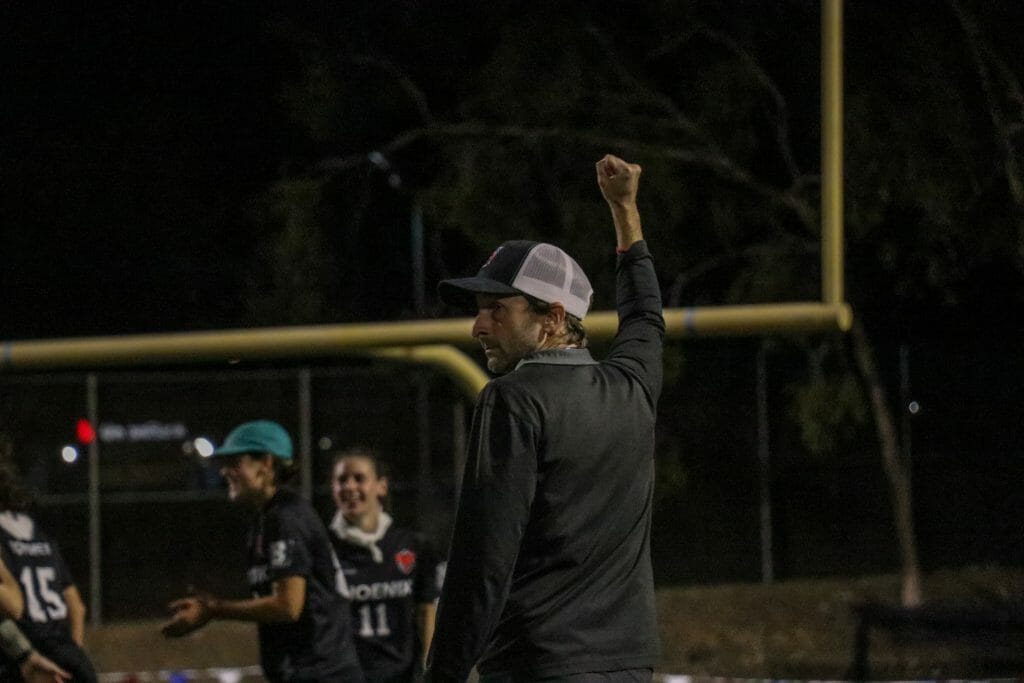 Many have auditioned for the challenger role in the play we call the Club women's division. Few have remained in the cast from season to season, struggling to maintain the consistent excellence of the division's premier programs. Raleigh Phoenix has been considered a candidate for multiple years, but when they lost star Anne Worth, veteran leader Jessi Jones, and explosive athlete Jenny Wei to injuries, hopes that this would be the year they took center stage looked futile. Mounting the quarterfinal wall and clearing the bar to contend with the elite teams was a daunting task for even a fully-loaded aspirant. But a hamstrung one was likely to be relegated to also-ran status.
Instead of following that script, Phoenix improvised, with head coach David Allison rewriting scenes on the fly. Shuffling lines and roles while teaching a team full of recent teenagers, Allison's stewardship — with help on the sidelines from Jones and Allan Laviolette — helped the team post its strongest showing yet, closing with a fantastic performance in a loss on the biggest stage.
Allison's no stranger to this. In fact, he and Mike Denardis were on the men's division podium for a similar job with Ring of Fire in 2019, guiding a young team in transition to unexpected heights. Prior to that, he won a 2016 Coach of the Year in D-I Women's for his work program-building at Virginia, one-upping his runner-up selection from the year before. He's become one of the most decorated coaches in the game, an expert at developing talent, constructing and instructing systems, and rearranging personnel to fit the team's situation and needs.
The rise of Raleigh's ultimate has a confluence of factors, but one of the most recognizable is an incredible cadre of coaches that constantly propagates itself. Denardis may be the most visible of those, but Allison's influence is a powerful one that rests near the top of that tree. He's one of the architects of the rise to prominence of an entire community and one which will have ripple effects across all of US ultimate. It is time to consider David Allison as one of the best coaches in ultimate and one of the most important minds and voices in the game.
-Keith Raynor
1st Runner-Up
Gwen Ambler (Seattle Riot)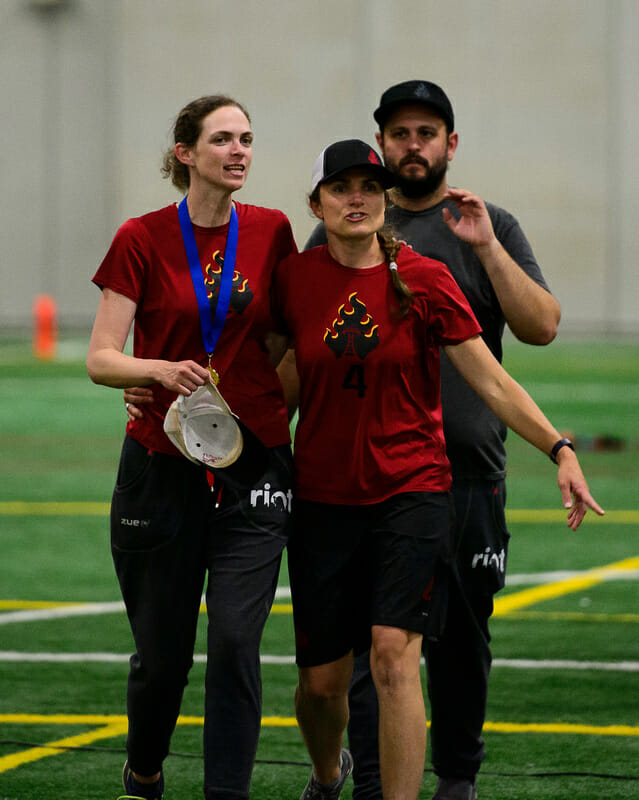 We didn't know what to expect from Seattle Riot at the start of the 2021 season. We didn't even know if there would be a Riot at the start of the 2021 season. Somehow, with only six returners, Riot managed to exceed expectations across the board, finish in sixth place at Nationals, and earn a Worlds berth. Of course, in this instance, 'somehow' can mostly be explained by the coaching presence of Gwen Ambler.
Not only did Ambler help guide Riot to a strong showing in San Diego, she did it with one of the youngest teams at the tournament, and one mostly populated with players attending their first club Nationals. Despite all of this, Seattle was one of the most complete teams at the tournament.
Lots of this comes from Ambler's ability to balance lines and empower players. Over the course of the season, Ambler was able to walk the tightrope of letting developing players have real reps in big games, while also setting up the team to succeed. Granted, Riot's young players were all immensely talented, but Ambler had to provide a lot of guidance in a shortened season without much time to prepare before Nationals. With all the odds against them, Riot was able to control their fate with a tight, structured offense that relied on talented throwers, and a defensive scheme that forced their opponents into mistakes.
Ambler's position here is secured by establishing a system where all this is possible despite the shortened season. Riot may have finished sixth, but Ambler has a chance to coach this team at WUCCs next year, and Riot has a history of winning that tournament…
–Graham Gerhart
2nd Runner-Up
Matty Tsang (San Francisco Fury)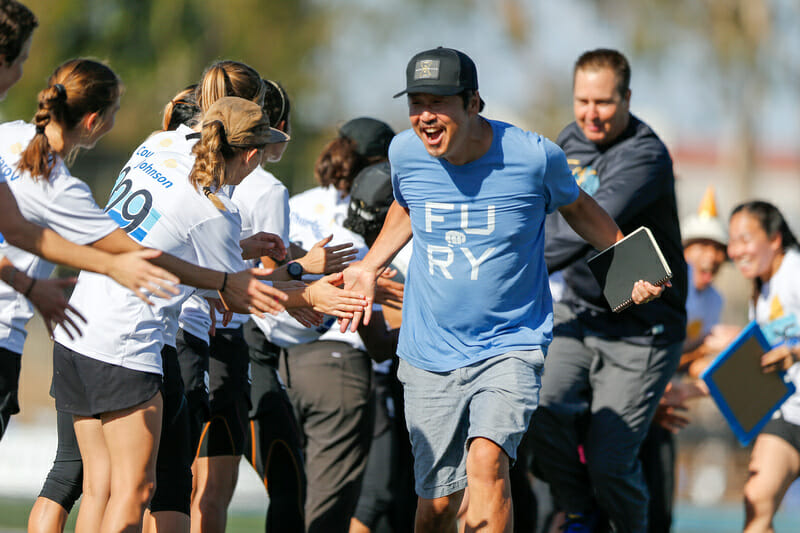 In a shortened season in which most teams turned over large portions of their roster (see above), San Francisco Fury instead returned almost all of their players from 2019, added a few more superstars, and largely rolled to the title. Fury once again had many of the best and most experienced players in the division and a level of cohesion that no other team could really match. With all of those factors in their favor, who needs a great coach, right?
Well, in the case of Fury in 2021, the season could have had a very different tenor had what ended up being the oldest team in the division lost the bulk of their players to retirement, life, or other hobbies. That they didn't speaks volumes to the culture that Matty Tsang and his coaching staff have cultivated over the years, which players actively decided to come back to for one more run. The on-field system that Tsang and his team has instilled also enabled Fury to pick up effectively where they left off in 2019, leading to the dominant play we saw from Fury in nearly every game.
For a team with six players with at least a decade of service, it should come as no surprise that Fury has a well-established system and culture. Right alongside those long-tenured players, though, has been Tsang, coaching the Bay Area giants near-uninterrupted since 2006, helping develop players on and off the field. Fury superstar veteran, and this year's Kathy Pufahl winner, Carolyn Finney shared this after Fury's final win. "I think that Fury has made me the player I am completely, both on and off the field," she offered. "I've learned so much from Matty [and] from the older players as I've grown up through this program."
Again, given the talent on Fury's roster we maybe should have anticipated that they would roll to the title this year, and, again, it could have been so different in this most unusual of seasons. So while yes, Tsang is an exceptional on-field coach as is already regarded as among the best in the business, arguably this season he did his best work in maintaining the culture of Fury as he always has, and by holding space that enabled some of the best players in the division to return to the team as their full selves and perform at the incredibly high levels that we've come to expect from this program, year in and year out.
–Jenna Weiner