Several division bluebloods square off in a deep Pool A.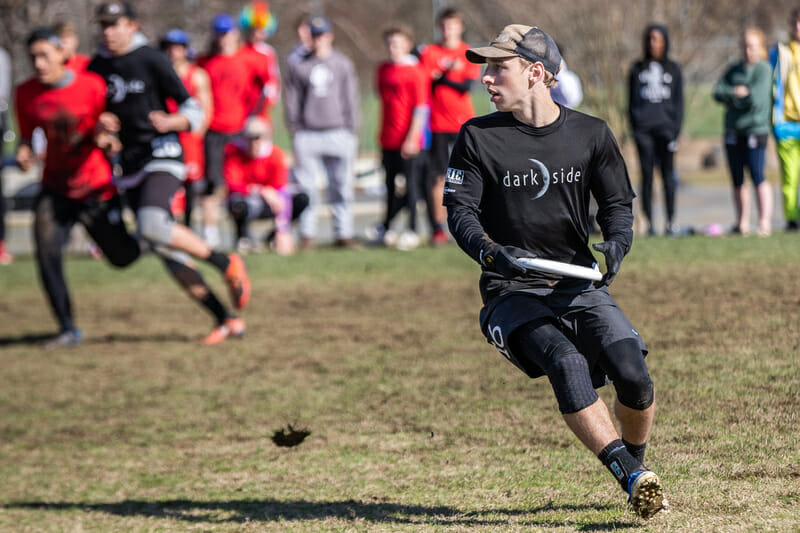 Our coverage of the 2021 College Series is presented by Spin Ultimate. You can get 15% off all college uniforms and swag right now at Spin Ultimate!
The 2021 College Championships are unusual in many ways: the quick ramp-up to a winter Nationals meant that qualifying Series events were the first tournaments some recruits ever played, while extended eligibility rules allowed teams to roster sixth- or seventh-year players and even alumni. Add one more point of distinction: for the first time, the D-I and D-III tournaments are being held as a single tournament event with four divisions.
The unique format of the 2021 Series as well as the long hiatus since sanctioned play make for lots of unknowns going into the weekend. In these previews, we'll offer a snapshot of each team and the competition they'll face when play begins on Friday, December 17. Watch ultiworld.com/live then for updates in all four college divisions!
Pool A  |  Pool B  |  Pool C  |  Pool D
Seeding: A1, no.1 overall
Power Ranking: #1
Path to Nationals: Def. NC State 13-8 in Atlantic Coast final
Roster & Schedule
Good things come in threes? UNC will certainly hope so. After Raleigh won titles in the AUDL and men's club division this year, Darkside will look to complete the sweep with its second title in three seasons. There is good reason to think it could happen, too, with a few players on UNC's roster this season competing with both of those championship-winning squads. Elijah Long, Anders Juengst, Alex Davis, Suraj Madiraju, and Matthew McKnight all featured on both teams. That doesn't even include 2019 Ultiworld All-American Liam Serles-Bohs or up-and-coming defender Ben Dameron, who played with Ring, but not with the Flyers this year.
It will be fun to see the Triangle's latest wave of youth talent take the big stage as well. Homegrown-talents-turned-vets like Seth Lee, John McDonnell, and Andrew Li all figure to be major contributors. UNC also has a pair of freshmen who earned WJUC tryouts in Eli Fried and Josh Singleton.
Needless to say, this is yet another stacked North Carolina team with high expectations. At the bare minimum, pencil Darkside into the semifinals right now. The last time UNC missed out on the final four was 2013, when much of this roster was still in middle school. The path to another semifinal seems pretty clear and it would not be a surprise to see Darkside ease past most of their competition until they reach the stage of the tournament.
The question is if UNC can learn from their shortcomings in 2019 and reach the summit once again. North Carolina only lost one game at Nationals that year and cut through most of their competition. The loss was an ugly one against Brown where Darkside's offense came undone in a 14-8 finish.
Talent and cohesion are huge strengths for this roster though. As many teams have cited a lack of time to gel or practice, UNC has tons of chemistry from prior youth and club competitions. Expect them to look like one of the most polished teams in the field and among the favorites to claim another title.
Seeding: A2, no.8 overall
Power Ranking: #7
Path to Nationals: Lost to Colorado 15-9 in South Central final; def. Colorado State 15-9 in second-place final
Roster & Schedule
Texas arrives at Nationals on anything but a high note following a one-sided regional final against Colorado, but that might say more about Mamabird than it does TUFF. The boys from the Lone Star state turned around and comfortably handled Colorado State to secure the second bid from the region, earning a third straight trip to the Championships.
TUFF will be looking for some revenge in pool play, as it was Wisconsin who bounced them from the bracket back in 2019. However, the same can be said for fellow pool A competitor Michigan, who Texas topped in pool play that year. Much of that core returns, led by Callahan nominee Noah Chambers, Vinay Valsaraj, and Matt Armour.
Then there is the AUDL contingent. A huge portion of Texas' core turned heads this year as part of the Austin Sol. Matt Chambers, Jacob Sames, Shane Heath, Zach Slayton, Jake Worthington, and Valsaraj all made major contributions for a team that just missed the playoffs. Cohesion for this group should be high as well with John Clyde, Chris Layden, and Jake Radack all on the Sol roster as practice players.
With a ton of veteran talent, Texas figures to be in contention for quarters at the very least. At its peak, TUFF is capable of beating just about every team in the field. However, we've already seen them come up well short against a true national title contender in Mamabird. Unfortunately, holding seed in pool play would bring them face to face with Colorado again, but things rarely go as we expect, especially in 2021.
Seeding: A3, no.12 overall
Power Ranking: #11
Path to Nationals: Def. Indiana 13-10 in Great Lakes final
Roster & Schedule
North Carolina is clearly the favorite to win the pool. After that, things are wide open. Michigan will hope they can cause some chaos and build on a strong 2019 season. MagnUM reached the quarterfinals for the first time since 2014, falling to Cal Poly SLO. However, that run included an impressive win over Oregon in prequarters.
This Michigan squad returns much of the talent that led them on that quarters run. Their leaders in goals and assists, Jeffrey Gao and Jared Schwallie respectively, return. So do Adam Stautberg, Eli Weaver, Raymond Lu, Jake Kovalic, Theo Shapinsky, and Ashwin Pothukuchi. That core will have MagnUM poised to repeat their feats from 2019.
Kings of the Great Lakes, Michigan cruised through Regionals mostly untested. Indiana played them within three, but that was MagnUM's closest game of the weekend. The stage Nationals provides is not lost on Shapinsky. The team captain said Michigan is heading into the tournament looking to take down every "faceless opponent" in front of them while "representing the entire state of Michigan on a national stage." No pressure or anything.
We've already seen one Michigan-based team beat the odds and make an unexpected run at a Nationals event this year when Ann Arbor Hybrid took home a club mixed silver medal. Perhaps MagnUM can follow in their footsteps and shock the world. Stautberg and James Hill helped Hybrid make their mark, while Shapinsky was able to apprentice as a practice player.
In the end, Michigan might not be a true title contender, but in a division with the occasional unexpected semifinalist, there is no reason to think Michigan would not be capable of making such a run. It would take some inspired play and maybe a bit of luck in the draw, but MagnUM should be a team to watch come Saturday.
Seeding: A4, no.13 overall
Power Ranking: #15
Path to Nationals: Def. Minnesota 15-8 in North Central second-place game
Roster & Schedule
No team in history has ever wanted to head into Nationals seeing Wisconsin as its four seed in a pool. While it has been a while since the Hodags have been a true national title contender, they also arrive in Norco riding a four-year quarters streak. Tied with Carleton for the most Nationals appearances ever, Wisco has history on its side and a track record of winning big games on the national stage.
The Hodags arrive in Norco having just one loss in the Series, which came against Carleton. They looked impressive otherwise at North Central Regionals, stomping Iowa 15-9 and Minnesota 15-8. They face a tough, closely grouped pool, but it would not be a shock to see Wisconsin finish second from this group, especially considering who they bring back.
Ted Schwe, Daniel Garlock, and Jacob Rubin-Miller are the biggest names to return. Unfortunately, the team's leading scorer from Nationals in 2019, Nick Vogt, will not be back; nor will dynamic thrower Rami Paust. Nico Ranabhat and Henry Goldenberg figure to step into even larger roles. Wisconsin's roster is long, but there are not a ton of players that have made a name for themselves beyond their veteran core.
Wisconsin has approached this fall season like many others, giving young players meaningful playing time with a focus on developing for the spring. They have some new talent in the form of Saul Diaz, who earned a WJUC tryout. It will be interesting to see if that impacts their potential to reach the bracket.
Seeding: A5, no.17 overall
Power Ranking: #16
Path to Nationals: Def. Stanford 12-9 in Southwest second-place game
Roster & Schedule
UCSD is back on the national stage in the men's division for the first time since 2014. After dropping a game in pool play at Southwest Regionals, the Air Squids won five straight elimination games to clinch a spot in Norco. In the process, they managed to avenge their only loss of the tournament, a 9-8 slip up against UCLA.
It is hard to know for sure how UC San Diego will fare against Nationals competition. The Air Squids are not on the same level as Cal Poly SLO, who they lost to 13-7 at SoCal Conferences. Without much recent Nationals history, this team is truly a mystery in the field.
The team's makeup, however, offers more clarity. We know the offense is going to flow through Michael Huang, Bryce Lozinski, and Stefan Samu, much as it did at Regionals. Huang and Samu played together on San Diego Streetgang in the club circuit as well.
Defensively, Ethan Li and Jimmy McGuinness will help lead the way. Jacob Rodriguez and Daniel Pryke figure to take on prominent roles as well after strong regional tournaments. This unit is up for the tough task of facing some of the best offenses we may have seen in recent years. Leadership cited alumni participation as a big reason why they expect to see more polished, refined offensive attacks at Nationals. That logic seems to track, even if teams have not gotten the same run-up to this final tournament that they are accustomed to.
As far as five seeds go in any respective pool, UCSD feels like the one best positioned to bust brackets. Texas, Michigan, or Wisconsin could all be susceptible to a streaky UCSD team if they get rolling. Reaching the bracket might be a tough task given how little experience this team has at this level, but that doesn't mean the Air Squids won't make it happen.