With former powerhouses looking to return to previous heights and a pair of up-and-coming programs looking to set new high water marks, Pool C is loaded.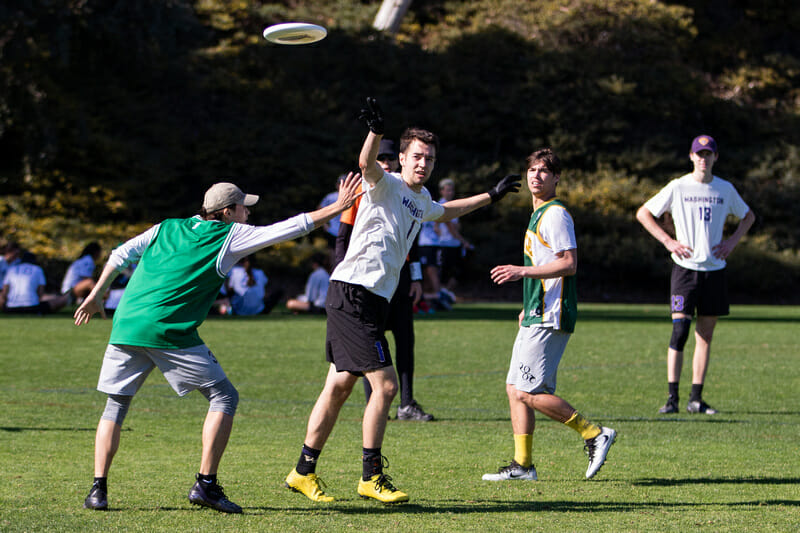 Our coverage of the 2021 College Series is presented by Spin Ultimate. You can get 15% off all college uniforms and swag right now at Spin Ultimate!
The 2021 College Championships are unusual in many ways: the quick ramp-up to a winter Nationals meant that qualifying Series events were the first tournaments some recruits ever played, while extended eligibility rules allowed teams to roster sixth- or seventh-year players and even alumni. Add one more point of distinction: for the first time, the D-I and D-III tournaments are being held as a single tournament event with four divisions.
The unique format of the 2021 Series as well as the long hiatus since sanctioned play make for lots of unknowns going into the weekend. In these previews, we'll offer a snapshot of each team and the competition they'll face when play begins on Friday, December 17. Watch ultiworld.com/live then for updates in all four college divisions!
Pool A  |  Pool B  |  Pool C  |  Pool D
Seeding: C1, no.3 overall
Power Ranking: #3
Path to Nationals: Def. Utah State 15-6 in Northwest final
Roster & Schedule
After waltzing to a Nationals qualification with a combined point differential of +45 through five Regionals games, Washington will look to bolster their impressive Nationals resume from recent years. Washington has made the bracket in three straight Nationals, reaching the quarters in 2017 and 2018, and losing to Ohio State Leadbelly in the prequarters in 2019.
In their eighth Nationals, Washington will look to make it to the semifinals and beyond for the first time in program history. According to captain Derek Mourad, the Sundodgers will be looking to impose their will on the tempo of their games. "If we can control games and play at our own pace from the onset, we think we will have a lot of success," said Mourad.
Since 2017, Washington has never beaten poolmates Carleton, UNCW, or Ohio State, meaning nobody on their current roster has ever beaten these teams. This is a trend that Washington is aware of and one that they will have to fix if they intend to make a bracket run. However, if there were ever a Washington team to break that losing streak, this would certainly be the team.
The Sundodgers feature an extremely talented roster this time around. Their offense includes 2018 D-I Breakout Player of the year Derek Mourad, 2020 Second Team All-American Lucas Chen, recent Mixed All-Club Second-Teamer Manny Eckert, Jake Steen, and captain Spencer Lofink, one of the team's most reliable and underrated players. Their defense includes Club Men's 2021 BPOTY runner-up Tony Venneri, 2020 D-I Rookie of the Year runner-up Jack Brown, and Michael Buyco, who all excel in one-on-one defense and locking down their matchup. Finally, Washington has star first year Assaf Golan, a strong breakout candidate who went to Club Nationals with Sockeye this year.
Overall, this Washington team could prove to be the strongest in program history and is one of the teams with the makeup to win a championship.
Seeding: C2, no.6 overall
Power Ranking: #4
Path to Nationals: Def. Minnesota 14-7 in North Central final
Roster & Schedule
Ultiworld's #4 team in the most recent Power Rankings and 2017 national champion, Carleton has all the trademarks of a club that can contend for a title. After shockingly missing Nationals in 2019, one year after a semifinals appearance and two years removed from their first-place finish, Carleton is back this year, hungry for everything that they missed last time around. And while that means their well-traveled veterans would love to shake off the volatile reputation that some of their foibles have brought this class, it's as much directed towards the future of CUT. The captains said this fall has given them the chance to pass on knowledge to the team that the missing conclusion to 2020 took away.
"We are still certainly playing with intensity and with the goal of achieving the best outcome possible at Nationals, but giving back to future CUT teams has been a priority for us," the captains told Ultiworld.
CUT's roster features a staggering 42 players, so their sideline will be one of the loudest and most impactful. This roster includes stalwarts such as Andrew Roy, Dillon Lanier, Ethan Bloodworth, Ben Preiss, Stan Birdsong, and Luke Webb. Both Roy and Bloodworth have made big impressions over the past few months, with Roy anchoring the O-line of the AUDL's Minnesota Wind Chill and Bloodworth shining on the Ring of Fire D-line while winning a club title.
It's hard to ignore the Joe White-shaped hole on the roster. White, a world-class talent, has been a staple with these other six, but will not be playing this fall. It'll be on Carleton's newest talent to fill in that gap, though White's checkered injury history has given the team plenty of experience playing without him. Their D-line features Sub Zero's Noah Hanson and Mickey Walsh, as well as Jace Dean, who will all prove impactful down the stretch. CUT's offense will also heavily feature Eric Wright and Alex Kucich as vital role players.
With such a large roster and mix of age groups, it's no wonder that Carleton has not gotten much time to be together as an entire team, especially when you account for their 14 graduated players on their roster. Carleton's Nationals will be an interesting experiment in finding out how important team chemistry and experience playing together is to a team's success.
Seeding: C3, no.10 overall
Power Ranking: #12
Path to Nationals: Lost to Pittsburgh 10-9 in Ohio Valley final; def. Temple 10-9 in second-place final
Roster & Schedule
Ohio State Leadbelly, who were a surprising quarterfinalist at 2019 Nationals, their first Nationals in 12 years, look to once again make it to the bracket and establish their program as one of the division's elite. After a 10-9 loss to Pitt in the final of the Ohio Valley Regionals, OSU has proven, once again, capable of competing with the best of the best. Leadbelly's 2021 team is missing only a handful players from their 2019 Nationals run.
They return their two leading goal scorers from 2019 Nationals, brothers Sion and Axel Agami, as well as their two leading assisters, Zach Braun and Tim Harmody. The Columbus crew also has breakout candidates in Alex Rudy and Eric Coglianese, both of whom will be key contributors down the stretch. Leadbelly, however, fancies themselves a deep team that won't be one-dimensional. "We are a very proud and interdependent group who pushes each other from every position, all while having utmost faith and confidence in each player that is called to a line," said the captains.
Leadbelly's biggest challenge this season was being able to get together as a full team consistently, since many of their returning veterans are no longer college students. They countered this issue by having digital practice sessions to go over tactics and film, as well as pushing everyone to complete independent work on themselves to get into playing shape.
Through their various fall tournaments, Leadbelly feels ready to claim their share of the national spotlight. "We're enjoying sending off our seniors in style at Nationals," said the captains. "We also have a strong focus to win games and show why we're here, why we've been here, and why we'll stay here." In a season where many teams will be marred with team chemistry issues, the best darkhorse candidate may very well be the team that features a nearly identical roster to their successful 2019 one, but with some extra seasoning and plenty of motivation.
Seeding: C4, no.15 overall
Power Ranking: #14
Path to Nationals: Def. Virginia Tech 15-13 in Atlantic Coast third-place game
Roster & Schedule
UNC Wilmington's long-awaited return to Nationals is here. After their second-place finish at Nationals in 2017, UNC Wilmington failed to qualify for the first two years of the post-Jack Williams era. After falling to NC State 15-9 in the semifinals of Regionals, the Seamen were able to clean up the third-place bracket, reclaiming their position in the Nationals field.
UNCW, as always, features an extremely talented, gritty, and energetic roster. On offense, the Seamen will lean heavily on Connor Russell, fresh off a club championship with Ring of Fire, a 6'5″ player who can do it all, from throwing 70-yard bombs to being the deep threat on the field. Supporting Connor on an incredibly talented offense will be Jesse Thornton, Alex "Turbo" Bleuzen, Colin White, Cole Feltman, and 2020 D-I Breakout Player of the Year Ethan Ylizarde. The Seamen's gritty and intense defense will be spreadheaded by Jay Thomas, Jack Liebling, JD Lockamy, and Jake Murphy. Wilmington's game plan is sure to also feature playmakers Colby Francfort, Ryan Watson, and Quinn Garner.
This qualification to Nationals means a lot to the veterans of UNC Wilmington, as they were all merely role players and rookies during their 2017 run. Because of that, UNCW is coming into this tournament with an underdog mentality. "We want to upset some teams, use our depth, and have a lot of fun doing it," said the captains. "We really feel we would have qualified for nationals in 2020 if COVID hadn't happened, so this is the opportunity for the older guys to ball out and play hard."
An underdog team as talented and fiery as this one is sure to be a handful to deal with for any team if they can wrangle in their own inconsistency.
Seeding: C5, no.19 overall
Power Ranking: Unranked
Path to Nationals: Def. Rutgers 13-11 in Metro East final
Roster & Schedule
Cornell will be making their 20th Nationals appearance, the sixth most of any team. However, it will be their first time since 2015. Stuck in the eternally one-bid Metro East, Cornell had lost out to UConn and Rutgers over the past several years. This year, they broke that cycle, beating Rutgers 13-11 in the regional final.
The Buds come into Nationals with a fire lit beneath them, as their 2020 season had been a strong campaign that had them hopeful for their return Nationals before the season got canceled. Initially, their administration was not allowing any alumni to play during the fall Series. But two weeks before Conferences, after months of campaigning, the university allowed the alumni to sign waivers that allowed them to play.
When asked about their return to Nationals, the captains said the joy was powerful. "This program means a lot to a lot of people," they said. "We had awesome fan and alumni support at Regionals and seeing how happy us winning made them was incredible."
But they aren't done yet, as a prideful program. "[We] strive to show everyone that we can compete with the best in the division."
Cornell's team features approximately an even split between alumni and current students, led by talented two-way players Leo Decter and Ben Goldman, Vinny Calderon, a strong O-line cutter and deep threat, and consistent mark-breakers Max Tomsick and David Maniloff. However, Calderon will be missing Friday of Nationals for a law school exam.
The journey to Nationals is a big step forward for a program steeped in strong history and Cornell's return has to feel good for a team that's been fighting for years to get back.