The defending champs have their work cut out for them in a pool with multiple other Top 10 squads.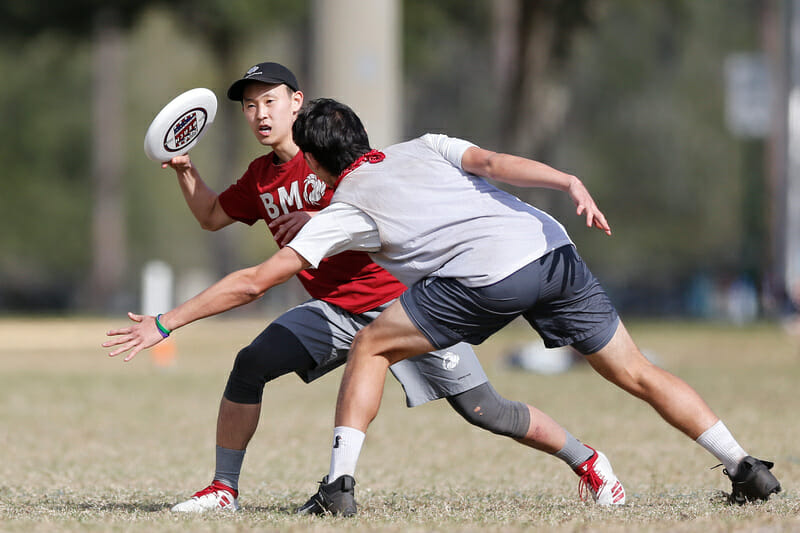 Our coverage of the 2021 College Series is presented by Spin Ultimate. You can get 15% off all college uniforms and swag right now at Spin Ultimate!
The 2021 College Championships are unusual in many ways: the quick ramp-up to a winter Nationals meant that qualifying Series events were the first tournaments some recruits ever played, while extended eligibility rules allowed teams to roster sixth- or seventh-year players and even alumni. Add one more point of distinction: for the first time, the D-I and D-III tournaments are being held as a single tournament event with four divisions.
The unique format of the 2021 Series as well as the long hiatus since sanctioned play make for lots of unknowns going into the weekend. In these previews, we'll offer a snapshot of each team and the competition they'll face when play begins on Friday, December 17. Watch ultiworld.com/live then for updates in all four college divisions!
Pool A  |  Pool B  |  Pool C  |  Pool D
Seeding: D1, no.4 overall
Power Ranking: #5
Path to Nationals: Def. Northeastern 15-9 in New England final
Roster & Schedule
The defending champs are here. Brown is actually two and a half calendar years removed from their 2019 national title and no longer has 2019 D-I Player of the Year Mac Hecht, but Brownian Motion is excited to compete in the (hopefully, relatively) warm weather of Southern California and defend their crown.
With Hecht gone, the focus of this team unquestionably shifts to John Randolph. The young superstar has had tours on the national club stage with Sockeye and PoNY over the previous two club seasons. Consecutive finals appearances at the club level for Randolph has him as a favorite in the POTY conversation. Fans will be in for a treat when he and 2020 Callahan winner Michael Ing face off in pool play.
Brown cruised through Regionals, notching a 15-9 victory over Northeastern in the final. A 15-6 win over Tufts in pool play only underlines just how talented this roster still is two and a half years removed from their national title. Former BPOTY Solomon Rueschmeyer-Bailey and New England Second Team All-Region inclusion Dylan Villeneuve figure to be heavily involved once again. So does spark plug and layout machine Azeez Adeyemi, the team's Callahan nominee this fall. In fact, Brown still has a number of familiar faces on the roster, including Griffin Kao, Ken Noh, and Henry Laseter.
Easily the biggest addition to Brownian Motion since the last time we saw them at Nationals is Jacques Nissen. The former youth standout from D.C. has made a name for himself competing with the D.C. Breeze and figures to command a significant portion of the offense. While not quite as big of a name, fellow U20 selection Leo Gordon is another inexperienced college player who will be given a sizable role for a title contender.
Losing Hecht obviously takes away one of the best throwers at the college level in recent years, but this roster is loaded with talent. There is no question Brown will be in the mix for another national title.
Seeding: D2, no.6 overall
Power Ranking: #6
Path to Nationals: Def. Ohio State 10-9 in Ohio Valley final
Roster & Schedule
We are closing in on a decade since Pittsburgh won back-to-back titles and solidified itself as one of the top programs in the country. While En Sabah Nur has not reached the summit since 2013, they have been a fixture in the bracket and a regular final four candidate.
Pitt fell against Colorado in quarters back in 2019 and much of that team is back for another run. Seven different seventh-year players will be suiting up for Pittsburgh, highlighted by 2020 Callahan award winner Michael Ing. He and his brother, Henry, should be two of the most prominent individuals in the whole tournament.
In total, En Sabah Nur has 16 fifth-year or older players listed on their roster for this season. This team is going to look incredibly different by the time 2022 Nationals rolls around next spring given the expected turnover when these alumni are no longer eligible to compete.
The leadership for this team recognizes just how unique a situation two national tournaments in five months will be: "We've accepted that we're not going to be a perfectly polished machine for this fall championship. That's okay, our mental preparation has been excellent and we're ready to embrace challenges as they come. We've also found ways to develop our youngest players even though they may not get much playing time."
This feels like Pitt's chance to make a real run at the title before looking to retool in 2022. Dan Goldstein, Myles Cooper, Max Thompson, and Leo Warren will be critical to a deep run for this team. Look for a few guys named Will — Hoffenkamp and Helenski — to have an impact as well. Younger players who could impress include Will McGlynn and Peter Kotz, who both earned WUJC tryouts. But it'll be the large veteran group who will want to end this era of Pitt ultimate with the type of success their legendary predecessors had.
Seeding: D3, no.9 overall
Power Ranking: #8
Path to Nationals: Lost to North Carolina 13-8 in Atlantic Coast final; def. UNC Wilmington 15-9 in front-door semifinals to finish second
Roster & Schedule
According to the Ultiworld Power Rankings, NC State is the eighth best team in the country. That is only two spots behind Pittsburgh and three spots behind Brown. All of this is to say, don't rule out Alpha turning Pool D into a mess.
It has been a long wait for NC State to get back and build on their first Nationals appearance in a decade. It was even longer for Archer Gordon and Michael Lee, who were unable to compete in 2019's event, but will feature prominently on this 2021 team. Expect fellow alumni Trevor Lynch and Austin von Alten to lead the way with Gordon and Lee.
Like most teams competing after two years away, NC State has a number of new faces playing in big roles. Lynch highlighted Dylan Hawkins, Alex Lerner, John Laney, Daniel Ferriter, and John Bradley as names to know for these winter Nationals. While the veterans can set the tone, it will be these less proven commodities that will dictate just how far Alpha can go. They are one of the deepest teams at the tournament, but they will need a few of those role players to take the next step in order to compete with established powers like Brown and Pitt.
Despite a spot in the top-10 and a second consecutive Nationals appearance, Alpha has not made the bracket since 2004. They were the no. 7 seed in 2019, but lost to Brown, Texas, and Michigan to miss prequarters. Expect NC State to make good on the hype this time and at the very least reach the bracket, if not the quarters. They will rely on defensive intensity and grit to force the issue for opposing offenses.
Seeding: D4, no.16 overall
Power Ranking: #23
Path to Nationals: Lost to Georgia 13-5 in Southeast final; def. Florida 13-10 in second-place final
Roster & Schedule
Crashing the Nationals party this year is Tulane. The Tucks, named after a rowdy fixture of New Orleans' annual Mardi Gras parade, look to ruin the party for everyone else while enjoying it all for themselves.
This is the team's first trip to Nationals, which has been many years in the making. Tulane infamously qualified in 2015, but a roster check found that they were competing with an academically ineligible player, which prompted USA Ultimate to disqualify them from the tournament.
When asked about under-the-radar players for this year, Max Lang and the other captains on Tulane simply said the whole team fit into that category. There has not been much hype around the Tucks in recent years. Much of the roster is fairly unknown at the national level, save perhaps former Seattle youth standout Kai Durvasula. That seems to be just how they like it. However, the team's leadership did spotlight Charlie Smith from Florida as a handler to watch, while the sizable downfield presence of Callahan nominee Everest Shapiro should be tough to miss.
With a lot to gain, seemingly nothing to lose, a fun vibe to tournament preparations (they promised Mardi Gras shenanigans in Norco) and a great cause to support, this team could be an easy underdog to root for. Maybe they won't win a lot of games, but it would be wise not to overlook Tulane.
Seeding: D5, no.20 overall
Power Ranking: Unranked
Path to Nationals: Def. Indiana 12-10 in Great Lakes second-place game
Roster & Schedule
Illinois arrives back on the Nationals stage after a six-year hiatus. An impressive run through the backdoor bracket sealed their spot among the country's final 20 teams competing in men's D-1 ultimate. Despite being the final seed in the Nationals field, there are a few stars on this roster who could potentially take over games if they get hot.
That list has to start with Eli Artemakis. At just 19 years old, he is a former U20 national team selection who competed with Chicago Machine in the club division and the Chicago Union in the AUDL. He is one of the rising stars in the game. However, he is far from the only Illinois player with high-level experience. Joey Kennedy has been on Machine for the past two seasons, which includes their run to the club championship game in 2019. Reid Martin also suited up alongside Artemakis on the Union this past season.
While those are the biggest names, there is a lot of veteran experience on this roster. Ten graduate players are back to compete with Rise at Nationals this year. Coach Eric Badger said it has been difficult trying to coordinate with these alumni who live all over the country at this point, but points to their presence as a strong foundation for the whole team. Beyond that, Badger said it has been useful in establishing the culture for the new players on the team, which should help it carry over into the spring season.
Illinois will have the experience and top-end talent to excite, but they face a tough climb. Their only game this season against a team in the Nationals field was against Michigan at Regionals and Rise lost 13-6. They will have to work hard to close the gap in order to pull off any upsets in pool play. If nothing else, this team should be one of the most entertaining to watch if they end up in consolation play.