Top D-I women's teams largely return right where they left off.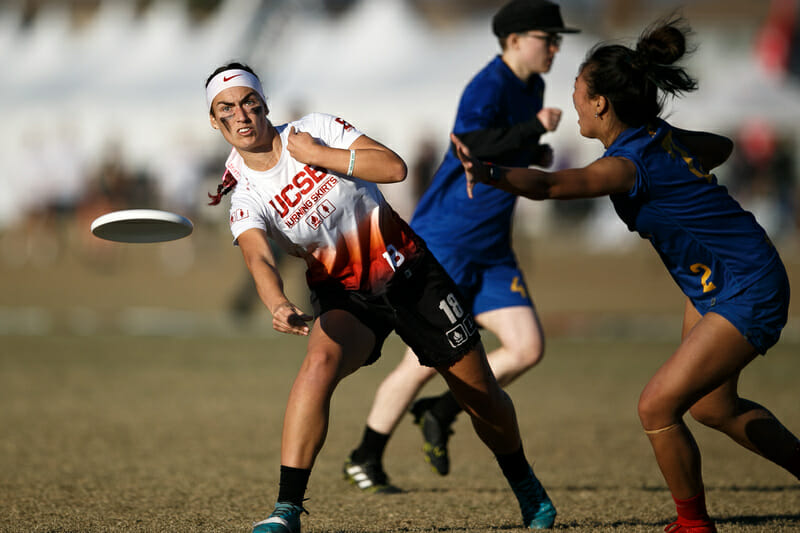 Our coverage of the 2021 College Series is presented by Spin Ultimate. You can get 15% off all college uniforms and swag right now at Spin Ultimate!
It's been two and a half years since the last time we saw any teams at College Nationals, let alone top programs and top seeds like Carleton, UNC, and UC Santa Barbara. Yet despite the time away, those standout teams among several others looked as if nothing had changed in the intervening years.
And while, yes, that may be due in part to the sizable numbers of returner/graduated players at College Nationals, much of it may simply come down to teams being able to run their long-honed offensive systems and defensive sets. This is, after all, a Nationals with many players taking one final trip 'round the complex during what will be their last time competing with their college teams. Between that and those long-standing programs bringing deep rosters to Norco, it all adds up to a division that, despite feeling like we knew as little as we've ever known coming into Nationals, seems to be falling back into all the same old habits we're used to seeing from it.
Pool D
Let's actually start with a team not already mentioned, #3 Washington Element, a pool top seed alongside the other three teams mentioned above, but without the recent team success or individual recognition of those others. A growing program, and one based in the vibrant youth talent pool of Seattle, Element has developed a team to contend with, now nearly a decade after their lone title in 2012. Over half of their roster, including superstar Abby Hecko and rising standout Penny Nguyen, hail from the Northwestern metropolitan hub, setting up Element for success now and in the future. As a team on the younger end, this Nationals is giving Element a chance to learn and grow together, which on Day One they did in spades, swamping bottom seed SUNY-Binghamton to the tune of a 15-3 win, while holding off a powerhouse team in Colorado Quandary 15-11. It's a strong start for the top seed in Pool D, and they'll look to continue it tomorrow even as they face another reemergent team in Virginia Hydra.
#17 Virginia did not fly West particularly heralded after finishing as runners-up in the Atlantic Coast region, but in their return to Nationals after two seasons away, Hydra reestablished themselves as a team not to be taken lightly. The former perennial champions out of the Atlantic Coast region looked comfortable in putting away Binghamton 14-5 and took a solid win against Pennsylvania Venus 11-7. Virginia were led by their six returning veterans from the team's last Nationals appearance in 2017, with Blaise Sevier, Chandler Smith, and Erin Flores among the more notable players. For a Hydra team looking to build back towards a run of five straight quarterfinal appearances as they had from 2013-2017, having their most experienced players most involved along with two wins is a great place to start.
Pool C
We now turn our attention to another 2-0 third seed, #10 Texas Melee, making their sixth straight college nationals and putting up huge wins along the way. Melee won both of their games by eleven point margins, 15-4 over both Boston Uprising and Michigan Flywheel, looking dynamic on offense and ruthless on defense. With a solid core of seven available players that have attended Nationals before, including the excellent Emma Berrigan, Sanja Stojcic, and Caroline O'Connell, Texas looked poised and polished and were largely efficient in the break opportunities afforded to them. While Melee do have the tough task of facing off against the top two seeds in the pool on Saturday, if they can play nearly as well as they did on Friday, they'll be sure to give #4 UC Santa Barbara and #7 Pittsburgh good battles.
Speaking of which, UCSB and Pitt are two more powerhouse programs either returning to dominance or maintaining their form from the past several years. UC Santa Barbara is a legacy program, one with five titles to the Burning Skirts name, and with veterans Kaitlyn Weaver and Jasmine Childress leading the way they largely rolled to wins over Pittsburgh 15-9 and Boston University 15-1. Weaver and Childress didn't do the heavy lifting alone though, with new additions for UCSB in Vienna Lee and Laura Blume stepping up into key roles that the Burning Skirts will hope they can sustain as the team aims for a deep bracket run.
Pittsburgh is a more recently developed program that has effectively burst onto the scene in the last half-decade, with five of their six previous Nationals appearances coming in the five seasons spanning 2015 to 2019. Led by a cadre of college nationals turned club nationals players in the six Pittsburgh Danger/Parcha crossovers, the time away has only seemed to add to the team's capacity and top gear. While they weren't able to get it done against UCSB on day one, the prominence of Pittsburgh, and their comprehensive 15-6 over Michigan, further adds to the dominance of the favorites so far in the D-I women's division.
Pool A
Finally, speaking of favorites, it's the teams that everyone has had penciled in for the final since the news broke that this fall college series was happening, UNC and Carleton.
#1 Carleton has, of course, been here since effectively the beginning of the division, and their presence at the top should be no surprise. However, it has been four long seasons since Carleton has reached the semifinals and they are surely itching to get back. Syzygy had a slow start in their first game against Florida State but eventually pulled away to win 13-7. Then they held off UC San Diego 15-12. With the reigning division champions D.Co now without their superstar leadership in Dena Elimelech and Kelli Iwamoto and falling away somewhat this year, Carleton has a clear opportunity to regain their historic place in the heights of the women's division — assuming UNC doesn't knock them off those rails.
Pool B
While not putting up the gaudiest point differential of the day, the #2 North Carolina Pleiades demonstrated their talent and the depth of their roster in topping the day one Pool B standings. Pleiades have been on the rise in the past several seasons, and this year have as good a chance as ever to appear in the program's first-ever national final. They have five available players who played significant roles on club women's semifinalists Raleigh Phoenix this season — including Bridget Mizener, Alex Barnett, and Ella Juengst — who all played up to the incredibly high expectations of them today. With great play from their stars and a deep roster of 30+ players, UNC mowed down the Ohio Stacked Cats 15-4 and pulled away from #6 Western Washington Chaos, another perennial nationals contender who looked good despite having a short roster of only 16, in the last round of the day.
That 15-9 win for UNC over Western Washington in the closing game of day one play for the D-I women's division capped off a Friday that saw only two upsets across all four pools as results largely went to chalk. At a December Nationals that wraps up an abbreviated college season, the surprise was perhaps in how unsurprising the results were, even after all the time away for the vast majority of the players in attendance this weekend. It was a first day of Nationals that appeared to reinforce the hierarchy that has existed in the D-I women's division in recent years, although it remains to be seen if this trend continues or if upsets will rear their heads on day two and as we head towards the bracket in the days to come.