What does the performance so far of the elite eight tell us about their outlook moving forward?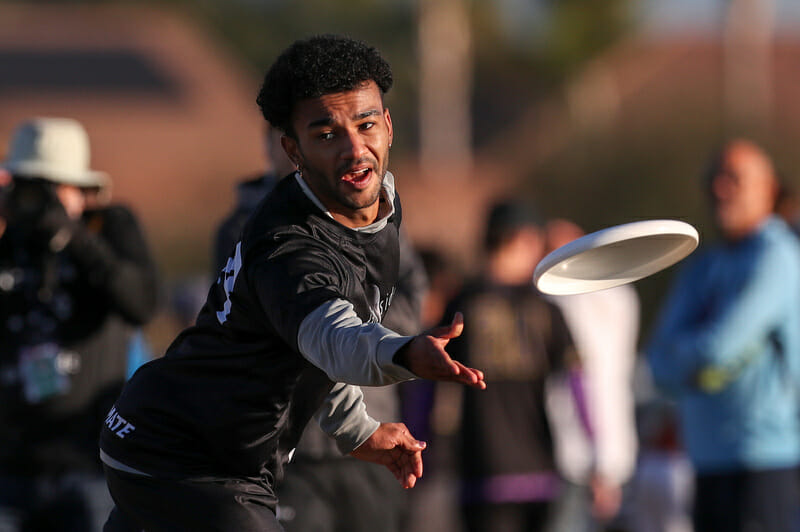 Our coverage of the 2021 College Series is presented by Spin Ultimate. You can get 15% off all college uniforms and swag right now at Spin Ultimate!
With only eight teams remaining in the bracket and a few of the top teams out due to poor performance or COVID-19 outbreaks, it feels like a good time to assess how the elite eight stack up. No.11 seed Georgia upset the balance of power by winning Pool B and Michigan was a second double-digit seed to earn their way into the quarterfinals. While not many, upsets elsewhere have provided a fun shakeup to the whole division.
Based on the results we have seen so far in Norco, here is how we would reseed these teams going into the quarterfinals if given the chance.
No reason to move Darkside from their no.1 seed so far. North Carolina's closest margin of victory in pool play was 15-10, which happened twice, against Michigan and Texas. Both of those teams made quarters, proving that Pool A was one of the toughest pools to compete in. If UNC wanted to, they could throw out an entire line of club champions. This team is talented, deep, and having a ton of fun — that is a dangerous combination for opponents. The biggest question remaining is how they will respond when (if?) they are truly tested. Darkside faces a tougher road to the final than they likely anticipated at the start of the weekend, with no.2 overall seed Colorado Mamabird lined up in quarters and a potential 2019 championship rematch with Brownian Motion standing in the way of a slot in Monday's action.
D-I College Championships 2021: Reseeding the Quarterfinal Qualifiers (Men's) is only available to Ultiworld Subscribers
Already have a subscription? Log in
Whether you visit Ultiworld for our reporting, our podcasts, or our video coverage, you can help us continue to provide high quality content with a subscription. By becoming a subscriber, not only do you receive benefits like exclusive articles and full article RSS feeds, you also help fund all of Ultiworld's coverage in general. We appreciate your support!