Ultiworld's 2020 College Awards are presented by Spin Ultimate; all opinions are those of the author(s). Find out how Spin can get you, and your team, looking your best this season.
Each spring, Ultiworld presents our annual D-I College Awards. While the 2020 college season certainly didn't play out as we all hoped and was not allowed to reach its natural conclusion, we still want to celebrate and honor the tremendous performances we saw already this spring.
Our selections are based on sanctioned play as if the season ended today. Given the uncertainty that the coronavirus crisis hangs over the rest of 2020, we may or may not see any postseason events that traditionally have heavily influenced our award selections. With what season has taken place, we have reviewed the tape, talked to players, coaches, and onlookers, and discussed with our reporting team. While the amount of data is limited — and we recognize that not every player and team got equal opportunity to perform — we felt we had enough to offer our opinions on the players who had the greatest effect on this season as it was.
Our awards continue with the Defensive Player of the Year, recognizing the individual, and two runners-up, who we felt were the top defensive performers this spring. Whether through generating blocks, shutting down options, helping out teammates, or all of the above, these defenders stood out doing the tough work that too often go unrecognized.
Player of the Year Award
Offensive Player of the Year Award
Rookie of the Year Award
Breakout Player of the Year Award
Coach of the Year Award
All-American First Team
All-American Second Team
---
D-I Men's 2020 Defensive Player Of The Year
Taylor Barton (Brigham Young)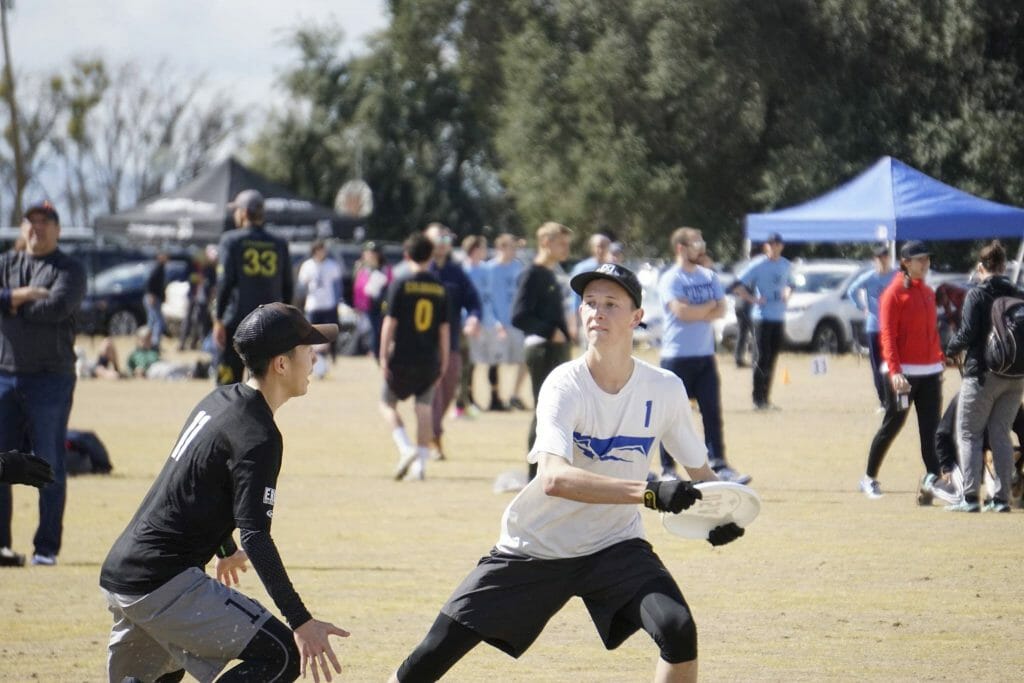 From the beginning of a defensive possession to the end, Taylor Barton is the complete package. He sends massive pulls screaming downfield, towering outside-in spectacles that keep pull-catchers awake at night. In the next phase, he's 70 yards downfield, playing stifling reset defense on the other team's best handler. The length on his mark causes "unforced" turnovers — around backhands turfed meters in front of their targets and inside flicks popping up dead to rights for the vultures to pick apart downfield. With smart positioning, Barton pushes throwers downfield, where he is at even more of an advantage, his tall springy frame and quick first step letting him make up ground on handlers he has forced deep. It's not often that a team's best handler defender is also someone who gets put at deep-deep in a zone.
A lot went into BYU's success this season, but the tenacity of their defense has to be top of the list. When the offense was struggling, it was able to string big runs together to keep BYU afloat. In tight offensive showcases, it always seemed like CHI's defense could get a big break at the most crucial times. Barton was the leader of that defense and his versatility was emblematic of its ability to take on all comers.
BYU's won every game save one, and in that double game point loss to Brown, Barton and the D-line still managed to hang three straight breaks on the defending champs to get the game back to even. In every other contest, Barton was the key piece in BYU's most successful unit and a major part in BYU's most successful season yet.
First Runner-up: KJ Koo (Cal Poly SLO)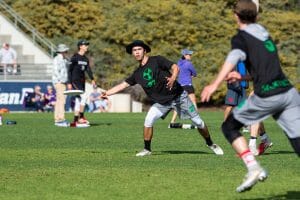 KJ Koo's transformation from secondary offensive cutter to established and trusted leader of the defense allowed Cal Poly SLO to maintain their national relevance after losing a hefty class of seniors this past season. Helped by a summer playing defense for Condors in the club scene, Koo elevated his game to take on some of the toughest matchups on the West Coast and lead SLO's offense after a turn.
A typical SLOCORE point started with a Koo pull. By pinning the offense back against their own end zone, Koo gave his team time to set itself up to make highlight plays. One of the rare players able to blanket his mark and generate blocks, Koo was equally comfortable guarding shifty handlers in the backfield and tall downfield threats. This versatility allowed SLO to execute their switch-heavy defensive scheme and keep even the best offenses guessing. SLO shot up our Power Rankings over the course of the season on the strength of their defense; with Koo in tow, expect their trajectory to continue upward in 2021.
Second Runner-up: Michael Ing (Pittsburgh)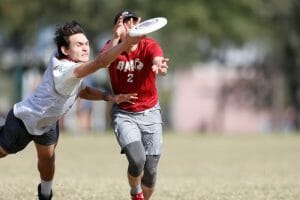 Michael Ing has long had the makings of a great defender. Okay, forget makings: he's actually been a great defender for years now, the absolute class of a Pittsburgh program that hasn't lacked for great defenders at any point in his five-year college career. Add him to the honor roll again in 2020. Ing still smothered unders, he still had a top-five mark in the country, and he still played last back a few yards beneath the deepest cutter to bait hucks like a fairy-tale troll.
But this year, Ing did himself one better by blending his talents with that rarer element: foresight. In 2020, he began to disrupt the opposition's plans even earlier, almost right as they were unfolding. The result was that one of the country's premier defensive athletes put himself in position to make plays even more often than normal. Powerful, prescient, preposterous: put any way you want, Ing was simply a brilliant defender. Again.