Assessing 2021's D-III men's finalists ahead of Monday's title match.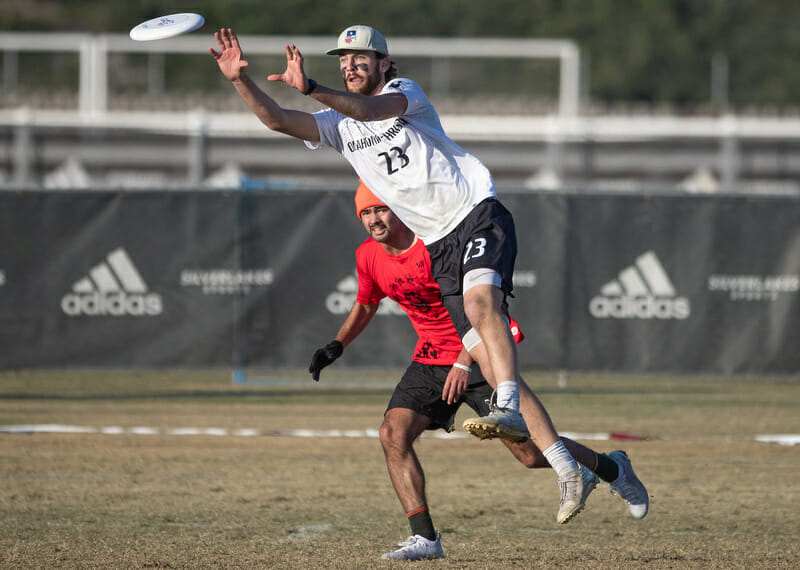 Our coverage of the 2021 college Series is presented by Spin Ultimate. You can get 15% off all college uniforms and swag right now at Spin Ultimate!
The D-III Men's College Championship field has dwindled down to just two teams. In what has been a dominant showing for the tournament's top four seeds, we find two of them still standing. #3 Oklahoma Christian will take on #4 Middlebury with the D-III College Championship title on the line. Here, we'll take a look at the teams involved to gather a final scouting report for tomorrow's game.
Star Power
Middlebury: A
Middlebury brings with them the 2019 Rookie of the Year Leo Sovell-Fernandez, as well as the award's runner-up, Walker Frankenberg. Sovell-Fernandez has been a standout since the moment he stepped on the field for Middlebury. The former Minneapolis Drag'n Thrust player has all of the throws to dominate a game, is an elite athlete, and has a national championship under his belt so we know he won't be afraid of the bright lights. Walker Frankenberg looks like he has gained 15 pounds of muscle since we saw him in 2019, and remains all but unstoppable on the field.
Oklahoma Christian: A+
The names on this roster jump off the page. Kyle Henke is an AUDL standout for the Austin Sol. Elliott Moore has played Austin Sol, Doublewide, and WJUC. Jonathan Costello is a WJUC tryouts invitee. Kevin Van Roosmalen played on a World's team for the Netherlands. This team is loaded with top-end, big-name talent in a way that not many D-III teams before them have been. Most people have heard by now, but the Oklahoma Christian scholarship program has played a large part in this, and this team has gained a lot of recruits that are massively impactful the second they step onto the field.
Depth
Middlebury: A+
Up and down the roster, Middlebury has gotten contributions from just about everyone. Middlebury is filled with athletic, lanky dudes who are able to make plays, especially defensively and in the deep space. Max Hanscom has been an impact player throughout the weekend, who seems to be playing above his traditional role and has a knack for getting onto the stat sheet. Jack Landrigan, Trey Atkins, and Max Rogers have all been pieces this weekend that could put together a big game. The tier 2 players for Middlebury is a group that probably exceeds any team's tier 2 at this tournament.
Oklahoma Christian: B-
Oklahoma Christian has a handful of contributors beyond the aforementioned stars. Samuel Roberts and Emmanuel Kameri have put together some good showings. David Peterson is a good player who adds a lot to the team as well. For Oklahoma Christian, the biggest concern comes from beyond their top seven to ten guys. Once we reach the middle of the roster, this group gets really thin. But with only one game remaining on the weekend, how much of a concern is that?
Offense
Middlebury: A
Middlebury features two of the world's best D-III men's players in Leo Sovell-Fernandez and Walker Frankenberg. When they play offense together, this team really clicks. They move the disc so fast, swing the disc around the field and open up lanes in ways that not many teams in the division can. Outside of the disc movement in the handler space, the cutters have developed excellent timing to take deep shots when they're available. Theirs is one of the prettiest and fastest offenses we've seen all weekend.
Oklahoma Christian: A+
It's the pure firepower of Oklahoma Christian that makes them so lethal. Elliott Moore and Kyle Henke are a combination that can strike for a big play at any moment. In the semifinal, we saw one throw goals as a theme this offense isn't afraid to aim for — often with Henke on the receiving end. When that doesn't work, Moore is a fast and nifty thrower who can quickly move the disc up the field. Add in Samuel Roberts ability to get off big hucks, the Kevin Van Roosmalen's ability to make plays across the field, and the team's sheer athleticism on the offensive side, and this is a juggernaut.
Defense
Middlebury: A
Middlebury has a defense that is always creating pressure. In pool play, we saw how quickly they could force turnovers, as well as converting those turnovers into breaks. Against Wesleyan, Middlebury essentially sealed up a game by a score of 8-1 in just 25 minutes. When this team starts to press, they have athletes across the field that not many teams can compete with. Maybe the pressure doesn't always generate blocks, but with pressure so consistent, the turnovers will come. Dealing with this level of athleticism throughout a game is taxing mentally and physically for their opponents — a story told in their +34 point differential this weekend.
Oklahoma Christian: B-
This is the toughest grade to give out. Oklahoma Christian has so much potential to be an outstanding defensive team, especially given the one game per day format that we are seeing for the semifinals and finals matchups. They have top-end talent, elite players, and athleticism — all things that generally translate to great defense. Throughout this weekend, though, Oklahoma Christian hasn't frequently played their stars both ways, and has generally been willing to just trade holds to win a game.
External Factors
Middlebury: A+
The Fun Factor. Middlebury is a group of goofy guys. They don't get down on themselves. They wear skirts. Someone playing had underwear on outside of their shorts today. Middlebury is a team that's happy to be here, a team that is comfortable with who they are, and a team that seems to love each other. This has created a culture that brings buy-in and longevity to their success, and on the field, this all creates a massive sideline energy that engulfs the field at times — and just think, they'll be joined by their women's team, fellow 2021 finalists in the other D-III division, to double that presence.
Oklahoma Christian: A+
The Recruits. If you haven't heard by now, Oklahoma Christian has taken a different approach to building a team. They offer a scholarship program for ultimate players, the only one of its kind in the country, and now we're finally seeing how that approach pays off in a national D-III final. With that, Oklahoma Christian is loaded up with stars — and this game is a test of how those stars will gel together.
Final Thoughts
This game really is a dichotomy of two extremely different styles. Middlebury is the same goofy, fun team we've come to know over the years, a team that has a choreographed dance and plays with plenty of looseness and verve. They've built a long-lasting program the old-fashioned way, with continued success in the division over the past several years and a team culture that attracts players from all over the country. They'll be taking on Oklahoma Christian, a team who has built through recruiting — financially-backed recruiting — rather than development. This is a team that carries itself more like a conventional college sports team, and it's a team that was built specifically to win. To us, this matchup feels more and more like a battle between a natural team and a forced team. This is a clash of culture like none other, and could shape the division for years to come.
You can watch Ultiworld's free livestream of the D-III men's final at 10:00 AM Pacific on Monday, December 20 at ultiworld.com/live.