"Oklahoma Christian's offense was powered by its stars, with Henke and Elliott Moore making big plays and doing much of the work to get past Middlebury's defense, complemented by lesser-known players like Paniagua and Evan Card to punch in the goals."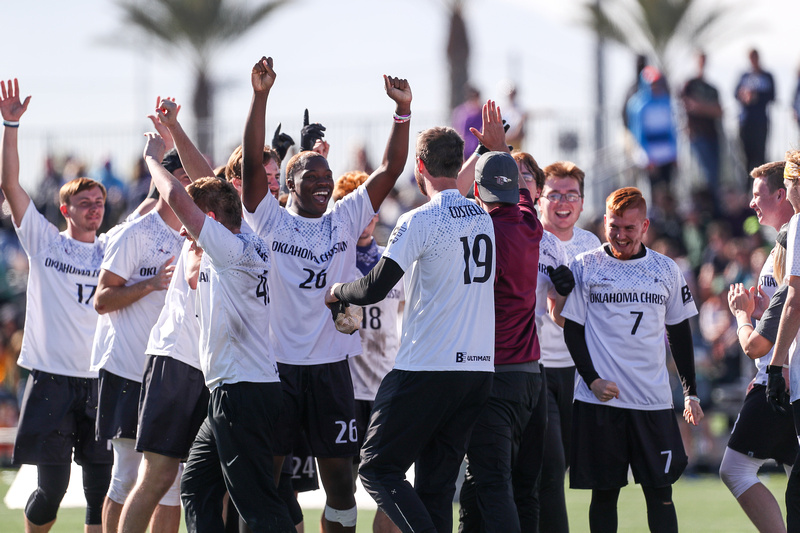 Our coverage of the 2021 College Series is presented by Spin Ultimate. You can get 15% off all college uniforms and swag right now at Spin Ultimate!
As the last D-III men's teams standing met in their final on Monday — the first of four title matches on the last day of the 2021 College Championships — the stage was set for a clash of styles, as well as a potential turning point in the history of the college game. Defending 2019 champions #4 Middlebury Pranksters are a loose, lively squad who embody a counterculture-by-way-of-northeast-liberal-arts-school ideal of this sport. By contrast, #3 Oklahoma Christian Eagles are newcomers to the top of the division, making an appearance in final in their first-ever trip to Nationals on the strength of a one-of-a-kind scholarship recruiting program that looks less like a student club and more like a conventional college sports team.
When the dust settled, it was the polished new Oklahoma Christian program and their high-powered offense that outscored Middlebury, 15-12.
Middlebury leaned into their fun side before the game even started, stripping off shirts and cheering and dancing in their pregame huddle. "We don't really have to do anything out of the ordinary to be that fun team," Middlebury leadership told Ultiworld. "We went into this game with the plan to be ourselves. We play this game because we love playing frisbee, because we love each other, and we love playing frisbee with each other. Today was just another day to do that."
The Pranksters took the field in their darks, reversible pinnies with an intentionally lo-fi design of the name of the school apparently scrawled by someone who ran out of space and had to write "Middleb—" on one line and "ury" on the next. They pulled to Oklahoma Christian to start, and semi-pro, club, and now D-III ultimate standout Kyle Henke received. The Eagles advanced the disc quickly, with Jonathan Costello sending a tight dishy pass to Michael Paniagua for the game's opening goal. Middlebury responded with a quick hold of their own, Walker Frankenberg dominating the offensive movement all the way down the field and eventually making the assist to Max Hanscom.
After that 1-1 start, what followed was a dominant point by the Eagles' stars. Middlebury applied defensive pressure, but Oklahoma Christian remained calm, working the disc just beyond midfield before a Kevin van Roosmalen cross-field blade opened up the offense. After some short passes, Henke found a short break shot to Paniagua to hold.
Middlebury's next offensive possession introduced the game's first misstep, leading to a point full of back-and-forth intrigue. A layout block by Elliott Moore gave Oklahoma Christian an opportunity to break, but they did not take advantage, overthrowing an away shot. Having recovered possession, Middlebury worked the disc downfield once more, and a Max Hanscom and Walker Frankenberg give-and-go found Hanscom in the end zone for a goal.
Oklahoma Christian's offense was powered by its stars, with Henke and Elliott Moore making big plays and doing much of the work to get past Middlebury's defense, complemented by lesser-known players like Paniagua and Evan Card to punch in the goals. For Middlebury, players newer to the spotlight stepped up to make an impact. Unlike some of his teammates, Hanscom wasn't returning from Middlebury's 2019 title team — believe it or not, as a junior in fall of 2021, he wouldn't have started college by then — but he was vital in opening Middlebury's offense.
"Max is an incredible player," said Middlebury leadership. "He really stepped up today. He's always there. We're more than just our star players. What Middlebury brings to the table is our depth. What we love about today, and what our main takeaway is from today, is that we played a holistic style of ultimate."
The teams traded clean offensive holds to bring the game to 5-5. Then, Oklahoma Christian put up a deep shot to Moore, who won a big jump ball over Middlebury star Leo Sovell-Fernandez, giving life to the Eagles sideline before a flip to the end zone solidified the goal and a 6-5 lead.
Middlebury answered, quickly working the disc up the field, where Hanscom found an upline shot to Frankenberg to ensure the game would continue on serve. On the next point, the Oklahoma Christian offense committed their first miscues of the day: first by overthrowing a huck that gave Middlebury their first break look of the game. Middlebury overthrew a deep shot, and after a few more turns, the point finally yielded another Oklahoma Christian hold, with Moore sending a hammer over the top to Card and edging forward to another one-point lead.
The game continued on serve until OC took half 8-7. The first half had featured zero breaks and just eight total turnovers. Neither team really seemed to be making a push for a break; rarely did we see any variations in defensive looks on either side to create greater pressure.
"[In the second half], we need to put some more pressure on Middlebury," says Garrett Taylor, head coach of Oklahoma Christian. "In the end, what we do on defense doesn't matter. If we continue to hold, we win."
Coming out on offense to start the second half, Middlebury worked the disc to the red zone before just missing a possible assist, a throw to a receiver cutting upline that bounced away without a goal. The Eagles got to work on offense, and after a travel call, Middlebury players came to a stop — seemingly not realizing the new edition rules don't require a stoppage — before a floaty Henke blade to the end zone secured the game's first break, extending the lead to 9-7. Middlebury responded with smooth, steady offense, holding on a Frankenberg flip down the line to Hanscom.
Oklahoma Christian's offense encountered a miscue, with Moore misreading a huck along the back line of the end zone, and after the disc was tipped, van Roosmalen found himself in position to clean up the throw, reeling in the goal to hold. The teams continued to trade points through a score of 12-10 behind Oklahoma Christian's offensive prowess of Henke and the flowing offense of Middlebury's Frankenberg before either team could push the other.
Middlebury turned the disc over on a goal opportunity, and Oklahoma Christian worked the disc for a goal, with Samuel Roberts putting a throw to the end zone for the Eagles, pushing the lead to 13-10, and making the game feel all but out of reach. Middlebury converted their hold on the following point, despite a number of turnovers, Middlebury retook possession of the disc in the red zone, and Colman Bashore found Ben Morris in the end zone for Middlebury to complete the long hold.
The last offensive push for Middlebury did not prove to be enough, though. The teams trading holds to a final score of 15-12, with Oklahoma Christian capping off the game on a crossfield inside-flick to Card that locked up the game.
For Middlebury, it came down to their inability to notch a break that was their undoing. Oklahoma Christian finished the game with a lot of the impact coming in from their depth. Paniagua and Card put up big games for the team, with Paniagua being a part of many goals in the opening portion of the game, and Card finishing the game with four goals.
"It was a lot of fun to see those guys shine," said Henke. "This is really their time to shine in the end."
For Oklahoma Christian, this was their first opportunity to complete in the college Series after bursting onto the scene with the announcement of their scholarship program in 2020. To win a college championship in their first year is an astounding feat, and one that provides legitimacy to the organization and recruitment strategies that have popped up.
"It's awesome to win a national championship," said Eagles captain Elliott Moore. "I showed up in spring 2020. We went from a group with guys that didn't know how to play [ultimate] to a national champion in one and a half years."
Oklahoma Christian's Kyle Henke finished the game with five assists and two goals, Moore poured in six assists, and Card led the goal scoring with four.