The college season is off and rolling out west.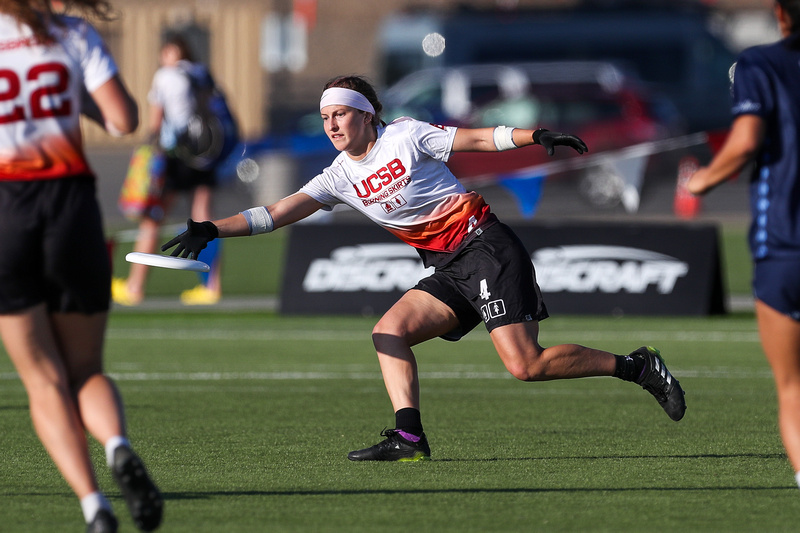 Our coverage of the 2022 college season is presented by Spin Ultimate. You can get 15% off all college uniforms and swag right now at Spin Ultimate!
Dominique Maderal and Mei-Lien Converse contributed reporting.
SANTA BARBARA, Cal. — While the East Coast got pummeled by a bomb cyclone, 19 college teams enjoyed mild temperatures and plenty of sunshine to kick off the unofficial 2022 college season at the Santa Barbara Invite.
Although there was no bracket play due to lower-than-normal participation, there were clear winners on the weekend: UC Santa Barbara in the women's division and BYU in the men's division, both of whom finished undefeated.
The format still provided plenty of tests for teams to prove their mettle. Mostly, results hewed closely to expectations, even as the overall level of teams had clearly dipped from the last time we saw them (either at College Nationals or at the 2020 SBI). Let's dig into the stories from the weekend.
Women's Division
UCSB Goes Undefeated While Developing Depth
After a run to the 2021 College Championships semifinals, UC Santa Barbara still looks like the frontrunner in the Southwest.
The Burning Skirts went undefeated at SBI while running open rotations and working in a large batch of less experienced players.
"We're pretty fortunate to have some early season tournaments that aren't ranked so we can give them more reps to develop, and we think that they've really come a long way in the last two tournaments we played," said coach Sam Fontaine of the 15 players that didn't play with the team in the Fall Series.
Though they lose Kaitlyn Weaver (now a coach) and Jasmine Childress, the team is still deep and talented. Elsa Winslow – the 2020 Breakout Player of the Year and '21 All-American second team selection – is the player they'll build their offense around, but keep an eye out for Devin Quinn, a freshman from Maine who was one of the team's best players this weekend, offering both big skies for goals and layout Ds on unders. It's no surprise she immediately got placed on the O-line in the fall.
"She's the kind of pickup that makes us feel like we're really good at coaching," joked coach Hani Pajela. The pickups have been plentiful: it was Quinn's sophomore teammate Julia Hasbrook that earned 2021 Rookie of the Year second runner-up honors.
Although they went 6-0, UCSB wasn't overwhelmingly dominant. Three of their wins were decided by one or two goals. BYU was up early in their Friday night matchup.
But the team's athleticism and aggressive downfield attack tended to wear teams down over the course of the game. They still need to polish the offense to get back to the heights of recent seasons.
"If we can get five or ten more of these next generation of players ready to contribute, then I think we're going to be even deeper than we were in the fall, and I think the fall was the deepest team we've had since I've been here," said Fontaine. Look out, Southwest.
UCSD Rebuilding from a Position of Strength
Rolling with a small 16-person squad this weekend, UC San Diego still put together an excellent weekend, finishing 5-1 with the lone loss coming against UC Santa Barbara. Their best win may have been a come-from-behind rally against BYU, opening up the second half with a pair of breaks to take command of the game.
All of UCSD's success this weekend started with the play of Ava Hanna, who was fantastic across all phases of the game.
"We put a lot on her shoulders and we expect a lot from her," said coach Avery Jones. "She's part of almost all of our offensive pull plays. She plays a big role on our defense: she's our deep deep and she's 5'2"."
If you can believe it, that understates her impact. She was responsible for the score or assist on more than half of the team's goals on the weekend. There were games where she had a direct hand in almost every single score. Huge throws, plus athleticism, ankle-breaking upline speed.
Abby Shilts, the runner-up for Rookie of the Year in 2021, was also a standout; Denika Hallin took a lot of the toughest defensive assignments.
Now three years removed from winning the College Championships, UCSD is not quite as deep as they once were. U24 stars like Dena Elimelech and Kelli Iwamoto have departed, and the team is now trying to replenish their role players.
They struggled with the athleticism and depth of the home team, UCSB, in their lone loss. But they were also missing some key players, including Ava's sister Lauren, this weekend.
But to give a sense of their reliance on top players, in their game against USC, leading 12-0, Ava Hanna left the game with a groin injury (she might miss some time). USC proceeded to hold and then score four straight breaks before UCSD closed it out.
"You have to know it's going to be a building year and you're going to be putting people into new roles," said Jones.
This is still a no-doubt Nationals team (if healthy) but they will need to bring up the bench to make a big dent at the show.
BYU Continuing to Climb
In 2019, BYU finished 2-3 at Santa Barbara Invite, taking blowout losses to UC Santa Barbara, Washington, and Cal. In 2020: same record, similar losses. In 2022, they finished 3-2 and lost only to the top finishers at the tournament – UCSB and UCSD – by two and one, respectively, after leading in both games.1
It's the latest sign of a program on the rise.
"Finishing this tournament going 3-2 feels really exciting, because we definitely have not reached our ceiling," said coach Kendra Miller.
BYU pairs above-average disc skills and fundamentals with an increasingly sophisticated defense. They gave even the best offenses at the tournament real trouble. Kate Barry, a former USA U20 selection, was a star on both sides of the disc, and tall handler Lauren Hall was consistent and effective, especially with her inside break throws. Sailor Ong was a spark plug downfield.
The team is still figuring itself out, but they're a lock to be ranked in the top 25 after getting blowout wins over UCLA and Cal Poly SLO. They should have beaten UCSD, too, after leading at halftime.
After giving up multiple breaks down the stretch of that game, they reworked their O-line on the fly, bringing over Hall and others to bring some more consistency to the offensive unit.
"We had a bit of hungry eyes on offense, trying to take the quick score instead of working it and switching the field," said Miller. They won their final two games after the changeup 13-3 (USC) and 15-5 (Cal Poly SLO).
The best news is that the teams best players are young and have plenty to improve upon. Maddi Robinson was one of the teams best players and is just a freshman. Barry just started her eligibility as well.
The team has also had good recruiting and retention, despite the lack of postseason opportunities since the team doesn't play on Sunday. "The team culture over the past three years has been amazing," said Miller.
The BYU men's program has already been a consistent top 10 program in recent seasons; the women's team is not far behind.
Best of the Rest
– UCLA (3-3) was a lot closer to the three teams they lost to than the three they beat. Athena Lynch and Anna Reed offered strong handling skills as Stephanie Yen ran defenders ragged. Their D-line created pressure and turns and may have looked better than their O-line at times on the offensive side of the disc. That speaks to the need for UCLA to clean up their offense. Like the other Southwest teams, they are developing younger players into bigger roles.
– Thalia Ward is still making things happen for Cal Poly SLO (2-4), but the team needs a lot of polishing to compete with the region's top teams. Offensive miscues made it difficult for the team to find a rhythm and they weren't particularly competitive against the top teams.
– UC Santa Cruz (1-5) closed out their weekend with their lone win over USC. They have a couple of strong pieces but need a dedicated coach to help bring up the basics with an inexperienced roster. Their offensive flow looked good, but simple drops and throwaways kept them from competing with the better teams. It makes sense — they have 15 rookies and just 4 returners.
– Like Santa Cruz, USC (0-6) struggled to maintain possession. Senior captain Georgia Cardosa was a standout, helping drive the offense with good throws and playing shutdown defense after the turn. The team's defense forced plenty of turnovers but they have to work on converting with both O and D-lines.
Men's Division
BYU Makes Opening Arguments in Case for #1
BYU once again took on all comers at SBI and walked away without a loss. Though CHI played a few closer games than usual — their 13-11 win over UCLA and 15-13 win over Cal were unusually tight — it never felt like the outcome was in doubt. Jordan Kerr, Joe Merrill, and Jacob Miller, all fifth years, picked up right where they left off in 2019, with an added year of AUDL experience for each. But the games were not entirely on their shoulders; rookies and players shifting into new roles made an impact too. Sophomore Chad Yorgason filled a primary throwing role on the O-line in his first true season playing. Rookie Jensen Wells impressed as a moveable piece throughout the offense; he also came away with a massive, chest-high layout block to regain a possession on a crucial hold against UCLA. 2021 Club Breakout Player of the Year runner-up Porter Oyler lived up to the hype, ripping just about anything floaty out of the sky.
BYU's offense was rarely broken, but opponents generally stayed in games because the D-line — while very formidable defensively — coughed up turnovers at a higher rate than we're used to seeing from BYU. But that's a problem that will work itself out as players get comfortable in their roles — and stop firing too many speculative shots.
Without a postseason in sight, BYU lives up to their team motto to find "victory within." Their motivation to improve and grow as a team is palpable even as an observer on the sideline. With literally a younger generation of players ready to make an impact (many are younger siblings of current starters), expect to see CHI near the top of our power rankings not just this week, but likely for years to come.
They'll be back it at again this weekend at Florida Warm Up, where they'll play eight games over two days and try to do what they couldn't quite do in 2020: go undefeated.
SLO Still the Class of the Southwest
Despite a format that doesn't officially crown a champion, Cal Poly SLO can drive back from Santa Barbara feeling like winners. Aside from their opening loss to BYU, SLO won all of its games by at least three points. With KJ Koo and Garrett Bush steadying the offense, SLOCORE has a talent floor that will keep the team in every game it plays. Not a team to rely solely on top talent, there were also lots of good, young players getting meaningful minutes for the team. It seems like Sander Fogarty is good for at least a block per game. Peter Lenz is quietly becoming a strong matchup and deep zone defender. The most impressive rookie may have been Keaton Orser; he played both offense and defense for SLO and excelled in whatever role he was put in. Given the athleticism and talent on the team, not to mention 2020 Coach of the Year (and 2021 runner-up) Cody Mills pulling the strings, SLO is in a good spot.
"It's exciting to see all of our young players step up into bigger roles," said SLO's Samuel Wedegaertner. For a team with thirteen rookies and just eleven returners, it's imperative that newer players find their roles both on and off the field. SLO's ability to maintain mostly open lines and still pile up wins speaks to the talent the team has. Though their ceiling may be a bit lower with Calvin Brown out for the season while rehabbing an ACL tear, they remain a team that's thinking about how far they can go at Nationals, not one that's worrying about getting out of the region.
"We've especially seen success with our program when we all are just friends outside and do work together," Koo said, referencing the team's efforts to build a family.
Cal Up and Down But Mostly Up
Anytime a team can add a center handler as composed and talented as Andrew Roy, its fortunes are trending upwards. The ex-Davidson and ex-Carleton CUT handler was one of the best players on the field this weekend and instantly has taken a leadership position on his new team.
Cal looked like one of the more polished teams at SBI, with multiple defensive sets ready to deploy and very strong cutting from Max Williams, Gavin May, and rookie Dexter Clyburn, who also spent some time in the backfield. Williams and May were some of the few cutters at the tournament who could challenge the BYU defenders in the deep space. Evan Magsig is back for one last season with the team and his two-way play was vital for Ursa Major as it fought through some close games on Sunday after walking through their pool on Saturday.
"We had great games throughout the weekend," Magsig added. "Every team pushed us to get better."
Cal beat its regional competitor UCLA in a back-and-forth, universe point thriller on Sunday to solidify its spot as the second best team in the Southwest, but they lost to a SLO team that probably would describe the victory as comfortable. Still, could Cal be an upset threat to SLO at Southwest Regionals? Given how thoughtful and dedicated he is to the team, coach Dan Silverstein certainly has a plan to get it done.
The win over UCLA was a microcosm of their weekend: they went down early due to some small mistakes but rallied to get back in front and on serve by halftime. Then the offense was nails in the second half. But that inconsistency also hurt them more against stronger opponents who more efficiently punished mistakes.
"We definitely had a development focus," Roy said, "and I think we got a lot of very meaningful reps and data points. We got to play really good teams. I think we were all really thrilled that we won our pool and went 3-0 [on Saturday] because we got a chance to play some of the top teams here [on Sunday]…We're not as experienced as certain teams and we're still getting there. So these reps are really valuable to our young players that haven't played much if any college ultimate."
UCLA's Best Results Are Losses
UCLA should be disappointed to have lost to Cal in a game that gave an early pecking order to the Southwest region, but they'll have plenty of chances to state their case in the coming weeks. A tournament-ending 13-10 win over a surprisingly good Utah team will send Smaug home on a high note, but otherwise the team's best results were close losses to BYU and Cal.
"We have a handful of very high-level players, and figuring out how to get all of those pieces working together, bringing out the best in every player and the best in the team, is what's going to push us to the next level," said UCLA coach Felicia Yang.
Riley Kirkman-Davis is the engine that makes this offense go, and Matthew Barcellos impressed as the pace-setter for the D-line, crossing over to offense when needed.
Their game against Cal was one of the best of the weekend. UCLA went up a pair of breaks early, but their offense sputtered late in the first half, giving back the breaks and setting up Cal to receive and hold to win on universe.
"[We have to] keep mental focus throughout the course of an entire weekend," said Yang.
UCLA's potential is obvious, but they have to find ways to get more from their cutters: Kirkman-Davis' pinpoint blades and hucks are major weapons but he needs dynamic downfield targets.
Utah Makes a Splash
If you're looking for a fun team to watch, Zion Curtain should be on your list. This team loves to launch hucks and looks to do so early and often. Austin Hasbrook, Jace Duennebeil, and Nathan Huff do most of the heavy lifting. When their set plays aren't punching in two throw scores, freshman Elijah Watchalotone impressed as a handler who was willing to work the breakside and handler reset spaces.
Their 3-3 record undersells them a bit. They lost twice to Cal Poly SLO and then to UCLA, but they got an excellent come-from-behind victory over Cal as their defense took advantage of some Cal mistakes. But the stronger teams, particularly SLO, were able to adjust to their deep attack and force them into less comfortable options that stagnated the offense.
"We've got to become more efficient and be able to respond to the first look that a defense throws at us," said Huff, a captain. "When teams are playing person [defense] on us, I think we were cooking."
They were indeed. They ripped off multiple easy scores a game against even the best teams they faced. If they can commit to adapting to more varied styles of offense, they could be a problem for Northwest teams come Regionals.
Best of the Rest
–  Aidan Curry can keep UC Santa Cruz in games against most opponents and Liam Jay is a menacing defender, but the Banana Slugs need to improve the quality of their depth players to make a real run at a postseason upset.
– WashU had one of the most impressive showings at SBI considering how little they were able to practice ahead of this opening tournament. Benjamin Reimler is primed for a breakout season and younger players like Seth Fisher-Olvera stepped up to help this team punch above its weight early in the season.
– UCSB Black Tide is reeling from the loss of an impactful graduating class. Without much star power around Xavier Proschaka, UCSB is in for a rebuilding year in a division filled with quality teams.
– Ending the tournament with a one point win over hosts Santa Barbara is a nice feather in the cap for UChicago. Other than another close win over Santa Clara, Fission looked largely outmatched and were out executed by their other opponents. Getting an early start compared to their Great Lakes opponents might just be the edge that will help push the team further by the end of the season, but they'll have a lot of work to do if they want to make it deep into the bracket at Regionals.
– A rebuilding season for Colorado State began with a clunker of a winless Saturday and an improved Sunday, going 2-1 against the bottom power pool. With just two practices before this tournament, Colorado State did not expect to set the world on fire, but it will need some serious improvement across the season to contend in the South Central.
–  The Kansas Horrorzontals one point win over Santa Clara will be the highlight of their weekend as they looked largely outmatched in their other games, losing by an average of seven points.
– After comfortably winning the Santa Barbara Qualifier tournament, Santa Clara went winless at SBI. Keaton Viadro has the makings of a quality center handler, and SCAB has athletes who come down with some improbable catches. But the depth and consistency they show simply didn't match the other teams at this tournament.
Read on for key takeaways from the weekend and All-Tournament lines from both divisions, exclusively for subscribers.
---
There was no 2021 edition of the tournament due to COVID. ↩
Bonus Content for Santa Barbara Invite 2022: Tournament Recap is only available to Ultiworld Subscribers
Already have a subscription? Log in
Whether you visit Ultiworld for our reporting, our podcasts, or our video coverage, you can help us continue to provide high quality content with a subscription. By becoming a subscriber, not only do you receive benefits like bonus content and full article RSS feeds, you also help fund all of Ultiworld's coverage in general. We appreciate your support!