A finale for BYU and a chance to set a new pecking order in a number of key regions.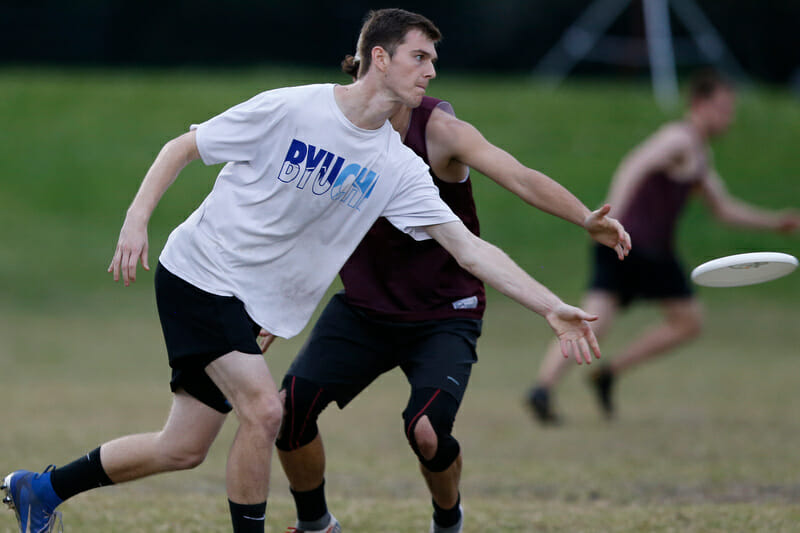 Our coverage of the 2022 college season is presented by Spin Ultimate. You can get 15% off all college uniforms and swag right now at Spin Ultimate!
The longstanding midwestern fall event Missouri Loves Company has been moved to spring. Tucked halfway between Smoky Mountain Invite and Easterns, Missouri Loves Company features a team list only a shade less impressive than the two majors. The headliner is #6 BYU CHI, playing their final full weekend of competition for the season. But beneath them are a bevy of schools including #23 Wisconsin and Illinois, the final teams from December Nationals to make their spring debuts. All will be jockeying for regional and national prominence, both very much in flux at this point of the year. We could see a further cementing of positions within the ranks – or a serious shake-up.
Tournament Profile
Date: March 19-20
Location: Columbia, MO
Weather Forecast: Highs between 60 and 70, 15 mph winds, rain on Friday evening
Top 25 Men's Division Teams: #6 Brigham Young, #9 Minnesota, #11 Vermont, #16 Michigan, #17 Northeastern, #22 Carleton, #23 Wisconsin
BYU Ramping Up to Close Out 2022
It has been six weeks since we saw # 6 Brigham Young CHI in action at Florida Warm-Up, where they lost a game — to #1 Brown — for the only time this season. The score (13-11) was close, but the gap between BYU's defense and the fast-paced, handler-forward B.Mo offense felt vast: CHI could not take the disc away.
Talk about bulletin board material. "The speed that Brown, Northeastern, and Pitt handlers played at was a shock to our system, and it's been great to see the guys step up in practices and work on the requisite speed/power to counter it," said CHI coach Bryce Merrill. We will see whether that renewed focus translates to more effective in-game play, but the bar for success in that department is clear.
Zooming out, though, the shape of a successful CHI season isn't as clear this season as in years past. BYU want to believe, without any room for doubt, that they are among the division's elite. But without the ability to earn a bid to Nationals1 or point to an official place in the rankings to measure themselves against other teams, they will have to evaluate the 2022 campaign on a scale of their own making. An undefeated five-game run through Carleton, Vermont, and Wisconsin and the top finishers from Pool A – Minnesota and Michigan if it goes to chalk – would go a long way toward a positive self-assessment.
One final note on the subject of a pair of extremely gifted players. Outside of a capstone friendly against #2 Colorado Mamabird in April, MLC will be the final collegiate competition for offensive whiz Jordan Kerr and two-way standout Joe Merrill. Kerr, the 2020 Player of the Year, has been brilliant throughout the program's ascendancy. Between his seemingly effortless play around the disc and 2020 2nd team All-American Merrill's relentless pace downfield, BYU's production will once again rest considerably on their sturdy shoulders.
Focus on Regionals
While several teams will relish the opportunity to take a shot at BYU, the real meat of this weekend's action will offer more clarity on several regional rivalries than it will on the national landscape. The North Central, New England, and Great Lakes regions all have contenders making the trip to Mid-Missouri, where results against each other in the bracket could foreshadow elation or heartbreak in the Series.
North Central
#9 Minnesota Grey Duck currently sit atop the North Central pile thanks to a semifinal run at Smoky Mountain Invite. With Sebastian Brauer, Cole Jurek, and Paul Krenik leading a fast, well-spaced offense, Grey Duck can run up the score in a hurry. They weren't perfect, as a pair of losses to Colorado and a universe point defeat at the hands of #12 NC State Alpha can attest, but they were relentless. At their best, they are on even footing with anyone in the country: so far this season, they are the only team to have defeated either #5 UMass or #1 Brown. It won't be a total surprise, then, if they run the table in pool play and even add BYU's pelt to the trophy room.
There have been no guarantees at North Central Regionals, however. #22 Carleton CUT made their spring debut at SMI. In spite of their 2-5 record over that weekend, it would be a mistake to take them lightly. The offense, driven in the backfield by Ben Preiss, looks good when they can get downfield cutters Eddie Driver and Eric Wright engaged. On defense, they have been developed a pretty strong force middle to snuff out continuation looks at the source. It doesn't seem for now like they will pose much of a challenge to BYU in the Friday night showcase, but a 2-0 Saturday against their power pool is well within this team's reach and could be a springboard to a very strong tournament.
Meanwhile, something has been brewing in the Big Woods, and it's hard to know what form it will take when it finally steps into the light this weekend. Are the #23 Wisconsin Hodags going to emerge as a fully-formed Top 10 squad? A third-tier Nationals qualifier? A North Central also-ran? Nico Ranabhat and Ted Schewe headline the list of returners. Beyond that, everything about this team is up in the air until they finally toe the line Saturday morning.
New England
Nowhere is the pinch of USAU's Nationals bid allocation plan going to be felt more keenly than New England this year. With five teams in our Top 20, it's overwhelmingly likely that there will be two (and perhaps even three) fewer bids available than the region would have earned under normal circumstances. This means that #11 Vermont Chill and #17 Northeastern Huskies need to continue their upward push to keep pace with their intra-regional rivals.
Chill's season to date has been an unqualified success. They cut through two Nationals-level teams in NC State and Ohio State en route to a semis appearance at Queen City Tune-Up, an achievement they followed up just a week later with a dominant run through the field at Easterns Qualifier. Those performances were nice, but MLC begins the make-or-break heart of their season.2 The athletic defense, led by Kuochuan Ponzio and Declan Kervick, will have their work cut out for them against BYU and Carleton in back-to-back games on Saturday morning.
Northeastern's season so far – only Florida Warm-Up – has been less steady than Vermont's, but the highs have been higher. The question heading into this weekend is which face will the Huskies show at MLC. Will we see the team that fell to Florida and was demolished by BYU? Or the one that righted itself against a sneaky-good Auburn and outlasted a very strong Minnesota at Warm-Up *without* their defensive star Ben Field?
Great Lakes
Speaking of bid crunches, there might only be a single bid for the Great Lakes this season,3 down from two in December. The favorites to earn it are #16 Michigan MagnUM, at least by reputation and good track record as of late. Semifinalists at 2021 Nationals, Michigan have dropped off a little thanks to the graduation of some of their best players. They were easily dispatched at Queen City by a Georgia team that has otherwise struggled against good teams, and they also took an unexpected loss there to UNC Wilmington. But with Theo Shapinsky and Ashwin Pothukuchi capable of piloting the O-line against even the stiffest defenses, Michigan still have the tools they need to hold off the rest of the region and cruise into Milwaukee.
Or do they? That proposition will be put to the test on Saturday morning against Illinois Rise, making their spring debut after a good trial run last December in Norco. While Reid Martin has moved on since then, Rise boast one of the most fearsome duos in the country in Joey Kennedy and sophomore Eli Artemakis, who took home our Rookie of the Year honors for his performance in the Fall Series. Depth is a question for now, but it's more than possible that Illinois will answer it well before the tournament is done.
Finally, Indiana Hoosier Mama's have shown the ability to get hot at the right moments: they pushed Colorado to the brink of an upset during pool play at SMI. A hot game or two won't be enough to carry them through either MLC or a one-bid Great Lakes Regionals, but it does more than enough to anoint them potential spoilers-in-chief. Perhaps the grind of SMI – where, in spite of their spirited fight against Mamabird, they finished the weekend 1-6 – has hardened them, and a new, battle-tested, more consistent Indiana will emerge.
Wild Cards
A pair of wild cards round out power pools. Colorado State Hibida make their third appearance of 2022. Truth be told, it has been tough sledding for CSU so far this spring. They followed up a two-win Santa Barbara Invite with a one-win performance at SMI. They are probably the favorites for a possible third bid in the South Central, and that could become even more concrete with the potential to face other in-region teams in the bracket. But they will need to show much more point-to-point consistency to scratch out a win against any of their power pool mates — Minnesota, Michigan, and Illinois.
Cincinnati's results so far have also been underwhelming in the nationwide context. They too, however, have an eye on a berth in Milwaukee as at least two of the teams standing in their way in the Ohio Valley, Ohio State and Temple, have looked a little shaky. With quality wins at the Easterns Qualifier against Virginia and Indiana, the Bearcats might be in a position to steal a game from Wisconsin or Northeastern on Saturday.
---
The point stands even if it is highly unlikely they would be able to attend. ↩

They will also be at Easterns in April. ↩

according to our unofficial early estimates ↩