A few years after Vermont's high school ultimate teams achieved varsity status, the University of Vermont's women's and men's division teams are both finding unprecedented success. Coincidence? Maybe not…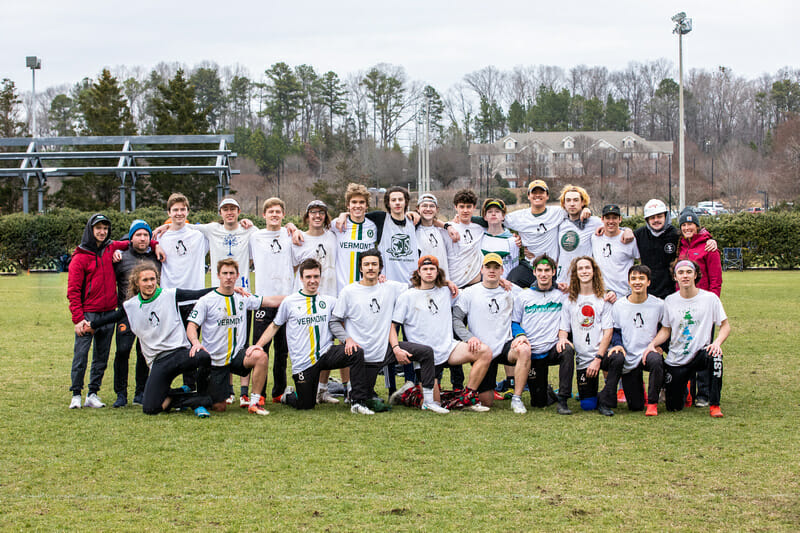 Our coverage of the 2022 College season is presented by Spin Ultimate. Please support the brands that make Ultiworld possible and shop at Spin Ultimate!
Way back in the beforetimes of the previous decade, before things like COVID or fidget spinners or Netflix original series, high school ultimate players in Vermont started to push their administrators to make ultimate a varsity sport. As detailed in long-time ultimate organizer Anne Watson's Sideline Talk interview, what were hopes back in 2010 became a reality in 2017 when the Activity Standards Board of the Vermont Principals' Association unanimously voted to approve ultimate as a varsity sport in time for the 2019 season.
With the newfound status, high school ultimate programs in Vermont suddenly had well-paid, professional coaches, organized transportation to games, and regular competition and field space. Along with the benefits to existing teams, the growth in legitimacy led to an increase in girls teams across the state – Watson said on Sideline Talk that they struggled to find the minimum nine teams needed to sign the paperwork – and doubled the number of boys teams from the 2017 announcement to the 2019 inaugural varsity season.
While it is not a guarantee that every high school ultimate player keeps up the sport in college, nor is it expected that every high school student attends college in their home state, it does not feel like a coincidence that just a few years after this historic change, the University of Vermont ultimate programs are experiencing their best year ever, at least in terms of competitive outcomes.
Daron Byerly has been coaching #7 Vermont Ruckus, the women's division team at the university, since 2004. "It's been a cool experience to see the team try to qualify for regionals," he said. "And now try to qualify for nationals. For some programs, that happens really quickly. That did not happen with UVM, but what is there is something that is really strong and something that should serve UVM for a really long time – which is having a really big program."
Ruckus features a nationally competitive A team as well as committed and developing B and C teams. Together, the program has over sixty players this spring. Ruckus focuses more than most teams on player development. Byerly was quick to point out that a club or semi-professional team might be able to get better by importing talented players from outside the community who are willing to travel, but a college team has a limited player base and needs to make the most of the players who are on campus.
Sara Jacobi, who is Ruckus' co-coach with Byerly and competed with Boston Brute Squad, noted that seeing how many people are playing in the program is simply incredible. Not too long ago, colleges were lucky just to field a team in the women's division. Some teams are still struggling to get the requisite numbers to compete to their talent level (looking at you FSU, UCF, and App State), but that isn't a problem in Vermont despite its small size as a state. A quick write-up about Ruckus might feature star players like Kennedy McCarthy and Emily Pozzy, who already have a national profile, and they certainly deserve their plaudits, but Ruckus's strength is in its program and its depth.
Both Nadia Scoppettone and Mikaela Luke-Currier started playing at Montpelier High School and joined Ruckus last season. Their time in high school saw the rise of an impressive program. "My freshman year, we had 12 kids on the team total," Scoppettone said. "It definitely was much less competitive, it was a fun, throw-the-frisbee, run-around type of deal. I think every year that I played at Montpelier High School, the program grew and we became a more competitive team. We participated in more competitive tournaments and our training was more rigorous, it was more of a commitment but it was always a lot of fun." By her senior year, the team was training every day after school and really felt like a varsity sports team. That experience came in handy as Scoppettone transitioned to playing at the college level.
"I was planning to play ultimate frisbee at whatever school I went to," Scoppettone said. "It was definitely exciting to be going to UVM and already know some people on Ruckus and know that it's a good, fun program to be a part of." The connection between different schools and teams in Vermont is fairly tight, even if it's not explicit.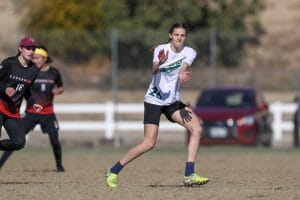 "It's a really small state so the ultimate community in general, even across the country, you just know people all the time," Scoppettone said. "Especially in Vermont, a lot of the people we play with on Ruckus we've played with in the Burlington community, we know from going to hat tournaments or summer league or winter league as high school students just because there's just not that many people in Vermont so there's going to be some crossover."
Ruckus is more than simply good, fun, and well connected; after earning a their first trip to Nationals in more than three decades last fall, the program is now pushing for a place in the latestages of the nationals bracket. "The way that Vermont has been playing since 2016 has met a threshold of a quality of program that will put it on players' radar," Byerly said. "If ultimate is important to me, I won't have to give that up to go to UVM, and I think that starting probably in 2015, we had a huge contingent of players coming from Vermont high schools."
Though Ruckus does not have any official connection with the Vermont high school programs, with discounted in-state tuition and a much closer eye on the in-state talent, many Vermont high school athletes are choosing to stay local. Those players who are coming in with experience are raising the team's floor. "It adds to the depth of what the team can do right away," Byerly explained. "We already have people who love the sport who understand and know fundamentals and they're used to being competitive and they're happy about coming to UVM and trying out for the A team. Adding that opportunity for people at UVM with that Vermont varsity system is absolutely giving us more than our fair share of experienced high school players."
Ruckus benefits from more than just an influx of experienced players. The specific players' experiences playing with each other is valuable too."The one thing that I've noticed coaching UVM," Jacobi added, "is watching players who played together in high school continue to play together at this level. It is really invaluable in terms of the chemistry they have with one another and how much they already know. They're already teammates that can push each other to be better knowing that they all came from the same place with the same foundation. It helps solidify the team and helps the team come together. We're definitely seeing the benefit of players who had that same high school experience coming together at UVM, adding so much chemistry and camaraderie and history. Knowing that you have a friend who loves ultimate as much as you and wants to push harder too and pushing alongside someone who you already built that relationship with and history with is really strengthening the program across all its levels."
Those friendships and connections are showing through to the players as well. "Honestly, what I find great about the team–it's something all of us as individuals want so much," Luke-Currier shared. "I've never been part of a team that has that much drive to do well on a national level, so it's great to see." She credits McCarthy for helping to shape the team's mindset and to share her competitive drive. Similarly, Luke-Currier pointed to the coaching staff for pushing the team along.
"Daron and Sara have done a great job connecting us all," she said. "They have also seen the potential in this team right off the bat and have always pushed us to meet that because they know we can get there. And they care for us all on an individual level, which has been really good for our team."
Throughout the COVID-induced hiatus between the 2019-20 and 2021-22 seasons, Ruckus leadership has been very intentional about rebuilding its culture, centering player leadership to craft the team's vision, and making sure every player knows why they want to play. Creating an atmosphere that focuses on the players and their relationships helps the team competitively too, so that players feel invested in each others' success and are willing to put in valuable work even when it's under 40 degrees outside or snowing sideways and they have to walk half an hour from their dorm to the practice field.
"You're not going to spend your time doing something that feels like a waste of time," Jacobi said. "Doing something that's building towards something and making something better than the sum of its parts. That's exciting to people." It took a long time, but Ruckus has built a team that wants to build together and is excited about pushing its boundaries.
Both Vermont teams, Ruckus and its men's division counterpart #8 Vermont Chill, started their seasons at Queen City Tune Up, and each lost only to defending champions UNC. Ruckus then went to Northwest Challenge, considered the closest regular-season tournament to nationals-level play, where they took down 2021 finalist Washington before losing to UNC again. An undefeated romp through conferences sets up Ruckus well heading into next month's regionals.
"For a long time it's been like 'how do we earn a bid in order to go to Nationals,'" Bylerly posed, "because when you have a team like Dartmouth sitting there owning that autobid, everybody else was like, 'how do we earn a bid and how do we get to Nationals?' That was the big deal…I think the team in 2020 and also now almost expects to go and is looking at its placement at nationals, which is a very different mindset. I think that has to do with a few key players who have the confidence to ask the team to expect more of themselves."
Entering Northwest Challenge, some of the team shared that they wanted to win the tournament. While others on the team had honest doubts, it felt like if they played well, the team couldn't lose. Then Ruckus went out and took down Washington and ended their tournament receiving the pull on double game point against UNC. Though they lost that game, the team showed that it is capable of creating its own expectations and meeting even lofty goals.
"Even at the start of the fall when we all joined and made Ruckus, since then our mindset has really changed about what we can do as a team," Scoppettone shared. "I definitely wasn't thinking we are a top team in the country in college ultimate at the start of the year…but it's cool to see that our team, every individual person has made it a big goal to be highly competitive and to keep working on improving themselves and the dynamic as a team and how we're playing together to become a high-level Nationals team."
Meanwhile, over in the men's division, Chill won Easterns Qualifier and took wins over Carleton and Minnesota at Missouri Loves Company. While the team had to drop out of Easterns after a COVID scare, two losses to Brown bookended an important win over UMass at Greater New England Conferences. Looking ahead, the team is preparing for potential rematches at Regionals next month.
Like Ruckus, Chill is seeing the benefits of greater youth development in the local scene. "Our greatest strength right now is our depth," said Kuochuan Ponzio. "Without the sophomore and freshman classes we've gotten the past few years, we would not be in the conversation right now…a lot of the responsibility has fallen on our underclassmen."
Ponzio started playing as a sophomore at Burlington High School along with Chill teammate Turner Allen. While the team was building, it was not unlike most high school programs around the country – lacking the infrastructure to be well organized. "A lot of our development had to come from within," Allen shared. "Going out and throwing every weekend, shoveling and playing 2-on-2. The competition in the actual high school season in-state didn't really prepare you for high-level competition. A lot of our development came from our coaches encouraging us to go out and play and spend the time throwing and watching frisbee and falling in love with the sport."
Eli Standard, who has been playing in the Burlington area since middle school, shared that the growth in the Burlington program was quick once Ponzio and Allen joined. At the start of Standard's first year of high school, there was a single co-ed team that had just over twenty players. Now there are two teams in each the boys and girls division and the boys team won back-to-back state championships while Ponzio, Standard, and Allen were in school, ending years of dominance from Montpelier High School.
After graduating high school, Ponzio spent a year playing for Oregon Ego before transferring back to Vermont. In that time, he's noticed a larger domino effect around the entire Burlington scene that has helped propel Chill to the cusp of Nationals qualification. "Something that I see mirrored in the UVM programs and the Burlington programs is the culture shift," Ponzio said. "That shift was what allowed the Burlington program to explode out of nowhere and have so many players join in a few years. The UVM program has always been pretty big…in recent years the frisbee aspect of that is changing and we're becoming more of a legitimate program."
Allen, who has played on Chill throughout his college career, walked through the trajectory of the program over the past few years from a social team to one with designs of reaching final round of the Series. "It's hard to put into words the kind of program we were freshman year," Allen said. "The commitment was there, but our priorities – we were more of a social team. Every year we'd say 'this is our year' or next year's our year, we have the talent." Ryan Dinger was a top player on those teams (he was in contention to make Ultiworld's Top 25 players in 2019), but Chill didn't have the players or the work ethic around him to elevate the program beyond Regionals.
"My freshmen year, we got players who bought into this new identity, but the program as a whole was not super serious," Allen continued. "We never quite prepared for the big games we needed to prepare for." As Allen's class grew, and transfers from teams with Nationals experience like Ponzio (Oregon) and Standard (who played on Brown's 2019 title-winning team) entered the fold, the team suddenly saw its opportunity to take the next step up the competitive ladder.
"Right now, it's day and night between that freshmen year team," Allen exhaled. "The effort at practice, the intensity at practice, and the intensity on the field is just so much higher all around."
Effort and intensity can only get a team so far. Like Ruckus, Chill's commitment to each other and to bettering the team is a major difference from previous years. While the team used to have a more social focus, current leadership has shown that working hard is also fun and helps players develop into the kind of athletes who can win the important games. Allen explained that Chill would end up losing high-potential players to other activities or would find that they wouldn't progress because the culture wasn't built for growth and development as much as it was focused on purely having fun. Meshing the competitive drive of this crop of players with the social background the team had before has led to a breakthrough year.
"We also get along really well as a team," Allen explained. "There were a lot of egos before–people who didn't take criticism well and weren't all in for the team. Now everyone is ready to contribute whatever they can offer to help the team succeed. That comes from our positive relationships as people, as friends, as roommates. But also there's a real selfless desire for team success right now."
While there are few crossover players from previous iterations of Chill, the team's coach Jake Saunders has remained consistent throughout this culture shift and ushered Chill into this new era of competitive play.
"I also want to give a lot of credit to our coach Jake Saunders this season," Allen said. "This year he has made big strides, especially with the way he talks about the game to younger players. I've been encouraging him to up the level and up the intelligence about the way we talk about things, and he's done that and blown my expectations out of the water. He's an intelligent guy and an extremely intelligent player and he can coach us at a high level now and that's really exciting."
As the team plateaued in its previous iteration, it may have been tempting to ride the wave of mediocrity and be content with being around a fun group of players. Instead, Allen credits seeing Saunders' energy change as something that helped motivate the team to believe in itself and its growth.
As Chill builds to what might be one of the toughest regional tournaments in the history of the college division, the team is confident and excited about its chances. "The team's never been at this level before," Allen exclaimed. "No matter what the outcome is, I know that this team is going to put together an amazing performance because we care about each other and we've been putting the work in to do that."
With both Chill and Ruckus pushing for their best season in team history, coaches and players in the program and the community are excited about the possibilities ahead for the Green Mountain State's flagship university.
Over the course of the season, Ponzio said Chill had eight or nine high school players reach out to ask about playing for the team as they considered their college choices – numbers the team hasn't seen in the past. While the focus for both teams over the next few weeks is on advancing past Regionals and pushing deep into the bracket in Milwaukee, it's a nice reminder that the work Ruckus and Chill have put in recently to build their programs will last beyond 2022.
With so much investment in Vermont ultimate, both Chill and Ruckus will have their supporters back in Burlington. The players were quick to shout out members of the wider Vermont ultimate community, like Watson or Peter VonDoepp, whose daughter Sarah is a star handler for Ruckus, as vital to the development of Vermont ultimate and therefore both programs. From finding playing opportunities to coaching to sorting through the bureaucratic processes necessary to achieve varsity status, Ruckus and Chill are playing on the backs of an entire community ready to finally put its name out there as an ultimate hotbed and a desirable place to play and compete.