Brown enter the pool and tournament as clear favorites, but some traditional powerhouses and an undefeated underdog lurk.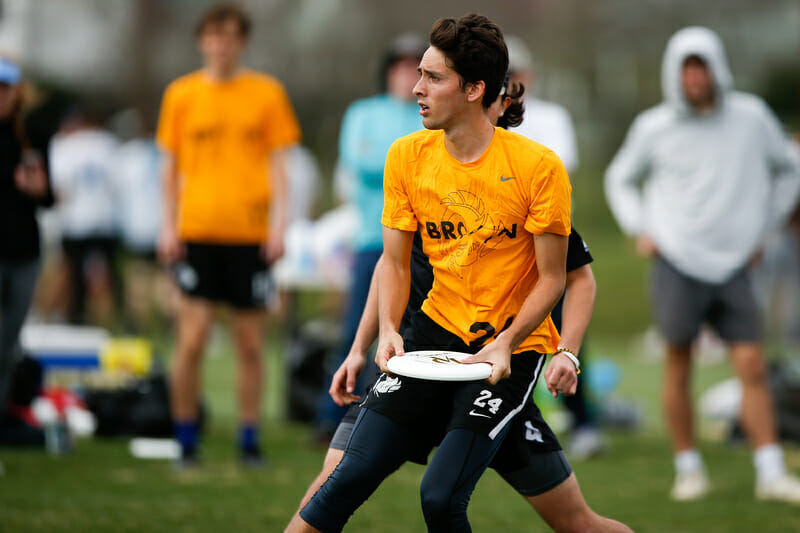 Our coverage of the 2022 College Series is presented by Spin Ultimate. Please support the brands that make Ultiworld possible and shop at Spin Ultimate!
The 2022 D-I College Championships return to Milwaukee, though they are partially back to a traditional Nationals. While the Fall championships felt wholly unique, this turn has some oddities — namely, the lack of a rankings-based regular season — but in many other ways is business as usual. Once teams hit the field, expect a lot of what you've come to know and love about Nationals: drama, surprises, and the memorable moments that make legends. From John Stubbs to Dena Elimelech, the legacy of college stars is built around what happens over these four days.
We will be there to bring you all of the action, with cameras pointed at more games than ever and a reporting team that will take you inside the huddle. In these previews, we'll offer a snapshot of each team and the competition they'll face when play begins on Friday, May 26. Watch ultiworld.com/live then for updates in all four college divisions!
Pool A  |  Pool B  |  Pool C  |  Pool D

Seeding: A1, no.1 overall
Power Ranking: #1
Path to Nationals: Def. Vermont 15-9 in New England final
Roster & Schedule
Coming off of a semifinal run at 2021 Nationals, Brown are poised to eclipse that accomplishment this weekend, entering the tournament as the overall favorites. The historical stakes are high — this Brownian Motion squad is on the cusp of trumping even their 2019 title year with a historic season sweep of every tournament they've played in. The Florida Warm Up, Smokey Mountain Invite, and Easterns champs come into Nationals with one of the more impressive resumes in recent memory. Even at the wildly competitive New England Regionals, they managed to stay comfortably above the fray and wrap up a regional title in stride.
There's no big secret to Brown's success: it's a team with elite top-end talent that plays a system designed to get as many touches for their best players as possible. Ultimate can be a complicated game, but when you are able to boil it down to John Randolph, Jaques Nissen, Cal Nightingale, and Leo Gordan successfully playing keep-away 15 times, it actually ends up being pretty simple.
Brown's defense has also been optimized to fit the talent of its top guys. With a zone designed to slow down the opposition rather than provide intense pressure, to tempt offenses into impatience, it allows them to let Dylan Villeneuve and Cam Curney rove around playmaking on the wings and lets the studs on O-line recharge their legs.
This kind of strategy works well when you've got the top-ranked player in the country. John Randolph's final college season hasn't played out with the kind of scorched-earth dominance we saw from Brodie in 2010, Jimmy Mickle in 2014, or even Mac Hecht in 2019, but that's because for Brown to succeed the Seattle native doesn't have to play as spectacularly. Randolph manages to make himself almost anonymous at times, a credit to the rest of Brown's system, but when he asserts himself in the reset space no one can prevent him from getting separation. It's not that Brown aren't putting Randolph in a high-impact role, it's that they are using him at the thing he is best at, to devastating effect. And no one is making them do otherwise.
How do you stop Randolph? Well, in isolation, with college defenders, you don't. But like a video game boss, you can chip away at the supporting cast of minions and make him do something he doesn't want to do. In Brown's semifinal defeat to UNC last year, North Carolina's defenders were able to force Randolph into more of a high-variance playmaking capacity by shutting down the other throwers on the team. Thus far this season however, no one has been able to force Brown out of their plan A.
If you're looking for a weakness with Brown, the answer is as obvious as their strengths: depth. Brown run a tight rotation on offense, and often need to cross those O-line players over onto the D-line in order to convert breaks. When your O-line can hold on virtually every possession and you only need three or four breaks to comfortably win a game, it works. But it can take a toll on the legs of those top players, and if the offense coughs up a few more breaks than normal for whatever reason, it can create a hole that is tough to climb out of.
Simply put, there are few title winners that have been able to operate on the slender margins Brown has this year. It's worked out so far for B-Mo, but the real test awaits in Milwaukee.
Seeding: A2, no.8 overall
Power Ranking: #9
Path to Nationals: Def. California 13-7 in Southwest final
Roster & Schedule
In a sense, Cal Poly SLO's 2022 season began when their talismanic O-line handler Calvin Brown went down with a season-ending injury at Nationals in the fall. A year of building an offense around the talents of Brown was scrapped, and Slocore began restructuring their team on the fly in preparation for this Nationals tournament.
"Calvin getting hurt destabilized our structure," said coach Cody Mills. "It made us have to start fresh a bit."
KJ Koo and Matt Miller, originally slated in as D-line agents of destruction, are now leading the charge on offense. Jake Thorne and all of his lanky explosiveness has become the focal point of a defense that relies on equal parts brain and brawn to apply pressure. It's a deep team that has been spending all season trying to put pieces in the right places to unlock its potential. The question now is whether they've found the right formula in time.
Slocore narrowly avoided the tumult of Pool B by virtue of their loss to NC State at Easterns1 and instead find themselves in the always cagey Pool A as the no.8 overall seed. Looking up at Brown and knowing that they must have a chance at pulling off the upset (see their universe point loss to Brown in the fall) while also wary of the teams stalking up behind them. Such is the life of the no.8 seed in this format. There's an opportunity to shake the earth with an upset of the one seed, but a prickly feeling on the back of your neck from the assortment of punchy lower-middle-class seeds who are in no way overawed by your seeding status.
In that sense, it's nice for Cal Poly that they will get to see Brown in their first game of the tournament on Friday morning. Find out from the off what your standing in the pool is going to be, and spend the rest of the weekend navigating your games accordingly.
That matchup with Brown will also give SLO the chance to accomplish something they haven't done all year: get a win over a top 10 team. A universe point loss to no.2 overall seed Colorado is the closest Slocore has come to a marquee win this year, and they didn't fare any better against BYU or NC State. There's clearly lots of potential within this team, but at a certain point you've got to actually beat one of the best teams in the country before you can consider yourself one.
Of course, what SLO has done is convincingly beaten the teams in and around their level. With a few leave-no-doubt wins over tenth seeded Cal as evidence, SLO has shown that they are able to take care of business comfortably against the teams they are expected to beat. And in the chaos of Nationals, that is not a skill to be overlooked.
"We are generally a high-floor team," said Mills. "It's unclear yet what our ceiling is."
That 10:30 AM game against Brown on Friday morning will be a good time to find out.
Seeding: A3, no.12 overall
Power Ranking: #18
Path to Nationals: Def. Washington University 15-5 in South Central game-to-go semifinal; lost to Colorado 15-7 in South Central final
Roster & Schedule
We know the score with Texas, right? Make Nationals after they and Colorado walk over everyone else at South Central Regionals. Run a bunch of cutter-driven vert stack. Like, a lot of vert stack. Hang tight with a couple big fish thanks to some top-notch athletes, but fall short of any significant wins. Rinse. Repeat.
Maybe not this year. At least when it comes to that famous vert stack.
"We are known as Texas vert stack, but if you look at our O-line points we actually run a lot of different looks," said captain Saaketh Palchuru. "Guys like [Jake] Radak and Matt Chambers are so adaptable, they can give us so many options. The offense is getting more variable."
So how about that other stuff? The tendency to do just well enough to not disappoint, but lose before anyone really starts paying attention? "Variable" was a key word choice from Palchuru, because some variance might be just the thing for Texas this weekend. They've certainly experienced it this season, playing tight with Brown and Colorado one tournament and then getting dogged by Tufts and Ohio State at a disappointing Easterns. If Texas is coming here to do more than make a respectable exit at prequarters, they'll need to ride the wave of some highs and lows to make it happen.
What does this Texas team look like if it's breaking through into some deep bracket games? Radak and Chambers will both have something to do with it, crafty throwers who can change the angle of the field quickly and spring open opportunities for continuation cutters in flow. Of course, someone will have to step in and fill the shoes of goal machine Xavier Fuzat. The 2nd runner-up for Breakout Player of the Year in the fall, Fuzat went down with an ACL tear early in the spring. TUFF has been piecing together his vacated production and has found success with a combination of Aaron Barcio, Jake Worthington, and Zach Slayton stepping up downfield.
It's worth noting that aside from Fuzat, Texas expects to be totally healthy for Nationals, which is not a privilege they've enjoyed for much of the year. Finally getting to play with a full roster at Regionals and in the weeks since has given the team a boost into Nationals.
Onfield aspects aside, if Texas is able to exceed their 12th seed in Milwaukee, Palchuru thinks it will come down to mentality. "Easterns really tested us, and we had to figure out a way past it. It has really come together for us when we made the intentional choice to start focusing on our positives. To keep our energy up and get rid of negativity. We think there's a lot more growth potential in that."
Texas definitely have positives worth focusing on, some top-notch throwers and several athletic cutters who can get after the ball when it's out into space. They'll need to hammer those advantages if they want the rest of the world to start focusing on their positives as well.
Seeding: A4, no.13 overall
Power Ranking: #16
Path to Nationals: Def. Oregon State 13-8 in the Northwest final
Roster & Schedule
The only undefeated team in Pool A, Utah State enter Nationals as champions of the Northwest Region. USULT were the beneficiaries of Oregon State's big upset over Washington, which sent the supposed title contenders from Seattle into the backdoor bracket and meant that Utah State has managed to make Nationals without playing a single other Nationals qualifier this season.
It's hard to get a read on USULT's potential given the relatively weak schedule they've encountered thus far, but it won't be hard to predict how they play. A meat-and-potatoes, athlete-driven squad, Utah State play aggressive, vertical offense and work a lot through their star (and 2021 Callahan nominee) Garrett Martin.
Both Brown and Cal Poly have thrown out some impressive zone and poach looks this season, and it could be a struggle for USULT to blast their way through them. But if any teams succumb to the temptation of taking Utah State on in a track meet style, open-field contest, USULT will be very comfortable going stride for stride. In addition to Martin, Brock Hyatt and Benjamin Martin have been impressive pieces, both capable of stretching the field on offense and getting the disc back on D. Both players will be crucial if USULT is going to win any shootouts in Pool A.
Utah State were not particularly competitive during their appearance at Nationals in the fall of 2021, going 0-4 in pool play with a combined goal differential of -27, and earning a lone consolation win over Cornell. But while they took their lumps in Norco, that could be valuable experience for the team in Milwaukee. Particularly after having such a cupcake schedule thus far in 2022, having gotten a taste of Nationals level play in the fall will be important in USULT's quest to improve on their previous finish.
It's a little troubling for USULT's prospects that they haven't more definitively vanquished the competition they did face this year, emerging with bare one-point wins against Utah and British Columbia, neither of whom finished in the top four at Northwest Regionals. Utah State may very well have the capability to push the teams above them in the pool for a spot in prequarters, but it would require something we haven't seen from the team yet this year.
Seeding: A5, no.17 overall
Power Ranking: #21
Path to Nationals: Def. Maryland 15-8 in Atlantic Coast third-place game-to-go
Roster & Schedule
The Merry Men of William & Mary rode a late-season surge to Nationals, making their first appearance since the last time it was held in Milwaukee back in 2018. Convincing wins over Maryland and Georgetown sealed the third and final bid from the Atlantic Coast for W&M, extracting a measure of revenge after Georgetown had given them a beating at Atlantic Coast Open earlier in the season.
Against top teams this season, the Merry Men have a mixed record. They played Georgia close and beat NC State at Queen City Tune Up, but lost at Regionals to NC State and UNC by a combined score of 28-6. Although according to Merry Men captain and Callahan nominee Lucas Reichert, those Regionals results were part of the plan.
"At Regionals we knew we would have some tougher competition like UNC and NC State. We decided in those games, it would be better to get our entire team reps and conserve legs," said Reichert. "This allowed us to save energy for the games we felt were more important. When it came time for those big games against Maryland, Georgetown, and South Carolina, our entire team was fresh and ready to go."
It's all big games at Nationals, and the Merry Men will have to find a way to keep their players fresh if they want to advance past pool play. Reichert and his battery mate Ben Greenberg will try to push the pace with deep shots, and those two need to be hitting for the offense to get the kind of quick holds that keep your O-line fresh. On defense, Bryce Whitney will get the toughest cutter matchups the pool has to offer, while standout freshman Sam Brothers has been given the keys to drive the D-line offense forward and will be essential to converting breaks.
The Merry Men have not played as many elite tournaments as some other teams in the tournament, but their relative anonymity could be a strength. Without a ton of footage of their games available, and with some under-the-radar top players who can sneak up on you, William & Mary may not be the pushover their bottom-of-the-pool seeding would imply. You may not think they have a shot at making it to the bracket, but don't tell them that.
"Our team goal is to do whatever it takes to make the bracket," said Reichert. "That would be an incredible cap to our season and really land our program in the national spotlight. We think we have what it takes to make that happen."
---
Big brain stuff from their leadership on that one. ↩