A tight rotation allowed the Seminole Ladies to avenge a Regionals loss and puts them in a position to perhaps earn a spot in the bracket.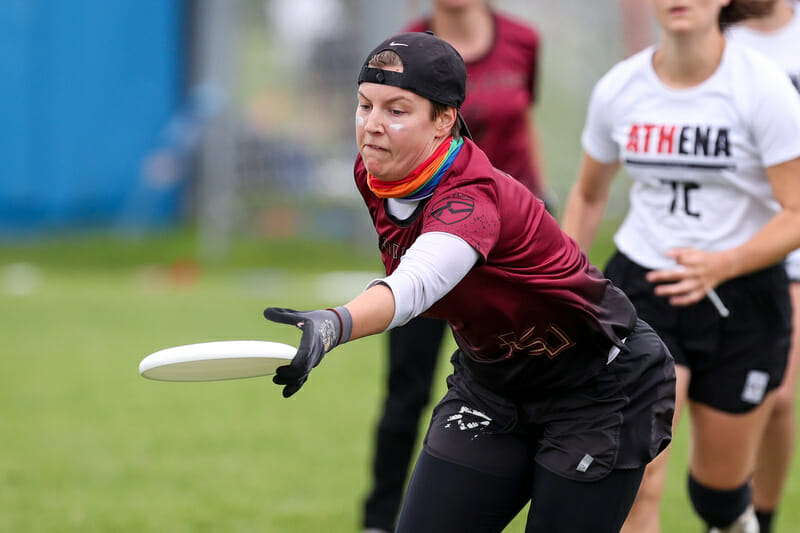 Our coverage of the 2022 College Series is presented by Spin Ultimate. Please support the brands that make Ultiworld possible and shop at Spin Ultimate!
There was just a single upset by seeding in the women's division on Day 1 of the 2022 D-I College Championships, and the team that pulled it off did it in their own special way.
The #14 Florida State Seminole Ladies are a team that knows who they are, largely because of how few they are. It is not a new strategy for a small but talented roster to play extremely tight lines and ride their top end to Nationals. Notably, FSU's in-state rivals Central Florida trod a similar path in the early years of their program all the way to a national semifinal in 2014 before coming up short. But that level of success is an aberration; more frequently we see teams that adopt this approach fade under the pressure of repeated exposure to high-level competition game-after-game at Nationals. From a 30-game win streak to start their 2022 season and a handful of tournament victories, FSU have exceeded all expectations this spring and began to buck the long-term trend for top-heavy teams with their Day 1 performance in Milwaukee.
In their first game at Nationals, Florida State faced the team that had beaten them soundly in the final at Southeast Regionals to grab the higher seed, #13 Georgia Athena. In the rematch on Friday, both teams played their stars point after point, but it was Florida State that was able to surge to a double game point victory at the end. With only a small group prepared to perform at Nationals level on every point, FSU knew what they had, and knew how to take advantage of the mistakes made by Georgia.
Talking to coach Taylor Mischler, he said it plain: "you need to play with the what you have." What FSU has is a terrific top-end, a few solid contributors, and lots of players relatively new to the sport.
It all starts with Callahan nominee Cami Lamont getting a lot of touches in the backfield, slicing apart opposing defenses with her throws but also occasionally releasing downfield to make some big grabs despite tight coverage and getting blocks on defense. The critical anchor behind the disc is Lindsi Allman, distributing precisely and always available for a reset. The main target downfield is Natalie "Willy" Wilson who found separation deep and pulled down discs in a crowd over and over, but also cut under and distributed effectively. Lily Gullett was outstanding in a similar role on Friday, both scoring goals and filling under when needed. Those four may have taken a point or two off each game, but blink and you would have missed it. Another four filled out the FSU line almost every point — Camryn Curvey, Lauren Kuhlman, Ashlyn O'Connor, and Hannah Grimes — with the rest of the young roster playing bit-part roles.
The opening game against Georgia was plagued by many turnovers in the morning's tougher weather conditions. Athena proved excellent at getting the ball back and the longer defensive points just meant more fatigue for an already small FSU core. Every time their defense got beat for a Georgia hold, those same seven players turned around and walked back to the other endzone, preparing themselves for the next point. It's not as if they didn't have any support; occasionally, FSU sent out other players to provide a brief respite for their stars and regular role players, but it didn't happen often and the drop-off in efficiency was notable. The Seminole Ladies play tight with their lines by necessity — they need all the firepower they can muster in close games like the one against Georgia.
Such was the case in the late stages of their game against Athena, when FSU proved a dramatic point: you can win a game at Nationals with a Super Seven. Their top stars played every one of the game's final few points, turning a two-point deficit around and earning a pair of breaks — including on on universe point — to put them ahead when it mattered most. They weren't done, either.
In facing Stanford in their second game of the day, FSU started off fired up from their first-game win. Lamont was very effective at delivering penetrating throws through Superfly's vaunted zone and helped the Seminole Ladies jump out to 2-0 and 4-2 leads, looking like the team that had won the first 30 games of their season.
But Stanford had taken near polar opposite tack on the season; they played their full, albeit short roster — packed with young and inexperienced players — every game all spring, even when it meant taking some early season losses. Now at the end of the season, having endured the growing pains required to develop a deeper bench of contributors, Superfly were able to put out fresh lines each point and send wave after wave at the flagging Seminole Ladies stars. A break run allowed Stanford to take half 8-5.
The intermission gave the SLadies a chance to rest and regroup. They put in a valiant comeback bid in the second half, going blow for blow, break for break with Superfly while marshaling their energy more consciously. Florida State closed the gap as close as 13-12 late before they ran out of steam and capitulated.
A 1-1 record on the opening day of Nationals is a better-than-expected result for the pool four seed, though they could look back at a missed opportunity to win them both. While Stanford felt that they were in control throughout, Florida State certainly pushed the tournament's no.8 seed, who earlier in the day had similarly pushed #1 North Carolina. As legs get heavier for FSU's stars as the weekend wears on, they may rue the missed opportunity to secure a bracket spot earlier. As it is, they will likely need to win at least one more game to ensure they advance to the knockout stages and improve on their 15th place finish in Norco in December. Whether they have what it takes to reach the same heights as the 2014 Central Florida Sirens remains to be seen, though a first-round matchup with UNC on Saturday will go a long way to showing what they're made of.
There is also a recognition that this is the year. Five of FSU's top players will be gone next year, and while the goal is to leverage success into recruiting and program-building, that likely means years to compete seriously at Nationals on a regular basis. Expect to see plenty of run for the Seminole's top stars until they are eliminated.