For the second straight nationals held in Milwaukee, Colorado Quandary advances to the title game.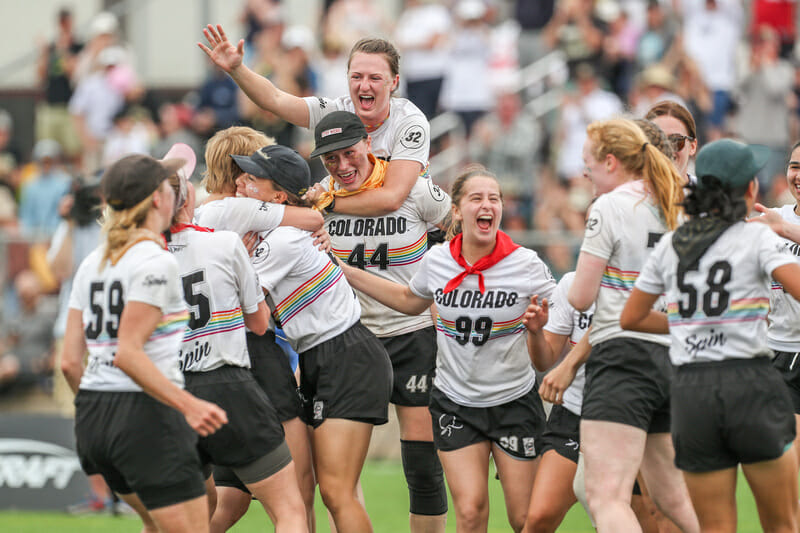 MILWAUKEE, Wisc. — In order to win a national semifinal, you need your best players to play well. Not only do they make the jobs of everyone else on the field easier, they also generate and sustain energy for the team through their exploits. It's what pushes good teams to greatness. On Sunday afternoon, #2 Colorado Quandary got the performances they needed from some of their brightest stars, while #3 Carleton Syzygy were unfortunate to not even be able to keep their top players on the field. In the end, that was the difference in a 15-11 Colorado victory, allowing Quandary to advance to the second national title game in program history — both times at the Uihlein Soccer Park in Milwaukee.
The opening pull for the semifinal came just after noon, less than two hours after the end of the quarterfinal round in which both teams had participated. Fortunately, the weather was cool and breezy rather than the oppressive heat that Nationals at this same site had to endure in 2018. Wind was lower than for the quarterfinal round earlier in the day and diagonal from scoreboard to fieldhouse, rather than upwind and down as in the previous round.
In this semifinal, Colorado was driven by two high-speed dervishes, one on defense and the other on offense. Kristen Reed and Clil Phillips are calm and unassuming off-field, but on the field they were nonstop bundles of energy driving the defense and offense, respectively.
For Carleton, Campana is the spark that ignites Syzygy, initiating their offense and making plays versus the toughest matchups on defense. But in this game, she had a shadow: Reed was on Campana's hip every moment, not shutting her down — Campana's simply too good — but limiting her, making her work for everything, narrowing the windows that Carleton players had available to deliver the disc to their star.
Early on, however, it was Carleton's stars asserting themselves. Campana caught a layout to help set up the opening hold and, after an end zone drop, Lauren Yamasaki-Liske pulled in a pretty put to space from freshman Mia Beeman-Weber for a break that put Syzygy ahead, 2-0. "We're also trying to take the energy we felt in the [quarterfinal win over Washington] ….and bring that energy at the beginning of the game," said Yamasaki-Liske.
That early energy allowed the North Central champs to maintain their two-point advantage through the game's first six points, even if Colorado was forcing them to work for it as they searched for their own spark to ignite a game-changing run.
As it often does, it ultimately came from the stars. The top-line stats lie here; they might not be wrong, but they lie about where the impact was coming from for Quandary. Kristen Reed had zero blocks and six goals in the semifinal, but her most important impact was the Campana assignment on defense. On the score sheet, Clil Phillips had one block, no goals, and just one assist, but she propelled the Quandary offense. Phillips' was on overdrive as the initiator of the offense, abruptly cutting to open space, delivering a forehand dart, then cutting again to get the disc back, or sending up a huck to a streaking Quandary receiver. She was one of two players (the other being Stacy Gaskill) to clear 100 yards both throwing and receiving. While she did incur seven turnovers, many were close plays or good deep looks that proved important in opening up the field for her team.
Phillips figured prominently in Quandary's first two holds, and nearly in the third, but a quality deep look from her hands went uncaught, although her team eventually scored on the point. Colorado earned their first break in a five-turn point with high defensive pressure, and Phillips crossed over on the next point to help steer the offense after a Gaskill deep completion. Gaskill and O-line crossover handler Akane Kleinkopf both were in fine form, dissecting the Syzygy defense with precision hucks and touch break throws, as guided in another break. Colorado had pulled Carleton into playing their game and stashed four in a row to make it 6-4.
Gaskill's imposing presence also needs to be discussed for Quandary. Her pulls were a weapon on their own, pinning opponents deep in their territory and giving the swarming Quandary defensive unit the maximum number of chances to shut opponents down. On defense, she often poached off the weakside, discouraging, or eating up, huck attempts. In contrast to Reed and Phillips, Gaskill seems to be relaxed on the field, casually (maybe sometimes too casually) pulling down skyballs or firing deep. She also shows flashes of speed when needed, and as an Olympic athlete, she can dial in the focus when needed.
Colorado was feeding off the energy from Reed, Phillips, and Gaskill. Megan Kenny, Nori Catalano, and Akane Kleinkopf made notable plays to help Quandary gain the advantage.
On the other side, the story was very different. Yamasaki-Liske had only finished just a single point prior to sustaining a leg injury that sidelined her for the rest of the match. Then, with Carleton trying to halt Colorado's run, Campana landed awkward and uncomfortably on a bid of her own, and was assisted off of the field. Down two of their most impactful contributors, you could sense some of the air was sucked out Syzygy.1 Emma Chin, and Alyssa Ehrhardt, and Kate Lanier rose the occasion, steadying Carleton in the churning waters of Colorado's rush, factoring into a pair of pre-half holds that staunched the bleeding and kept the margin to two, 8-6 at the intermission.
It is essential to also highlight top Rookie of the Year candidate Abbie Gillach, who led Quandary with six assists in the game, to go with 216 throwing yards and a team-high 26 touches. Gillach is also an excellent defender. She was effective against top-flight cutters, like UNC's Ella Juengst at the Northwest Challenge. She tossed a hammer to Reed to open the second half for Colorado with a score, extending their lead for the first time to a three-point advantage.
Carleton's offense responded ably, but it felt like they were hanging on.
"Having Lauren and Carly fully out is, really, really hard," said senior captain Lanier. "We're really lucky that we have people who are ready to step up. And maybe it's not their original role, but they're happy to take that spot."
Typically, Syzygy would strategically deploy Lanier, Aria Kischner, and Campana on the D-line to help engineer breaks. But with the loss of Campana, Tori Gray, the D-line's primary cutter, had to slide over to offense more often, although she too missed points in the middle of the game due to injury. Key defender Allegra Johnson McKee, who had three blocks in the game and eight on the weekend, was asked to step in to supplement the O-line. But it was simply too much demand on Carleton's highest usage players. Campana was fourth in the team in total yards despite playing just six points; the three in front were handlers Lanier, Chin, and Ehrhardt. Syzygy struggled to get going when their D-line got the disc, especially against the wind.
So while Carleton was able to keep Colorado's eager D-line at bay, giving up just a single break in the second half, they couldn't find ways to threaten to turn the tide. Quandary was dictating the pace of the game; their shots weren't always connecting, but their cutters were consistently generating separation and they were winning the field position game. In contrast, Carleton were struggling to get free of their defenders and forced to throw into tight windows or put it up deep into coverage. Colorado closed out the game with unrelenting pace, able to make up for offensive errors with torrential hustle.
"We've based our team on depth, and trying to develop every single player on this team, so that when we get to tight games like this, we aren't playing the same people," said Reed. "And so we have legs, and we can keep driving out there."
As Kristen Reed talked about the key to their semis victory, she demurred when asked to highlight a single teammate, "we're all stars in my eyes."
Syzygy captain Kate Lanier reflected, "They were really talented. I think they are athletic, they play tight person, and they really make us have to throw good throws to hit those windows."
This is the end of the road for many of Carleton's top players; the exceptional class of Campana, Lanier, Yamasaki-Liske, Ada Wright, and Johnson McKee are now seniors at a school with no graduate programs. For what was thought to be a golden generation for Syzygy — a worthy challenger to the rising dynasty in North Carolina — they will graduate without ever reaching a national final, despite spending the entirety of their college careers ranked inside the top 5 and more time at #1 than any team other than the Pleiades.
But the program won't be stripped bare. They remained stacked with young talent, particularly on the D-line and in the backfield — Mia Beeman-Weber, Shanti Chier, and Eva Fischer are freshmen, while Tori Gray and Aria Kischner are sophomores. Yamasaki-Liske is already impressed by her young teammates, and the performance they put forth in a losing effort in Milwaukee: "Just seeing them being able to step up into that and have poise and really distribute the disc was awesome."
Looking ahead to the final, Reed — who caught the game-winner in the semi — said, "it feels pretty good. But we're definitely still focused on the championship. So we won this game. But like I said, we're just looking for every game to keep going and fighting for more time together."
If any team can stop UNC from repeating, Colorado looks like the team. If they can access that extra focus to value the disc on offense, we know they have the defense to get break opportunities aplenty.
---
For what it's worth, Colorado also suffered some injury issues in this game, as both Megan Kenny and Nori Catalano also left midgame with ailments of their own. ↩