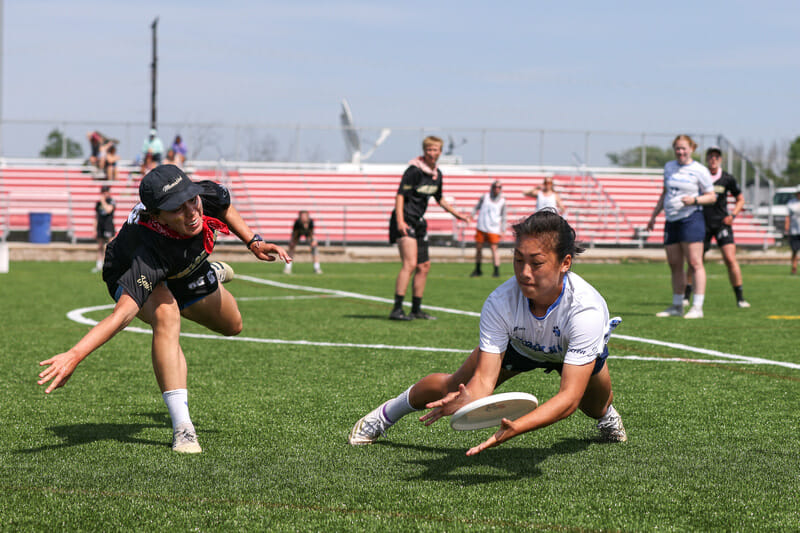 Our coverage of the 2022 College Series is presented by Spin Ultimate. Please support the brands that make Ultiworld possible and shop at Spin Ultimate!
MILWAUKEE, Wisc. — #1 North Carolina Pleiades defended their title in a final-worthy showdown with #2 Colorado Quandary that ended in soft cap with a downwind hold on double-game point. Despite the weather doing its best to play spoiler, the two teams proved to be equally matched and ready for the occasion. While it ultimately came down to UNC starting on offense and getting the final opportunity for a downwind hold, no one can argue that the result was anything less than the best showcase that our sport has to offer. 
As already noted, the windy conditions hampered the ability of either team to gain too much traction or momentum with their break opportunities. The clear upwind/downwind distinction on the field threatened to make the game a back-and-forth of downwind holds the entire way through. Thankfully, both teams bucked the narrative, and managed to earn enough upwind breaks to keep the fans invested throughout. 
There wasn't a clear advantage for either team early on, as both looked comfortable with the wind at their back. UNC started with a safe hold that utilized the fullest extent of their downfield depth. Anne Worth looked as sharp as ever, and the flow between her, Ella Juengst, Theresa Yu, and Erica Birdsong was too formidable for Colorado right out of the gate. Colorado, for their part, made a statement of their own on their first hold, with Akane Kleinkopf immediately shooting deep to Clil Phillips, who then made a simple pass back to Kleinkopf for the Colorado goal. 
After the initial clean points, though, the game devolved quickly. Strong gusts started to make throwers second-guess themselves, and a pass from UNC's handlers was picked off by Stacy Gaskill. While Colorado had a prime break chance off this, the wind had other ideas, and an ill-advised throw gave UNC the disc back, only for them to return the favor. The point continued like this for a few passes before UNC cleaned up their act, but the seal had been broken and the four horsemen of the ultimate apocalypse had arrived: Overthrown Hucks, Turfed Passes, Mistimed Resets, and Late Inside Breaks. All four entered the game and nothing was off the table.
Colorado may have had the first break opportunity, but it was UNC that found the wherewithal to convert on an upwind break. This wasn't a short field, fast break, two throw score, either. A deep shot from Kleinkopf to the endzone sailed well out the back, but UNC still had the full field to go, and it was all upwind. This is where the value of Grace Conerly, Sydney Rehder, and Dawn Culton cannot be understated. Rehder had an immediate huck to half-field, and from there, Conerly retrieved the disc and shot it deep to Culton. A foul call kept it from being a goal, but Rehder hit Conerly soon after. 
With that, UNC had a downwind break opportunity, and it didn't take long for them to find their second break. Colorado opted to punt deep with their throws one too many times on their attempted upwind hold, and their final chance was denied by an amazing footblock from Culton, who then naturally facilitated the fast break that led to the downwind goal. That pair of breaks put UNC up 4-1, and it looked as if the game was slipping from Colorado's hands. 
The next few points did little to change that. Both teams were able to string together successful holds without much difficulty, aside from the occasional horseman rearing their ugly head, but the wind kept all things level. That's not to say that there wasn't intensity from the defense: both sides seemed to be in accord on the physicality that was going to be allowed on the field, as players made contact with each other constantly when bidding for the same disc or moving to the same space. At one point, Colorado's defenders stepped beyond the line and made an ugly bid against Theresa Yu, causing her to tumble and have to sit out the rest of the half.

This was a significant moment on the field, as it meant UNC's core on offense was one player shy of their full seven. With a potentially consequential decision to be made, UNC coach Jessie Jones didn't bat an eye, and immediately called Dawn Culton over to play offense. The recently crowned Callahan winner went on to play every point for the rest of the half, a feat no player on UNC or Colorado attempted to match. 
With the teams trading holds to 5-7, it looked as if Pleaides was every bit as unbeatable as they had looked in the fall. They were firing on all cylinders and weren't giving away half the amount of break chances that Colorado had been giving them. In fact, they weren't giving away even one-sixth of what Quandary was offering on break chances. At 7-5, Colorado was 0/2 on break opportunities, and UNC was 2/14. That doesn't paint North Carolina's D-line offense in the best light, but their offense was too clean to even give up those chances!
For Subscribers: Finals Box Scores

The difference came from the two teams variance in play styles. Colorado was forever willing to take the deep shot or attempt the break throw, while UNC was far more content to work the disc efficiently down the field with whatever Colorado was giving them, playing small ball amongst the handlers until something opened up downfield. It very much seemed as if Chapel Hill's gameplan was by far the superior one. However, just before a hold would have taken UNC into half, Colorado went into overdrive.
A rushed pass from Alex Barnett sailed too far out in front of a bidding Anne Worth, and suddenly Colorado had only their third break chance of the half, but this time at half-field. In only two passes, that opportunity turned into a break, thanks largely to a high inside flick from Stacy Gaskill that sailed over Culton's hands. Just like that, Colorado was back in the game. "In a lot of games this tournament, we went down at the start," said Quandary D-line star Kristen Reed. "We always have dug deep, fought back, and played with grit. That's how we came back in this game."

They'd secure their position with a downwind break moments later. Going upwind, UNC's handlers couldn't throw a disc out far enough ahead of Barnett, so Saioa Lostra, who was already competing at max capacity on offense, got a block on the upline throw. From there, it was just about getting Gaskill open in the iso, and suddenly the game was tied 7-7.

North Carolina scored to take half, but a rejuvenated crowd was all in favor of Colorado at this point. That was the last thing on the minds of the players, though. The first half had really worn down on both sides, and if there was anything that the first half proved, it was that small lapses in concentration or energy would be the difference-maker. "We're just trying to go into the second half maintaining the same energy we had in the first half," said sidelined Colorado player Bailey Shigley. 
The Pleiades women shared very much the same mentality. "We punched ahead early, and then they punched back just before half," said Alex Barnett. "After half we gathered and decided this was where we were going to punch back again!"
Despite the promise of an all-out brawl, the second half didn't lead off with a bang. Yes, both teams had break opportunities, and UNC continued to mount a formidable counterattack with every break chance they got, but nothing materialized from it. Each offense hunkered down and found the mental fortitude to get a hold even when the going got tough. 
There was nothing easy for either team, but it did appear there was an extra level that Colorado's defense found when in the red zone during the second half. Point after point, Pleiades would make it all the way down the field to the goal line, only to find their options thwarted when trying to the disc past the faint yellow line. It was as if the Pleiades would be one piece away from solving a puzzle, only to discover that the final piece was an intricate puzzle of its own that would take an ever-increasing amount of time to solve. For the most part, UNC's patience rewarded them with a goal despite all the pressure from Colorado, but the cracks were starting to show.
As the game wore on, neither side found a true opening until UNC held to go up 11-10. Theresa Yu had returned to the field in the second half, so Culton was back to playing close-to-fresh every time the defense stepped on the field, and with Grace Conerly, Maya Powell, and Sydney Rehder in the backfield, UNC was gearing up for a final push towards that crucial break. 
The four horsemen may have been present all game, but this point was where the apocalypse occurred. Most points on an ultimate field last between 1-4 minutes. This one took 15. Anything and everything happened over the course of that quarter of an hour. Footblocks, stallouts, trust hucks, multiple timeouts, run-through blocks–you name it, that point had it! Eventually, mercifully, Megan Kenny shook free of Maya Powell to get open on the break side for the Colorado hold. 
This presented a new problem for Quandary. While the team had done everything necessary to stick with UNC the entire second half, their marathon point hold had featured one additional surprise: the cap horn. With soft cap on, the game was cut short, and as both teams were tied at 11-11, this new point had instantly become sudden death. Game to 12. 
Colorado, despite having run their top players ragged the point before, sent out their stars for one last break attempt. Across the field, UNC sent out their own kill line, adding only Maya Powell and Dawn Culton from the previous point. 
It didn't take long for UNC to work it down the field to the endzone, but again they found a stalwart Colorado defense that just wouldn't let them score. After close to 20 passes, UNC broke concentration first, floating a backhand over a bidding Culton. Colorado had their break chance. 
Culton wasn't going to go down that easy, though. Rachel Wilmoth made a textbook openside cut with seemingly no defender in sight, only for Culton to swoop through and layout for the block, giving UNC a short field. With Quandary trailing behind and unable to set their defense properly, Chapel Hill used their handler flow to get the disc in Ella Juengst's hands right in front of the endzone, and Barnett slipped free of her defender for the final goal of the game.

This caps off a perfect season for UNC, a continuation of their perfect tournament in the fall, too. Ultimate historians will likely look back at this tournament as a chapter in one of the most dominant runs of any college program, but hopefully, it will not get lost just how close Colorado came to snapping that streak. When the game is remembered, it should be for how closely matched the two teams were, and how they gave us the best game of the tournament in the final, a gift that should not be taken for granted.