The bracket heats up as Thursday decides which teams will be playing for a medal.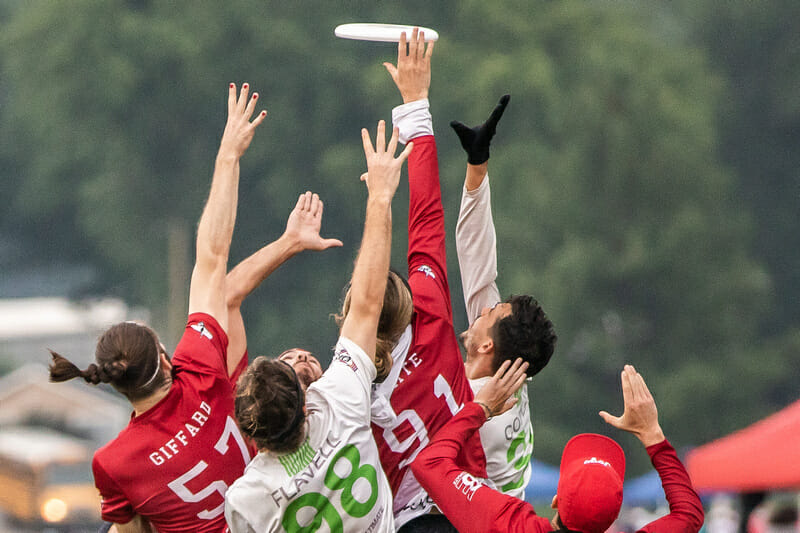 LEBANON, OH – As many of you, dear readers, may have heard, the fourth day of WUCC 2022 began with flashbacks to 2018. Thunder and lightning delayed the start of the first round for one hour but the round successfully got underway at 10:00 AM local time and was able to finish, albeit with heavy rain and some close calls with a seemingly imminent lightning delay. After the first round of games were played this morning, the field complex informed WFDF that the fields had to be evacuated in order to let them drain. So, ten minutes before the second round of games were set to begin, teams were cleared off mid-warmup and told that games would be delayed an additional one hour from the hour delay set in the morning. Then, they were informed that they would have to wait two more hours on top of that. In the end, the 11:00 AM round eventually began at 3:00 PM
In the original schedule, the Open Division was supposed to play all of the Crossovers and Round of 16 games on Wednesday, setting up for the quarterfinals on Thursday and semifinals on Friday. Instead, due to the rain and lightning delays, the last games from the Round of 16 were pushed to Thursday morning, with the last half of the do-or-die round to take place on Day 5 before we move into the quarterfinals.
Windy Cincy
The story of the day was the weather — not just the rain and thunderstorms that caused the delays and schedule reconfiguration, but also wind. For the entirety of Pool Play, including Tuesday, the weather was almost completely calm and wind wasn't much of a factor. That all changed on Wednesday. A stiff upwind and downwind was present throughout all three rounds that were played, and separated the veteran teams from the younger ones.
Teams like the Tokyo Buzz Bullets (JPN) and Seattle Sockeye (USA) had no problem working the disc through a stiff headwind, but younger teams like Dublin Ranelagh (IRE) and Glasgow Alba (GBR) struggled to consistently string passes together under defensive pressure. If wind continues to be a factor moving forward, we're expecting there to be lots of zone looks for the rest of the week.
Springboks in the Grass
During the Vancouver Furious George (CAN) vs Cape Town Mutiny (RSA) game on Wednesday afternoon, the South Africans pulled out a trick play as old as time. Coming down on the pull, a defender would jog to the sideline and feign chatter with a teammate. The remaining six defenders then "forgot" to cover the back of the stack, allowing the cutter to strike deep for free. Unfortunately for the monkeys, this is when the trap  was sprung. Exploding off the sideline, the clandestine Mutineer careened into the open lane and blocked the huck as it went up.
Confused Canadians were met with raucous laughter and shouts of "that's twice! It worked twice!" from the Mutiny ranks. Though they didn't end up scoring, the South Africans made a point of telling anyone on the side line who would listen that earlier in the tournament they had done the exact same thing against Sockeye. A minor wrinkle on the classic snake in the grass, Mutiny successfully pulled this ruse not once, but twice, against two of the strongest teams in the world. A bold choice for a bold team. We look forward to seeing more summer league tactics as the bracket moves on.
Pool of Life
In our Open Division Preview, we chose Pool E as the proverbial Pool of Death. After some intense battles through the tournament's first two days, four teams advanced out of that pool: Brussels Mooncatchers (BEL), Vancouver Furious George (CAN), Portland Rhino Slam! (USA), and Pornichet Tchac (FRA). Here we are at the end of Wednesday, and all four of these teams are still in medal contention. Mooncatchers have already booked their spot in the quarterfinals while Furious, Rhino, and Tchac are set to play in the Round of 16 tomorrow.
If seeding were perfectly reflective of the relative strength of teams, only two teams should make it to the Round of 16 from each pool. Even our Second Pool of Death, Pool G, only got two teams into the Round of 16 after Ranelagh and Melbourne Ellipsis (AUS) lost their crossovers. The fact that Pool E got four teams to this stage in the tournament shows just how stacked it truly was.
For what it's worth, the last team in Pool E, Bogotà Makawua (COL), who went winless through two days and finished bottom of the pool, is 3-0 in the days since.
Crossovers
Bogotà Euforia (COL) vs Copenhagen KFK (DEN): This game was as close as you can get, ending with a KFK hold on universe point. Involving two teams known for their passion and potential to get hot-headed, there was certainly intensity and a bit of chippiness in this game, but it never boiled over into anything like the Francophone Fracas we saw on Tuesday. The Danes built an early lead, taking half 8-5, but Euforia chipped away at the deficit to tie the game at 11-11. The offenses all held from there on, earning KFK a spot in the Round of 16.
Berlin Wall City (GER) vs Tchac: This was another tight affair throughout, but the French claimed the edge in the seventh point and maintained it the rest of the way — Tchac broke twice in a row to make it 5-3 and never lost the lead after that, ultimately winning 13-11. Quentin Roger played a fantastic game for Tchac, ending with five assists and two goals.
Noisy-le-Sec Iznogood (FRA) vs Ellipsis: There were many great games on Wednesday, but Iznogood-Ellipsis might take the cake. Ellipsis was leading 11-6 before Iznogood went on a run to bring it to 12-12 as cap was going on. Both teams held to get us to 13-13, setting up a double game point for a spot in the bracket. The Australian O-line was forced to go upwind on universe point and weathered immense pressure from the Iznogood defense before they finally made a mistake and gave the French a short field opportunity for the win. "For the last points of the game we didn't use more than 11 guys," admitted Iznogood coach Stef Rappazzo after the game. "We put on heavy pressure, heavy pressure and between the weather and the nerves they gave us the turns."
Toronto GOAT (CAN) vs Ghent Gentle (BEL): While the games we have discussed already were close affairs, this game would not be described as such. GOAT put on a dominant performance as the game finished 15-9. Gentle leaned heavily on Tobe Decraene, who did his best with a 5 goal, 1 assist performance, but GOAT's depth was too much for the Belgian side.
Mutiny vs Furious George: Despite Mutiny's solid pool play performance, Furious George were heavily favored coming into this matchup and the result was no surprise. Aside from the aforementioned 'snake in the grass' trick play, Mutiny were not able to generate much against the Canadians. The final score was 15-6 and Furious never looked troubled.
Rhino Slam! vs Alba: Though Rhino are the better team on paper, with Raphy Hayes not playing in this game, we thought beating Alba became a little bit tougher. In retrospect, that was just us hoping that this would be an exciting crossover. In reality, Portland outclassed the Scots in the first half, jumping out to an 8-4 lead, and were able to maintain that lead through the end of the game.
Nomadic Tribe (JPN) vs Rascals (JPN): Breakout star Sho Okajima once again led his team in assists this game, but there simply were not many to go around for Rascals. In a battle between the second and third Japanese teams, Nomadic Tribe were clearly better on the day. They took half 8-1 and though Rascals found a little more firepower in the second half, the game ended 15-5. Rascals sure gave us a "Sho," but their moment in the sun will have to wait for another four years at least.
Montreal Mephisto (CAN) vs Ranelagh: Mephisto looked really strong in this game. As has been the case too frequently for the Irish this week, Ranelagh were making simple execution errors, dropping passes and throwing the disc away, and Mephisto made them pay for it. The game finished 15-11 in favor of Mephisto, and we have a special shoutout for Raphaël Lalonde-Landry who put the nail in the coffin with a Callahan to make it 10-5. Ranelagh were able to get some breaks to make the score line more flattering, but only after the game was well out of reach.
Round of 16, Part 1
Sockeye vs Iznogood: Early in the game, Iznogood played Sockeye tight, with Seattle barely taking half 8-7. However, the 2019 US champs absolutely blitzed out of the half, notching three breaks in just 9 minutes to open the second frame. Just that fast, it was 12-7 and the game was settled. The wind was a big factor in this game and the most important play was a full-extension layout Callahan by Tony Venneri on a centering pass to give Sockeye an upwind break which then allowed them to go get another downwinder. The game finished a clear 15-9, though it felt a lot closer than that. Either way, Seattle look the part of the world champion at the moment and should be favored to end the week with a medal of some color.
Mooncatchers vs GOAT: This was, by a wide margin, the most entertaining game of Day 4. The flashy Belgian side went up a break early, then the teams traded downwind holds for the rest of the first half. However, in the second half, GOAT broke twice in a row to set up a universe point situation. Needing to break upwind to win, GOAT managed to get possession after a huge layout block, but turned it over on the goal line, and Mooncatchers put a full-field huck to Arvīds Orlovskis who came down with it. The pure joy as the Mooncatchers rushed the field was moving, and we can't wait to see how they fare in the rest of the bracket.
New York PoNY (USA) vs Nomadic Tribe: Yesterday, we described Nomadic Tribe as a team that had looked good at this tournament but fallen short of beating elite teams to that point. Sadly for Nomadic, that is exactly the story of this game. PoNY were simply too good — perhaps for any team to have stood much of a chance — and with Ben Jagt (4 Goals, 2 Assists) and Jimmy Mickle (6 Assists) having big games, the Americans strolled into the quarterfinals where they'll meet yet another Japanese side.
Buzz Bullets vs Mephisto: Whenever the Buzz Bullets are written about, the question is always how their height will come into play. Yes, they're shorter than some North American and European teams. No, it hasn't slowed them down one bit. In this game, the Bullets repeatedly attacked the deep space with fading hucks and pinpoint precision, and it was all Mephisto could do to stop them. Mephisto by no means played a bad game, but after a few upwind breaks, the game started to slip away and the Japanese came away with the win.
Coming Up…
Round of 16: Thursday, July 27 at 8 AM
Raleigh Ring of Fire (USA) vs KFK: There are no two ways about it. We expect Ring to win this game. KFK are a good team and have had a solid tournament, but Ring has too much firepower and consistency for us to predict anything else.
Bologna CUSB Open (ITA) vs Tchac: A battle between two excellent European outfits. It is always interesting when teams that know each other well face off on the world stage. We have seen blowouts with CUSB vs Iznogood and Nomadic Tribe vs Rascals and a game decided on universe point between Ellipsis and Wildcats. It remains to be seen what type of game this one will be, but the pressure will be turned up even higher in an elimination contest.
Sydney Sunder (AUS) vs Furious George: Both of these teams are talented groups that have been challenged at this tournament. Furious were beaten by Mooncatchers in Pool Play while Sunder were beaten by Iznogood in Power Pools. Both will come in confident after facing adversity and finding success afterwards.
London Clapham (GBR) vs Rhino Slam!: Clapham are top contenders for being the fourth best team at this tournament after Ring, Sockeye, and PoNY. They are big, talented, driven, and well-coached. It will likely be difficult for Rhino to keep up with their athleticism and depth, though the Portlanders have surprised us in the past and Clapham do have an unfortunately long history of  international bracket underachievement.
Quarterfinals: Thursday, July 27 at 2 PM
Sockeye vs Mooncatchers: This is an absolutely tantalizing matchup. In their three-break run against Iznogood on Wednesday, Sockeye showed that they have another gear that we haven't seen them engage consistently throughout the week. Will Mooncatchers have learned from their loss to PoNY and be able to put a real scare into another excellent American team after their win against GOAT in the Round of 16?
PoNY vs Buzz Bullets: The last time Buzz Bullets were at WUCC, they knocked out a perennial US title-contender in an all-time classic with Ironside — they will have the opportunity to repeat that feat against another Northeast powerhouse program on Thursday. PoNY have looked incredibly strong in cruising to this point in the week, but Buzz Bullets can beat anyone on their day.
Possible Quarterfinals:
Ring of Fire or KFK vs CUSB or Tchac
Sunder or Furious George vs Clapham or Rhino