Winning a world title was a goal decades in the making for Medellin Revolution, but may be just the beginning.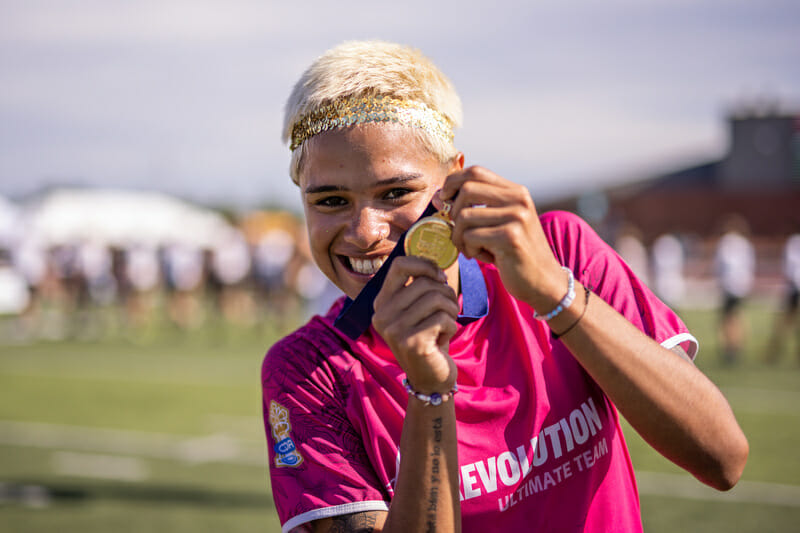 The road to a Colombian world championship side began when Mauricio Moore first picked up a disc in 2003. Almost immediately, he was struck by the lack of competitiveness in women's ultimate in Colombia, and he did something about it.
That 'something' turned into a global phenomenon both as a highly successful club and semi-pro team as well as an inspiration to young people across Colombia and the world. That 'something' just became the best women's club team on the planet and goes by the name of Medellín Revolution.
Since forming the club in 2004, Moore (along with co-founder Andrea Trujillo) set an explicit goal for the program to become world champions, at the time an outrageous expectation for a non-North American team. But Moore has poured his entire soul into coaching this team and creating a family capable of achieving their ambitions. Now, having reached the pinnacle, nothing about their journey looks quite so outrageous.
WUCC 2022: Welcome to the Revolution (Women's Division) is only available to Ultiworld Subscribers
Already have a subscription? Log in
Whether you visit Ultiworld for our reporting, our podcasts, or our video coverage, you can help us continue to provide high quality content with a subscription. By becoming a subscriber, not only do you receive benefits like exclusive articles and full article RSS feeds, you also help fund all of Ultiworld's coverage in general. We appreciate your support!