Wondering how Rhino Slam! managed to upset reigning national champs Ring of Fire, or how Condors beat Machine, or how Vault knocked off Revolver? Look no further than our day one recaps from pool play in the men's division!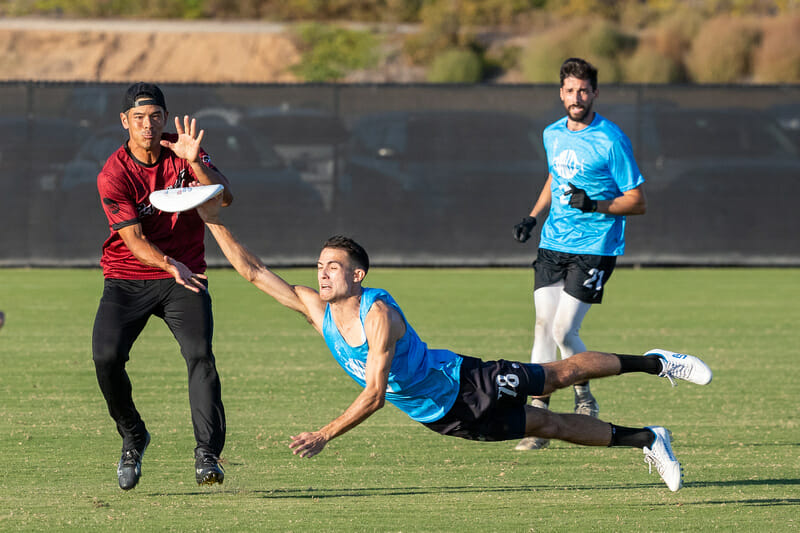 Ultiworld's coverage of the 2022 Club National Championships is presented by Spin Ultimate; all opinions are those of the author(s). Find out how Spin can get you, and your team, looking your best this season.
We've rounded up coverage from our Day One live blog. Stay tuned into ultiworld.com/live for updates, as well as streaming links for all live games!
Pool A
GOAT Win the One-on-Ones to Push Past Bravo
Toronto GOAT upset Johnny Bravo 15-14 in the first round to change the dynamics of Pool A. Bravo brought a gritty defensive effort early and kept the pressure on, pushing the GOAT unders even with the handlers to stifle progress at the start. But when the disc went up to the end zone, GOAT came out on the right side of virtually every one-on-one play in the air to keep the goals. Thomson McKnight, James Lewis, Iain MacKenzie, JJ Edwards, and, especially, 2022 world traveler Gaël Ancelin executed bodying moves to perfection to keep Bravo's defenders at bay.
"I don't think we're disappointed with this game at all. GOAT are a big team, so a lot of the 50/50s they put up, they came down with," said Bravo defender Cody Spicer.
GOAT brought a solid defensive effort of their own. "The defense was amazing. They earned a huge lead for us in the first half," said Andy Ouchterlony. They were aided in that effort by a handful of poor Bravo possessions in the middle of the first half. A couple of underbaked hucks from Will Lohre and Alex Atkins on one point and complete stagnation on another set up a pair of early GOAT breaks.
Bravo earned one of the breaks back at the end of the first half to cut GOAT's lead to 8-7. The second half, however, began with 14 consecutive holds as GOAT mixed up the offense to throw Bravo's defenders off the scent. Luc Comire, who spent the rest of the game backing up GOAT's other handlers, sprang free deep. On another, typical center handler McKnight hung out at the back of the stack while Ancelin danced the disc up the breakside: he finally released for a short away shot when Spicer cheated him a hair too much on the under.
It was young Calvin Stoughton, crossing over from the offense, who finally broke the tension with a brilliant run-through block to set up a Bravo break to re-tie the game at 14-14. His speed was a game-changer, not only on that play, but in an earlier effort to chase down a huck that looked like a sure GOAT score. "That guy's an animal," said Spicer. "It's cool seeing the youth come up… I remember when I was out there just running around with reckless abandon. I can't do that anymore, so it's really nice to have that on the team… It's really nice to have him on the team this year, because last year he was playing for Lotus. I had to cover him and that sucked."
That late break would prove all Bravo could muster. GOAT picked their way steadily down the field on universe. At the goal line, they went back to the well: a floaty shot to the break side for Ancelin, who turned his shoulders to keep Spicer out of the play and bring down the winning score through contact.
The game puts both the GOAT's potential and the rigors of this tournament into clear focus heading into the rest of the day.
"This year's GOAT team is relentless," said Ouchterlony. "It's a clutch bunch of guys, and we're making it happen… but it came down to universe because that's what games are like here."
"We're glad that GOAT put us through the test early, got the energy high. Hopefully we'll be able to keep that up throughout the rest of the tournament," said Spicer.
In the other Pool A first round game, top seed Washington DC Truck Stop comfortably took care of Cincinnati Omen. Christian Boxley, Tyler Monroe, Jonny Malks, and Cole Jurek were all excellent for Truck's offense, and they did not give up a break. Noah Krumme finished a few goals nicely for Omen, and he may play an important role later in the day as they look for a win against Bravo and Truck.
Pool B
Rhino Fend Off Vault's Upset Bid, 14-10
Two solid attempts at upsets came to naught in the first round of play for Pool B. The stouter effort came from a Virginia Vault side that would not quit after slipping behind Portland Rhino Slam! by a couple of breaks early. "We were saying, 'We know we have the guys to match up with their guys,'" said Vault player Brandon Lamberty. True to his word, they matched up very well.
Meanwhile, the Rhino offense coughed up the disc more often than they would like. Part of it was the wind and part of it was a number of athletic plays by the Vault defense, who were fairly well keyed in on Rhino's offensive tendencies. "[Vault] have a lot of athletes, and they made a lot of really big plays defensively and forced us into some really hard situations," said Rhino's Owen Murphy.
"We know that they want to work through their main people and their main systems. They don't want to deviate. The more we can make them deviate, go through different looks – I think that's where we found success. Putting them on the low side with the disc. Forcing Leandro [Marx] to throw off the sideline. Things like that were good for us," said Lamberty. The highlight plays included two footblocks by Lamberty on successive possessions against Rhino stars Raphy Hayes and Leandro Marx – apparently a trend with the Vault defender: "I've been doing it a long time. I got one on Jimmy [Mickle] to start the year at that Phantom Invite. I think you can learn guys' habits quick, and they aren't expecting the foot – and so you catch them off guard and bait them into it," said Lamberty. Unfortunately for him, the second footblock deflected straight to a Rhino receiver.
But Rhino leaned into platitudes to keep pressing for the victory. "Whenever you don't know what to say… when things are going well, when things aren't going well, when you don't know what to say to keep your foot on the pedal, you just say 'Keep fighting.' And it sounds cliché, but that's really our mentality right now," said Murphy. They also leaned into their their talent, now fully assembled for the first time this season at an elite-caliber tournament. Marx, Eli Friedman, Daniel Lee, and Raphy Hayes made great plays on the disc, and a pair of beautiful forehands in the second half by Joe Marmerstein against a stiff wind iced the victory. "Outside of a few little growing pains, it's been great to have [everybody]," said Murphy. "Those guys can make incredible plays, and we trust them to make those incredible plays."
Vault are not fazed by their first round loss. In particular, they are looking forward to a game against pool 3 seed Revolver to close the day: "I think we can take Revolver. I think that Revolver gets some credit for some past success, and I think we can be some new success. We feel really good about that matchup… we're going to come out hungry on D and just punch those breaks in one after another," said Lamberty.
Ring of Fire: Second Half Warriors
For the second time in two games, Ring of Fire walked side by side with their opponents to a half on serve. And for the second time, they utterly blew out that opponent in the next half to take the game by storm: 7-2 in the second period against Revolver and 7-1 in the second half against Vault.
I asked Ring veteran Noah Saul for his thoughts on the difference between the two halves: "Second half is when you gotta play well to win, so that's what we try to do," said Saul.
Pressed for detail, he offered the following commentary on his club's two wins: "The first game [against Revolver], it was kind of windy coming out, and there was a little bit of those Nationals jitters. Just starting off the day everyone was really excited, and we kind of rushed through our progressions a little bit. There were a few more turns than we were used to, but our D stepped it up, got turns the whole game, and finally in the second half settled in and started converting them.
"The second game [against Vault]… We kind of jumped out ahead and then got a little complacent. Our O got broken a couple times to kind of finish out the first half, and they brought it back. But I think that was just a little bit of lull. And we talked about that it's a long day. We're going to have our peaks and our valleys, and we hit a little valley there. We talked about it at halftime, recovered, and came out hot the second half."
One more second half like that and they will have wrapped up Pool B with an undefeated record.
Virginia Vault 15 – 11 San Francisco Revolver
Everything was on the line in the waning moments of the last round of the day in Pool B.
Vault started the tumult by taking a hammer to the porcelain-perfect Revolver offense that had cruised throughout a second round dismantling of Rhino. They flew at the drop of a pin and generally made Revolver's life miserable point after point. Powered by what almost seemed like years of preparation for that one matchup, the consistency with which they applied pressure was astonishing.
"We knew a lot of those players from Revolver," said Vault captain Cam Barnhardt. "Some of those guys from the DC scene. And we felt like… these teams are all over the film. There's so much that we were able to watch on them, and we just felt like on the turn our D-line was going to be able to capitalize on their O-line guys… We are fans of the sport, too, so we've been watching Revolver for years and years – and they're incredible – but I think that maybe today it played to our advantage a little bit. They didn't know as much about us as we knew about them."
The offense was less consistent, but they were playing with twice Revolver's energy. When, late in the game, Kevin Healey twisted his body and sprang over Adam Rees for the most earth-shattering hold of the day, Revolver seemed to lose heart. Kees Humes, Brandon Lamberty, and John Walden made the last great plays down the stretch to finish the job.
It shouldn't have been more than a bump in the road for Revolver, who could count on their excellent win over Rhino in the second round to buoy them in the event of a three-way tie.
Portland Rhino Slam! 15 – 14 Raleigh Ring of Fire
That is, of course, if defending champs Ring took care of business against Rhino and closed out the pool.
It was, it turns out, a pretty big if. Rhino were not about to dwell on their subpar performance against Revolver with a chance at revenge for last year's lopsided semifinal loss. "We were just thinking, 'Let's get revenge game from last year's semis," said Daniel Lee.
Though they went down a break early, Rhino righted the ship and matched up with Ring cut-for-cut on the way to finishing the first half on serve. It was familiar territory for Ring, who had played much the same in first halves against Revolver and Vault before eventually blowing them out of the water. Rhino, though, dug a little deeper to play their best game of the tournament on both offense and defense.
It was a volatile game from that point on. The lead tipped back-and-forth as both teams strung together breaks in the second half. Up 13-11, it seemed like Rhino had a clear inside track on the victory. But a crucial Rhino hold opportunity to climb to 14 was lost when Jon Nethercutt collided with Joe Marmerstein and then contested the foul, sending the disc back to the thrower at a precarious stall seven. Ring scored that break, as well as the next, when Nethercutt unloaded a patented 70-yard forehand for Jacob Fairfax, giving Ring a 14-13 lead. Rhino held to set up universe.
Vault having finished their win, the point had incredible stakes. If Rhino got the disc from Ring and scored, they would win the pool and take a bye into quarters. If they lost the point, they would be 1-2 on the day, where their differential in the Revolver game would sink them to last place in the pool and out of the tournament entirely. Rhino did not understand the weight of the moment until later. "We were told after…honestly, probably better that we didn't know. The pressure was definitely on us: going up at near the end of the game, then losing that break and having to crawl back playing defense on universe… We didn't need any extra pressure," said Lee.
Ring worked the disc to the attacking brick. Jack Williams – who had been a force all game – was in isolation in the red zone set with David Sealand matched up on him. It is the kind of moment where he has excelled his entire career.
But big game moments on defense are also where Sealand has excelled in his young career. "If there's one guy on this team that we want in that [situation], it's got to be David Sealand" said Lee. "He's done that countless times. He had two layout blocks at Pro Champs last year on universe. We literally wouldn't want anyone else there." Sealand measured the block and sprang at the last second to get ahead of a short pass to Williams. It is not an exaggeration to say the play saved their season.
Jack Hatchett's forehand had been a vital weapon for Rhino for the whole game. He had one more great one in him, a daredevil shot from the sideline at midfield past a heroic bid in the end zone by Matt Gouchoe-Hanas to Eli Friedman for the win. "Adding a player liker Jack is a blessing for any team… It's really cool to have him. They were saying that 'Jack adds a point to Rhino' – I feel like he probably proved it there," said Lee.
.@RhinoUltimate upset @ringultimate on universe!!! pic.twitter.com/guSl0yBv0F

— Ultiworld (@Ultiworld) October 21, 2022
The score deflated Ring, elated Rhino, amused a Vault side who had already done everything they needed to do to win the bracket – and crushed Revolver, who had seemed like a team on top of the world only two hours earlier. As the afternoon reached its close, Revolver sat quietly in a circle at the far edge of the fields to commemorate and grieve the unexpected early end to their season.
Pool C
Atlanta Chain Lightning 15-13 SoCal Condors
In the closest contest of round one, SoCal Condors raced to an early lead but could not hold on against Atlanta Chain Lightning. Condors' defense baffled the Chain offense early on with a variety of confusing looks as the hometown team raced to a 4-1 lead.
"Flatter than a wall we came out," Chain coach Kyle Stapleton said. "They did a great job doing some weird things on their D-line so our offense was seeing a lot of ghosts out there. I don't know if we were just not wanting to throw to open people or if they saw a poach out there. I'm not sure what our issue was, but our offense could not get in rhythm and they did a fantastic job making sure that we did not get in rhythm throughout the entire game."
Condors was able to simplify their offense and clawed back to get the game on serve as Condors took half 8-7. In the second half, Chain made one key personnel adjustment. After throwing a few turnovers against an aggressive Condors defense, Chain sat Parker Bray and moved Jeremy Langdon and Kenni Taylor into more prominent roles on offense. With his speed, Taylor in particular was a handful for Condors to slow down. Max Thorne and John Stubbs shouldered a heavy throwing load for the Chain offense to push them through a second half without giving up a break.
"We simplified everything," Stapleton added. "We made a few changes, and we said, 'hey, just run fast to open spaces and just hit people.' It really was just break down to fundamentals. We stopped trying to do anything creative and that's really what helped us."
Condors will regret not taking better advantage of their early lead. When their offense stagnated, it relied on the individual brilliance of KJ Koo, Matt Miller, and Goose Helton to move the disc rather than a well designed system. Most of Condors' turnovers were coverage sacks–they simply had a hard time getting open against a Chain defense that could sag off of an isolated sidestack. Condors may also come to regret not subbing more aggressively. They forced a single turnover in the second half with many of their better defenders not crossing over from the offense.
One more note: Chain's D-line offense looked incredibly dynamic. Nicky Spiva is near his peak form, Michael Fairley is a difficult matchup for anybody to cover, and Christian Olsen is as precise a player as you'd want on the offense, let alone a counterattack. "Our one goal as a D-line was to have a high break conversion percentage," Stapleton said. "I think we were five out of seven so that's a big takeaway for us. That's a victory that we celebrate anytime we have a percentage over fifty."
Each team has a bye round until their next game. Chain will face Temper in what is being dubbed the "Max Thorne Bowl" while Condors have a tough task against a Machine team that looked dominant in their first game.
SoCal Condors 15-13 Chicago Machine
In one of the most significant upsets of the day, SoCal Condors took an early lead and hung on to take down pool favorite Chicago Machine. Condors withstood heavy pressure from a Machine team intent on making a comeback, but KJ Koo, Matt Miller, Goose Helton, Will Turner, and Nick Simonelli piloted the offense through everything Machine threw at them.
Condors made their first move late in the first half. Jeff Silverman elevated to block a huck. Going the other way, it seemed like Condors came down with every single second-effort catch. Tipped passes, passes that floated over a pack and fell into a waiting receiver, anything that was close to a 50/50 ball-Condors came down with. Milan Ravenell caught a break to put Condors up 7-5. Machine got a break back, but Condors went into half up one break, 8-7.
From there, the teams traded testy holds. Each defense did a nice job slowing down the other's first looks off of set plays. Mitchell Steiner turned the tempo up on the endgame, laying out to block Pawel Janas' end zone-bound flip to Keegan North.
"All season our defense near the end zone and in the red zone has been the strongest part of our defense," Steiner said after the game. "In that situation we were in a little bit of a scramble. They were in transition and not really set in the end zone yet. I just saw the opportunity to come from behind and go for the D and the thrower probably didn't see me coming. It worked out. He put the throw up and as soon as he threw it I think he knew it was bad."
Steiner then launched a backhand huck to Lukas Ambrose who caught the warning track huck and tossed the assist that put Condors up 13-11 and on their way to a win. "Lukas is a monster so every time I get the disc I'm looking for him," Steiner said. "I think we've started to make that connection better and better as the season has gone on."
Condors extended their lead once more when a Machine huck sailed out of bounds and Marcel Osborne's line-drive huck found Ravenell's hands in the end zone. Condors closed out the game with a patient, full-field drive that finished with a Goose to Miller flip.
The Condors offense was incredibly impressive in this game. Against a Machine defense that likes to poach and hunt for blocks, Condors did well to simply hit open hands. They also didn't drop easy passes.0 Machine, on the other hand, handed Condors at least three turnovers without defensive pressure. Machine's defense generated a lot of pressure when they played tight, matchup defense, but Condors won the game of inches. Sometimes it was literally inches. There were numerous catches where Condors receivers seemed surprised they held onto the disc–that's how close Chicago was to forcing a block.
"We had a tough one in the first round," Steiner said. "We went up on Chain and were feeling pretty good about ourselves and we let them get back in it piece by piece. In this game we got up early again and our main focus was to not take that for granted that we were going to coast for a win. The intensity really came out for us."
Machine have a quick turnaround with a top-of-the-pool showdown against Atlanta Chain Lightning. Condors meanwhile will be hoping to keep up their good fortune against Pittsburgh Temper.
Chicago Machine 15-11 Atlanta Chain Lightning
Despite the chaos surrounding Condors' upset over Machine, Pool C ended up falling to seed with Machine rebounding to take down Chain Lightning and therefore taking the pool by virtue of the head-to-head tiebreak. Likewise, Temper took down a red hot Condors team that couldn't keep its positive momentum going to get a spot in the bracket and eliminate the hometown team. Entering the game, Machine could have finished in any spot in the pool depending on the results of the Condors-Temper game and the potential point differential tie breaker. The combination of Machine's win and Condors' loss eliminated any three way tie possibilities.
"One thing we were happy with in the Condors game is that our D process was good," Machine captain Walden Nelson shared. "We were very close to a bunch of Ds on floaty stuff but we missed. We were very happy with our pressure. We needed like one percent more to convert those into actual blocks so we weren't too worried about the defense. The offense really benefited from the conditions calming down. We attacked the deep space more aggressively. We missed on some 50/50 balls in the wind and that's what cost us the game against Condors, so it was pretty easy to rebound from that kind of loss."
Machine got off to a hot start, taking advantage of a dropped pull and some predictable Chain reset patterns to build a 5-2 lead. Though Chain did get a break back, Machine ended the first half on a run of their own courtesy of am Abe Coffin to Joe White huck connection. Those two were probably Machine's best players. Able to play both ways, Coffin has been a real difference maker all day with his throws–be they pulls pinning opponents deep in the end zone or hucks finding their receiver's hands.
Though Chain hung around, staying in the two to three point deficit range for most of the second half, Machine never wavered. Able to pull over Nate Goff to the offense when needed, Machine simply had too many options to turn to when Chain shut down their initial looks. After starting the game looking for big plays in space to Jordan Kerr and Walt Jansen, Machine closed out the game with Pawel Janas, White, and Coffin running a dominator set. They truly can do it all.
Chain struggled to beat Machine's switchy set, resorting to deep looks when they could get them and giving Machine plenty of chances to punch in breaks. "I thought we were able to put consistent pressure," Nelson said. "They had very few consistent holds. They had to really work the disc…to work under, under, under to score a goal, so they started shooting more and that ended up giving us the disc more than enough to win."
With the win, Machine advance straight to the quarterfinal round. Chain Lightning will play Vault for the right to advance to quarters a round before.
Pittsburgh Temper 15-11 SoCal Condors
Just two fields over, Condors struggled to replicate their defensive success against a Temper team that was stingy with the disc. The first half ended on serve with Condors up 8-7, but Temper outlasted Condors and was able to convert their chances in the second half to come away with a four point win.
"I think the key was just not letting up," Temper's Scott Heyman said. "We got a couple turns in the first half and didn't capitalize and we just kept bringing the pressure and in the second half they just started coming."
Pat Earles and Thomas Edmonds steadied the offense whether facing person or zone defense with Ryan Weaver typically behind the disc in support as well. Marcel Oliart was another player who stood out for Temper: switching into a cutting slot on the offense after spending much of the year on defense, Oliart found helpful spaces to cut and moved the disc effectively when given the chance.
"We knew that we had to win this game," Heyman said, "so I think we had just an extra level…we just knew this was the game we had to win and we got that done."
With the win, Temper move on to face Ring of Fire in tomorrow's prequarter round. Despite their earlier upset win over the pool winner, Condors were eliminated with the loss. With another year of experience under their young players belts (KJ Koo, Matt Miller, Seamus Robinson, Lukas Ambrose, and Brandon Van Deusen come to mind), Condors will hope to generate momentum through consolation play as it builds ahead of the 2023 season.
Pool D
New York PoNY 15-10 Austin Doublewide
Both favorites PoNY and Sockeye had a relatively quiet first round, easily dispatching inferior opponents. PoNY took a point or two to get into the game before going on a big first half run. Sol Ruechemeyer-Bailey took control as the D-line quarterback of PoNYs' depth unit that was able to really pressure Doublewide into coverage sack turnovers. On the counterattack, PoNY were incredibly patient, able to work fundamental vertical stack offense yard by yard up the field to punch in breaks.
Seattle Sockeye 15-9 Madison Mad Men
Seattle similarly kept its foot on the gas against a Mad Men team that was overwhelmed in its first ever Nationals game. Sockeye's offense was broken on the first point of the game but otherwise nearly untouchable. Their willingness to throw low, quick away shots that direct their receivers to space distinguishes them from the more conservative offenses permeating the other teams at the top of the division.
The last round showdown between PoNY and Sockeye will be must-watch TV.
Seattle Sockeye 14-12 Austin Doublewide
The wind picked up in round two and with it came some shifting fortunes. After getting blown out by PoNY in the first round, Doublewide came out firing against a Sockeye squad aiming for the title. Doublewide's defense played perfectly with the wind, getting a turnover on nearly every point against the potent Sockeye offense. They scored the first upwind break of the game when Sockeye forced hucks going downwind. Jason Hustad launched a well weighted bladey upwind flick huck that Elliott Moore read beautifully for the game changing break that gave Doublewide a 5-3 lead.
As the wind picked up, Tony Venneri emerged as a key thrower for the Sockeye offense. Playing in both directions, he really paced the upwind offense and his ability to get a throw anywhere on the field in any wind was incredibly valuable in this game.
Doublewide broke for half when Kyle Henke read the Sockeye handler movement perfectly from his downfield spot and jumped the lane for a catch block, setting up a short field opportunity. Doublewide took half 8-5.
Sockeye broke downwind out of half. Realizing the importance of the moment, they crossed over key offensive players like Dylan Freechild and Matt Rehder. While Sockeye have spent a lot of time this season developing its young talent, when it came to crunch time, Seattle really relied on its veteran players. Sockeye got its long awaited upwind break courtesy of a mistake from Doublewide's offense. While Austin had been effective attacking vertically, they turned over a swing pass on their own goal line, giving Sockeye a valuable short field. After a pair of multi-turn upwind holds, Sockeye got the downwind break to bring the game even when Christian Foster's pull trapped Doublewide in the back of their end zone and they couldn't work it out.
Sockeye sensed their opportunity and stacked their lines to bring heavy pressure the rest of the game. Sockeye took their first lead of the game at 12-11 when Jake Radack's inside flick hit the turf and Nathan Kwon's scoober found its receiver the other way. Sockeye would go on to win the game with a downwind break in soft cap after Noah Coolman cooly read a floating disc better than anyone else in a pack in the middle of the stack and fired a flick to DY Chen to finish off a gutsy comeback.
After the game, Doublewide captain Matt Armour said he was impressed with his team's ability to generate turnovers and get blocks on nearly every point, but he wished they had converted more chances.
Doublewide will play against Mad Men for the chance to make the championship bracket at 3:45 PM EDT while PoNY will take on Sockeye for the pool title with each team at 2-0.