Shocking upsets, expected dominance, confounding losses: our impressions of the national title contenders in the men's division after Day One.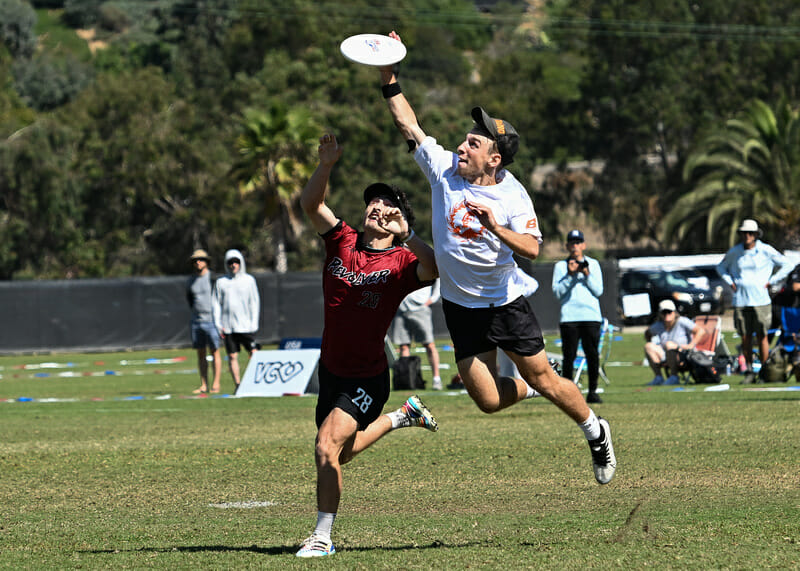 Ultiworld's coverage of the 2022 Club National Championships is presented by Spin Ultimate; all opinions are those of the author(s). Find out how Spin can get you, and your team, looking your best this season.
The end of Day One in the men's division resulted in two pools going to chalk and two pools of chaos. Whether your favorite team skipped through to quarters or dropped into consolation play, now that we've seen three full games against Nationals-level opponents, here's what we've learned about the contenders this season.
Stock Up
The World Games
Let's not beat around the bush here: the World Games players have been excellent at the USAU Club Championships so far. Their success is hardly surprising given the rigorous selection process that sorts players onto such a small national side. Then, that prerequisite high level of skill is reinforced with a level of physical and mental training unmatched in any other arena of our sport. The proof is in the pudding. Tom Tulett (Australia) has stabilized a volatile Chain Lightning offense. Conrad Schloer (Germany) is increasing his catalog of jaw-dropping highlights at speed. Aki Muraoka (Japan) might be the best athlete on GOAT – he and Gaël Ancelin (France) have played a big role in Toronto's hot start to the tournament. To say nothing of the Americans: Jack Williams, Jimmy Mickle, and Nate Goff have ranked among Day One's best. If you needed one last argument in favor of the World Games, you could do worse than the fact that every men's division team with a 2022 World Games player rostered finished first or second in their pool.
The Truck Stop System
Did we really need more proof that Truck Stop's offensive system is the toast of the men's division? An outlier in its composition of personnel and its tendencies, it is an even more extreme outlier in terms of efficiency. It was more of the same on Day One, as they flipped, dinked, inside broke, high-released, and (very occasionally) hucked their way into the end zone like clockwork. Even after a full season of their opponents scouting the same system, even at the most rigorous tournament of the year, they just march into the goal box like they have the title to it. Good pressure from Johnny Bravo didn't faze them in the least. When are we going to see someone crack it?
Machine's Mental Toughness
Just to put it out there, Day Two Machine could still come out on Friday. However, Thursday's Machine team showed enough mental toughness and ability to overcome adversity that Machine should feel like it earned the benefit of the doubt. After a well played but losing game against Condors, Machine quickly turned around and took down a Chain Lightning team that had its sights set on winning the pool. Knowing that it brought the necessary defensive pressure against Condors but lost out on some 50/50 opportunities, Machine did not need to change its approach much against Chain–and it had the benefit of calmer conditions to keep the disc moving easier on offense. However, for a team that entered the tournament with a lot of questions about the state of their mental game, Machine has so far passed its hardest test.
Stock Down
Big Second Round Upset
Around 3:30 PM eastern or so, word started to spread around the San Diego Surf Cup complex: Revolver had bulldozed Rhino Slam! and Condors was closing in on a massive upset over Machine. The Southwest is back! Fast forward to 5:30 PM: both Revolver and Condors were both eliminated. After those stunning second round upsets, each team lost their last game; Revolver was surprisingly undone by Virginia Vault while Condors lost to a Pittsburgh Temper team seeded ahead of them. All those second round upsets earned their winners was a stronger sting when they ultimately got eliminated. As a once dominant franchise-style program, Revolver's win over Rhino Slam! felt like a throwback to a bygone fairytale era. For 90 minutes or so, they were kings in total control of their court. In spite of Rhino's greater success a year ago, Revolver had the big 15-10 win, the momentum, and, as a team many had pegged to exceed the expectations set by their 11 seed, a narrative that was quickly solidifying. Then they ran out of steam against a Vault team that wasn't expected to win a single game. The Rhino win was shiny, but in the end it was fool's gold.
Condors, on the other hand, played two tough games against Chain Lightning and Machine. They staked out an early lead against Chain, but couldn't hold on when Atlanta tightened up its offensive rotations and simplified their offense. Against Machine, they were able to hang on despite intense pressure from Chicago. All of those points played under heavy stress seemed to take their toll on the young team. Though Condors were able to play a close first half against Temper, it wasn't able to notch a defensive break and fell apart on offense to lose by four. Combined with Machine's win, the loss eliminated a Condors team that had been riding an emotional high–and a historic win–just hours earlier.
Ring of Fire Offense
Something is off with Raleigh. They gave the disc up with reckless abandon during pool play. And I don't mean their last possession of the loss against Rhino – no, that particular point was an example of excellent offense spoiled by an instant of even more excellent defense. The trouble was much of the rest of the day. From a sputtering start against Revolver that saw them have to claw back their losses, to a disappointing lull against Vault, to some positively heinous examples of decision making throughout the last game against Rhino, Ring's O-line consistently put the team in inauspicious positions. That was all well and good when they could use a red-hot defense to melt the resistance in their first two games, but when they came up against a less overawed Rhino side, the regimen of bullying fell short. There is no one thing they can change to make it all work again the way it did in 2021, no one player to blame: there are too many moving parts. They must simply play better, or else they are going to join the ranks of the eliminated sooner rather than later.
Pool Second Seeds
Yes, this is weird to read given that Rhino Slam! managed to pull off a massive upset over Ring of Fire as the second seed in their pool, but they were also one point away from potential elimination after losing earlier in the tournament to Revolver. Elsewhere around the pools, second seeds sank into some disappointing results. Johnny Bravo lost a universe point heartbreaker to GOAT and couldn't rekindle their US Open magic to take down Truck Stop.
Meanwhile, Chain Lightning entered their game against Machine as the only undefeated team in Pool C, but left with a four point loss that was over by the first quarter. Earlier in the day, they nearly matched Machine's loss to Condors with one of their own, but were able to right the ship in time to hold on for what became a clutch win.
Like Chain, Sockeye was uncompetitive against their pool top seed (PoNY) and nearly lost to the team seeded below them (Doublewide). Sockeye buried themselves in a quick 5-1 hole against PoNY that proved to be the margin of victory as New York coasted the rest of the win away. Earlier, Sockeye needed to put on kill lines after halftime just to knock off Doublewide. Down by three, Sockeye required an impressive comeback and some help from the wind to beat Doublewide by just two goals. All in all, the second seed in each pool played much closer to the teams below them than the teams above them–with the notable exception of Pool B topper Rhino Slam!