Can anyone ride a wave of momentum from a chaotic day one into the bracket?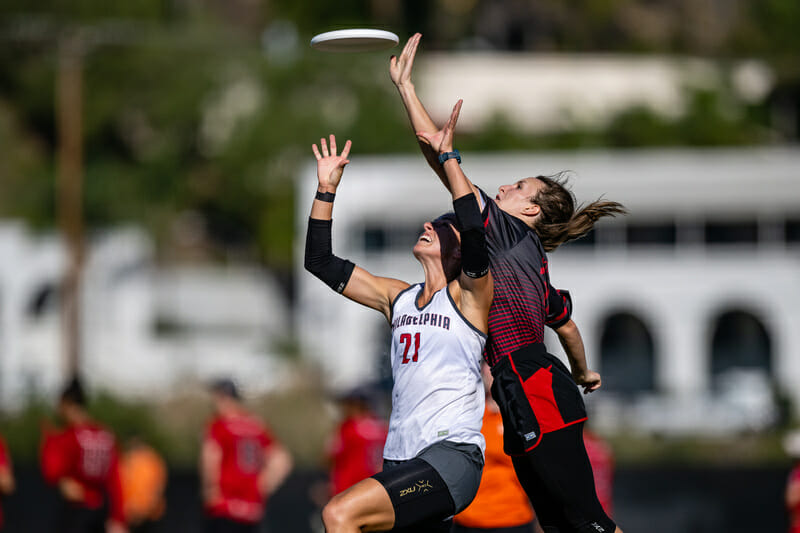 Ultiworld's coverage of the 2022 Club National Championships is presented by Spin Ultimate; all opinions are those of the author(s). Find out how Spin can get you, and your team, looking your best this season.
Mixed is always the wildest of the three divisions for seeding. Upsets are as guaranteed in the pools of San Diego as tiki drinks are in the pools of a cruise ship. That once again proved to be the case this season, as two of Day One's pools ended with ties at the top and only one pool was won by the top-seeded team. Madness is what mixed demonstrates, but that's exactly how anger works and operates, and the shooting stars and fallen angels of the mixed division are not so far apart.
But that's also what sets up the drama of bracket.
Here's where we stand ahead of Friday:

Just like you drew it up, right?
Almost every team in the division had a moment on Thursday where it looked like they could make it to the prequarters1 and every single team had a game where they looked vulnerable. Most offensive points featured at least one turnover at some point, showing both the defensive capabilities of the teams in the division and the penchant for execution errors that haunt all human beings. It is a fun exercise to imagine how much the results would swing if we swapped some of the teams around into various pools — or simply if we played Day One out again a second time.
While pools A and D ended in a clearly stratified order — however unexpected that order may have been — Pools B and C ended in ties, with proverbial favorites suffering upset losses.
In Pool B were reigning national champions BFG, sitting atop their pool after a season in which they lost only their first game of the season and the last before they made their way south to San Diego.2 A slate of seemingly winnable matchups were the prize for their strong season, but it quickly turned to fool's gold. Seattle lost their opening game against Nationals debutants Huntsville Space Force, and it wasn't pretty. A team that frequently runs through their woman-matching cutters on unders, BFG couldn't break through the zone that Space Force put out — a strategy that may not have been nearly as effective had the game been played in the first round of the day when the winds were at by far their calmest. Instead, a 14-6 shellacking at the hands of the Southeast squad had the reigning champs on the ropes early, demoralized and staring at a pair of games against dangerous and experienced opposition. They needed to right the ship quickly to salvage their day.
A bounceback win over Denver Love Tractor was just what the doctor ordered, but looking across to see that Space Force had fallen to pool second seed San Francisco Polar Bears, BFG remained in a precarious position. A win in their final game opened up the possibility of reclaiming their perch atop the pool, but another loss — to a team that was riding a 13-game win streak and lined up one of the best players in the division in Mac Taylor — could end their season, dependent on the result between Huntsville and Denver.
Windy conditions made for some pretty sloppy play, even with so much on the line. Gone was the confident Space Force that crushed BFG and that earlier had looked poised to run the table in the pool. Undefeated entering the tournament and largely a mystery outside of the Southeast, you would be forgiven for taking the BFG win as a sign that this team is really good and maybe an actual title contender. But the loss to Polar Bears had brought expectations back down to earth. If they stumbled again against Love Tractor, BFG would be in a position where a final round win could win them the pool but a loss would see them crash out of contention to retain their crown. And that's exactly how it played out. Denver bested Space Force 14-12, putting BFG in charge of everyone's fate.
Seattle came out strong, notching three straight breaks early in the first half to earn a 6-3 lead. But San Francisco wouldn't go down without a fight and answered all of those breaks to get level at 6-6. A back and forth battle saw Seattle keep edging ahead, only to be quickly pegged back. Poetically, the game reached a double game point where the stakes couldn't have been higher for BFG: a hold and they win the pool, get broken and their season was over. Showing the steel of a champion, a rare clean hold saved Seattle's season, earned them a coveted bye to quarters, sent Space Force almost unfairly packing, and restored some semblance of order to the chaos.
Things were hardly much cleaner in Pool C. Few people would have picked Fort Collins shame. to take the top spot there and get a bye through the first round of the bracket. Hucks flew high and frequently all day long with both Vancouver Red Flag and shame. being regular proponents of the deep game. While this makes for exciting matchups, it also lends itself to fluctuating leads.
Top seeded Philadelphia AMP, to the shock of many people in attendance, fell 15-13 to shame. to open the tournament and saw their 7-1 lead against Red Flag dissipate into a 9-9 tie on either side of halftime. They recovered in time to knock off the Canadians by a two point margin, leaving their point differential at even heading into their final round against Toro. After topping the North Carolinians, AMP was just about locked into the second spot in their pool — unless Red Flag beat shame. by exactly two goals, leaving all three teams at 2-1, each with a 0 point differential amongst each other, and sending the decision to yet another tiebreaker. So what do you think happened?
Even Durham Toro, whose deficits became the metric by which rankings were applied to their poolmates, came within breathing distance of a win in their universe point match-up at the start of the day against Red Flag — a single point that would have ultimately seen the Canadians relegated to consolation, such were the fine margins at play. Instead, Red Flag themselves had two points — and at least five chances with the disc — to secure the top spot in the closing exchanges of their game against shame.
The madness of mixed.
Then again, this is the fourth straight year Philadelphia have dropped at least one game in pool play, but have still managed to capture two national titles in that span. Quarters byes, apparently, are for suckers.
—
When looking at the prequarters — and bracket beyond — it is difficult to pick out many sure bets. Some matchups have clear presumptive favorites like AMP vs. Love Tractor, while others look like shootouts such as Polar Bears vs. Red Flag, but any confidence in those selections could easily be revealed as hubris once the sun hits its zenith at midday.
Seattle Mixtape have perhaps the best case as a definitive favorite to make semis after a strong day where they never allowed a team to post more than 10 against them. But even their potential quarterfinal opponent — AMP — is a team that beat them the last time they squared off in the Nationals bracket.
Still, on a day that was stuffed to the brim with games 'winnable' by both sides, Seattle seemed like the most inevitable outcome. The one knock against them is after a confident first half they let the door swing open for Madison NOISE who came storming back into the matchup from 9-6 down to tie it up at nine apiece. They followed this up by refocusing and taking the game 15-10 before dismantling Ann Arbor Hybrid on stream, to book a first round bye. Not exactly a markedly vulnerable set of performances, but they did show opportunities for opponents to take advantage of if they can hold their nerve to carry it through to the end of the game.
As for Hybrid and NOISE, the former has shown they have the duality to turn up the heat when required and get cooked when they lean too close to the fire, while the latter have had stretches where their high powered offense can see them through most defensive sets or their dirt bound discs could be carving out some sets for the local badger population.
So the big question remains, who can capture the love just to set it straight, take control of their minds and meditate, and let their souls gravitate to the title y'all?
---
Sorry, Chad Larson Experience ↩

At least in USAU competition. ↩