What the first day of Prez Day taught us about some of the top performing teams.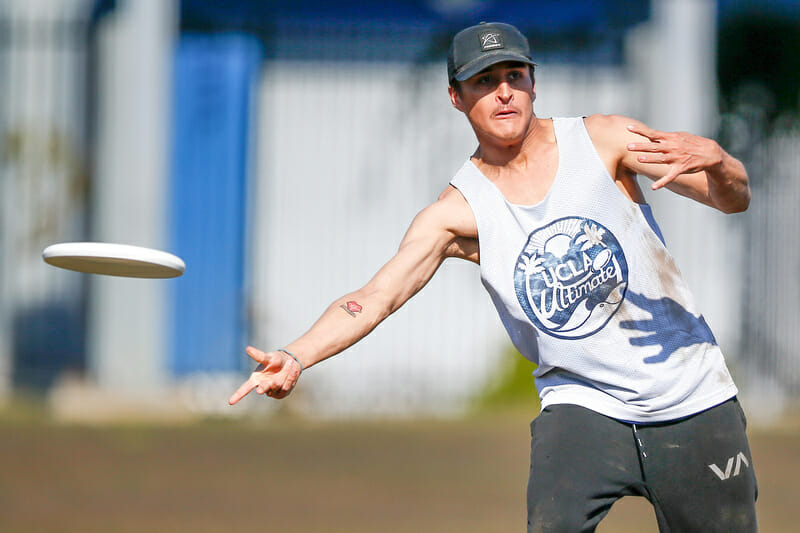 Ultiworld's coverage of the 2023 college ultimate season are presented by Spin Ultimate; all opinions are those of the author(s). Find out how Spin can get you, and your team, looking your best this season.
SAN DIEGO — Presidents' Day Invite 2023, the second major west-coast college tournament of the season, is upon us! The conditions were perfect and the competition level was high. The top teams mostly performed well as expected but we saw some upsets that will impact who makes the championship bracket tomorrow. Here are five things we learned after the dust settled on Saturday.
Full Strength UCLA is a Problem
UCLA Smaug had themselves a day. This team at full strength is tough to stop. They secured the top spot in the pool of death and find themselves in a great position to make the bracket with an underpowered reshuffled pool for day two.
Riley Kirkman-Davis had a stand out performance. He commanded the offense and made precision throws look easy. RKD and Brandon Van Deusen feels like a two-man cheat code in the college division. They especially looked great going against zone and junk defenses, though. They both hit difficult blades and hammers that put tremendous pressure on the defense. Marshall Wildmann was also doing a good job popping and getting involved behind the disc when needed. Akhil Nori has also shown a lot of development and can be trusted to make good decisions that steady the offense.
Their defense has come along nicely since SBI as well. Matt Barcellos and Michael Tao are still high usage, but it does not feel as if the weight of the world is upon their shoulders as it has in the past few years. Luca Adams and Loic Billaut help diversify the touch profile on the D-line nicely. They looked better and more settled into their roles this time around and showed flashes of what the future holds for the program.
Oregon State is the Wildcard of the Northwest
It's important to view Oregon State's performance today through the lens that the majority of points they played were balanced lines with the intention of getting the full team high quality reps. Oregon State showed their ceiling and their floor today. They played #2 Colorado Mamabird to universe, which is really impressive given how strong CU looks. However, they also lost to UCSD which is a disappointing result.
Felix Moren was highly effective for the offense as usual, but the other contributors on offense impressed as well. Cole Eustis is a rock in the handler space and is the main distributor for the team while Lucas Henry leads the attack downfield. Henry is a great asset for the offense, because he is also arguably the team's best defender and can win the disc back in case they turn it over.
The defense was venerable as well. Callahan Bosworth and Ben Thoennes were really slinging it out there today. Their over the tops and deep throws complement really well with their athletes downfield as their handlers can open up the field for them. Seiji Koenigsberg plays an important role for the D-line as a glue guy playing highly efficiently in small spaces. Antonio Rueda was solid today, too. He takes on tough matchups and plays as a first or second option on the turn.
With tighter line calling to come day two and three of the tournament, OSU poses a massive threat to any team they come up against.
Washington Returns to Form
My position had soured a bit on Washington after underperforming at SBI, but their execution today has shown me that I probably overreacted a bit. Max Ramstad is a great fit as center handler and is a challenging assignment for defenders to limit. He stretches the field well with his throws and is smooth getting open in the handler set. Jasper Dean, Martin Le, Jack Brown, and David Zhao also all maintained an excellent level of play all day. Their offense was really humming and it's no easy task for the defense to contain all these threats. Without a full line of reliable matchup defenders, UW will usually have a mismatch that they can abuse as long as they are patient enough to find it.
The clear weakness for the Sundodgers is the D-line's inability to convert their break chances. However, their growth in this area is encouraging as they scored on their chances today at a far higher clip than SBI. Some of the defensive stars of this team are starting to rear their heads as well. Akash Shrestha stood out as the most reliable handler. He looks comfortable being the guy that the D-line's offense runs through. Griffin Lo also contributes a lot as a speedster that often draws more than one defender when he attacks spaces on the field. They were also without Jordan Smith, who will be joining the team tomorrow and bolster the defense further.
Colorado Mamabird Shows Their Depth
At first glance, the team looks younger and less experienced than last year. However, after watching them in warmups it's apparent that this is a very technically skilled team. For instance, everyone on the team can hit an around flick or a back shoulder huck. It wouldn't be surprising if every player on this roster has had ultimate frisbee experience prior to joining college.
Mamabird tried out a larger offensive rotation today and played 14+ deep on defense in every game. In their first tournament of the year, they're just starting to feel out their new pieces and are still finding the best way to optimize all the talent they have.
In their universe point win against Oregon State, it was a full team effort that earned the victory. The defense looked locked in, but OSU kept coming down with 50/50 balls. Nathan Bucholz stood out with strong defense and his measured manner in which he commanded the D-line on break chances. Offensively, Danny Landesman, Calvin Stoughton, and Conor Tabor handler weave is one of the best in the division currently and will demand answers going into reshuffled pools and bracket play or they might just walk it down the field on you every time.
Oregon Ego Progressing Nicely
Oregon Ego got their revenge on UC Santa Cruz Slugs with a first round 13-9 victory, payback against the team that surprised them in Santa Barbara. It appears that Ego really did their homework and worked hard since we last saw them at SBI. They rolled the competition they encountered today — save a scare against no. 10 seed Emory where Oregon pulled away late — and looked formidable doing it. Mica Glass, Itay Chang, and Chander Boyd-Fliegel stood out the most for Ego. They work beautifully in the handler set together and can all shoot full field bombs to cutters like Ke'ali McCarter and Adam McNichols. Ego's deep game was unstoppable today and made for plenty of easy offensive points. Daniel Ritthaler also had a good day. He scored plenty, and got open at will in the end zone set as their primary finisher.
Max Massey and Julian Saunt were two playmakers that stood out on the D-line. Massey was launching huge pulls and running the show on a turn. Saunt is a great matchup defender with a nose for blocks. With some more reps and development, Saunt should become a huge boon for this Ego defense going forward.