Oregon upset Colorado while the Southwest's pecking order got a rewrite.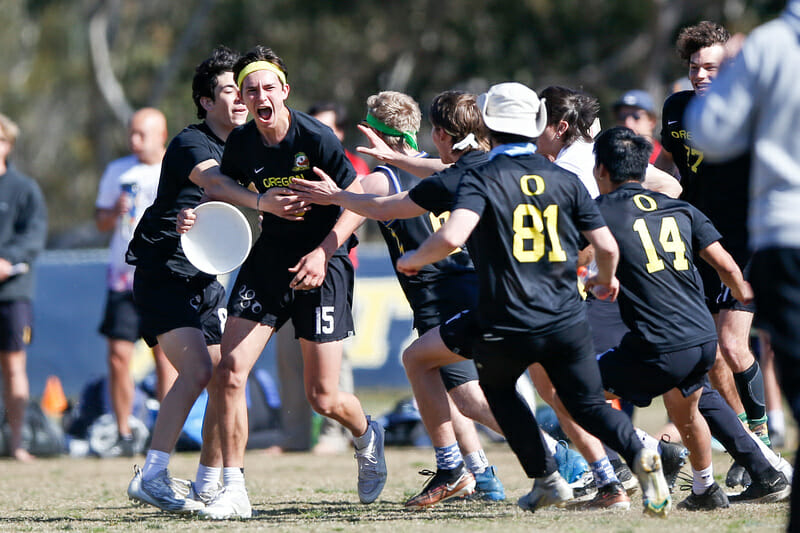 Ultiworld's coverage of the 2023 college ultimate season are presented by Spin Ultimate; all opinions are those of the author(s). Find out how Spin can get you, and your team, looking your best this season.
The premier west coast event was as chock full of brilliant play as ever – and it wasn't light on storylines either. With a surprise champion, a strong-but-not-quite-invincible debut from one of the country's top teams, bounceback performances, and a cratered landscape of strange results through the first two days, Presidents' Day Invite was peak college ultimate.
Final Results




Oregon Outlast Colorado in Phenomenal Final
Oregon Ego bounced back in a big way after an underwhelming performance at Santa Barbara Invite. They took down Colorado Mamabird in the final of Presidents' Day Invite in a stunning universe point classic. It was an upwind/downwind affair and an offensive showcase for both teams, with no breaks recorded the entire game.
The Mamabird offense was firing on all cylinders. They looked almost bored marching it down the field, holding with ease point after point. Danny Landesman, Calvin Stoughton, and Conor Tabor were poised and consistently excellent at running the offense. Their freshmen stars Nanda-Min Fink and Ryan Shigley also showed off a polished deep skill set despite being so young. Min-Fink drew favorable matchups all game because their other more veteran threats demanded answers. He had some errors throughout the game, but he also got blocks and threw plenty of assists. It's impressive how confident he is throwing downfield for someone so new to the college game. Shigley is also extremely valuable to this team. He's a great replacement for what Alex Atkins brought to the offense last year as he's able to distribute off the pull or play as a cutter roofing defenders for goals.
The Oregon offense was a little shakier and turned it over more frequently than Colorado. Even though their offense was not as refined, they still managed to not be broken because their defense off a turn was rock solid. Dan Ritthaler, Itay Chang, and Mica Glass all recorded big blocks during the game that kept them in winning position.
A major turning point in the game occurred at 7-7, with Colorado fielding a stacked D-line attempting to break upwind for half – Stoughton's pull went out of bounds at their own 1 yard line. Mica Glass found Chander Boyd-Fliegel to hold for half. Colorado was playing deep into their roster on defense for most of the game and only stacked their D-line a handful of points. The team seemed deflated after giving up such an easy goal with their best defenders on the line.
The offenses continued to hum until universe point, even with both Chang and Stoughton crossing over to try to disrupt the other's play. And then hell broke loose. Oregon worked it down to half field and Glass shot for Ke'ali McCarter into double coverage but he could not come down with it. Mamabird marched it all the way down and Nathan Bucholz fired a long upline to Stoughton, but Chang laid out for the catch block to save the game. A drop from McCarter on an under from Adam McNichols gave Colorado possession back at half field. Mamabird worked it back to the end zone but Chang's intense pressure coaxed a drop from Stoughton to win possession back again. Great defense from Mamabird off the turn forced a stall-9 prayer to the end zone from Chang. Boyd-Fliegel, sandwiched between Colorado defenders, rose to meet the tailing disc to bring in the score for the 14-13 Oregon victory.
The marquee matchup of the game was Itay Chang vs. Calvin Stoughton. Chang's ability to get separation at every level of the field, tp say nothing of his considerable throwing prowess, neutralized the pressure that Stoughton put on him. Chang put the division on notice that he is a top player in the country and can dominate any defender thrown his way.
Cal Poly SLO Looking for the Next Level
Cal Poly SLO SLOCORE managed to place third despite being a bit short-staffed this weekend. After a dominant performance over the Oregon State Beavers in quarterfinals, they looked poised to play Oregon closer than the actual 12-9 semifinal result.
Presidents' Day Invite 2023: Tournament Recap (Men's) is only available to Ultiworld Subscribers
Already have a subscription? Log in
Whether you visit Ultiworld for our reporting, our podcasts, or our video coverage, you can help us continue to provide high quality content with a subscription. By becoming a subscriber, not only do you receive benefits like exclusive articles and full article RSS feeds, you also help fund all of Ultiworld's coverage in general. We appreciate your support!