Some key results across D-I and D-III on both men's and women's.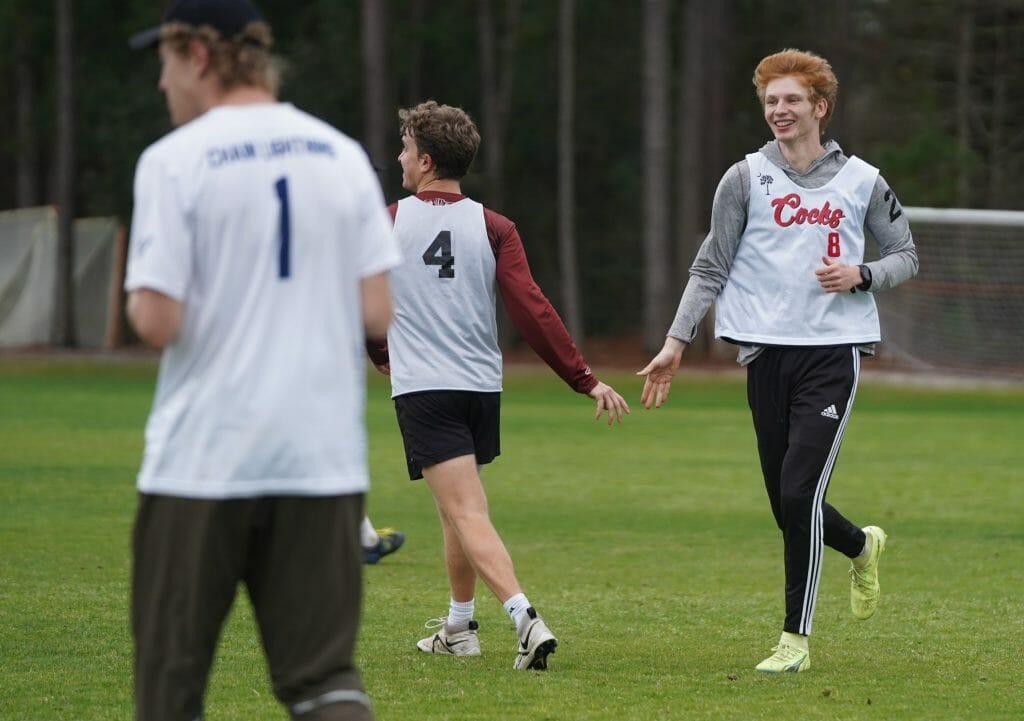 College Update, presented by Spin Ultimate, is back! Throughout the spring season, we will publish a bite-sized weekly recap of all the action across the college division. This will serve as a supplement to our standard tournament reporting and will offer a high-level look at the latest happenings and the biggest stories of the week. Please support the brands that make Ultiworld possible and shop at Spin Ultimate!
Want your tournament listed here? Submit a recap of what happened right here.
D-I Women's
Northeastern Wins Upset-Filled Commonwealth Cup
Northeastern Valkyries continue their undefeated season with a victory at Commonwealth Cup Weekend 2. After a universe point thriller against Virginia Hydra, they defeated Yale Ramona 12-10 in the final. Yale had an impressive tournament this weekend with wins over #20 Michigan Flywheel and #18 Pittsburgh Danger. Could this be the year the Metro East has two women's division bids?
For more coverage of the weekend check out Bridget Mizener's stock watch from day one, and the tournament recap. For our full and plus subscribers, be on the lookout in the video library for post produced footage from this weekend.
Elsewhere in the Division
At Dust Bowl, UT Dallas Whiplash defeated Arkansas SoCo 10-3 in the final. They're sitting pretty with an unblemished 12-0 record this season.
At Mardi Gras, Central Florida Sirens dispatched Texas State Trainwreck 7-5 in the final. June Cera is quietly building an All-Region case in the Southeast.
Looking Ahead
Seven events across the country get us into the busier midseason section of the calendar. Headlining with Midwest Throwdown, where no.1 seed Purdue and no.2 Northwestern top a field of Great Lakes, North Central, and South Central teams (plus visiting Central Florida, on a back-to-back).
D-I Men's
South Carolina Strong at EQ
South Carolina Gamecock Ultimate claimed the Easterns Qualifier crown and an invitation to the April main event with a 15-11 victory over UNC Charlotte Skyrise. New additions Trip Crowley and Gavin Russell have helped launch South Carolina into a more competitive tier. The semifinals were an all Atlantic Coast affair with South Carolina defeating the tournament's top seed, William and Mary Merry Men, 15-11 while UNC Charlotte took down Virginia Night Train 15-13 in the other semi final.
For our full and plus subscribers, be on the lookout for post produced footage from this weekend.
Elsewhere in the Division
At Mardi Gras, Alabama-Huntsville Nightmares took down top seeded Indiana Hoosier Mama's 13-10, signaling the possible emergence of a dark horse in the Southeast region. UAH's record stands at 11-2 this season.
Looking Ahead
Both coasts will see elite competition in the men's division with both Stanford Invite and Smoky Mountain Invite. 22 of the 25 teams in our Power Rankings are on the schedules for those events. Eight other competitions set us for a big weekend as March kicks off.
D-III Women's
After going 1-2 in the power pool on day one, Haverford/Brynn Mawr Sneetches bounced back with a strong run in the bracket to win Bring The Huckus, including a dominant 11-4 over regional rival Lehigh Gravity. It was still a strong weekend for Gravity, as they picked up a win over the Sneetches in pool play and finished third with a win over Ithaca Kweezy Ultimate. Ithaca were perhaps the biggest surprise on the weekend, dominating their pool on Saturday before upsetting Dartmouth in quarters on Sunday and announcing themselves as contenders in the Metro East.
Elsewhere in the Division
Portland UPRoar emerged victorious at PLU Womens+ BBQ, adapting to the cold and windy conditions to smash Lewis & Clark Artemis 15-1 in the final. Both teams dominated the rest of the field and should be considered amongst the favorites in the Northwest.
Looking Ahead
While there's no one major tournament for D-III Women this weekend, there are lots of teams scattered across a handful of tournaments, including No Sleep Til Brooklyn, Midwest Throwdown, Philly Special, Claremont Classic, and more.
D-III Men's
The defending national champion Oklahoma Christian Eagles picked up right where they left off last season, going 7-0 at Dust Bowl and winning the tournament in comfortable fashion. In the process, the Eagles affirmed themselves as favorites in the South Central, beating Missouri S&T Miner Threat 11-6 in quarters. It was a strong weekend for all the D-III teams in Tulsa, with John Brown Ironfist finishing fourth, S&T finishing fifth, and Rice Cloud 9 finishing seventh, confirming our suspicions that the South Central is one of the top regions in the country once again.
Elsewhere in the Division
Connecticut College Dasein came out on top of a D-III-heavy field at Bring The Huckus, punctuating their weekend with a 15-8 win Metro East rival Rochester Piggies. Conn College has just two losses across two events this season, including a Saturday loss to Rochester prior to their revenge in the final.
Looking Ahead
The season really picks up for the division this weekend, highlighted by FCS D-III Tune Up, where 16 D-III teams from seven different regions will converge on North Carolina. Further west, a handful of Midwest teams will be playing at Midwest Throwdown, and NW teams will be competing at PLU BBQ.