Breaking down Day One in Centex with Lawful Good through Chaotic Evil.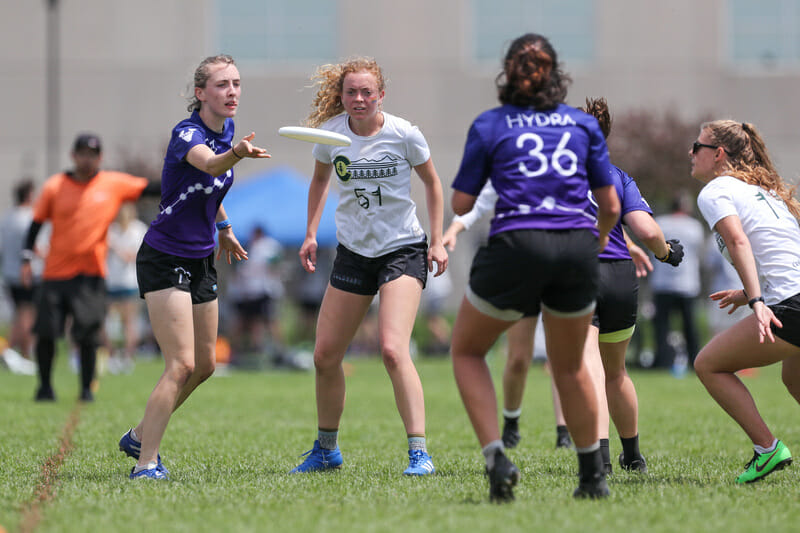 Ultiworld's coverage of the 2023 college ultimate season are presented by Spin Ultimate; all opinions are those of the author(s). Find out how Spin can get you, and your team, looking your best this season.
Centex is not only one of the most competitive tournament's in the women's division, but also one of the most storied, with its famed dance-off tradition and sorted history of trials of and tribulations. With all these different forces at play, it felt helpful to sort the comings and goings of Day One into an alignment chart to make sense of it all.
Results


Lawful Good
This one goes to every player at the tournament. There was a great atmosphere, despite the windy weather. At the end of the Wisconsin Bella Donna vs. Brown Shiver game, easily the chippiest game I saw today, the spirit circle instantly smoothed things over. There were no bad manners, no chirping, no yelling, no bad or unnecessary calls. Discussions over calls were all civil as well. Even if they went on for some time no one talked down to or over another person. Obviously I wasn't able to watch every game, but in my limited sample size the teams showed only respect. Often teams were complimenting each other on great plays and great outfits (of which there were many).
Centex 2023: Day One Alignment Chart (Women's) is only available to Ultiworld Subscribers
Already have a subscription? Log in
Whether you visit Ultiworld for our reporting, our podcasts, or our video coverage, you can help us continue to provide high quality content with a subscription. By becoming a subscriber, not only do you receive benefits like exclusive articles and full article RSS feeds, you also help fund all of Ultiworld's coverage in general. We appreciate your support!