Get to know the 20 teams competing for a D-I college title!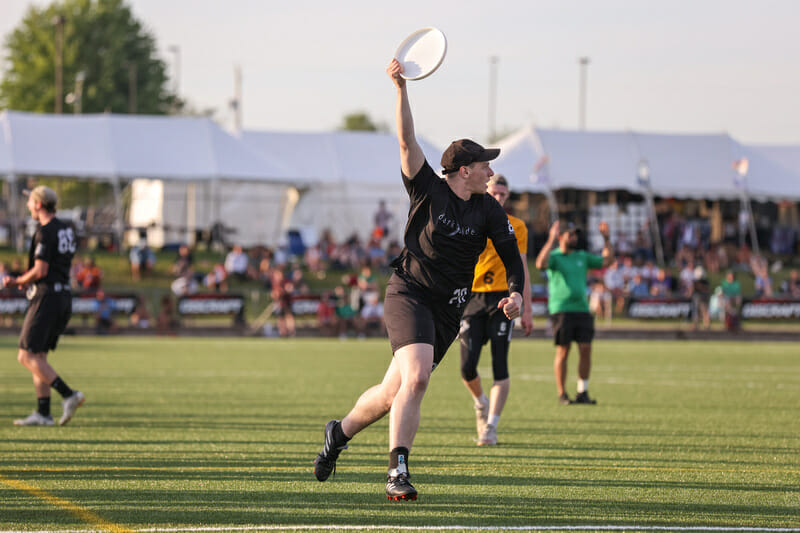 Ultiworld's coverage of the 2023 college ultimate season is presented by Spin Ultimate; all opinions are those of the author(s). Find out how Spin can get you, and your team, looking your best this season.
The D-I College Championships are almost here, and that means it's pool preview time! With the first full regular season and rankings post-COVID, 20 worthy teams arrive at the campaign's final weekend ready to crown a national champion. UNC is chasing a three-peat, Colorado wants revenge, and a bevy of other challengers is gearing up to make a push in the bracket.
We've got you covered for all the exciting action this weekend, but before the first pull goes up, let's get to know the teams who will be competing in Ohio. Then follow along on the D-I College Championships event page for updates and livestreams throughout the weekend!
Pool A
Teams: No.1 North Carolina, No.8 Oregon, No.12 UC Santa Cruz, No.13 Tufts, No.17 Georgia
Overall Strength: 💪💪💪
Star Power: ⭐⭐⭐⭐⭐
Upset Alert: 🚨🚨🚨🚨
North Carolina Darkside
"It's really hard to win Nationals. It's a really hard tournament to win," said UNC captain Andrew Li. That might sound rich coming from a two-time champion, but it reveals a lot about Darkside's mindset heading into the end-of-season showdown – and why they've had such great success in recent years. To wit: an appearance in the national final when Li was a rookie in 2019, followed by two championships. This season, they have soared to a 26-1 record with tournament wins at Carolina Kickoff, Queen City Tune Up, and Easterns (the last of these had been a bulletin board item for years).
Without taking anything for granted, they are confident heading into Nationals. And who wouldn't be confident with an O-line like the one UNC can trot out? The cutting corps alone – Ben Dameron, Josh Singleton, Dylan Hawkins, Jayden Feagans – is enough to give opposing defenses the quakes. "It's pretty incredible when you have four sick hybrids that can play at any position downfield and just win their matchup, and then threaten deep with their throws at the same time," said handler Rutledge Smith, an imposing presence in his own right. "It is just really hard for defenses to, I think, figure out what they want to do against all four of those guys."
"It's un-gameplan-able," chimed in Li, one of the D-line stalwarts. "Practice [against the O-line] is impossible."
UNC got revenge at Easterns for their lone loss on the season, a 15-12 March defeat at the hands of no.2 seed Massachusetts Zoodisc, confirming they can and will roll even the most difficult opponents. What could get in their way? Possibly – and, only possibly – a view of the history they might make as back-to-back-to-back champs that could blot out the moment at hand. Darkside are aware of the temptation.
"It's definitely medium tempting," said Kevin Pignone. "After you get the medal on your neck or whatever, you like to think about all the people who came before you who, you know, their outcomes either similar or dissimilar, and how that led to where you are."
But in reality, this is a process-oriented team who know the ins and outs of being present in each point: it has been one of their (many) strengths this season. Even if they don't manage to win a third consecutive title, it would be difficult to imagine a loss of focus would be the reason why. "I don't even really have the mental capacity to consider the context and the historical, like what happened two years ago. I'm just worried about winning one game at a time, getting my team across that finish line each game," said Li.
Darkside are ready. Look for them to wrap up Pool A with relative ease and remain the best bet to wear the gold medals on Monday.
Oregon Ego
Ego enter Nationals on a curious trajectory: more than any other team at the tournament, they seem to balance out their remarkable moments with genuine clunkers. They have thrilling wins over mighty opponents like Colorado, and also losses to the likes of lower seeds Cal and Washington.
"A point we've been trying to address is our inconsistency," said Itay Chang.
"The product we have put out there this year has definitely varied," agreed Dan Ritthaler.
But Ego can point to the immense level of talent on the roster – and lessons learned early in the season when they may have been content to coast on earlier success – as reason enough for optimism that they can hew closer to their best moments than their worst. The doggedness of Chang and Gabe Nobis, the mixture of size and skill in Adam McNichols, Chander Boyd-Fliegel, and Ke'ali McCarter, the play finishing ability of Ritthaler and Julian Saunt: all of these qualities, when they're on, make Ego a formidable opponent.
They also emphasized getting grittier in tight contests: "The word we've been starting to use is 'scrap,'" said Ritthaler. A whole team embodiment of "scrap" might be just what Ego need to push past the inevitable gnarly moments that will happen at any tournament.
They'll still have quite the test on their hands when they take on UNC, but every other game en route to the bracket should be more than winnable if Ego can keep their focus and not rest on their laurels. "Just because you won a game doesn't mean anything. You have to continually prove yourself," said Chang.
UC Santa Cruz Slugs
One of the more intriguing teams in the Nationals field, UC Santa Cruz haven't made an appearance at Nationals since 2011 – which was, conveniently enough, also a time of congressional brinksmanship about raising the debt limit. Current event coincidences aside, the UCSC program has had a long absence from the National spotlight.
Not that the lack of experience fazes them at all. On the contrary, they are practically effervescent with positivity. And why not? They've made a habit of achieving goals they set for themselves this year. "I was just talking about the beginning of the season when we were setting our goals with the team and with all the incoming players. It's pretty cool to look back on that now and be like, wow, well, this was kind of step one of the season goals – making it to Nationals," said Dylan Burns.
A quick glance at the season shows that the Slugs have come by their success honestly. They have hovered in or around the top 10 for the entire season, they won the Stanford Invite over the significantly more established Cal Poly SLO, and they more than took care of business in a Southwest regional tournament made somewhat trickier by the lack of an expected fourth bid.
The reasons for success are plentiful: start with the O-line blitz of upperclassmen Aidan Curry and Dylan Burns, and follow the thread on down to the hardworking duo of star rookies Selim Jones and Toby Warren.
"Selim Jones and Toby Warren…" reflected Curry, a senior. "It's a little frightening seeing the people so much younger than me who are running me at practice every day." Frightening, yes, but it's also motivating for the upperclassmen to see the amount of effort the freshmen are putting into the season.
Clearly the Slugs bring the force of self-belief with them from the West Coast. That might just be enough to propel them not only into the bracket – which is where they would end up if they merely held seed in pool play – but to some wins once they get there. Keep an eye on these Slugs who figure to be anything but sluggish in Cincinnati.
Tufts E-Men
If you are making a list of the most battle-tested teams at Nationals, make sure you include Tufts. The E-Men have tangled with the best of the Atlantic Coast (at Queen City Tune Up), the South Central (at Centex), and the Southwest (at Easterns) – to say nothing of the challenges they endured within their own region. "I think it really leads to a team that is absolutely ready to explode at Nationals because you've had so many reps against really, really, truly the best teams in the country, and that sort of sets you up for success," said Samson Bienstock.
Explode or no, Tufts are a solid bunch through and through: their star players tend to get the job done more by the book than by brash moments. Think of the way Zach Singer calmly distributes swing passes around the field, or how Oscar Graff wins downfield on both offense and defense on the strength of his indefatigable motor. The focus on fundamentals extends to their extremely polished rookie class, including the likes of Rohin Gast, Tucker Livingston, and Silas Grossman. As a result, they might have the highest floor of any team with a starting seed below bracket-level.
But this is college, and hero-ball still has its applications. The most likely candidate to deliver on that front is senior Zack Burpee, whose dazzling play at times is the only difference between a point scored for the E-Men and a point scored against them.
"When we were sophomores and we were sheltered at home, that guy found every opportunity to go outside, run tempos, improve on his top speed, improve on his jump, improve on his throat," said Bienstock. "And because of all that hard work that he put in, he's grown to be a spectacular player, a huge player for the program."
It was Burpee who helped them hold on at the end of the tight game-to-go at New England Regionals, and there is no doubt we'll see a few more highlight moments from him this weekend, especially if Tufts manage to knock off one or both of the West Coast teams ahead of them in the pool and barrel into the bracket.
Georgia Jojah
It hasn't all been peaches and cream in 2023 for the Southeast champs, who enter Nationals with perhaps the starkest disparity between their overall seed (no.17) and their raw talent. Jojah proved their mettle early on with a blazing run to third place at Florida Warm Up before squandering most of that February cache in disappointing March and April tournament appearances. That didn't stop them from breezing through Regionals, though, and restoring some of that early confidence: "We've been a team that's had a little bit of inconsistency, but know that we have a really high ceiling. And so I think Regionals was [about] proving to us that we can put together a consistent run all the way through a tournament and really just take care of business," said Jack Stephenson.
If there is a reason to believe Jojah can turn the ship around against Nationals-caliber teams, however, it is the collective skill of a fantastic senior class that includes Ryan Flick, Jake Powell, and Isaac Huntington – and that's without mentioning their two lauded U24 stand-outs Adam Miller and Aidan Downey. All of them are sure to make their mark at this tournament in individual moments, as they've done all season. The trick for Georgia will be to string together enough ease and consistency to make the magic last for entire games at a time.
The emergence of several other high-level role players this season (such as Carter Rathur, Cole Krucke, and Cole Chanler) and the electrical charge freshman Scottie Whitley brings to the D-line (both before and after the turn) could be enough to push them up to their undeniable potential. "I mean, we have dogs, obviously," said Miller.
How high could they go? Think back to March: before they were eliminated from the upper bracket, they gave UNC quite the scare at Smoky Mountain Invite. "When we're playing at that high of a level, there's not many teams we can't beat," said Stephenson. Jojah are a spicy bottom seed, to say the least.
Pool B
Teams: No.2 Massachusetts, No.7 Brown, No.11 Minnesota, No.14 California, No.18 Utah State
Overall Strength: 💪💪💪💪
Star Power: ⭐⭐⭐⭐
Upset Alert: 🚨🚨🚨🚨🚨
Massachusetts Zoodisc
After a long hiatus from Nationals1 and a brutal exit last season at the one of the toughest New England Regionals ever – which is saying something – Zoodisc are back and capable of making a deep run into the bracket. They started off the season red hot, rattling off two impressive tournament wins at Florida Warm Up and Smoky Mountain Invite. Strengths? They are possibly the deepest team in the country and have a balanced distribution of touches on their offense. While they have s faltered a bit – losses to Pittsburgh, UNC, and Brown – since their early tournament success, that can partly be attributed to injuries to budding star players Wyatt Kellman and Jonah Stang-Osborne. With a fully healthy roster, this team can easily compete for a title, but without them it's a bit tougher to visualize them lifting the trophy at the end of the weekend. Of note: they boast the division's gaudiest feather in their caps as the only team to take down UNC during the regular season.
Brown Brownian Motion
Having a pair of top-five caliber players on your team is a luxury most teams in the division (other than Colorado and UNC) simply do not possess. Leo Gordon and Jacques Nissen have been impossible to contain this year. Crucially, their ancillary pieces are starting to develop nicely after looking a bit like a rough draft earlier on in the season. Nationals is a format that does not necessarily reward the deepest teams in the field in the same way as a typical weekend tournament because of the small amount of games played each day.
Coach Jake Smart will have to lean on his two superstars on offense and cross them over to defense if they are going to make a fourth consecutive semifinal run. Don't worry too much about them, though: Gordon and Nissen are flanked by extraordinarily sturdy teammates Elliott Rosenberg, Noah Ball-Burack, Cal Nightingale, and freshman Jason Tapper.
Minnesota Grey Duck
Minnesota Grey Duck looked threatening early in the season. An appearance in the final at Florida Warm Up after electric wins over Vermont and Georgia – not to mention two admirably close games against poolmate UMass – set them on a good path. When they are on, they have an offense that can roll. They've got a really nice top end in Paul Krenik, Ian McCosky, Anthony Jirele, and freshman Max Dehlin. Even if all of these players have the strong performances expected of them it may not be enough to keep their three seed and advance to the bracket in what seems like the Pool of Death – unless Sebastian Brauer, Paul Liang, and the rest of the D-line can punch in early breaks against the feisty lower seeds.
Their universe point loss to Carleton at North Central Regionals is a bit troubling: should they be winning games comfortably against the less experienced CUT? Maybe it was only a blip. One interesting facet of their game to note will be how, as a team chock full of hybrids, they will be able to handle the zone and saggy looks that UMass, Brown, and Cal are sure to throw at them.
Cal Ursa Major
It seems like every prognosticator in the business started the season by writing off Cal, not an unreasonable position considering the fact that they graduated far and away their two most productive players from 2022, Andrew Roy and Evan Magsig. Sometimes, it seems like the 'experts' were right – and sometimes Ursa Major look like an even better team this year than they were a year ago. They've posted inconsistent results, performing well at Santa Barbara Invite, Easterns, and Southwest Regionals, while faring poorly at Stanford Invite and Presidents' Day Invite.
The dominance of Dexter Clyburn, Gavin May, and The Calzone – the name embraced by Cal players and opponents alike for their well-established zone look – make this team the toughest pool four-seed at the tournament. It is very conceivable for them to post wins against every team in their pool, but in what's anticipated to be rather still conditions, it may be tough to force turnovers with their usual style of junk defense, no matter how well refined or titled.
Utah State Scotsmen
If anyone has receipts predicting Utah State advancing out of the bloody Northwest, color me surprised – and impressed. They put up uninspiring regular season results but came together at Regionals to take the second spot in a hotly contested region. Jonny Hoffman, Tony Mounga, and DJ Sorensen have been the highest value players to the team for the entire season, but it's the return of Ben Hoffman – he of the 32-goal performance at 2022 Nationals! – from injury that has taken them to the next level. Their prospects of advancing out of pool play are a bit grim in light of the pool's overall strength, but with a top end as strong as theirs they could certainly shake up the bracket.
Pool C
Teams: No.3 Vermont, No.6 Cal Poly SLO, No.10 Carleton, No.15 NC State, No.19 Michigan
Overall Strength: 💪💪
Star Power: ⭐⭐
Upset Alert: 🚨🚨
Vermont Chill
On their first day of the 2023 season, a shorthanded Vermont Chill lost both games they played at Florida Warm Up. Since then, they haven't lost more than one game on any single day while competing in tough schedules at Smoky Mountain Invite, Easterns, and the New England portion of the college Series.
Bringing back most of the cream of a team that pushed into the bracket in last season's Nationals debut, Chill are aiming even higher in 2023. The team aren't surprised to be a contender; their goal entering the season was to play on Memorial Day Monday, the day of the final. After a summer playing high level club, many players on Vermont have upped their games this season.
Turner Allen has evolved into a defensive stopper and Carl Crawford has become an elite finisher – to name just two players who stepped into bigger roles this season. "Last year we had a lot of talent," handler Declan Kervick said. "And this year we have a lot of talent and everyone on the roster is just as good as the top guys."
Cal Poly SLO SLOCORE
The last remnants of SLO's semis team from 2019 are hanging on, but this year's iteration has a unique, exciting feel to it. Of course, there were unexpected losses to UC Santa Cruz and UCLA along the way, and the team had a feeling of never quite having everyone together as Seamus Robinson and Garrett Bush took some time off due to injury. Now raring to go, SLO are ready for its big show.
Kyle Lew and Calvin Brown make up the most fearsome counterattack specialists in the division. Sophomores Alex Nelson and Anton Orme each gained high level club experience this summer and are showing it off in the cutting lanes. Together with Carson Crouch and James Whelan, they've carried the offense which has passed every test so far. With a win over Vermont already in the record books, SLO have good reason to think they can win this pool. After that, anything's possible.
"I am excited about the opportunity to hopefully get a little revenge on some of the teams that have knocked us out in the past," captain Seamus Robinson said. "The [last] three teams that have knocked us out being North Carolina, Brown, and Colorado. Those are all top eight teams again. And, you know, likely could see any of those in prequarters or quarters or semis."
Carleton CUT
A 17-12 regular season is usually nothing to write home about. A 7-0 post season including two earned wins over regional rival Minnesota, though, definitely is, and that run has Carleton riding into the College Championships with momentum and expectations. After losing last season's game to go, CUT doubled down on their teamwide dedication and have accomplished all of their outcome goals so far.
Rookie Declan Miller at the helm gives CUT a new superstar, but the better sign of potential is the host of playmakers up and down the roster. Cullen Baker and Daniel Chen are rocks on offense, able to move the disc in whatever rainy, muddy, windy conditions the North Central mainstay needs to play in. Leo Jordan, Leo Xiao, and Tim Jensen are all lockdown defenders who can move the disc well after a turn.
"We're super stoked to play on the big stage," captain Sam McCarty said. "It's the first time for a lot of us. All of us actually, except for the four points we played at 2021 fall Nationals." With the ability to play high leverage games against great team ahead, CUT enter Nationals with a mindset to respect but not admire opponents. Every game will be tough, but every game will also be winnable.
NC State Alpha
NC State are the definition of a solid team. Sure, Alpha more or less got rolled at Easterns and Smoky Mountain Invite, but they also saw a lot of success at Carolina Kickoff and QCTU. Qualifying out of an Atlantic Coast region that many pundits thought was wide open should be a big confidence boost to a group that could absolutely sneak into the bracket. Now on their fourth consecutive trip to Nationals, there is an established winning culture and know-how among the current team. Even without a superstar – though Sean Wiles comes close at times – Alpha may very well find themselves in winning positions this weekend.
"This is the team that I have been a part of that has had to face the most adversity throughout the season," coach Michael Lee said, citing Alpha's bad injury luck this season. Missing some key players early allowed newer players to be thrust into big roles early. That in turn helped them grow and develop into contributors by the end of the season. Everybody on the roster played at least three points in the game to go to Nationals.
One rookie in particular stands out: Henri Lessard, who leads the team in blocks by a wide margin. There's plenty more to say about this young NC State team; while they might not be favored to make the bracket, this is the kind of team that can get hot and make a surprising run against any team here.
Michigan MagnUM
On one hand, this year's edition of MagnUM, given their mediocre results at Florida Warm Up and Easterns, don't feel like recent vintage Michigan teams. On the other hand, they didn't give up more than nine points in any game at Great Lakes Regionals and will be one of the punchier bottom seeds at this tournament. With the talent to play up to anyone, MagnUM without a doubt can make a bracket run. "The story for us is knowing and accepting that, when we're on, we are fantastic," captain Noah Gross said. "We can beat anybody. We can play close with anybody and that we have to go all out in order to do that. We can't be lackadaisical. We can't lack energy on the sideline."
It wasn't too long ago that Michigan played in a national semifinal. "It's one tournament and one run and you can do anything," Theo Shapinsky said, referring to that 2021 run. With the skill of Shapinsky, Cian Johnson, and Aaron Bartlett, Michigan will have the firepower to make the bracket. When throwers like Jimmy Baker and Eli Weaver are on, they are tough to stop. Yipeng Wang, Owen O'Neil, and Michael Hall are trusted shut-down defenders, giving MagnUM the balance necessary to compete at a high level. They might not be favored to win any games, but Michigan will leave their mark on this tournament; it wouldn't be a shock to see them still in contention on Sunday when the quarterfinal round begins.
Pool D
Teams: No.4 Colorado, No.5 Pittsburgh, No.9 Texas, No.16 Washington, No.20 Cornell
Overall Strength: 💪💪💪
Star Power: ⭐⭐⭐⭐
Upset Alert: 🚨🚨🚨
Colorado Mamabird
After local club team Denver Johnny Bravo won the club championship, Colorado Mamabird entered the college season expecting to dominate. Though they weren't blowing the doors of their opponents, they only lost to four teams all season and enter the College Championships seeded fourth.
Early in the season, Colorado made the final at Presidents' Day Invite, though they fell to Oregon in an offensive game where they failed to convert on two game winning red zone possessions and lost on a jump ball. For the handful of rookie contributors who are taking on large roles, this was their first college ultimate experience. It would take some time before they were capable of blowing out opponents.
Colorado leadership will tell you that everything started clicking at Centex; since losing the first game of that tournament, Colorado has not suffered another L. Danny Landesman and Calvin Stoughton will lead the team this weekend, but expect contributions from fellow veterans like Atkin Arnstein and Aylen Learned, who haven't played too much in recent seasons as they dealt with injuries, and rookies like Carter Halstrom and Ryan Shigley, both O-line starters, and newly minted South Central Rookie of the Year Nanda Min-Fink.
With both the veterans clicking and the rookies entrenched and engaged in their roles, battling through the 4-5-9 corner of pool play will be a good proxy for the challenges ahead. A rematch with Pittsburgh, who gave Mambird one of their toughest games of the season, awaits on Friday afternoon. "I'm excited to play Pittsburgh again," Seth Wells said. "We had a pretty challenging game against them. A lot of mistakes we made early in the game…I'm excited to play them, especially when they'll be fresh, we'll be fresh. And I think we'll play a lot better early in the game."
Mamabird will also have to go through longtime rival Texas, a matchup they avoided at SC Regionals when WashU knocked Texas to the second place bracket, in a rematch of a closely contested Centex final. If they can make it through that gauntlet, they should be capable of late-bracket contention. This Colorado team is expecting to peak at Nationals and has the tools to go on a Bravo-esque run through the bracket; we'll see if they rise to the occasion.
Pittsburgh En Sabah Nur
In what will surprise exactly no one who has paid attention to the college men's game for the last dozen years, the bruisers from Pittsburgh are back in 2023 to take another shot at a title. They have top-end talent (Aiden Landis, Tristan Yarter, Scott Heyman, Henry Ing), exceptional coaching (the Nick Kaczmarek/Christie Lawry axis), enough depth to get through a long weekend, and, perhaps most importantly, the feeling that they can push even further than last year's impressive semifinal finish.
And the way the pools shook out, they also have a little bit of revenge on their minds. "Colorado and Texas, that's two games that we lost at [Smoky Mountain Invite], two games that I know we're looking forward to," said Landis. "It's a lot of excitement because we want to ratchet up with those teams." If Pitt can harness that (admittedly small) chip on their shoulder to power through those difficult pool play matchups, it could be a promising sign for the title run they've been trying to repeat for the last decade.
A glimpse into whether they can do it might be found in their universe point win again UMass at Easterns. It was a sloppy affair that saw both teams make crucial mistakes in big opportunities. Getting a win in tricky conditions or with a subpar performance can be the mark of a mentally strong team. "You're never always going to be at your best in a given game or tournament. Maybe you'll find it at certain points. But I think we've done a much better job of figuring out how to find success even when we're not at our best," said Ing. How they handle and push through the inevitable low moments will be a major factor in their eventual placement.
Texas TUFF
Some things in life just have a way of working out. Case in point: USAU took one look at the regionals results table, noticed that Texas missed their appointment for the annual showdown with Colorado in the South Central final, and scheduled a makeup game in pool play. "Having gotten to play them pretty much every year at my college career has been a treat. It was a bummer to miss that matchup at Regionals," said Matt Chambers.
The two South Central juggernauts did end up tangling at Centex earlier in the year though, a back-and-forth game that Colorado took on universe point. TUFF don't remember the game as a loss so much as a comeback that showed their spirit. "A lot of times this season we find ourselves down and we've always come back to at least try to get the win out. Especially in that game with the rivalry, it's pretty cool to see that we were in a deficit at some point and then towards the end we were able to come back and fight for that universe point," said Gavin Babbitt. (They also have a massive comeback victory on the books this year, erasing a six-goal second half deficit against Vermont at Warm Up.)
But that Colorado game from Centex is also significant because it's when star Matt Chambers was injured. It isn't clear yet whether or how much he will play at Nationals, but he has been a force for this TUFF team. His injury increases the already heavy workload on throwers Zach Slayton and John Clyde.
The good news is that TUFF seem uniquely prepared to weather the hardship. Outside of having those two other shot takers and offensive conductors at the ready, they are extremely deep with upperclassmen talent in 2023. Whether it's Babbitt playing blistering defense, Xavier Fuzat showing off his speed and timing on deep cuts, or Jake Worthington out athlete-ing every big at the tournament, they have answers for any question you might ask of them. How far they'll go in the bracket is anyone's guess, but they are surely one of the most dangerous teams at the tournament.
Washington Sundodgers
The Sundodgers never fail to take us on a roller coaster of emotion with their season, and 2023 was no exception. Although they are without Assaf Golan and Tony Venneri, and were without Max Ramstad at Regionals, they still managed to make it out of a hotly contested Northwest. The offense is fine. Actually, it's more than fine: it has been elite all season. Ramstad, Jack Brown and company are stingy with the disc but are also willing to air it out and play aggressively when they need to. Although their defense has made great strides from where they started this season, it is still their glaring weakness. They will have to bank an upset to make it out of pool play and into the bracket, but if they can afford to cross over some of their top end from O-line in crucial games against an injured Texas or catch Colorado or Pittsburgh napping for a string of points, it is very much possible for them to keep climbing.
Cornell Buds
Not much is expected from the winners of the Metro "Least," but the Buds are out here to prove that they belong as much as any other team. Cornell sported a 9-10 regular season record before stepping up their level of play and winning the region relatively comfortably. With wins over Duke, Case Western, and Carleton… University2, Cornell are battle-tested. Still – they haven't played a single other team who qualified for the College Championships, a fact that makes their quest a steep uphill climb.
Jack Waxman and Ben Goldman are the stars of this Buds team going back a couple of seasons now, and they have gotten reinforcements since their last Nationals appearance in 2021. Eli Robinson is a tall handler who transferred over from Ithaca College. Coming in with D-III nationals and club experience, he and Goldman pace the offense.
Cornell describe themselves as a nose-down, defense-first kind of team. "Not many other teams could really handle both our person and we play a good bit of zone too," captain Sam Garncarz said. Davith Chan, a sophomore, is one of the leaders of that unit and is one of a handful of impact sophomores who create the kind of depth rarely seen in a Metro East team.
"Our goal is obviously to get us a win for the region at Nationals," Garncarz said. Though Vegas oddsmakers might not favor them to do so, Cornell have everything they need to eke out a shocking win this weekend.
---
Zoodisc last qualified for the tournament in 2018 ↩

That's Ottawa's Carleton University rather than the Carleton College the American ultimate world is more familiar with. ↩