From nary a Nationals appearance in five years to second seed at D-I college's biggest tournament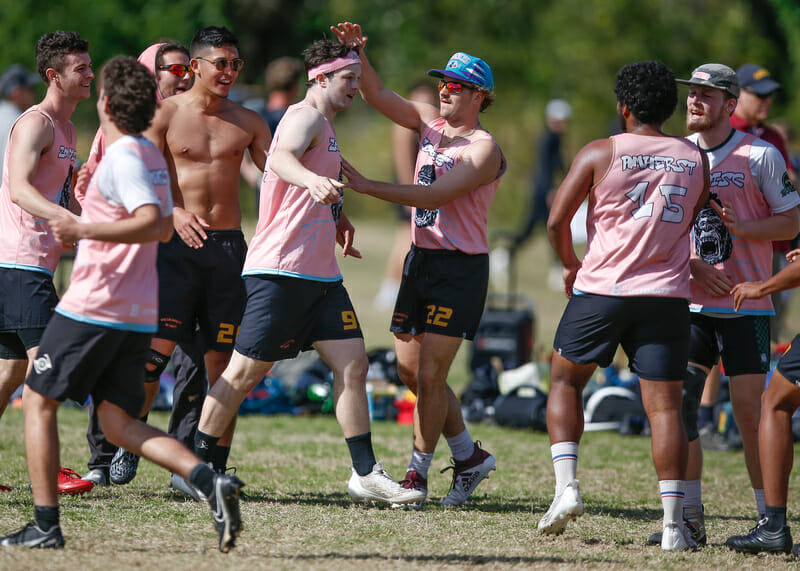 Ultiworld's coverage of the 2023 college ultimate season are presented by Spin Ultimate; all opinions are those of the author(s). Find out how Spin can get you, and your team, looking your best this season.
You could be forgiven if, at the start of 2019, you thought the future of men's college ultimate belonged to Massachusetts Zoodisc. They had qualified for Nationals five years in a row (including a run of three New England regional titles), pushed eventual champions Carleton CUT to a thrilling universe point semifinal in 2017, and in that span featured some of the most productive players in the world: Think Nico Mueller. Think Ben Sadok. Think Jeff Babbitt.
They had an all-American player (Tannor Johnson) and an all-world coach (Tiina Booth) and a lot of all-Region talent on the roster (Chris Bartoli, Eddie Scott, Phil Joyce, Eugene L'Heureux, Jake Radack, Gregory Oreste – just to name-drop a few). Put simply: the championship window was wide open. Anyone could see it.
Skip ahead four years to the land of hindsight, though, and you won't find any championships in the trophy case. Hell, you won't even find a trip to Nationals. What you'll find instead is a once-in-a-century global health crisis (the lost 2020 and 2021 spring seasons) tied off with a ribbon of red tape (the school's decision not to let Zoodisc travel to Norco for the 2021 winter Nationals) bookended by two disappointing tournament exits (New England Regionals 2019 and New England Regionals 2022).
That kind of gap is enough to sink a program into a vicious cycle of underperformance. But Zoodisc have been able to avoid the trap. They have been at or near the top of the heap of title contenders since they first set their cleats to the line in 2023. How have they done it? How have they gone from the Nationals-vacuum to that lofty position in the blink of an eye?
The Winter Coup
Received wisdom says that the first step to a cure is a diagnosis. That's exactly what happened after the fall 2021 season for Zoodisc. They were stuffed to overflowing with two enormously talented and ambitious rookie classes – Wyatt Kellman, Orion Cable, Toby Paperno, Jonah Stang-Osborne, Caelan McSweeney, Artie Aucoin, Carter Hawkins, and Luca Harwood (to name a few) were all just getting their first taste of college ultimate – with the upshot that the brand-new players outnumbered returners 16 to 11.
That's an odd mix for a college team, and it created some unique social and power dynamics within the team. Not only were the upperclassmen in the minority, but because of the lost pandemic seasons, they didn't have the cultural cache or experience that would normally be in place.
"I was one of the more experienced players coming into that season and I had never played. Like, my freshman year [in 2020], I just sat on the bench the whole time," said Noel Sierra, now a senior and one of the captains of the 2023 team.
It produced a natural impediment to buy-in from the new class on some of the team's decisions. When the University of Massachusetts administration said it wouldn't allow the team to travel to California for the 2021 national tournament, the leadership decided to take a developmental approach to Conferences and Regionals. While that was an objectively reasonable decision,1 it didn't sit well with a huge, hungry rookie contingent with greater ambition for the start of their college careers.
"The rookie class really didn't like it, because we were just like, 'if we're going to play, let's play to win,'" said Stang-Osborne, one of that year's freshmen. There was enough discontent – and enough consensus around that discontent – to call a team meeting that Stang-Osborne (somewhat apologetically) refers to as a "coup." At the meeting, the team elected new captains (and re-elected one) with the hope of moving the team in a direction in which more of the newer players felt like stakeholders.
"The rookies were like, 'We want a say in leadership,' which is totally fair because they were the majority," said Sierra. "So, good for the democratic process."
"That sounds really dramatic," said Stang-Osborne. "And it was, it was. But honestly it wasn't as dramatic as it could have been."
The new leadership at the head of Zoodisc would still have their work cut out for them. Between having to scramble to find committed coaches for the spring season, taking on travel planning responsibilities for the first time,2 a Covid outbreak, and trying to keep the team on point through a bid-starved New England Regionals, there would be challenges aplenty. They met some of them with aplomb, and others got the better of them. Crucially, however, Zoodisc were now all pulling in the same direction, something that would pay dividends in the long-term.
The Coaching Quest
One of the many, many developments in the frisbee world during the Covid hiatus was Amherst legend Tiina Booth retiring from her position as the coach of Zoodisc. That left the team scrambling for a new coach as the 2021-22 season began – it would be a long time before they filled the role. Even though Jay Watson and Robin Stewart-Demartino did a decent job in a tricky situation coming in mid-year, the Zoodisc players felt the need to make more deliberate choices as they prepared for the future.
Fortunately, many of them had played club for the relatively new Amherst Sprout, a team in the men's club division that combined a nurturing environment for college players with some world-class veterans. Before long, Sierra, Kellman, and Isaac Kaplan began talks with a pair of legends from the club game about lending their time and expertise: Dylan Tunnell and Rusty Ingold-Smith.
"Our biggest goal over the summer was getting coaches that people really trusted and like were excited about," said Kaplan. "And we did that with Rusty and Dylan."
It wasn't a sure thing, though, especially for Tunnell. "They approached me and Rusty about doing it, and we were kind of tentative at first," says Tunnell. As much as he liked the players he knew from Sprout, the main reason he hadn't been coaching or playing much since leaving Atlanta was to spend time with and help take care of his children. A major frisbee commitment is often incompatible with active parenthood. With that concern front and center, it ended up being a stroke of dumb luck – the Zoodisc practice schedule – that turned Tunnell's "maybe" into a "yes."
"The more I thought about it, the more it seemed like it was going to work out largely because they practiced late at night. So it was easier for me to, like, be around with my kids and do bedtime and stuff," says Tunnell.
With Ingold-Smith handling much of the wonky tactical and scouting responsibilities, Tunnell's first order of business was to make frisbee fun again. "I got the impression that the people who were on the team that I knew really just wanted to have a fun time playing, and it's something that I think most of them had never experienced," he said. "Just something they could do as part of a group of friends that were working really hard together for a goal without it feeling like there was a lot of baggage that went along with it."
Zoodisc give credit to Ingold-Smith and Tunnell for the palpable way in which they show care for the players and the health of the team. "My inclination is more like, 'hey, if you feel like you need some time to yourself, like a way to kind of get your head straight,'" says Tunnell. "I don't ever want people on the team to be out there because they feel like they have to be, I want them to be there because they're actually enjoying themselves."
Unifying Ideas
Between the inherent trust that comes with long-term club and world success, the prioritization of fun on the field and support off the field, and – to give some deserved credit to the placebo effect – the natural psychological boost that can come with any thoughtful course of action, 2023 under a new coaching staff was bound to have a different feel from the year before. But setting yourself up for potential success and actually instilling a winning team culture are not the same thing. Zoodisc had the buy-in, they had the full leadership team in place, and (even without Cable, who left UMass to pursue other interests) they certainly had the talent. What they still needed was a unifying theme around which to rally for the duration of a long season.
Enter Kaplan, who has a kind of a genius for that sort of thing. Kaplan is the one who, during the team's most recent annual January retreat before the start of the spring semester, organized a group ice plunge at Puffer's Pond, Amherst's large public watering hole. ("It was really fun," said Sierra, both proving the power of group bonding and showing strange disregard for the simple life principles of comfort and warmth.) So if anyone – civilian player, captain, or coach – was going to come up with a theme for Zoodisc's 2023 campaign, it was going to be him.
View this post on Instagram
He came up with a bunch of slogans to use like mantras throughout the season – little reminders to keep the team on track during a difficult practice or a tough game, or when feeling lost in the midst of the season without a view of the beginning or end. Some of them were cribbed from a climbing documentary that was personally motivating for him. For instance: "This is my path and I'll pursue it with excellence. I face my fear because my goal demands it." He understood early on that the slogans from the documentary that motivated him might not have the same appeal for the team at large, so he began to sort them into broader categories. And he realized every slogan that seemed to give the team meaning fell into one of two larger concepts: Strength or Understanding.
It makes a lot of sense when Kaplan applies it to an ultimate season: "You have to be tough enough and resilient enough and work hard enough to be great. And then you also have to have the understanding to like, soften yourself and like, understand what's going on with other people and what's going on with yourself," he explained. "In those moments, it's like an identity statement."
Like any team would, they had the words "Strength" and "Understanding" printed on some swag – in this case, the words graced their team pants order.3 But Kaplan took it further. He wanted a way to reinforce the concept of Strength and Understanding throughout games in a way that emphasized personal connections. He found it in the form of what he calls the "Medieval handshake" – a kind of forearm-gripping, pact-sealing greeting often used in sword-and-sandal shows while two powerful characters make eye contact. Kaplan has it all mapped out. "Strength is the grabbing of the forearm. And then understanding is when you make eye contact, like you have to make eye contact if you're doing that because you need the understanding part," says Kaplan.
"A lot of the time after a big point, or after someone is having a struggling game or a struggling point or whatever, sometimes you'll see someone go over to them and do [the handshake] and it's like, 'OK, I got you' – both from 'I have your back. I'm gonna play well,' in the game which is like strength, and then there's like, I understand what you're going through. We've all been there. I get you. I am here for you,'" says Kaplan.
For a group of people who are pursuing a common goal together, who are learning to be adults together, who had to go through a global upheaval together, those gestures of acknowledgment can carry outsized meaning.
The Pudding
Reading this, you might find cause to question some of the team's methods. Changing captains mid-season is unorthodox to say the least (and potentially catastrophic). Bringing in new coaches, especially from outside the organization or from different eras of play (or both), could create a storm of conflicting energy. Slogans and handshakes might seem hokey and unmotivating. And for you, hypothetical reader, that might be valid.
But it sure is working for Zoodisc. Yes, they have the kinds of results that have earned them an overall two-seed at Nationals – which, by the way, remains a staggering achievement considering they haven't earned a seed of any kind at the tournament in five years. But the character of the team has shown more in the way they managed to bounce back in the second place game at New England Regionals after a universe point loss to cross-regional irritants Brown in the final.
They faced a Vermont team full of energy from a convincing Nationals-qualifying win while UMass (who had already qualified the day before) were giving away their second half lead against Brown. Zoodisc trailed by a few breaks at half. They technically didn't have much of anything to play for – both teams had punched their tickets, so it could have been a rest. (It could even be thought of as a distant echo of the discouraging 2021 fall New England Regionals when, for other reasons, they also didn't have anything to play for.) But Sierra, usually the quietest of the captains, gave a speech in which he emphasized that it was time to make a choice about how to finish out the game.
"[Noel] kind of give this very beautiful halftime speech about the choices that we have in front of us, choosing to either be content with what we've [already] done and letting the Brown game get to us… or start changing things in that moment move to where we wanna be," recalls Tunnell. "And he said it much more eloquently than I am right now. But you could tell that a lot of the stuff that we've all worked on together about choosing the right path really resonated with them… I felt like it was a big turning point for us in what could have been more of a disastrous kind of Sunday for us."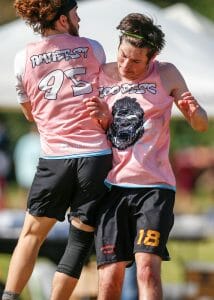 That change in energy heading into the second half of their last game at Regionals is a moment they can (and do) point to as one that defines their season. But the pudding that proves their curious recipe needs a much bigger bowl. More than that one choice, more than any one moment on or off the field, their 2023 has been defined by a series of proactive choices, both large and small, some even dating back to before last season: to shake up the direction and leadership of the program, to find a new kind of coaching staff, to go all in on alumnus Liam Gallinagh's conditioning program, to remain loudly irreverent in the face of adversity, to lend each other the necessary understanding to foster – so often this season – an unmistakable, undeniable upwelling of collective strength.
---
At least from my (Edward) own personal vantage point ↩

Remember their early flight debacle from Florida Warm Up that year? ↩

If you squint in third photo of this slide, you can just make out the words ↩