Colorado secures their spot in back-to-back finals with wire-to-wire win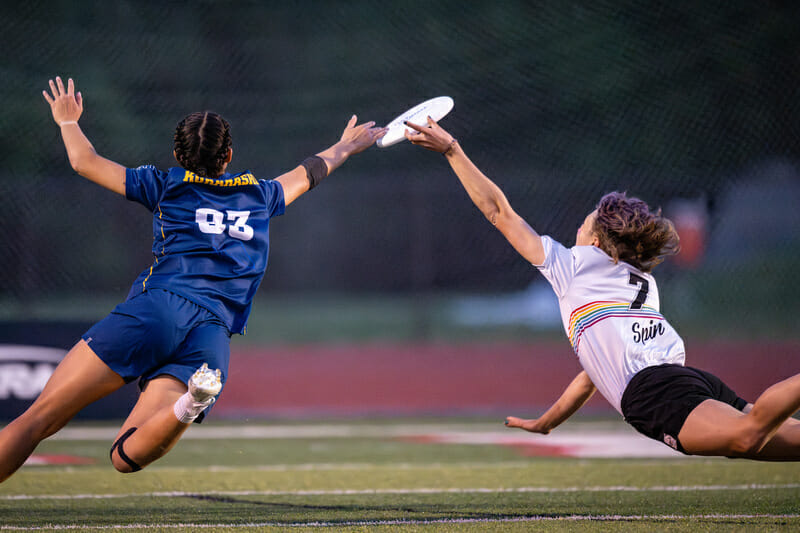 Ultiworld's coverage of the 2023 college ultimate season is presented by Spin Ultimate; all opinions are those of the author(s). Find out how Spin can get you, and your team, looking your best this season.
UBC were in trouble from the beginning.
The Thunderbirds started their semifinal game against Colorado Quandary on offense, and despite picking up some early momentum, their final pass into the end zone intended for Madison Ong wasn't on point. Back the other way, and a fully healthy Bailey Shigley threw the first goal of the game to Stacy Gaskill, and UBC were down an immediate break. It didn't get better from there.
On paper, this should have been an incredible game. Number two taking on number three in the nightcap, under the lights, in a rematch of a tight two-goal game from Northwest Challenge that Colorado just pulled out. This was a game we had circled on the calendar since the seedlings were confirmed two weeks ago. And yet.
Quandary added a second break immediately after the first as the Thunderbirds simply could not get their offense going and gave away unforced error after unforced error. Whether it was the pressure of playing under the lights, the hundreds of people filling the stands, or simply the intensity of the moment, UBC appeared to crumble.
"We felt as coaches that we did about as much as we could have to prepare for this game, but I'm sure in hindsight there were things that we could have done to fabricate the intensity of the moment," said UBC coach Danie Proby. "I don't know if there was just one thing, we just hadn't really played in that type of stadium setting before… when we make it back next year, we'll be better prepared."
To be clear, this game wasn't merely decided by the mistakes of the Thunderbirds; Quandary still had to go out and win it. Stacy Gaskill had a monster game with five goals, two assists, and one block, while Bailey Shigley and Emma Williamson had identical 1G/3A stat lines as they drove the Colorado offense forward. Williamson in particular was on fire in the late stages of the first half, throwing three assists and catching one goal in five points as Quandary built a three break, 8-5 lead heading into halftime.
Notably, despite Colorado's clear advantage at half, their offense hadn't been purring either. Throughout the first half, a simple Thunderbirds mistake would frequently be followed by an equally straightforward error from Quandary, as neither team were playing up to their well-known potential. When these teams are on, they are some of the most clinical and ruthless in the division. When they're off, you get the three stone-cold drop sequence on the last point before half before Gaskill found Abbie Gillach for the Colorado score.
The second half offered a cleaner offensive game, though turns from both teams led to regular break chances. Quandary added another break four points into the second half after the Thunderbirds turned it over on what seemed to be a total miscommunication, though UBC did earn their one and only break a few points later to make it 12-9.
While the Thunderbirds were propelled forward by the support of their Northwest regional compatriots from Washington, Oregon, and UVic in the stands, they couldn't keep up the brief surge of momentum. Colorado responded with back-to-back scores as their veterans stepped up, Gaskill, Clil Phillips, and Saioa Lostra all involved with a goal or an assist, and it was game point Quandary up 14-9.
One last hold from UBC on a pass from Ong to a bidding Catie Akune delayed the inevitable, but the Thunderbirds' chances were all but extinguished. UBC earned a final break chance but just as they had done all game, didn't take advantage, and Colorado secured their spot in the championship game with an incisive pass to Kenny to end it.
Colorado wins and advances to the national final. They'll play UNC tomorrow in a game you won't want to miss! pic.twitter.com/x7Va2dmozn

— Ultiworld (@Ultiworld) May 29, 2023
After playing two universe point games earlier in the weekend, Colorado answered their critics with their dominant performance against UBC. They confirmed that it will indeed be a repeat final against UNC, and Quandary can only hope it goes better for them than last year.
As for UBC, while they fell short in the pressure cooker environment, this is a young Thunderbirds team, and don't be surprised if they're back in this exact same spot next year trying to earn their way to the final.