Vermont Chill leave it all on the field, but Darkside wouldn't be denied another championship berth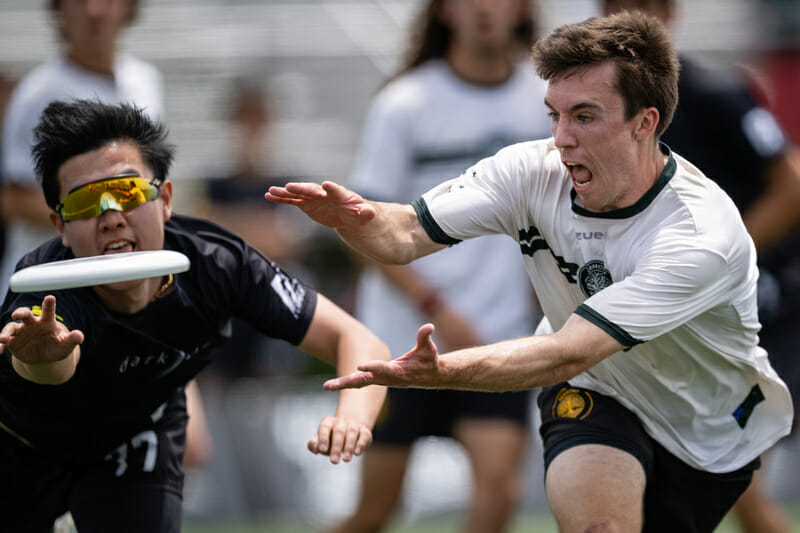 Ultiworld's coverage of the 2023 college ultimate season is presented by Spin Ultimate; all opinions are those of the author(s). Find out how Spin can get you, and your team, looking your best this season.
North Carolina Darkside knocked out an ascendant Vermont Team Chill team 15-11 to advance to their fifth consecutive title game. "We've been working all season for this moment," Darkside captain Ben Dameron said. "Feels a little bit surreal, I think, to find ourselves in this position once again. It feels really gratifying to know that the work that we put in the entire season has seemed to pay off."
As the teams lined up on the field for pre-game introductions, the public address announcer informed fans that this was Darkside's ninth straight appearance in a semifinal game. It was Vermont's first in program history.
"I don't want to be out of pocket," Vermont captain Declan Kervick said postgame. "I don't think we had a game plan. We figured out in the Cal game that if we just kind of play on trust and run one play over and over again, we're gonna probably just keep scoring."
You can be sure that UNC had a plan, but after six turnover-free points, it went awry when Ben Dameron tossed an in-flow continue throw just too far for Josh Singleton. Vermont hucked away their first break chance, and Dameron quickly made up for his mistake with a massive sky over two defenders. Still, Vermont showed that they could bring enough pressure to earn the disc from the Darkside offense.
Riding their momentum, UNC then capitalized on their first break opportunity on the very next point. Lucien Noel's put to Jack McCleary hung long enough to give the defender a chance, but McCleary left no doubt as he rose up and made the grab for a 5-3 lead.
Against a team with the cachet and talent of Darkside, many teams fold once they're down. UNC do not get broken often and plays some of the best post-turn defense in the division: it's a tall task just to take the disc away from them let alone trying to score as well. If there is any team in the field excited by such a challenge, it's Vermont. Scoring comebacks against Carleton, Cal, and Pittsburgh just to make it to the semifinal, Chill have the athletes to get blocks against even the best players. Chase Drinkwater made Dameron think about every catch. Ben Payson and Parker Lin-Butler contained Darkside's aggressive handler movement. CJ Kiepert played like he literally had a fire burning inside. When Dameron placed a backhand to the space his handler just vacated, Chill had a chance to tie the game. Lin-Butler put out a trust shot to Drinkwater, and he ran it down for Vermont's first break of the game.
Aside from tying the score, notching that break proved to Chill that they could hang with the two-time defending champions.
Despite playing without on-field leader Turner Allen, who was ruled out for the day with concussion-like symptoms, Vermont had Darkside in their most vulnerable position of the game. The collective team belief on Vermont is strong. "On our offense and our defense we have a lot of really skilled, versatile players," Sickles said. "So when one person goes down, we can make up for it in different ways. It might not be like our top top line, but we know how to work together and adapt to that kind of change."
When Declan Kervick went out with a leg injury at the end of the first half, Chill calmly responded by tirelessly continuing to cut downfield and by feeding the disc to Johnny Sickles as much as possible. Sickles consistently provided the most dangerous downfield throwing options for Vermont as he had the range and the confidence to knife throws over and around a poachy UNC defense.
With Allen and Kervick out, Vermont was relying on fewer players than usual to generate both turnovers and offense. In his last college game, Sickles played his best, tossing five assists and making four blocks. It wouldn't be enough to push Vermont into the final. Chill kept pushing in the second half, but Darkside had the luxury of playing deep into their roster, while Vermont was reliant on a handful of stars to make an impact.
UNC opened the second half with a break. A short-field turnover gave Darkside a gift-wrapped opportunity, and Pignone powered upline before flipping the assist over to Grayson Trowbridge. Just like in the first half, Vermont fought back, using every ounce of energy and grit to stay in the game. Drinkwater knocked one down before Dameron could grab it and immediately booked it for the end zone. Kiepert fired it deep and there was no mistake on this one.
Chase Drinkwater lays out, that's bookends for @team_chill 😱#SCTop10 | #USAUCollegeChamps | #USAUltimate pic.twitter.com/878CwnxGac

— USA Ultimate (@USAUltimate) May 28, 2023
"We kept winning games in the regular season, and we didn't feel like we've ever played a really good game," Kervick said. "And it finally felt like in this last tournament, we started to play some really good games."
Though they proved they had the skill to play against UNC, Vermont eventually ran out of stamina. With the team so reliant on Sickles, Ponzio, and Zach Watson-Stevens to move the disc and needing to stretch for every single possible block on defense, they were operating just a step slower in the second half, and an experienced UNC team whose top end played far fewer reps during pool play was able to outrun them.
Darkside ran off three straight goals midway through the second half to open up a 14-10 lead. Both of their late breaks were multi-possession affairs, with the better rested team prevailing. Vermont did get a consolation goal once the game was out of reach, but Darkside weren't going to let them come back.
Dameron released a half-field backhand that hung on a shelf about nine feet in the air. Smith ripped it out of the air over his defender and sent Darkside back to the championship game. "We tend to have [Smith] more in the backfield," Dameron said. "But, you know, you can't sleep on his deep game. He's extremely fast. He's very tall, very quick. He's gonna get separation. And when I saw that matchup, he had a little bit of height on his defender, and I guess without thinking, I'm like, 'I know that he's gonna come down with this,' and I threw it up."
.@UNC_Darkside is moving on!#USAUCollegeChamps | #USAUltimate pic.twitter.com/FUG9g4Rnw0

— USA Ultimate (@USAUltimate) May 28, 2023
UNC will play tomorrow for their third straight championship, a feat not accomplished since the 1996-1998 UC Santa Barbara teams. Standing in their way will be UMass, the only team who has defeated them in a meaningful game this season.1
Vermont goes home proud of their program's best ever finish. With many starters returning including Kervick, Watson-Stevens, Thornton, and just about the entire D-line, along with a budding youth scene opening up in the state of Vermont, Team Chill are a program on the rise and can expect to contend for repeat spots in the semifinal rounds.
"I'm proud of the way everyone played in this final tournament," Sickles said. "We had a tough season, we had some rough losses, some unique losses. We knew the whole time that we had what it took to put it together and be a truly great team. I'm just so proud of what we found."
---
UNC lost their last game of pool play to UC Santa Cruz with the top position in their pool already secured and many starters resting. ↩