North Carolina is transcendent to close out undefeated season.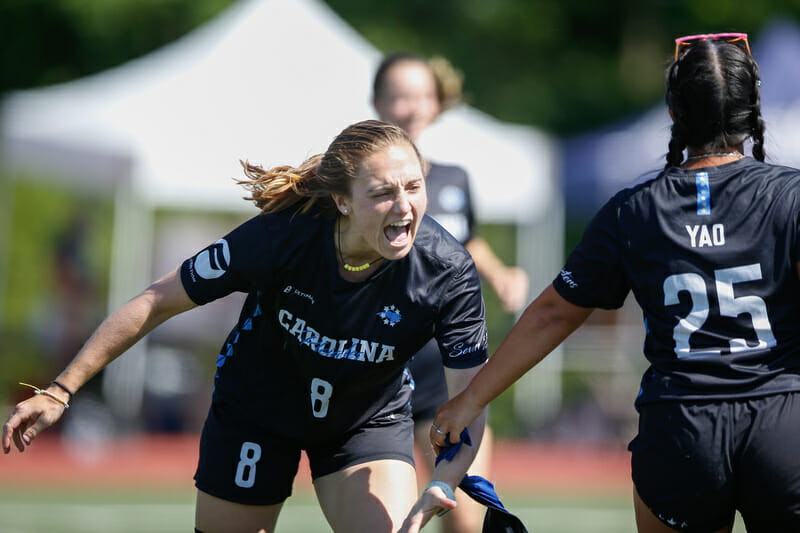 Ultiworld's coverage of the 2023 college ultimate season is presented by Spin Ultimate; all opinions are those of the author(s). Find out how Spin can get you, and your team, looking your best this season.
With their commanding 15-8 victory over Colorado Quandary in a rematch of last year's national championship game, undefeated North Carolina Pleiades became just the second D-I women's program ever to win back-to-back-to-back national titles.
Riding a more than 1200-day winning streak, Pleiades came into the game as the odds-on favorite. No team had been able to truly threaten them all year, and they had even posted a 13-3 beatdown of Colorado at Stanford Invite, though it came with an asterisk — Quandary was missing arguably its two most important players in Stacy Gaskill (13G/13A/5B this weekend) and Clil Phillips (7G/6A/10B) that day. This time, we'd get to see both teams at their best, dueling on the biggest stage.
From the get-go, the deafening crowd was all Colorado, save for a small-but-vocal contingent of UNC supporters behind the Pleiades bench.
"The crowd is loud, but Darkside is louder," said Pleiades Callahan finalist Alex Barnett.
As the stadium horde bayed for blood, the steely-eyed Pleiades offense took the field for their opening drive. Over the past few years, North Carolina has developed a reputation for miserly play with the disc. That unit had looked untouchable in the bracket, playing a flawless zero-turn game in the previous day's semifinal. That streak was broken almost instantly with a misthrow from Dhara Buebel to the open side. Ella Juengst got the disc back for the eventual hold, but the aura of invincibility was already broken.
Colorado's offense, on the other hand, produced a clean hold to open their day, breezing past the Pleiades defense before Gaskill found Sai Lostra in the end zone. It looked as if the version of Colorado that fans had been hoping to see had arrived. A shaky pool play game against Stanford raised questions as to whether or not they were legitimate title contenders — that question was answered with a resounding 'yes' in the semifinal. But the final is a whole different ball game. That point, Colorado showed they were here to play, and the team that pushed North Carolina to the brink last year had every reason to think they'd do so again.
Two more holds later, the tone of the game took a sharp turn. Buebel made a routine catch and crumpled to the turf holding her knee. The roaring stadium fell totally silent. After a long stoppage, Pleiades ended up holding, but the team was visibly and understandably distressed.
Between the offensive miscues and the injury, in this pivotal moment, the game could go one of two ways. North Carolina could stutter, hesitate, pull back. They could let every booing spectator and the weight of expectation crush them. Or they could come together, reset, and respond.
Respond they did. Dawn Culton flicked a foot up to stuff Gaskill on the mark. Grace Conerly angled an away shot to Culton, who leapt in front of Gaskill, then flipped it in to Jess Wu for the first break of the game. That break turned into two as the Pleiades defense capitalized quickly on a Quandary drop: 5-2, Carolina up two breaks. The Colorado coaches opted to regroup and called timeout.
It helped. Quandary was able to settle down. They held and then got a break back off a Pleiades throwaway, with Bailey Shigley connecting with Emma Williamson for the score. In last year's tournament, Shigley called lines for Quandary instead of playing on them due to injury. Colorado was fortunate to have her back on the field; in the final, she paced the team with four assists. That one made it 5-4. It would prove to be the only break they would get in arguably the high point of the game for Quandary.
What happened next is hard to explain, even for Colorado.
"We always have the motto 'all about us'… you can't control your opponent, you can't control those conditions. I think we did maybe get off our game and maybe it wasn't all about us in some moments," said Colorado's Annie Geoghegan.
In a blink, a 6-5 nailbiter devolved into a 11-5 blowout. The North Carolina defense feasted on a combination of Colorado mistakes and genuine blocks. When they got the disc, they simply outgunned a Quandary team that was clearly on its heels.
As Pleiades racked up break after break, it became increasingly apparent that the tightest game North Carolina would get this tournament – and this entire season – was from Stanford in quarters. The fans roared, yearning for a Quandary break, but UNC kept punching in holds. Quandary simply couldn't find purchase as their shot at the title slipped further and further out of reach.
Pleiades attributed their run to their ability to put on a bevy of stars — kept fresh by their rotation— late into the game.
"We like to say that pressure breaks pipes. Sometimes teams can hang with us in the first half, but our depth goes beyond every other team in the division," said UNC captain Ella Juengst.
Even once Colorado managed to stop the bleeding and punch in a hold, they couldn't slow the Pleiades offensive unit. They knew what Carolina wanted to do. They tried to poach on the front cone, front cutters, deny unders, and force the disc into the hands of the non-stars. The strategy was sound, but nothing was enough. Pleiades would not be denied. At 14-8, the UNC offense marched the disc up the field until Juengst hit a streaking Culton and the sideline exploded.
The loss means Colorado leaves Nationals empty-handed for the second time in two years, but this unit has a lot of pieces that will help them get back to this stage. Second-years Emma Williamson (4G/17A/5B this weekend) and Abbie Gillach (9G/3A/4B) are poised to inherit the Quandary offense and defense, respectively, and will undoubtedly be a threat to compete for a title in coming seasons.
"We feel really proud of where we ended up and also it really hurts to have this goal of wanting to come out on top," said Quandary captain Kenny.
Pleiades, on the other hand, has cemented their status as a dynasty and is a serious contender for the division's best team of all time. They've now been to three straight finals and won them all. This one was decided by the biggest margin of any final in a decade — except for Pleiades' 15-6 title victory in 2021. Over the past 3 years, their average margin of victory in the national championship game is a whopping 5.7 goals.
With this title under their belts, the next time the kids from Chapel Hill might lose a sanctioned game could be some four-odd years after their last loss, an unprecedented streak. When asked if they tire of this level of dominance, Juengst shook her head.
"I think people say that a lot, 'Isn't it boring?' But every year it's a new team, every year it's a new journey, and every year we get to fight through all those battles…," she said. "It's a new story every time. We're all very competitive people — it never gets old winning, we love that — but I think anyone on this team would say that the process of all those practices, grinding four nights a week, doesn't get old, because that's the best part."