It's #bidwatch time!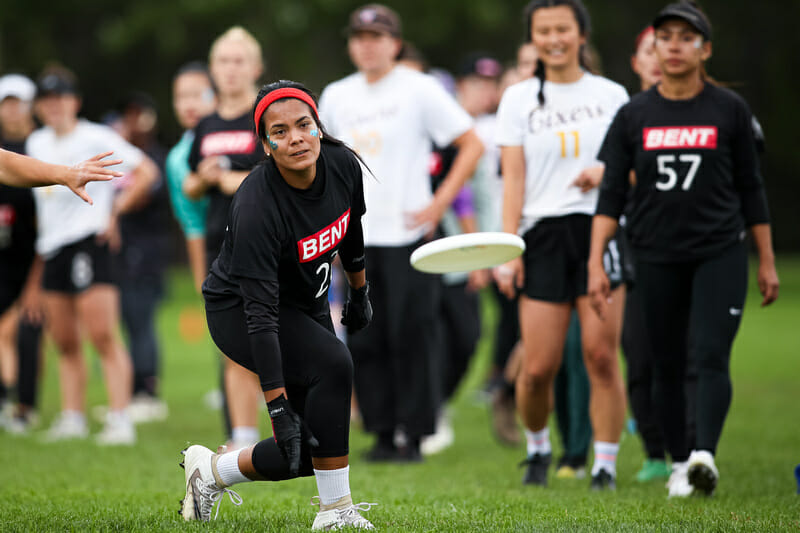 Ultiworld's coverage of the 2023 club ultimate season is presented by Spin Ultimate; all opinions are those of the author(s). Find out how Spin can get you, and your team, looking your best this season.
We've well and truly reached the midpoint of the club regular season, with the US Open in the books and the Elite-Select Challenge on deck. 'Tis the season for Nationals bids to be decided, and with deep pools in all three divisions playing out in Indy this weekend, wins will come with a hefty reward while losses might portend steep climbs to come in the postseason.
Stay tuned to Ultiworld and our social media platforms for continuing coverage of the defining #bidwatch tournament of the season!
Tournament Profile
Location: Westfield, IN
Dates: Saturday, Aug. 19th – Sunday, Aug. 20th
Weather: Brilliant sunshine, highs in the 80s. Minimal wind.
Top 25 Teams: 9 men's division, 8 mixed division, and 9 women's division 
Livestreaming Schedule
Ultiworld will be streaming two games per round throughout the weekend, available for Ultiworld Standard and All-Access subscribers and those with a Club Team Pack. The games will be broadcasted with natural sound only; no commentary. All three tournament finals will be streamed on Sunday!
Here is the full streaming schedule:

All times Eastern.
Saturday, August 19th
9:00 AM: Toro vs. Hybrid (Mixed) / Flight vs. Schwa (Women's)
10:45 AM: Sprout vs. Omen (Men's) / Love Tractor vs. Space Force (Mixed)
12:30 PM: Pop vs. Nemesis (Women's) / Mad Men vs. Chain Lightning (Men's)
2:15 PM Grit vs. Nightlock (Women's) / Dirty Bird vs. Sprocket (Mixed)
Sunday, August 20th
8:00 AM: Men's Quarterfinal / Mixed Quarterfinal
9:45 AM Mixed Semifinal / Women's Semifinal
11:30 AM: Mixed Final / Men's Semifinal
1:15 PM: Men's Final / Women's Final
Tournament Preview
Mixed Division
The perennial division of chaos is likely to have plenty on offer at ESC with an incredibly deep field of contenders that includes 5 of the top 6 teams per frisbee-rankings.com1 and 12 of the top 21. For the #bidwatch aficionados among you, then, each pool comes with a slate of bid-earning implications, so here's a rundown of what to keep your eye on in each on day one.
Pool A: Fort Collins shame., Phoenix Lawless, Lexington Sprocket, Atlanta Dirty Bird
Top-ranked Shame and fifth-ranked Lawless appear to be well set for bids, so cast your eyes over to Sprocket and Dirty Bird, both of whom are looking to earn bids in jam-packed regions. The Northeast's Sprocket are the closest of the two, sitting just three spots out, and an upset win over either of the top two seeds would do wonders for their chances.
Pool B: Ann Arbor Hybrid, Washington Rally, Durham Toro, Ames Chad Larson Experience
Of this quartet, three made it to Nationals last year (Hybrid, Toro, and CLX), and this time around three are sitting precariously around the bid line2. Rally, out of the Mid-Atlantic, is currently the first team out, while the Southeast's Toro are the first team in. Hybrid is only two short spots higher, making Pool B rife for bid drama.
Pool C: Nashville 'Shine, Cleveland Crocs, Boston Slow, Dallas Public Enemy
The seeding here is somewhat misleading, since pool leaders 'Shine are the second team out of bid-earning range while Crocs are the second-ranked team in the division. If they play up to their seeding, then Nashville will have no issues helping the Southeast earn multiple bids for a second season running, but if not, then Slow, who are lurking just five spots out, would be happy to take full advantage.
Pool D: Huntsville Space Force, San Francisco Mischief, Wichita Impact, Denver Love Tractor
An eclectic mix makes up the division's final pool, with Space Force and Mischief grouped up in the top 10 while Impact and Love Tractor are both on the outside looking in. Wichita had a solid showing at PEC West with a host of close calls that now leaves them just four spots away from a third North Central bid. To earn it, though, they'll have to get over the hump against Space Force or Mischief and hold off a Denver team that they traded wins with at Summer Solstice, not an easy task.
For those of you keeping track at home, each pool does, in fact, have at least one team sitting on the bid-earning bubble, so get out your popcorn, this will be fun.
Men's Division
It may not have the same panache as mixed this time around, but there are still storylines galore in the men's division. Can Chain, RDU, and Tanasi make good on the early promise of three bids for the Southeast, or will there be a scramble at Regionals for the second bid behind Ring? How about Omen, surprise Nationals attendees out of the Great Lakes last season — do they have another run to the big dance in them, or were they a one-hit wonder? All that and more to come at ESC, starting with some enticing pool play action.
Pool A: Seattle Sockeye, Tennessee Tanasi, Minneapolis Sub Zero, Houston H.I.P
Despite their subpar outing at the US Open,3 Sockeye remain well clear in the bid picture. That brings the eye down to Tanasi and Sub Zero, with the former more in need of a big weekend with the Southeast hoping to hang on to three bids. And, hey, if Mutiny can pull the upset over Sockeye, why can't Sub Zero? Will Brandt and a collection of other Sub players were key contributors for the South African team at the US Open.
Pool B: Virginia Vault, Cincinnati Omen, Amherst Sprout, Pittsburgh Temper
Welcome to Pool B, home to a trio of new bloods and one old head looking to regain its recent glory. Vault has built on a breakthrough season in 2022 and now find themselves nestled in the top 10 in the country, while Omen and Sprout are on the outside looking in at a bid, though neither are out of the running. If either can find their way past Vault, then the Great Lakes and the Northeast, who are still reeling from GOAT's tumble out of a bid, might just have an extra bid on hand come Regionals.
Pool C: Boston DiG, SoCal Condors, Chicago Trident I, Garden State Ultimate
Of the four pools, Pool C has the least to offer in terms of #bidwatch excitement, but that doesn't mean it's short on engagement. Upset wins from either Trident I or Garden State would be statements of intent for their potential Regionals-wrecking potential, while DiG and Condors are aiming to reaffirm their credentials as bracket contenders as two of the top-five seeds. Alright, it's a stretch, but some potential is better than none.
Pool D: Atlanta Chain Lightning, Raleigh-Durham United, Berkeley Zyzzyva, Madison Mad Men
The eye is naturally drawn to the top of this final grouping, where in an ideal world (for them) Chain and RDU could both be winners and cooperate for the sake of the Southeast's bid chances. As it is, a win by RDU at the top would likely best bolster the region's outlook with Atlanta heading to Pro Champs in two weeks time. Zyzzyva and Mad Men are here to largely play spoiler, then, unless the Southwest reps can spring a real surprise.
Women's Division
After a scintillating US Open, the field opens back up in the women's division in some style. 10 of the top 12 seeds at ESC have played at Nationals at least once in the past two seasons, with Flight and Rogue just missing out in recent years out of the Mid-Atlantic and Great Lakes, respectively. That should make for an entertaining day one, especially with the stakes raised for teams like Nightlock and Ozone, who have been bumped off the cut line by the Northeast's Starling and Iris. Here's the breakdown, starting with a trio of cusp-y teams, at least of late.
Pool A: New York BENT, Pittsburgh Parcha, Florida Tabby Rosa, San Francisco FAB
So about these teams being on the edge of Nationals one way or another? Yeah, not so much the case any more for BENT, who seem set to earn a third bid for the Northeast alongside Brute Squad and 6ixers. Parcha have been good for a Mid-Atlantic bid each of the last two seasons, but they're precariously perched at the moment, just two spots above the cutoff. Any stumble from Pittsburgh would be a boon to the likes of Tabby Rosa, who, alongside Pool B's Ozone, are desperately hoping to earn a second bid out of the Southeast behind Phoenix.
Pool B: Oregon Schwa, Atlanta Ozone, Philadelphia Flight, St. Louis Stellar
Let's get it out of the way at the top: Schwa will be fine. They're not highly ranked by any means, but the ratings gap to the bid-line all but secures Oregon's spot as a strength-bid earner unless they blow up at ESC. Ozone and Flight, on the other hand, are on the wrong side of things at the moment, and for each, notching a win over the other probably doesn't do enough. Be warned, then, Schwa, because y'all are on #upsetalert.
Pool C: Seattle Riot, Chicago Nemesis, Minneapolis Pop, Colorado Small Batch
Somewhat unusually, of the Pool C combatants, the top seeded Riot are the ones most on #bidwatch as the current last bid earners out of the Northwest. Nemesis and Pop, meanwhile, are in pole position to claim the auto bid out of their respective regions. Riot should have enough to maintain their position even if the matchups go against them in the pool, but if there's a team to pay attention to in Pool C, it's the Seattle-ites.
Pool D: Washington DC Grit, San Francisco Nightlock, Indy Rogue, Seattle Underground
By USAU's rankings, Grit aren't even in the picture having only played four games — below the minimum game threshold of five for inclusion at this point in the season. That will change after this weekend, and it should see DC's standout seconds slot into the top 15 — that is, if Rogue or Nightlock, who have been flirting with losing their Nationals streak in recent years, don't have something to say about it. And the San Franciscans basically need a good weekend to not see their run end at ten straight.
---
referenced here instead of the USAU rankings due to USAU's exclusion of some teams due to a minimum game limit ↩

but CLX doesn't really need to earn a strength bid to make it anyway, as we saw last year ↩

I'm not sure they're ever going to live down that prequarters loss to Mutiny ↩