ESC offered clarity and confusion for the bid picture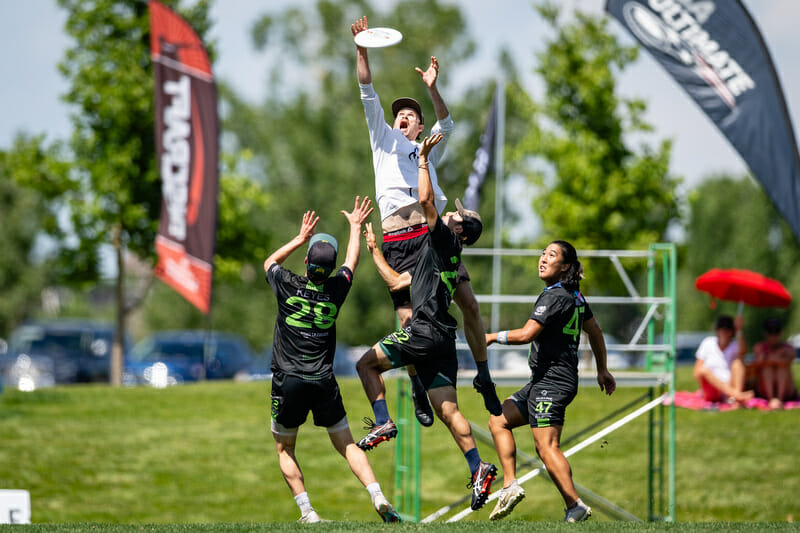 Ultiworld's coverage of the 2023 club ultimate season is presented by Spin Ultimate; all opinions are those of the author(s). Find out how Spin can get you, and your team, looking your best this season.
Welcome to Clubhouse Chatter, where the Ultiworld staff keep you caught up on the major events of the club season. The Elite-Select Challenge brought both tears and triumph as coveted bids to the Big Dance changed hands, in a few cases quite unexpectedly. Here are the biggest takeaways from the most recent TCT event.
Women's Division
Northwest Renaissance
In 2018 and 2019, respectively, Riot and Schwa each made it to the semifinals of Nationals. Four years later, and those stand as the only two final four showings for the Northwest giants in the past five seasons. Could that be about to change this year after the two faced off in the ESC final with Oregon dominating in a 15-6 win? It may be a stretch with the strength of the division's top teams,1 but there's enough upside for each Cascadian club to give them at least a puncher's chance. Schwa rolled through the ESC field near-unchallenged, their closest game finishing 12-9 against Parcha in quarters, while Riot pulled out a universe point upset against BENT (more on them in a moment) in semis. With both Oregon and Seattle loaded with young talent, it's safe to say the Northwest is well on its way back, and now it's just a matter of what both can do come Nationals.
Bemusing BENT
What to make of this BENT team? While New York's talent on paper is excellent — having World Games veterans Yina Cartagena and Elizabeth Mosquera team up with potential future Team USA candidates Abby Hecko and Ella Juengst is quite the combo — they've so far fallen short twice when up against fellow quarterfinal contenders in Phoenix at PEC-E and Riot at ESC. True, those defeats came by a combined three points, but losses are losses and the idea of BENT making the immediate leap to semis seems dead in the water at this point. Being clear of the next tier of teams offers some consolation2 and they've all but earned a second strength bid for the Northeast. However, with Starling, Iris, and Siege waiting in the wings, BENT will need to sort out their late game execution to avoid falling short at Regionals. The upside? There's still time, and given enough of it, BENT's talent should be good enough to win out in the end.
Mess in the MA
Pop quiz: which team is the favorite to claim the Mid-Atlantic title? Too easy? Okay, so which teams are going to claim the region's strength bids?3 Now that's a more interesting question. All three of Parcha, Grit, and Flight made it to quarters at ESC, and all three then lost to fall into the fifth place bracket. Pitt proceeded to beat DC who proceeded to beat Philly, and that is the order the trio now find themselves in the current USAU rankings. As a result, Parcha seem the presumptive favorite to follow second behind Scandal with Team USA's Carolyn Normile leading the way. As for Grit, they appear to have just about secured a third strength bid for the region with their closing win over Flight, but come Regionals? Well, it still feels like it could be anyone's game, assuming there's anything still to fight over with Parcha and Grit both playing at Pro Champs in just over a week's time.
#bidwatch
Mid-Atlantic 3 → 3
Northeast 4 → 3
Southeast 1 → 1
Southwest 2 → 3
The status quo largely reigned supreme out at ESC as only one bid exchanged hands, though we weren't far from chaos. San Francisco Nightlock did do enough to set themselves up for an eleventh straight Nationals appearance, taking a bid away from the Northeast who now have Starling, Iris, and Siege all lingering just below the cut line. If none of those three Northeast contenders end up in the good, they'll look back at Starling's heavy loss to Iris in the trio's round-robin with regret.
What could have been was also the theme for the Southeast, as neither Ozone nor Tabby Rosa could muster up the results necessary to earn a much-needed strength bid behind Phoenix. Both fell into the ninth place bracket after pool play losses to Flight and Parcha, respectively, and even facing off in ninals wasn't enough to change their fates. Meanwhile, the Mid-Atlantic is thanking their lucky stars that they've maintained their hold on three bids with Parcha and Grit the last two teams in, even as Grit got a scare from Underground in a two-point pool play win.
Mixed Division
same.
5, 7, 4, 7, 3, 5. Those are .shame's margins of victory over an undefeated weekend in Indianapolis. That's both remarkably dominant and remarkably in keeping with what they've done in the division all year. Not only are the sporting only a single loss,4 but of their 17 victories, only two were decided by less than two breaks. This is a team who have been known for their party spirit in the past, sometimes at the expense of performance. This season, though, whether or not they're still partying, they're definitely not playing around. They won't love a likely one-bid South Central with a few good squads snapping at their heels, but color us very surprised if they walk away from Regionals wearing a cone of, well, you know the rest.
Southeast Highs and Lows
2022's Little Region That Could has not quite delivered the same caliber of results in 2023. Nowhere was the inconsistency more clear than at Elite-Select. Huntsville Space Force held up their end of the bargain beautifully, with their lone loss being .shame's tightest game of the weekend. They have rocketed up the rankings5 and established themselves as the regional favorites. As for the rest? Atlanta Dirty Bird don't appear to have the same offensive execution from a year ago and took heavy Ls to the better teams at ESC. Toro and 'Shine played closer, but Saturday was rough on them as they combined for a 1-5 record. Fitting that 'Shine would provide that dark cloud's silver lining: thanks to some early season victories, they're still holding on to a strength bid for the region as of now.
Sprocket Springing
Is it too early to award Sprocket their spot at Nationals? By the book uh, yes, far too early. But is there really any doubt? They only took losses to .shame (both in pool play and the final) and otherwise dominated the competition. Offensive consistency and across-the-board athleticism — and, it must be said, Bretton Tan's matchup defense — have them in great shape to make a return to the Big Dance. It doesn't even feel like they've come close to their ceiling yet, which could end up a lot closer to .shame's than we've seen so far. Oh, and I almost forgot to mention the very best bit: the regular season performances of XIST and Slow (who also had a great ESC and will get some high level reps at Pro Champs) have all but locked up three bids for the Northeast. Go ahead, buy your plane tickets to California.
#bidwatch
Here is what happened on the bubble of the bid picture at Elite-Select Challenge:
Great Lakes 2 → 2
Mid-Atlantic 2 → 2
Northeast 3 → 3
South Central 1 → 1
Southeast 2→ 2
Southwest 2 → 2
In short, it was a lot of action that ended up settling more than it upset. Sprocket and Slow have essentially clinched two strength bids for the Northeast with very good ESC weekends. Hybrid and Crocs kept in bid earning range and (unless Hybrid have a bad meltdown at Pro Champs) are on the verge of multi-bid safety for a traditionally bid-starved Great Lakes. Meanwhile Rally have all but assured a second bid for the Mid-Atlantic, which is exactly what they'll need so they have an escape hatch if they can't go toe-to-toe with AMP at Regionals.
The Southwest (Lawless) and South Central (Love Tractor) came to Indy as bid hopefuls… and leave without having done enough to get them. Technically Love Tractor have one more shot at Pro Champs, but the odds are stacked against them. Both teams should be preparing to do some damage at Regionals as bid underdogs at this point. The Southeast checked one box: holding on to at least one strength bid (good work, 'Shine). But Toro skidded and Dirty Bird flopped, leaving them, for the moment, just on the outside of matching last year's three bids. Toro are close enough that they could get it back at Pro Champs, though…
Look to results from Northwest Fruit Bowl and Pro Champs over the next two weekends to put all the pieces in place.
Men's Division
Blight of the Condor
Yikes. It's rare the headline of the weekend goes to a team that didn't play very well, but what else can you do when a team with the pedigree, talent, and aspirations of SoCal Condors ends up with a mangled trainwreck of a weekend? It started with a bad opener: a 14-12 loss to Garden State Ultimate. While good teams can have a bad game,6 what you can't do is stay down in the ditch. That's exactly what Condors did, though, dropping games by huge margins to DiG and Chain before getting doubled up by Sockeye. The cherry on Sunday was a tournament-ending loss to in-region upstarts Berkeley Zyzzyva. With only one bid likely now for the Southwest, it's going to be a rocky path past Revolver if they want to make Nationals.
A Most Interesting Final
It wasn't a huge surprise to see Chain Lightning and DiG meet up in the ESC final. Arguably the only team in the bracket that could have offered a serious challenge, Vault, stumbled in quarters. The final itself, however, was an interesting glimpse at where Chain and DiG are at this point in the season — and where they might expect to go. DiG dug a hole early after mistakes from the O-line gave Chain quick strike opportunities. With a young*7 team and a new O-line handler corps (Mac Hecht and Solomon Rueschemeyer-Bailey) you are bound to get mistakes.
The early jump for Chain was a mirage, though. Mistakes spiraled into setbacks as turnovers opened the door for DiG, and as the game wore on Chain's throwers (Parker Bray, Pat Earles, Nicky Spiva, Adam Miller) had issues getting coordinated for resets. And the youth stepped up for DiG in a big way, particularly Simon Carapella on offense and Orion Cable on defense. The result might have been close, but it's hard to come away with any impression other than DiG have the brighter present and brighter future. We'll see if Chain can adjust when they take on a stronger general field at Pro Champs.
Legacy Rebuilds: A Check-In
Two of the division's stalwarts have found themselves entering new chapters lately: Sub Zero and Sockeye. The migration of top men's club talent away from the Twin Cities has been well-documented, and last year's Nationals miss may be where Sub hit bottom. It looked like 2023 was going to be another year of tough sledding — but their quarterfinal win over Vault says they might be ahead of schedule! Paul Krenik and Will Brandt are looking sharp at the leading edge of the youth movement.
And if Sub Zero are ahead of schedule, then maybe Sockeye haven't even taken a step back? They've doubled down on the area's youth talent, and by all appearances are a match for last year's veteran-laden roster. They handled Sub Zero roughly on Saturday before (as will happen with young players) failing to finish out against Omen in a game they probably should have won. The floor may be a bit unstable, but the kids have a tremendous ceiling.
#bidwatch
Here is what happened on the bubble of the bid picture at Elite-Select Challenge:
Great Lakes 1 → 1
Northeast 2 → 3
Southeast 3 → 3
Southwest 2 → 1
Barring unimaginable results at Pro Champs, the bubble is all but set after Elite-Select. Condors, as mentioned above, lost a bid for the Southwest with their slide. The chief beneficiaries appear to be the teams of the Northeast. This list of course includes GOAT (who rode a good string of Chain results into bid range) and also hopeful challengers Sprout, Phoenix, Blueprint, Big Wrench, and perhaps even TireBizFriz.
Raleigh-Durham United did enough that the third Southeast bid — largely earned with an early season win over PoNY — seems to be secure. It'll be an enticing carrot at Regionals not only for RDU, but also for the likes of Uproar, BaNC, and Tanasi. It's sad times for the Great Lakes, though, as Omen's bad losses to Vault, Chain, and Sub Zero undermined their chance to sneak a second bid for the region. They now face a treacherous path to Nationals — it'll have to be earned at the expense of Machine. Good luck with that.
---