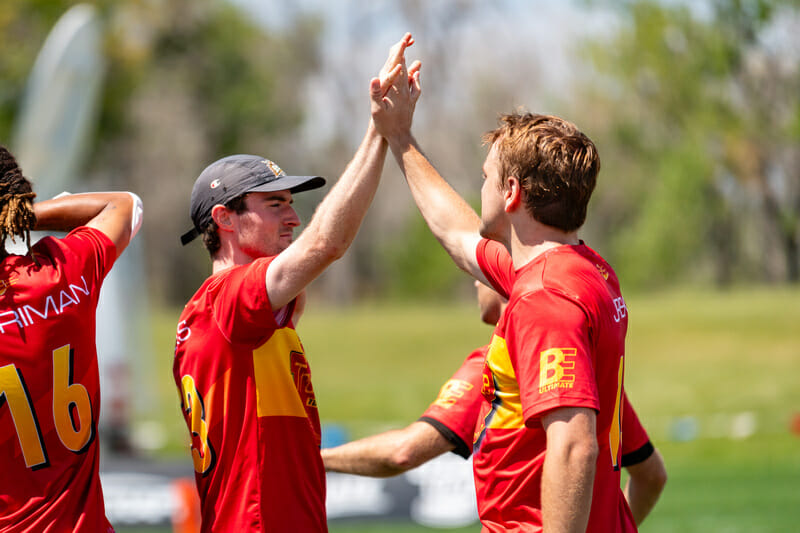 Ultiworld's coverage of the 2023 club ultimate season is presented by Spin Ultimate; all opinions are those of the author(s). Find out how Spin can get you, and your team, looking your best this season.
You can pretty much divide most of the content that Ultiworld puts out into facts and opinions – sometimes in equal measure, sometimes tipping hard into the numbers, and sometimes veering into half-formed infantile schoolyard my-superhero-can-beat-up-your-superhero takes. Usually it's a kind of a blend. But for a day of frisbee like we had today at Pro Champs in the men's division, maybe it's worth separating them out into two distinct threads. Read on for some true (and false) facts about today's play, as well as some unhinged opinions from a reporter who watched far too much ultimate.
Two Truths and a Lie
Let's play two truths and a lie, any good bluffer's favorite – and one of the world's more awkward icebreaking activities. You know the drill. It's three statements of fact, only two of which contain the kernel of truth. But instead of telling you about my own personal history1, I'll try to tell the story of day one in the men's division with the game's classic recipe.
Half of the 2022 National semis field have officially missed the Pro Champs Bracket.
3-0 Chain and 3-0 Truck have locked up the Pro Champs pools.
The competition was tight today.
Can you spot the lie?
(1) is TRUE –  While there is still a round of pool play remaining to start the morning tomorrow before the bracket is set, both #4 Denver Johnny Bravo (who, if anybody needed reminding, are the defending National champions) and #8 Portland Rhino Slam! have played their full quota of games and are going to have to take their 1-3 records to the placement games. It's less a sign of a fall from grace – although both teams definitely have room to grow – than an illustration of the tumultuous second tier of the division that shifts like a kaleidoscope between a half dozen teams.
(2) is a LIE – Did you catch it? While it's inarguably true that both #2 Washington DC Truck Stop and #9 Atlanta Chain Lightning had great runs on Saturday, only Truck have clinched their pool. That's because they already have a win over 2-1 Chicago Machine, so they own the potential tiebreaker if they end up dropping the morning game tomorrow. Chain have the splashiest result of the day – universe point over #1 New York PoNY – but it only gives them an advantage heading into Sunday's final round. Should they lose to #6 San Francisco Revolver, it could send them into a point differential scenario that might drop them down to third in the pool from their current position at the top.
(3) is TRUE – Yes, it felt close most of the time at the fields today. More importantly, we have the numbers to back it up: an average margin of victory of 2.875 points2 across all games so far. That is half a point narrower than the men's division at Pro Champs last year – and almost a full two points closer on average than pool play of last year's Nationals. Is this a one-off, or does it foreshadow a thrilling weekend in San Diego next month?
Overrated or Underrated?
Okay, enough of evidence-based reporting. You clicked on the article for the takes. Here are a handful straight from the hip. 
Truck's Defense
Underrated. Everyone gushed about Truck's offense last season – and with good reason. They played splendid ultimate in a style that was completely their own. But come on – the defense got a short shrift. That was a fantastic unit! I don't want that to happen this year, especially since they're even better. Luke Rehfuss, Thomas Edmonds, AJ Merriman, Charlie McCutcheon, David Cranston, Alexandre Fall, Jasper Tom, Troy Holland – I've already name-dropped more than a full line of hungry, hungry hippos who just devour anything that comes near them. The D-line might even be the better half this season.
PoNY's Depth
Properly rated. Though perhaps underappreciated. It isn't a secret that PoNY's roster is talented all the way down. It's their calling card. But you usually don't get a chance to see it without so many glaring bright lights from the starriest of stars. With Jeff Babbitt, Ben Jagt, Jack Williams, Ben Katz, and Ryan Osgar out for Saturday, however, many of the less renowned names took on starring roles. And outside of a slip-up at the end against Chain, they pretty much took care of business as if they weren't missing anybody at all. The bad news for the rest of the division? Four of those names mentioned above arrived at the end of the day and should have an impact tomorrow.
Europeans in America
Overrated – for now. One of Henry James' pet subjects has become de rigueur in the men's division, with imports flying in left and right. Some of the best players beyond the Atlantic's Eastern shores, however, had muted impacts at Pro Champs. Dublin Ranelagh's Sam Murphy (suiting up in #10 Austin Doublewide mints) and Clapham's Connor McHale (sporting thick red stripes with #3 Chicago Machine) still seem to be looking for their footing with their new North American sides. But there is hope ahead – Ben Oort (Amsterdam) looked a little lost at the US Open in his Rust-Eze Truck Stop kit. As of today, he is settled in and making plays – we may see more from Murphy and McHale as time goes on.
Rhino's Star Assembly
Overrated. I don't know what to say. I'm as excited as anybody about Dylan Freechild and Will Lohre joining forces with Raphy Hayes, Jack Hatchett, and Leandro Marx. As much as I cheer for anybody in particular3, I'm cheering for Rhino to put it all together into something really special. I just don't see it yet. Right now, I see a bunch of great parts that just look a bit strange together, like the Cadillac Johnny Cash built one piece at a time.
Darkside in Elite Club
Underrated. #5 Raleigh Ring of Fire don't have ironclad results so far this weekend. They could still beat Machine and launch a successful tilt at the bracket and signal better times ahead, or they could lose and play two more days of games for pride. One thing, however, is more than clear: those Darkside kids can play. Andrew Li and John McDonnell are readymade for their offensive and defensive lines. Rutledge Smith is wearing the center handler's arm band with the same aplomb he displayed in college earlier this year. And Ben Dameron was probably the team's best player on Saturday. Darkside remain completely unfazed4 and undimmed by this move to the next level.
---